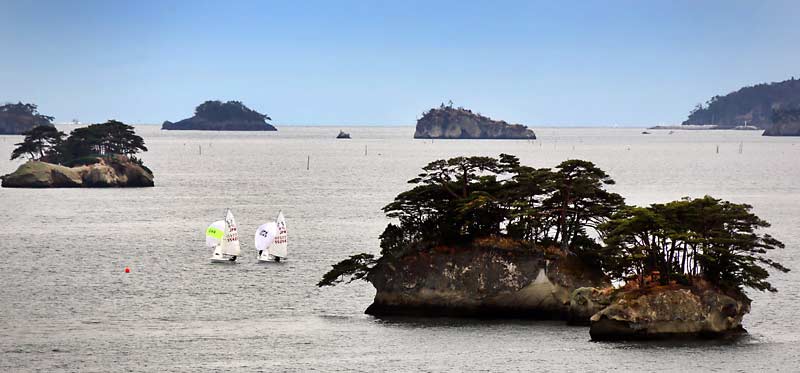 Sailboats ply the waters of Matsushima Bay past pine-studded islands.
Where's Tohoku? When tourists are asked about their knowledge of Japan, most would mention Tokyo, Kyoto and Osaka. Maybe some might throw in Nara, Hiroshima or Sapporo, but the Tohoku region northeast of Tokyo would probably not be on their radar. The region, on Japan's main island of Honshu, is comprised of 6 sub-regions or prefectures, all under-appreciated and lightly visited by foreign visitors, but they offer great beauty and the promise of extraordinary adventures and experiences.

Tourism took a big hit in Japan in the years following the earthquake-tsunami-nuclear disaster in 2011, but recovered a few years ago. In anticipation of the upcoming 2020 Summer Olympics, which should swell the years' tourist numbers to a record 40 million visitors, steps are being taken to improve the experience in the region and hopefully lure more of those people to the other wonders of their land.

Depending on when you visit Tohoku, you can expect the following: spring heralds the dazzling landscapes of vast fields of cherry blossoms; summer means hiking, swimming in gorgeous lakes and enjoying sandy beaches; fall celebrates the colorful turning of the leaves and winter beckons skiers and hot springs soakers.

My ANA-All Nippon Airways flight from San Francisco to Tokyo was itself a breath of fresh air, with fine service and was even on time to Narita Airport. In short order, armed with an East Japan Railways pass, I whisked off to Miyagi Prefecture and Sendai, its capital and Tohoku's largest city, on one of the wondrous Shinkansen (Bullet) express trains at a cool, vibration-free 200 mph. The bullet trains, debuting in 1964 and an adventure on their own, comprise one of the great world rail systems, and despite the high-speed, have never suffered a related fatality.
| | | | | |
| --- | --- | --- | --- | --- |
| | | | | |
| | | | | |
| --- | --- | --- | --- | --- |
| | My rides for much of my visit to Japan were on the Shinkansen ("New Trunk Line") high-speed superexpress trains, dubbed bullet trains by English speakers. | | The city of Sendai, the capital of Miyagi Prefecture seen at dawn. | |
Sendai, as it turns out, is a modern, bustling metropolis. Founded by Samurai Date Masamune in the 1500's, it has a vibrant downtown, dominated by the main drag, Jozenji-dori Ave, which is tree-lined and festooned with millions of LEDs.

Starting off the fun was a "secret tour" of the tiny back alleys of Iroha Yokocho and Bunka Yokocho, home to tiny eateries and Izakaya (taverns) featuring yakitori skewered meats, fresh local oysters, sake and beer.
| | | | | |
| --- | --- | --- | --- | --- |
| | | | | |
| | Sendai's main street, Jozenji-Dori is festooned with millions of LEDs and is a popular walk for residents and visitors. | | Sendai's alleyways, Iroha Yokocho and Bunka Yokocho are favorite spots for all manner of fresh oysters. | |
The next afternoon, a gentle snow began to fall as we disembarked from our bus at the Miyagikyo Distillery in the mountains on the outskirts of town. Scores of yellow courtesy umbrellas added color to a dark day and the throng moved as one unit to several buildings involved in the making of Nikka Whiskey. After a time of soaking-up the distilling arts …. "Say, can we get a drink around here?" … we proceeded to a sampling of five single malts that were all smooth and excellent.
| | | | | |
| --- | --- | --- | --- | --- |
| | | | | |
| | Yellow courtesy umbrellas bring some color to a dark, snowy day as visitors to the Miyagikyo Distillery tour the facilities in the mountains near Sendai. | | Patrons taste five varieties of Nikka whiskey created by the Miyagikyo Distillery near Sendai. | |
The next day, we had the opportunity to visit the seaside area where disaster had struck on March 11, 2011, and to pay our respects and empathize with our fellow Pacific Ring-of-Fire neighbors. On that ominous day, a 9.1 magnitude earthquake, the 4th strongest ever recorded, struck Tohoku.

The temblor shifted Honshu Island eight feet to the east, affected the earth's axis and caused a tsunami that hit Japan's shoreline at up to a height of 130 feet. The tsunami hit Sendai at more than 35 feet, flooded 220 square miles of land and inundated the Fukushima Daiichi nuclear plants down south, causing three to meltdown and send deadly radiation into the air and water. Devastation: Almost 20,000 dead or missing that day, 400,000 buildings totally or partially destroyed, a half million residents evacuated and $400 billion in losses.

The damaged five-story Arahama School still stands as a monument, one of very few structures that survived, even though the tsunami flooded the bottom two floors, depositing cars and debris into the classrooms. The school sheltered scores of fortunate survivors on the upper floors while thousands of others were swept away below.

Restoration of the area is still ongoing, the region is now quite safe and only a restricted area around the reactors is off-limits. The nearby mountains above Iwaki will see the planting of 99,000 cherry trees both as a memorial and to help renew the disaster's devastation.
| | | | | |
| --- | --- | --- | --- | --- |
| | | | | |
| | The damaged Arahama School in Sendai stands as a memorial to the earthquake and tsunami of March 11, 2011. | | Residents of Sendai sought shelter at Arahama School from the tsunami that drowned thousands of their neighbors, shown in this display at the school. | |
A memorial bell is rung to honor the dead in the earthquake-tsunami-nuclear disaster
of March 11, 2011 in Tohoku.

A man walks the beach where the tsunami came ashore here in Sendai, March 11, 2011.


It's onward north to famed Matsushima Bay, Miyagi Prefecture, judged one of the top three scenic views in the country, with its 260 pine-covered islands and extensive oyster and seaweed cultivation. After visiting the bayside Godaido Temple, we boarded a sightseeing boat to get a closer look at the splendid bay and unique islands.
| | | | | |
| --- | --- | --- | --- | --- |
| | | | | |
| | Tour boats explore the islands and oyster cultivation in Matsushima Bay, Miyagi Prefecture. | | Tour boats and working vessels motor around the pine-covered islands and oyster and seaweed cultivation areas of Matsushima Bay. | |
A quick lunch at Italian TOTO restaurant of a fusion oyster-pizza, served by an exuberant staff, preceded our visit to the Ume Luv Kimono rental shop. There we donned Samurai adornments and authentic kimonos for a walk around town. Okay, it was "touristy," but we all had fun exploring the adjacent Entsuin Temple and its exquisite gardens while walking in those frustrating wooden "flip-flops!"

Across the way, The Date Masamune Museum celebrates the founder of Sendai and showcases the still-viable Date clan that endeavors to keep the Samurai traditions and crafts alive in the modern day.
| | | | | |
| --- | --- | --- | --- | --- |
| | | | | |
| | Visitors donned kimonos for a tour of Matsushima Bay and the adjacent temples and shops. | | Worshippers and visitors explore the grounds and buildings of the Entsuin Temple in Matsushima Bay. | |
The Miyagi is also noted for blazing fall color displays in the Naruko-kyo Gorge and the beauty of the cherry blossoms during the Ogawara Sakura Festival. Sendai is the staging point for trips to Tohoku's northern prefectures. The northernmost, Aomori, the apple capital of Japan, boasts spectacular hiking destinations like the Oirase Park, Stream and Gorge, the Hakkoda mountains, caldera Lake Towada and volcanic Fear Mountain (Osorezan) and surroundings, a representation of Buddhist hell. The historic and unique cultural Nebuta Festival happens here every summer.

A common thread in this mountainous country is that you are always close to a hot spring (onsen) and a traditional Ryokan inn and many times the two are combined into an unforgettable resort that should be sampled for a taste of the real Japan.

Iwate Prefecture features the Ryusendo limestone cave complex, hiking in the Hachimantai Mountains and Mt. Iwate, Mt. Fuji-san's "sister."

In northwestern Tohoku on the Sea of Japan, Akita is famous for the UNESCO World Heritage Site Shirakami Sanchi mountain wilderness, beautiful lakes and the Oga Peninsula. And who can forget the cute and loyal, signature Akita dog. You've probably heard the story of the legendary Hachito, who met his returning owner every day at the train station and who continued this daily trip for nine years after his master's death.

Heading south of here in Yamagata Prefecture lie the Zao Mountains where, in winter, the trees of Zao get blast-coated by ice and snow, creating the fabled "Snow ghosts." The attached ski area is Tohoku's largest. You can hike the "1000 steps" to Rissyaku-ji temple, one of Japan's most beautiful, down-to-earth viewings of the luminous jellyfish at the Kamo Aquarium. Ginzan Onsen is a classic hot springs village with vintage inns and gas street lamps.

After a night at the elegant Hotel Matsushima Taikanso on the coast, we jumped on our Bullet train to Fukushima Prefecture. This land is known for its lakes and wetlands, including multi-hued Goshikinuma, Hibara and the vast Lake Inawashiro, one of the country's largest. We ventured onto the shore of Aizuwakamatsu to explore a restored Samurai home, Aizu Bukeyashiki, which was burned during the 1868 civil war. This was the site of a mass suicide by the wives of Samurai fighters who did not want to burden their warriors who were fighting. We learned about daily life in that age at the attached museum. Did you know that Samurai, who were 10% of the population, were paid by their liege lords with rice, which they could then sell to support themselves? And they were not all warriors; some were municipal workers.

Back on the road we caught a glimpse of Tsuruga Castle, towering over town with its distinctive red tiles on our way to 250-year-old Tokino restaurant and house, historically frequented by local Samurai. It featured local cuisine Wappameshi, rice and toppings cooked and served in a round wooden bowl.
In Aizu, Fukushima Prefecture is the restored Aizu Bukeyashiki Samurai house and grounds.




The Bukeyashiki Samurai house in Aizu contains a museum of local history. This is a display recounting a tragic mass suicide during the
1868 civil war.

After lunch, a stop was warranted to the popular Suehiro Sake Brewery, family-owned for over 170 years and operated by the 7th generation Mr. Shingi, who regaled us in a most entertaining way with the story of the art of brewing fermented rice.

Are you searching for a different dose of culture? In a surprising country setting near here, within Bandai-Asahi National Park, is the Morohashi Museum of Modern Art, showcasing, among others, the likes of Dali, Van Gogh and Renoir.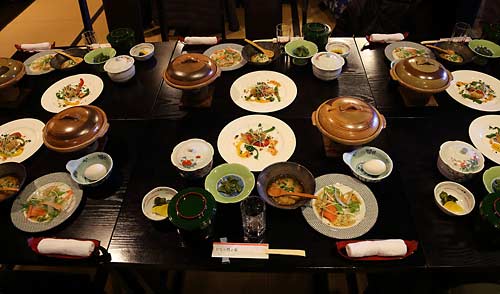 An elaborate kaiseki meal awaited us at the Jionji Jinya Estate restaurant in Yamagata, Sagae City.

We concluded our Tohoku adventure with a special dinner at the Jionji Jinya Estate restaurant in Sagae City.
It was one of our wonderful experiences with kaiseki, a cuisine art that combines fresh, innovative, adventuresome and meticulously prepared ingredients, artfully prepared, and artistically presented. Taste, texture, color and overall appearance are paramount. It's not cheap but kaiseki is a must-do. I am confident that Tohoku will also become a "Must-do" in the years ahead.
For more information, please visit:

Official Government website
24-year-old website on Japan Tourism
Tohoku Tourism
Japan Rail-East
Japan Rail Pass
Japan National Tourism Org.
Japan National Tourism Org. (JNTO)
| | | | | |
| --- | --- | --- | --- | --- |
| | Dino Vournas was a newspaper photojournalist in the San Francisco Bay Area for 40 years with stints at the Hayward Daily Review, Oakland Tribune and the San Francisco Examiner and 8 years as an Associated Press freelancer. For almost as many years, he has been a travel and snowsports writer and photographer with his work appearing in the Bay Area News Group, East Bay Times/Mercury News, Associated Press, Reuters, Getty Images, Tampa Tribune, Outside Magazine and numerous websites and blog posts. He is a member of the Society of American Travel Writers (SATW) and the North American Snowsports Journalists Association (NASJA). | | | |