Editor's note: This story was written long before the Coronavirus restricted flights to emergencies and necessary travels. There is currently, at press time, not a "no-fly" edict from the CDC. Restaurants were also still open and there were no "stay at home" orders in place. We share this experience with the hopes that we soon return to our safe travels and adventures.
Yes, this story is about food. About other things, surely. But somehow, what we did most in Olympia, then Seattle and finally, Bellingham, WA, during this summer trip through the Pacific NW was ... eat. And drink. All sorts of luscious stuff.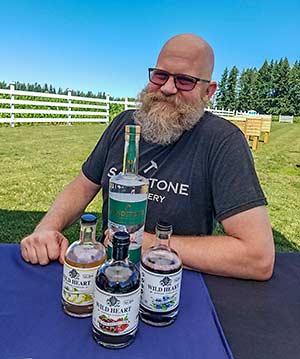 Sippin' vinegar. Honest, it's really tasty
Starting from the south of my trek, meaning Olympia, I encountered sippin' vinegar from Sandstone Distillery. Ok, those are two words, I thought, that should NEVER be in the same sentence. Kind of like the time a vegan friend gave me a taste of a chocolate truffle made with avocado instead of cream and butter. Gag.
But, well, sippin' vinegar is tasty. Really tasty. As long as you sip it and I do mean sip. Small sips. It also is absolutely perfect over grilled chicken.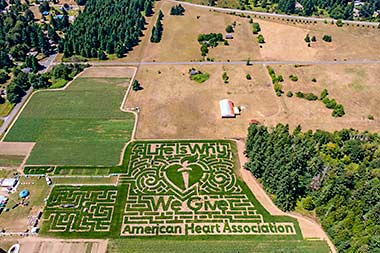 Olympia corn maze Flight over state capitol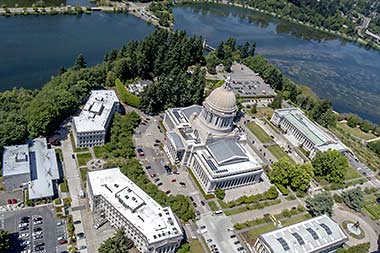 Washington State capitol from the air
I also got to do a helicopter ride over the Olympia area. Rutledge Farm, south of Olympia, has a corn maze each year and this year its sponsor is the American Heart Association. Then we churned our way towards the Washington State Capitol building.
I've flown in a LOT of choppers but this one was almost all glass. It was like flying in a bubble. Yes, I was strapped in. Yes, I held on for dear life with one hand (what good would that have done, really) while photographing with the other.
| | | | | |
| --- | --- | --- | --- | --- |
| | | | | |
| | Seattle oysters yum | | Seattle Crab Pot royal crab feast | |
Some days later, my granddaughters came from Georgia for a visit. We headed for the Crab Pot on Seattle's waterfront, where I dived into raw oysters (my fav) and then we did the restaurant's famous Royal Crab Feast.
This is a HUGE amount of food (for two, and though we split it among the three of us, it was still more than we could finish). It's four kinds of crab, shrimp, sausage, corn and that yummy bread (which we took home).
This is aimed at tourists, of course. And we were stunned how many of our fellow diners were also plowing through it all.
| | | | | |
| --- | --- | --- | --- | --- |
| | | | | |
| | Seattle's Great Wheel | | Seattle owntown from Great Wheel | |
| | | | | |
| --- | --- | --- | --- | --- |
| | | | | |
| | | | | |
| | Photographing the city from the Great Wheel | | Seattle waterfront's Great Wheel | |
We also rode Seattle's Great Wheel. You sit in a gondola and ours had a glass floor, which was cool. It's a wonderful way to see downtown Seattle from the air. I lost count of how many revolutions we did ... five or six at least. The ride lasted about half an hour.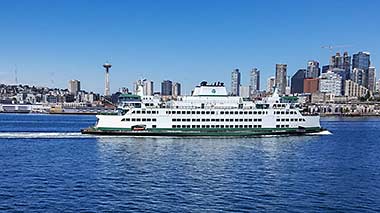 Iconic Seattle ferry
And there was a day trip on a ferry to Bainbridge Island. The girls loved standing on the bow watching sailboats and other ferries.
| | | | | |
| --- | --- | --- | --- | --- |
| | | | | |
| | Seattle Aquarium's Giant pacific octopus | | Baby salmon at the Seattle Aquarium | |
And finally, their last full day, we visited the Seattle Aquarium where we got to see CJ, a Giant Pacific Octopus, as he squeezed his way from one of his tank habitats to the other. The aquarium keeps an octopus on display for only about 9 months of its three-year life and days after our visit, CJ was returned to Puget Sound.
That cloud of fish is baby coho salmon. We were leaving the otter area when I looked up and above my head was a ceiling glass and hovering right above that were all those baby salmon.
Getting rid of the Viaduct, the traffic-heavy bridge over the waterfront byway, has opened up all sorts of parking along the waterfront, making our trips downtown FAR more pleasant.
| | | | | |
| --- | --- | --- | --- | --- |
| | | | | |
| | French toast at Bellingham's Cosmos Cafe | | Adobo benedict (pulled pork) at Cosmos Cafe | |
Several days later, I drove to Bellingham, about 90 miles north of Seattle. The city is blossoming ... full of energy and new projects but still small enough so that you don't feel crowded. One morning, for instance, we had breakfast at Cosmos Bistro, a downtown cafe that features comfort food with flair. We just drove up and pulled into a spot at the curb yards from the cafe. Try doing that in your usual city downtown. This is some of the best French toast I've ever had. We also ate what Cosmos called a pork adobo benedict ... pulled pork simmered in soy and vinegar served atop an English muffin.
| | | | | |
| --- | --- | --- | --- | --- |
| | | | | |
| | Twin Sisters beer and tomato shrimp bruchetta tasting | | Bellingham Twin Sisters beer and slider tasting | |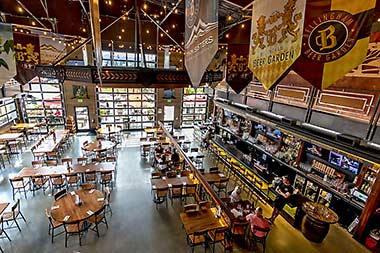 Twin Sisters Brewing company craft beers and great food
More food. I told you we ATE. Twin Sisters Brewing Company is tucked into a repurposed warehouse that was brought down from Alaska. It sits on the edge of a warehouse district but also next to a residential neighborhood. It's become a favorite of locals. The sliders are not to be missed. And they have some truly quirky (and good) craft beers.

9 Restaurant at North Bellingham Golf Course does a series of meals with wine or whiskey pairings. They're scheduled several times a year. We sampled their home-done dry-rubbed applewood smoked pork ribs served with an Old Fashioned, along with baked beans and pasta salad.

Bellingham rib and whiskey pairing lunch
Bellingham Saturday downtown farmers market
During the summer, Bellingham has a Saturday downtown farmers market. It runs April into December, and features four dozen farmers, nearly 60 craft stands and 40+ food vendors. You can find some killer tomatoes and purple daikon radishes along with eggplant, carrots and more. All organic.
| | | | | |
| --- | --- | --- | --- | --- |
| | | | | |
| | Pulp mill artifact is now a glowing sculpture | | Bellingham Good Time Girls walking historic tour | |
A long-gone pulp mill left its "acid ball" which is now a work of art. It was covered in tiny glass beads that glow in the sunlight and get almost psychedelic under light at night. It's all part of Waypoint Park with its newly developed beach and access to Watcom Creek off Bellingham Bay. An indoor craft/food market could be open by 2020.
In Fairhaven, there's a fascinating historic walking tour led by Good Time Girls. The women dress in '20s flapper outfits and, like tours in Seattle, detail the sometimes sordid (think LOTS of 'houses') history of early Bellingham. It's done with great humor and lots of fun.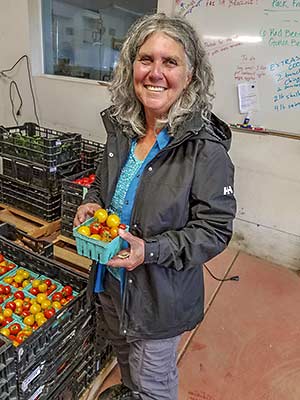 Bellingham's Cloud Mountain Farm helps young farmers
Cloud Mountain Farm is far more than just a farm. It's a nonprofit venture that researches crops that grow best in the northwest's often cloudy and cool climate. Plus, it is an incubator of young farmers. The farm provides loans, which are difficult for young farmers to get, advice and a chance to learn about farming to see if this life works for them.
| | | | | |
| --- | --- | --- | --- | --- |
| | | | | |
| | Wine tasting dinner | | Wine tasting dinner appetizer | |
| | | | | |
| --- | --- | --- | --- | --- |
| | | | | |
| | | | | |
| | Seared Duck Breast | | Dessert | |
And finally, OMG, there was the Wine Maker Dinner offered by B-Town Kitchen & Raw Bar in Four Points by Sheraton Hotel. It was a six-course meal paired with wine. Custom menus like this can be created by the hotel and restaurant. For us, it was a kickoff to the Bellingham Northwest Wine Festival. Last year's festival, held in early October, featured 55 northwest wineries pouring 150 wines, along with two distilleries and a brewery.
The appetizer was Dungeness crab over tangerine granita and tofu. We also had seared duck breast and the dessert was salted caramel popcorn with chocolate and cream. Reminded me a bit of Cracker Jacks (yes, they're still around) and was sticky-yum. All in all, the food and its presentation looked like something you see on gourmet cooking show competitions. Gorgeous.
All in all, we are well sated after eating and drinking our way north from Olympia to Bellingham, and now for a long nap.