It seems like long ago, with memories made even more distant by the ongoing COVID-19 pandemic and resulting travel restrictions. It was a year ago that my Moscow memories began to form and simmer following a too-short visit to Russia's capital city. Moscow was the final stop on a nearly three-week trip that began in Russia's far eastern section, one that ended after a 6,000-mile train ride on the Trans-Siberian Railway from Vladivostok to Moscow by way of St. Petersburg.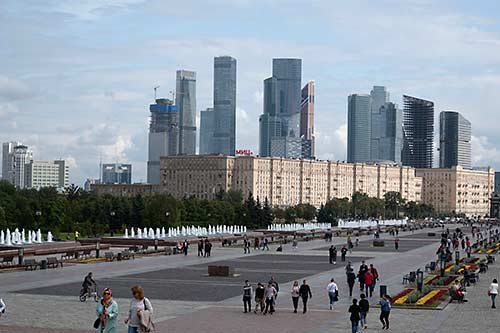 One small side of Moscow, a city of 12-1/2 million people
Moscow was a surprise. We had officially started our visit there at Sparrow Hills, a site within the city's expansive limits but distant from downtown. Moscow provided a tumble of memories, but several–a river cruise, circus, subway art, Kremlin and Red Square–are those that persist.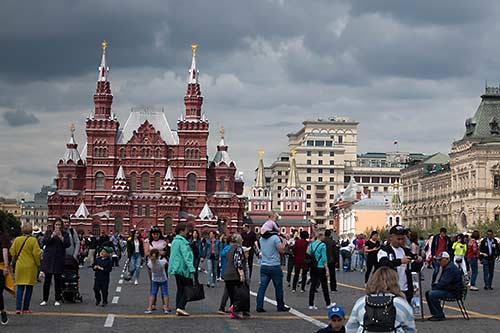 The crush of people in Red Square
Red Square and the Kremlin
We had started the day walking to downtown Moscow from a huge city park, passing a ceremony where young men were being inducted into the Russian Army. We paused to view an emotionally moving holocaust statue, strolled past several beautiful fountains and stopped to buy ice cream before eventually reaching the city's heart, Red Square and the Kremlin.
I had heard and read about Red Square's magnificence. But, as we entered, I realized nothing had fully prepared me for what I saw: a sprawling open area covering 800,000 square feet teeming with the sights and sounds of people and iconic buildings to which photos can't do justice. Red Square is a place rich with Russian history, including a legacy of executions, parades, politics, riots, demonstrations, emperors, tsars, dictators and a president who has weaseled the system to effectively rule for life.
St. Basil's Cathedral is a riot of colors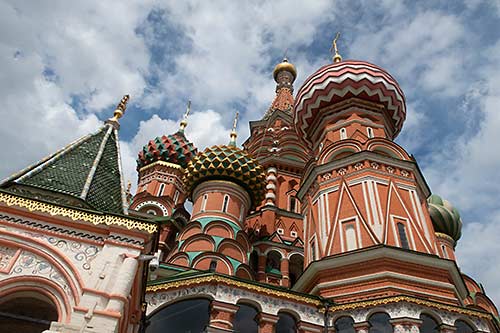 Amazing St. Basil's
From any angle, the immediate eye-catching marvel is the wondrously eclectic St. Basil's Cathedral, a riot of fairy tale colors and shapes. But Red Square also offers a potpourri of historic sites, most notably the Kremlin, where Russian rulers have exerted world-impacting policies. Before a shortened Kremlin tour we gawked while walking through the throngs in Red Square, past extended lines waiting to enter Lenin's Mausoleum, the Patriarch's Palace, the Ivan the Great Bell Tower, Armoury, Annunciation Cathedral and the Tsar Cannon and Ball–a cannon and ball so large and heavy that they've never been used–and the Tsar Bell, a 202-ton creation that has never rung.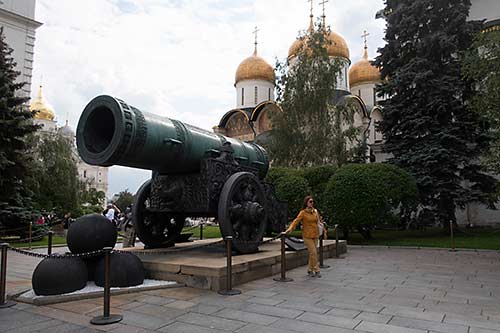 The never-fired Tsar Cannon and Ball
We toured the Archangel Cathedral, the burial church of princes and tsars dating back to 1340, and hurried through a too-short tour of the Armoury, a building filled with such opulent treasures as dazzling gold and silver objects, Faberge Easter eggs, a coronation throne, armor and weapons, empresses' gowns, golden crowns, precious metals and royal regalia.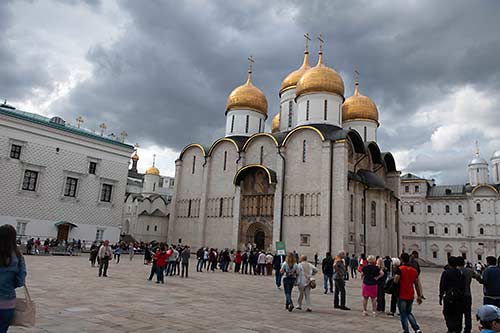 The Archangel Cathedral in Red Square
Metro Art Tour
| | | | | |
| --- | --- | --- | --- | --- |
| | One of the world's most amazing art museums is seen by millions of people every day but only little noticed. That's because most of the viewers are Moscovites traveling to and from jobs or school on Moscow's subway system. But for visitors, Moscow's metro art is on the list, or should be, of places to see and experience public art on an immense scale. As one of the subway's main architects is said to have declared of the elaborate displays, "They used to have palaces for kings. We are going to build palaces for the people." | | | |
| | Moscow's Metro Art Museum | | Beautiful stained glass | |
The wonders are spread through many of Moscow's 203 metro stations. We rode trains from station to station. At selected stops we strolled along the underground corridors resplendent with many forms of decidedly politically-influenced art.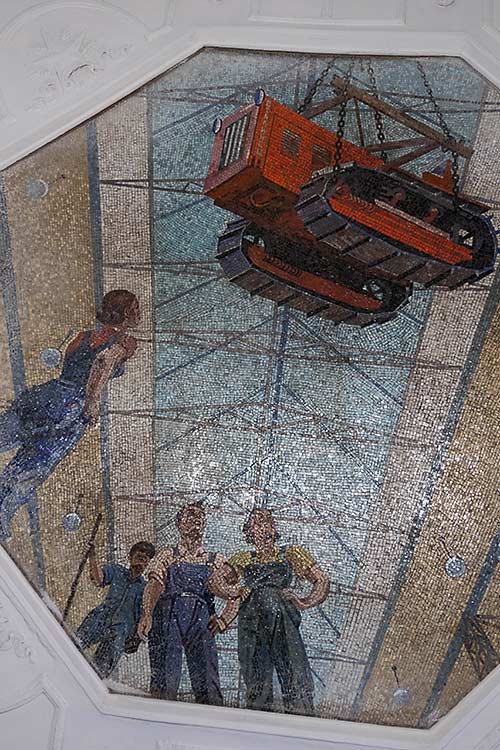 Workers are often honored
Some stations are truly spaciously and splendidly palatial, others evoke thoughts of lavish ballrooms. All the stations we visited were stunning, variously richly decorated with dominating statues, incredible mosaics, beautiful stained glass, bas-reliefs, massive marble columns, dazzling chandeliers and more.
Because many stations were built during Lenin's years, Soviet symbols like hammers and sickles are everywhere.

Choosing which train stations to visit is challenging – 44 are listed as places of Russian cultural heritage. Thankfully, our hours were well-spent with a guide who took us to several of the stations with the most highly praised displays: Revolution Square with sculptures of Soviet people; the World War II Hall of Fame in the Kurskaya Station Lobby; Komsomolskaya with mural mosaics of "glorious Russian victories;" stained glass at Novoslobodskaya; and more.

Honoring Soviet troops

An underground art showcase
Grand Moscow Circus
The name Grand Moscow Circus is an understatement. Yes, it is a circus, but it's also so much more. It's 2-1/2 hours of jaw-dropping delights, including seemingly impossible trapeze acrobatics, memorable animal acts, wildly hilarious clowns, incredible juggling, and how'd-they-do-it body-twisting gymnastics. Add to this multitude of production extravagance its mesmerizing lighting and mood-setting music performed by live musicians, it was an evening alive with amazingly precisely choreographed performances.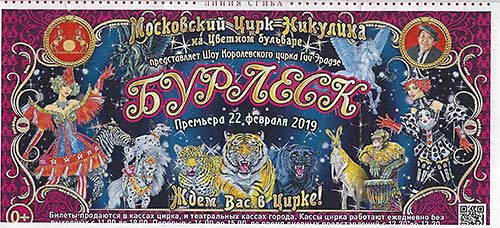 Colorful circus admission ticket
The fast-paced program featured hold-your-breath moments as performers flew through the air doing flips after being flung from towering trapezes onto moving platforms. A split-second timing error would have been fatal. Likewise, there were googolplex varieties of creatively inventive high-wire acts: triple mid-air somersaults, daring leaps, spins and stunts that even gold medal Olympic gymnasts couldn't duplicate.
Fearsome-looking bears growled while they juggled and performed other carefully coordinated stunts. Even more impressive were menacing-appearing Bengal tigers and lions doing a series of routines. We had gotten up-close looks at some of them that had greeted us and other visitors as we entered the arena before the show.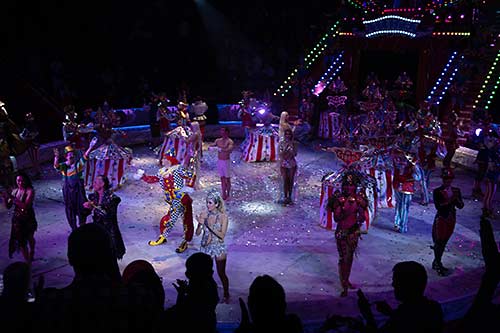 Moscow Circus performers
It was an evening where we and others were repeatedly dazzled by a series of thrills and spills, orbiting and twirling balls, jugglers, musicians, zippy-quick equipment set-ups and impossibly don't-blink-or-you'll-miss-it costume changes. Forget Ringling Brothers. The Grand Moscow Circus is, as Dr. Seuss might say, "Lions and tigers and bears! Oh my!" Yes, there were lions and tigers and bear but, "Oh my" also so much, much more.
Moscow River Cruise
The city took on a different perspective during a two-hour cruise on the Moskva River, which gently winds through central Moscow and offers panoramic views of Russia's capital. From our ship, the views this sunny afternoon were indeed splendid, offering new vistas and vantages.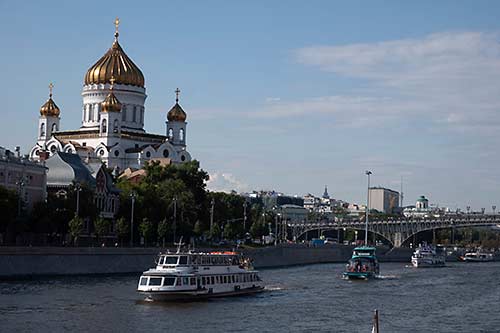 Cruising the Moskva River past golden domed cathedral
Our out-and-back cruise began near the Novospassky pier, quickly passed the towering skyscrapers of the Moscow Trade Center, continued past the White House (the Russian government's primary office building), the impressive architecture of Moscow's City Hall, the Novodevichy Monastery, Moscow State University and the Russian Academy of Sciences. The golden domes of the Cathedral of Christ the Saviour seemed to shimmer in the bright sunshine. And from the river the Kremlin walls seemed almost welcoming.
The Koteinicheskaya Embankment and Sparrow Hills were lined with couples and families, most of them lying on green spaces and soaking in the sun while others jogged, skateboarded or just strolled the riverside path.
At Gorky Park, officially the Gorky Central Park of Culture and Leisure, the mood changed, with a band of long-haired musicians blasting out rock music and exhorting the lively, oh-so-willing hundreds in the audience to "Make Noise!"
Near Gorky Park and along the river we passed under several bridges, no two alike. Some were especially notable–the Krymsky (Crimean) Bridge near Gorky Park and the Ustinsky and Krasnokholmsky.
| | | | | |
| --- | --- | --- | --- | --- |
| | | | One of the Moskva's most notable sights is the Peter the Great Statue, a 322-foot tall sculpture honoring Peter the Great. It's an object of controversy, not only because many believe it should more appropriately stand in Saint Petersburg, but because of its shape and appearance. In 2010, "Peter" was included in a list of the world's ugliest statues, and was ranked the 10th ugliest in another. It's also said the statue was originally based on a design intended to honor the 500th anniversary of Christopher Columbus' first voyage but, when an American buyer for the piece could not be found, it was repurposed as Peter the Great. | |
| | The controversial Peter the Great | | | |
*
A year later, and with the COVID-19 pandemic limiting travel, my visit to Russia's capital city seems long ago. But it was a too-brief experience that created lasting Moscow memories.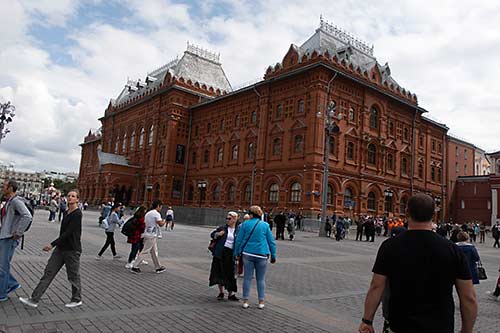 Busy times in Red Square

About the Author
Lee Juillerat is a semi-retired writer/photographer who lives in Southern Oregon, His travel, outdoor and other stories appear in newspapers and magazines, including Alaska Beyond, Range, and the AG Mag. He is the author of books about Crater Lake National Park, Lava Beds National Monument and, most recently, Ranchers and Ranching: Cowboy Country Yesterday and Today. He can be reached at 337lee337@charter.net.