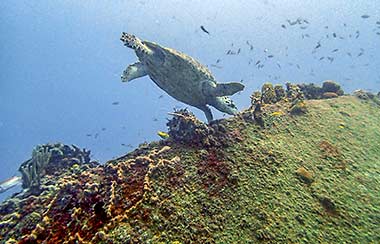 Hawksbill turtle and thick encrusted life on Ellion shipwreck in Carlisle Bay
Photo by David Noyes
I've been scuba diving for 57 years. Maybe not quite as long as Sylvia Earle, a famous scuba pioneer who is still in the water at 83. But when she told Popular Science Magazine, "As long as I'm breathing, I'll be diving," I agreed, totally.
I was in my 20s when I interviewed some 80-year-old guy who was dragging ancient skulls and artifacts out of Florida sinkholes. Yes, folks did that sort of thing back then. His age wasn't relevant to the story but it DID make so much of an impression, I remember it to this day.

At this point, I had already been diving for a decade. My original course, in 1962, was in college in Miami ... me, 28 hormonal 18-year-old boys with three-foot knives and Sea Hunt on TV. We discussed the pros and cons of double hose regulators and when air ran out on our tanks, pulled a J valve hook.

And, today, there are more of us still in the water than you'd think.

But ...

At what point are you too old to dive? Are you ever? What concessions might you make?

On the concession front, these days I am more than happy to cavern dive. My days of dragging reels and half a dozen lights into the bowels of a cave are behind me, as are dry suits. I'm glad I did Antarctica when I had a chance. I wouldn't do it now. And if some cute, buff dive guide wants to carry my gear ... have at it, I say. Gladly.

I like warm water. I realized along the way that shallow (say 60 feet or so) dives not only give you more time but usually have better life to see.

So when I recently went to Barbados, I talked to a couple of dive operators about "elder" divers.

It was illuminating.
"Mostly, you find those divers, the older ones, are the most competent," said Troy Barthelmy, Aqua Center manager for Sandals on Barbados.

His oldest divers are in their 80s. Most of them, he added, are physically fit and, "more than anyone else, they know their limits."

"Usually they overcompensate. They don't require much attention beyond maybe needing help up the ladder. Removing the weight belt, tank and fins in the water also helps. And we can even help them gear up in the water."
Troy looked at me. "Would you like to do that?"

"Uh, no. But yes, I WILL hand up the gear before I get out of the water," I replied.

That matter of physical fitness is important, he added. Basically, if you can't do a couple of flights of stairs without becoming breathless, there may be a problem.

Another point is to let the dive shop know in advance that extra help may be needed.

Some people, he said, "try to resist help to show everybody they can do it, but I assure you, it's much more pleasant if you recognize you need help. Instructors are there to help and make your dive more fun."

Troy Barthelmy
That brought back memories of when I got certified in the 1960s and the sport was macho, almost military, with the object being to fail those who couldn't keep up. Early days of cave diving were even worse. And then the industry realized that to survive, it needed more divers and so attitudes changed.

When I took a refresher course in the mid '70s and walked into the class where the instructor had chalked "Diving is Fun" on the board, I was surprised but also pleased.

But these days, there are also far more concerns about safety ... and liability.

All of the dive shops on Barbados I contacted had some sort of medical form for divers to fill out. They are not all identical but do appear to hit more or less the same long list of possible medical issues.

They run the gamut from the expected ... do you smoke, have you ever had a collapsed lung, history of heart disease or diabetes … to the surprising ... hayfever, frequent colds, prone to sea sickness. And several issues for many older divers ... being on a drug for blood pressure, even if the blood pressure is controlled, plus do you have a high cholesterol level.

Sandals, a high end resort, makes sure guests who plan to dive get this form well before their trip. And if they answer yes to ANY of the questions, they need a certificate from a doctor saying they are OK to dive. Should they say yes and arrive without the certification, the dive shop will call a local doctor to certify for a fee of $160 US.

Many dive shops use a standard medical form that can be found on the PADI website. The form is required, by the way, for all divers, not just those who are older.

For people who are anxious, Troy says the diver can do a test dive in the pool, to get more comfortable with the Sandals gear.

"Our first obligation," he added, "is to make sure that person has every opportunity we can give so they can dive."

Then, there are the questions about dive history. If you have dived within the past six months, you are good to go. If it's been over six months to 18 months, Sandals wants to do a pool orientation, which is free. If it's been more than 18 months, they require a one on one review with an instructor, which does have a fee of $80 US.

Peter Grannum of Dive West Side Scuba echoed what Troy said, adding that he finds older divers prefer more shallow dives.
| | | | | |
| --- | --- | --- | --- | --- |
| | | | | |
| | Beach at Barbados Hilton | | Rugged beach on Barbados' east coast | |
Which brings us to Carlisle Bay, one of the finest novice/easy dives I've experienced.

Carlisle Bay is a crescent shaped bay on Barbados' more sheltered west side. It has been declared a protected marine park.

Even though I managed to catch Barbados during its only serious tropical storm since 1961, we did get to dive on our last day and our second dive was Carlisle. So we were only a scant day past wind and flooding rain and even with this, the usual visibility of 60 - 80 feet had recovered enough to be a decent 40 feet. The water was flat calm and the water temperature, a comfy 82 degrees.

What makes this area so special is that there are six boat wrecks, an old jetty, anchors and cannons all practically within sight of each other and some with tops as shallow as 11 feet, with much of the diving at the 30 and 40 foot level. The deepest is the bottom of the Ellion wreck at about 60 feet.

Each wreck has a history and its own characteristics.

The Bajan Queen, a former party boat, was sunk here on purpose to become an artificial reef in 2002. This was the one where I found the most life ... schools of grunts, squirrelfish and jacks flitting back and forth beneath the hull and the giant propeller at 35 feet deep with its own gathering of critters.
| | | | | |
| --- | --- | --- | --- | --- |
| | | | | |
| | Queen French grunts and Black bar soldier fish on the Bajan Queen wreck. Photo by Andrew Western. | | Looking out from inside the Bajan Queen wreck. Photo by Andrew Western. | |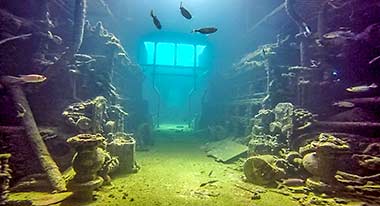 Inside the Bajan Queen in Carlisle Bay.
Photo by Kiera Bloom.
Over at the Ellion, a hawksbill turtle calmly chewed on sponge algae on the stern. This boat was used by drug smugglers, who were caught and went to prison. After being seized by Barbadian authorities, the boat was sunk in the bay in 1996.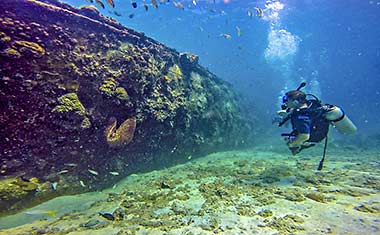 Coral and sponge life growing on the side of the Ellion in Carlisle Bay.
Photo by Kiera Bloom.

There's also the Berwind, a French tug used during WWI. According to local lore, the crew didn't want to go back to France and deliberately sank the boat in 1919. It's the oldest wreck in the bay.

And the Cornwallis, a Canadian freighter sunk in WWII by a German U-boat and moved to the bay in 2000. Plus the Ce-Trek sunk in 1986. And a barge, sunk in 2000.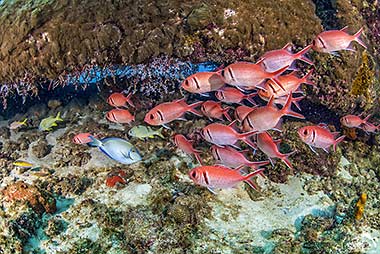 Black bar soldier fish on the Corn Wallace wreck.
Photo by Andrew Western.
It's possible to do most of these bits and pieces on a single dive or two and a couple of the wrecks can be penetrated. My only regret is we didn't do both dives on this site.

For those who want to venture further, Barbados has approximately 30 named dives in all (if you count the wrecks in Carlisle Bay individually). This includes many reefs along with wrecks that can be penetrated. Most dives are on the island's calm west side with a few on the south side.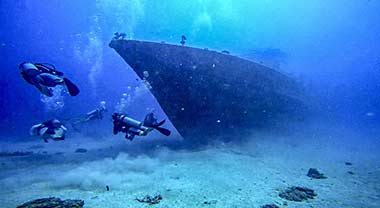 The Trident, one of the other diveable wrecks in Barbados.
Photo by Kiera Bloom.
Of the various wrecks, island favorites include:

* SS Stavronikita – The most famous wreck on the island was a 365-foot Greek freighter that once carried cement and is now part of the Folkestone Underwater Park. It has a rainbow of huge tube and rope sponges. The Stavronikita is an advanced dive, lying in 120ft of water with the top of the stern at 100ft and the bow at 70ft. It can be penetrated and is actually large enough that it can be confusing inside.

* Pamir – Another boat sunk to become an artificial reef. The 165 foot boat sits in 60 feet of water and has wide openings for divers to peer into. Sitting upright in a sheltered spot, this is a good dive for beginners and a good warm-up dive for the Stavronikita.

Ok, I know what I want to dive on my next trip to Barbados ... Carlisle Bay, of course. And a couple of those more challenging wrecks, but probably only from the outside.

INFO

Barbados is about 250 miles north of South America in the Lesser Antilles. It's 21 miles long and 14 miles at its widest. Various native groups lived here back to the fourth century AD. The British, in 1627, were the first Europeans to put down permanent roots and today, Barbados is a British Commonwealth, which means, among other things, that driving is on the left. The Barbados dollar is 2 for each US dollar but US currency is accepted by virtually everyone.

Barbados is 75 - 85 degrees year round. The usual tropical heat is lessened by northeast trade winds. However, June through October is considered the rainy season and also hurricane season in the Caribbean. And while Barbados usually escapes major storms, gateway cities such as Miami may be affected.

Barbados Information - https://www.visitbarbados.org/
Sandals Resort Barbados - https://www.sandals.com/sandals-barbados/ and https://www.sandals.com/royal-barbados/
Dive West Side Scuba - http://www.westsidescuba.com/
Barbados Blue Watersports - https://www.divebarbadosblue.com/