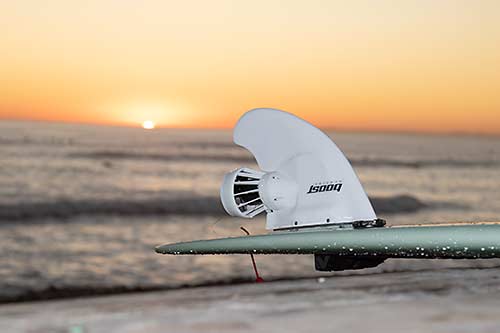 Boost Surfing Fin prototype
Website orders begin this month for the $299 electric surfboard fin, the brand new surfing solution from Boost Surfing.
The 800-watt Boost Surfing Fin provides 20 pounds of turbocharged motor thrust and speeds up to 11 mph, letting surfers of all experience levels make the most out of every swell and surf session by helping them paddle faster and longer - and you know what that means: more waves to catch because your turnaround time is reduced.
Plus, when trying to catch a wave, you can just power into it and increase you chances of catching it dramatically. The battery allows for 95 8-second power bursts.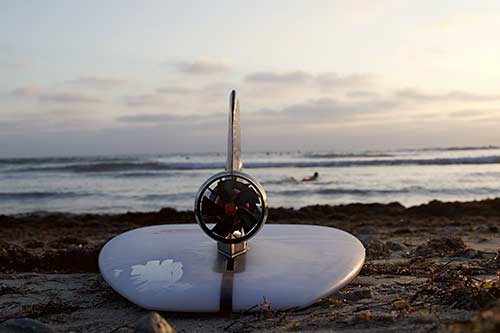 Looking through the electric surfboard motor
"Surfers make up one of the most dedicated, passionate sports communities, and the last thing we want to do is disrupt the art of surfing," said Alex Ostanin, co-founder and CTO of Boost Surfing. "We kept that in mind as we developed the electric Fin, creating a technologically sophisticated product that doesn't interfere with the dynamics of surfing but provides the muscle needed to help surfers paddle out and get on a larger number of waves for a more memorable surfing experience.
WHO WOULD BENEFIT
There are an estimated 35 million surfers worldwide, but surfing is one of the most physically demanding sports around; most surfers only get about 8% ride time, spending a majority of their time paddling or lining up for waves. Many surfers, from beginners to avid surfers, don't get the chance to surf enough to build out the muscle power and stamina needed to constantly paddle. In addition, surfers with physical limitations may not be able to paddle on their own or may have difficulty paddling continuously. The rigors of constant paddling compared to the small amount of actual ride time can be frustrating, can ruin surfers' overall experience and ultimately, deter some from surfing altogether.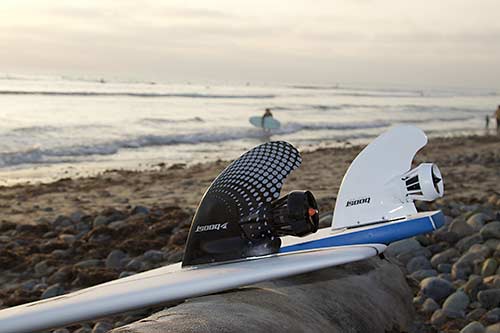 Click here for 3:25 video on how the power fin works
HOW IT WORKS
The Fin is connected to the Boost Surfing mobile app, available on iOS and Android, which surfers can use to tailor the exact power and duration of the boosts based on their experience level and needs. Surfers can choose to attach a control button to the top of their board, keep it in their hands or attach it to their wrists. The Boost Surfing Fin can be attached to multiple board types including Longboards, Soft Top, FCS/FCS II, Futures, stand up and paddleboards (SUP). The Fin's battery charges in 1.5 hours and its battery life provides roughly 2 hours of ride time with approximately 95 8-second power boosts.
PRICING
The Boost Surfing Fin is available on Kickstarter with the following limited pricing packages:
● $149: Early-bird 50% discount privilege (250 available)
● $169: Early-bird special (250 available)
● $189: Kickstarter special (250 available)
● $299: Early-bird duo - two Fins (150 available)
● $999: Reseller pack - seven Fins (100 available)
The Boost Surfing Fin retails for $299, and all purchases come with a two-year limited warranty. Website orders will begin in January 2020, and early bird orders will ship May 2020. To learn more, visit https://boostsurfing.com/.