Snowdon Mountain in Wales is a mountain I'd long wanted to climb but, because of the rainy, blustery weather, I figured it wouldn't happen. But climb it I did - I think.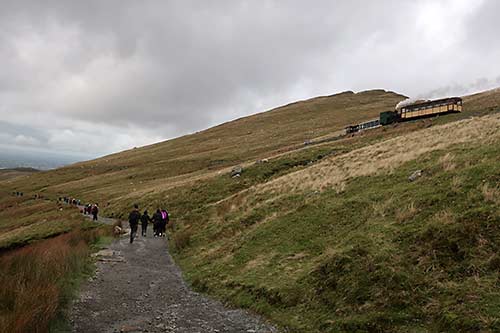 The Snowdon Mountain Train passes hikers
Snowdon's summit elevation is only 3,650-feet but it is Wale's tallest mountain. The most used trail - the one I unexpectedly took - is a five-miles-plus one-way route with a 3,200-foot elevation gain. It's a mountain steeped in legend. The Welsh name for Snowdon's summit is Yr Wyddfa, which means the burial place. Some people believe Snowdon was the home and burial place of King Arthur and that his legendary sword, Excalibur, remains in a nearby lake. Snowdon's Welsh name, Eryri, is believed to be derived from eyrr, or "land of eagles," or eira, "land of snow." Because there have been no eagles in the area for years and because winter snow often lingers until April, many regard eira - "land of snow" -  as more appropriate. The name Snowdon is old English for "snow hill." During a 1990 trip to Wales to visit my mother's relatives, a planned hike up Snowdon was scrubbed because of heavy rains, threatening winds and snow near its summit. Because it was hidden under a blanket of heavy clouds, I never actually saw the mountain.
| | | | | |
| --- | --- | --- | --- | --- |
| | | | Conditions weren't much different during last fall's visit. The mountain was again cloud-shrouded and the forecast was bleak - rain, winds and a socked-in mountain. Instead of getting up early, I waited until my daughter, Molly, and her husband, Andy Hamilton, left to run trail races on Snowdon. Later that morning, Liane Venzke and I left our apartment in the village of Llanberis to hike to the nearby Rhaeadr Ceunant Mawr, or waterfall of the great ravine, a beautiful two-stage 100-foot waterfall. | |
| | The Rhaeadr Ceunant Mawr | | Enjoying the view | |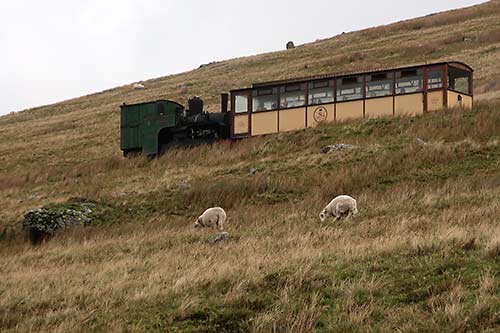 Sheep graze along Snowden Mountain Railway tracks
From the waterfall, Liane doubled back. I decided to continue on with no destination in mind, climbing over stiles and past farms and fields of grazing sheep. Railroad tracks for the Snowdon Mountain Railway, which has been chugging up the mountain since 1896, angled sharply away from the path I followed. Later, when I met other hikers, they said the main Snowdon trail, the Llanberis Path, was across the valley. Maybe, they ventured, the trail I was on might hook up with the well-traveled route.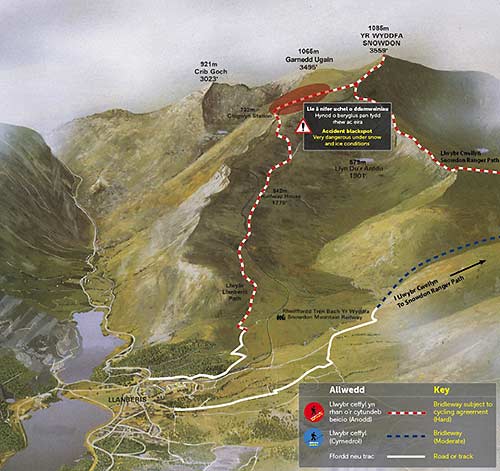 The usual route to climb Snowden Mountain
It didn't. So I doubled back, followed a trail crossing the valley and was surprised to see a parade of people heading uphill. It was about 11:30 when I joined the throng. Actually it seemed more like a pilgrimage, a pilgrimage to Snowdon.
Maybe it was adrenaline or maybe it's because I live in a city higher in elevation than Snowdon's summit. I passed dozens, then hundreds of hikers young and old, some with dogs. The rocky trail, with flat pieces of slate laid like stepping stones, doggedly angled up and up. At the lower elevations were views of the surrounding valleys and neighboring peaks, but never a glimpse of fog- and cloud-blanketed Snowdon.
The chatter of other hikers and sounds of boots on rocks was occasionally joined by the toots and whistles of Snowdon summit-bound trains, sometimes the huff-n-puff steam engine that billowed puffy clouds of smoke and other times by diesel engines pulling 74-passenger carriages. The trail crossed under a railroad bridge or, more often, paralleled the tracks. With mostly no views to appreciate, I continued on, always up, always following the well-defined trail to my still unseen destination.
| | | | | |
| --- | --- | --- | --- | --- |
| | | | | |
| | Waiting for my turn | | Oblivious sheep | |
It was nearly 1:30 when I reach the train station, Hafod Eryri. But the trail to Snowdon's summit wriggled up slightly higher. I joined a line of earlier arrivals waiting their turn to stand atop the craggy top. While we waited, sheep obliviously grazed just yards away. I chatted with a couple from England, who lent me their cell phone to snap photos of their conquest. As we waited and climbed higher, the zephyr-like winds accelerated and, worse, created a thick, view-obscuring mist. Finally I stood on top. It was a climb that had taken nearly 30 years.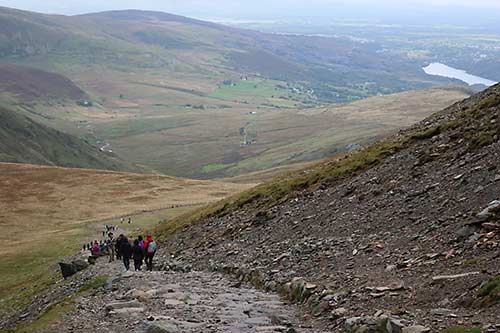 Heading down Snowdon
On the descent, the fog gradually lifted, exposing endless green hillsides dotted with sheep that had been hidden on my upward journey. Neighboring peaks became taller as I descended. Passenger-packed trains heading up and down chugged and tooted.
Later I learned that after leaving the waterfall, Liane had walked to town, made an impromptu stop at the train station, learned there was an empty seat on a just-leaving train, and hopped aboard for the 2-1/2-hour circuit - one hour up, a half-hour stop on top that allowed her to reach the then-uncluttered summit, and another hour back to the station. Andy's half-marathon took him to Snowdon's summit area. Molly's shorter run didn't include a summit-area visit, but took her up and down hills and valleys below Snowdon.
| | | | | |
| --- | --- | --- | --- | --- |
| | | | | |
| | Dolbadarn Castle | | Slate making demonstration | |
During our three days in Llanberis, a stay that included visits to the crumbling "Games of Thrones"-like remains of Dolbadarn Castle, an intriguing tour of the National Slate Museum and walks along Llanberis Lake, none of us saw Snowdon's reportedly beautiful upper reaches or summit. All we saw was a mountain I've decided might be better named "Foggedin."
The Pembrokeshire Coast Path
Our first hike along the Pemrokeshire Coast began with a 20-minute walk through the woods from our cottage near the village of Moylegrove to Ceibwr Bay. From there we joined the Pembrokeshire trail, relishing sumptuous views of patterned cliffs while hiking to Pen-yr-afr. Further south were more sightings of rugged, jagged rocks on and offshore and a coast subjected to the tumultuous and relentlessly pummeling Atlantic Ocean. The sights changed overlooking Pwll-y-Wrach, or the Witches' Cauldron, where the roof of a cave long ago collapsed and created a blow-hole. In the hole a grey seal was lounging on its back, seemingly savoring the view. Then a burst of bubbles and a second seal appeared, this one doing acrobatic dips and dives. Fun.
| | | | | |
| --- | --- | --- | --- | --- |
| | | | | |
| | On the way to Ceibwr Bay | | Overlooking the Witches' Cauldron | |
The loop route eventually angled away from the coast, tracking inland past the ruins of Castell Trerfffith, an Iron Age (800 BC to 100 AD) fort, before returning to a narrow road through Moylegrove  and back to our cottage.
Days later the scenery along Pembrokeshire's St. David's Peninsula was even more dramatic. We followed the St. David's Head Coastal Trail, a 4-1/2-mile loop that we made longer by unintentionally, but not disappointedly, taking an extended route.
| | | | | |
| --- | --- | --- | --- | --- |
| | | | | |
| | Molly along the coast | | Hay fields by coast | |
Much like sections of the Oregon Coast, the setting was windy, wild and blustery. Along the ocean side, hidden cliffs dropped elevator-shaft steep to beaches exposed by the low tide. In contrast, looking inland were several carns, or prominent rocky highpoints, pastoral fields spotted with grazing cattle and freshly harvested hay. As described in a brochure, the million-plus years ago hills, coastline and rocks were "contorted and folded by powerful earth movements and the tortured strata."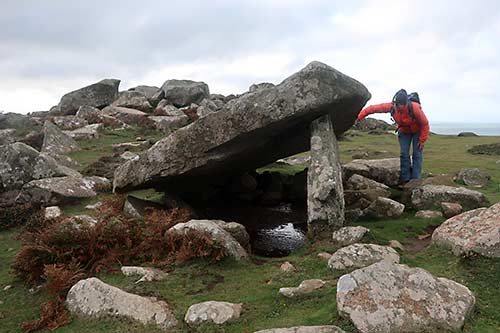 The Carrge Coetan Arthur
At St. David's Head, faint footpaths weaved to overlooks perched above the fractured coastal headlands. A search revealed Carrge Coetan Arthur, where a huge rock is improbably propped up. It's said the stone burial chamber dates back to 400 BC and is among  the remains of an Iron Age coastal fort.
The Pembrokeshire Coast Path covers 186 miles from its south end near Amroth north to Cardigan and is known for clinging dangerously and precariously along an often exposed, cliffside route. It's part of the 870-mile Wales Coast Path.
Moel Famau and Foel Fenlli
| | | | | |
| --- | --- | --- | --- | --- |
| | | | Many years ago I hiked 50 miles along the Offa's Dyke Path, a 177-mile trail that mostly follows the border country between Wales and England. Last fall, from our cottage outside the village of Ruthin, a day hike provided an opportunity to visit another section of the path, one reached by walking through bucolic fields of grazing cows and watchful sheep separated by walls of deliberately stacked stones. | |
| | Offa's Dyke | | Over a gate | |
| | | | | | | |
| --- | --- | --- | --- | --- | --- | --- |
| | | | | | | |
| | | | | | | |
| | Along Foel Fenlli | | Enjoying the view | | Andy at the Jubilee Tower | |
Once on the Dyke Path, we detoured for two easily gained summits. Foel Fenlli was a hillfort built along a Bronze Age (about 3200 to 600 BC) trading route.  Archeologists have unearthed 35 hut circles, with the height from some ditch bottoms reaching to 35 feet to bank tops. From Foel Fenlli we dropped to a car park and trekked steadily uphill to Moel Famau, or Mother's Mountain. In Welsh, moel means "bare mountain." Atop Moel Famau is the Jubilee Tower, built in 1810 to celebrate George III's 50-year reign. The planned 150-foot tall Egyptian-style pyramid was never completed. Ravaged by storms it was only partially rebuilt. Delightfully, fog that had obscured views on the hike up magically cleared, exposing the lush Vale of Clwyd and distant mountains, including Snowdon.
Coed-y-Rhaeadr (Wood of the Water)
| | | | | |
| --- | --- | --- | --- | --- |
| | | | | |
| | long the Pyrddin River | | Andy at Sgwd-y-Bedol | |
Wales is a land of waterfalls, and we saw many. But, happily and improbably, we saved the best for last, Coed-y-Rhaedr, or Wood of the Water, in Brecon Beacons National Park. Our day hike began near the village of Pontneddfechan, where the trail parallels the rollicking Pyrddin River. Our first stop was Squid Gwladis, or Lady Falls. We doubled back, crossed a bridge and followed the banks above the river Nedd Fechan, to Sgwd-y-Bedol, or Horseshoe Falls, so named because it's shaped in several semi-circular ledges. Continuing upstream the river cascaded over Sgwd Ddwli Isaf and Ddwli Uchaf, or the Lower and Upper Gushing Falls. Because it had rained earlier, they indeed gushed.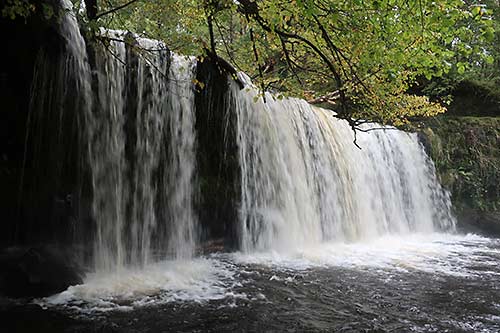 Sgwd yr Eira Falls
A few days earlier, from Ystradfellte, a tedious mile-long walk was rewarded with another section of Brecon Beacons' Waterfall Country. Sgwd Clun-Gwyn, or White Meadow falls, spilled downstream to Sgwd Isaf Clun-Gwyn, or Lower White Meadow Fall, and, further down, to Sgwd y Pannwr, Fall of the Fuller. But more dramatic was Beacons most popular falls, Sgwd yr Eira, the Fall of Snow. During lower water periods it's possible to walk behind the 20-foot curtain of water.
| | | |
| --- | --- | --- |
| | Waterfalls in Brecon Beacons | |
And More
| | | | | |
| --- | --- | --- | --- | --- |
| | We made short trips to several castles, including the foreboding Carreg Cennen Castle perched overlooking the valley and the still splendid Conwy Castle, with its eight massive towers and an inner court once connected by a drawbridge. Like other castles, Conwy has a rich, often turbulent history of kings, intrigue and treason. Another day, a steady climb from the charming village of Crickhowell swept past neatly stacked stone fences to Table Mountain and the crumbling remains of a 2,500-year-old hillfort. | | | |
| | Casrreg Cennen | | View from inside | |
| | | |
| --- | --- | --- |
| | Sights inside Conwy Castle | |
There are many more trails to take, or like the Pembrokeshire and Offa's Dyke paths, many more miles to hike. And many reasons to think of returning to again appreciate the diversity and beauty of Wales.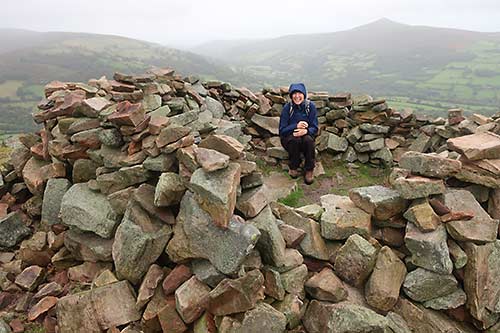 Remains atop Table Mountain
About the Author
Lee Juillerat is a semi-retired writer/photographer who lives in Southern Oregon. His travel, outdoor and other stories appear in newspapers and magazines, including Alaska Beyond, Range, and the AG Mag. He is the author of books about Crater Lake National Park, Lava Beds National Monument and, most recently, Ranchers and Ranching: Cowboy Country Yesterday and Today. He can be reached at 337lee337@charter.net.