It was still light when our group of 10 boarded the train. But this wasn't just any train, it was the Trans-Siberian Railway and we were about to embark on a 6,000 mile, three-week-plus journey across Russia.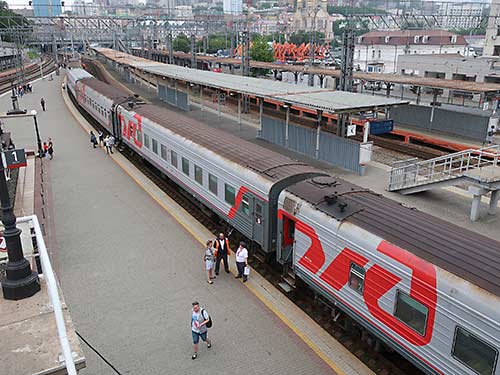 There's the train
Instead of going west to east, from Moscow to Vladivostok, our journey was east to west, with a detour to St. Petersburg before finishing in Moscow. We were in Vladivostok, a Rusian military port on the western shores of the Sea of Japan, where we'd spent two enjoyable days. Our trip actually began with a 15-hour flight from Seattle to Beijing, China, where we'd spent our 10-hour layover sprawled and folded on uncomfortable airport chairs, tables and floors. But boarding the Trans-Siberian was the true beginning of our journey, one that took us from Asia to Europe.
| | | | | |
| --- | --- | --- | --- | --- |
| | | | | |
| | Flopping out in Beijing | | The team, ready to ride | |
I'd never planned or imagined visiting Russia, and I'd never imagined spending so much time on a train. But when my long-time running partner and doctor, Alden Glidden, said he was taking his family on the Trans-Siberian Railway and off-handedly asked if I might want to go, my reaction was, "Sure, why not?"
What follows are some of the googolplex highlights.
Vladivostok
| | | | | | | |
| --- | --- | --- | --- | --- | --- | --- |
| | | | | | | |
| | An Amur tiger | | A Siberian bear | | Sitka deer | |
Arriving early morning in Vladivostok paid early dividends. At Primorsky Safari Park we walked along fenced catwalks near, appropriately, freely pacing Amur tigers and leopards, elk, Sitka deer and more, including a delightfully neurotic horned squirrel that bounced, twirled and whirled like a 5-year-old with a sugar overdose.
| | | | | |
| --- | --- | --- | --- | --- |
| | | | | |
| | Outside the aquarium | | Hunter almost swallowed | |
A day later at the, the largest in Russia and the world's third largest, the delights included 135 glass-walled tanks with more than 500 species of marine and freshwater animals, including zillions of exotic looking fish, white whales, bottle-nosed dolphins and sea lions. But the most interesting critter was Misha, a tusk-less Pacific walrus that, despite its hefty size, was amazingly agile. The tank was sonar-equipped so we heard his sounds as he rocketed out of the water for high dives, squealed with seeming delight or made peaceful squeaks while doing what can only be described as walrus yoga. Misha watched us as we watched him - and seemed visibly heart-broken when we left.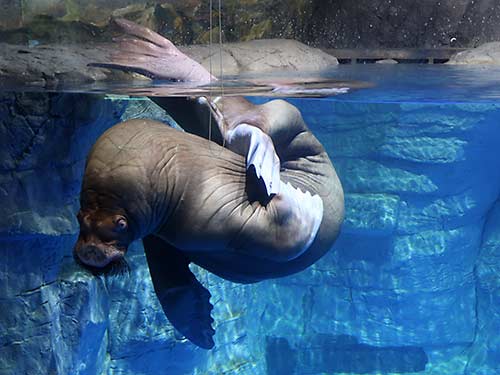 Misha doing walrus yoga
Khabarovsk
| | | | | |
| --- | --- | --- | --- | --- |
| | | | | |
| | Pictograph along the Amur | | Dried fish | |
An overnight train dropped us off in Khabarovsk, where we piled into a van and drove to Sikachi-Alyan, a Nanai (native) village for a short boat ride to see pictographs along the Amur River. One was the shape of the head of a dragon with wings, said to represent the swiftly flowing, white-capped Amu, the dragon's home. After a way-too-much information talk - a common happening during several stops - we hungrily devoured a meal of locally caught raw fish along with soup filled with fish and meat (deer and boar), fish strips and scrumptious potatoes.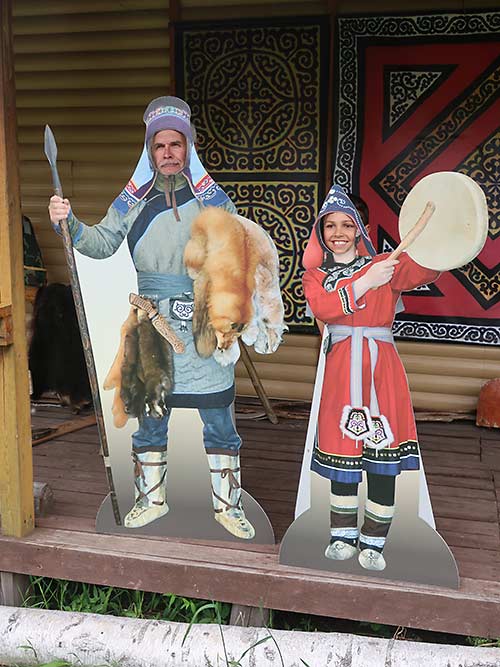 Vladimir and Hunter going native
The wisest comments came later, during a museum tour in Khabarovsk that included a section on the history of Russia and its years as the USSR. Dramatic murals showed fierce war scenes; a park was lined with panels and the thousands of names of soldiers killed in another conflict. As our guide, Anatoly, observed, "When you speak about history, you speak about possibility."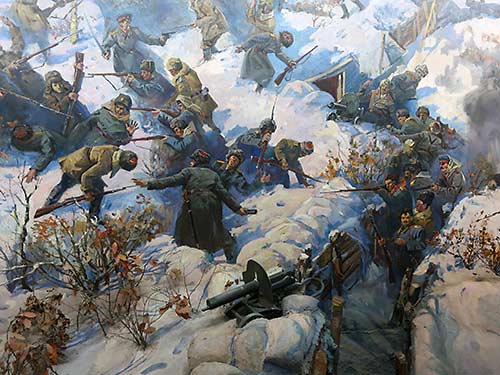 Mural depicting the Russian revolution
Chita
Two nights later we arrived in Chita, considered the crossroads between European and Asian cultures. Along the way, seeking an excuse to get up and move, and to satisfy my curiosity, I walked the length of the train, moving from our second class section (nine compartments with two facing bunk beds per cabin) past the dining car to the third class section, open dormitory cars with 54 bunks per coach that lack any sense of privacy.
A common sight from the train - wooden houses and backyard garden
From the train's windows we watched Russia's Far East sweep past - miles and miles of Siberian taiga, dense forests of birch, Siberian pine and alder. Small villages featured mostly colorfully painted wooden houses with well-tended backyard gardens of potatoes and cabbages. Panoramic evening skies roared alive with ferocious clouds of all shapes and shades of ever-transitioning sunsets that glowed red, purple and pink against a bright blue sky. Because we traveled though far northern latitudes, sunset came late and sunrise early.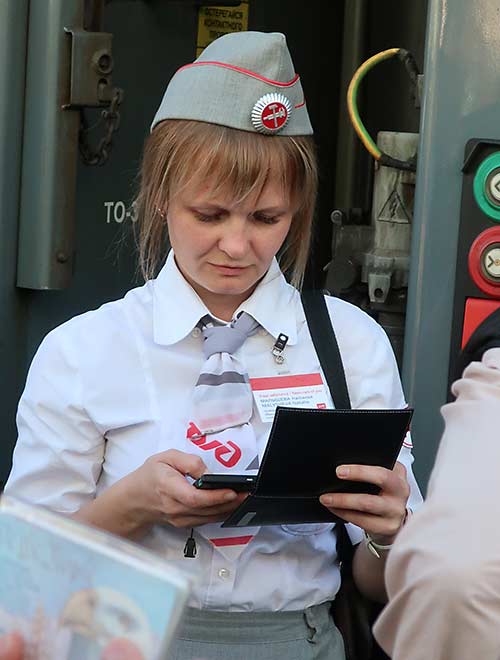 A Provodnita checks a boarding pass
Provodnitsas, the women who oversee each passenger car, ran vacuums and restocked samovars, our source of hot water. Some of our party - older members of Alden Glidden's family and our guide, Vladimir Koshcheev, a friend of Alden's - gathered in the dining room to swap stories while tossing down shots of vodkas or sampling local brews while Tanner and Wendy, Glidden's sons, Ryan, Hunter and Colton, snacked on chips. Other times we sat in our cabins, immersing ourselves in books by Russian authors. The choices varied from Russian cookbooks to classics by Tolstoy, Pushkin and Dostoyevsky. I read Mikhail Bulgakov's weirdly haunting, "The Master and the Margarita."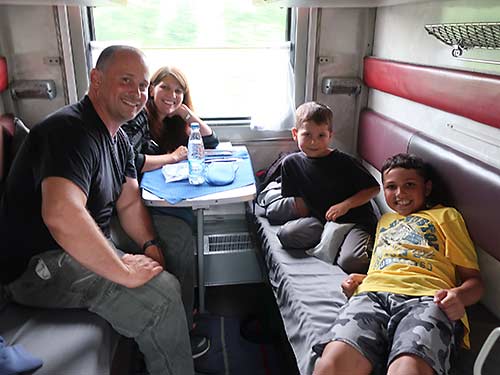 Tanner, Wendy, Colton and Hunter Glidden relax in their compartment
We stopped long enough at the Yerofy Palovich rail station to scurry outside and visit an oddity - curving steps that lead to a platform flanked by what the Lonely Planet guidebook, "Trans-Siberian Railway," describes as looking like "two Lego dragons."
Ulan-Ude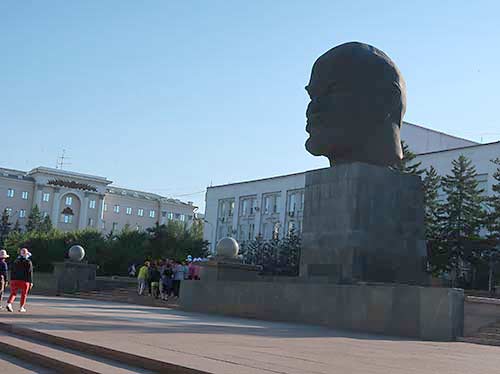 World's largest Lenin head
Even stranger was a massive bronze Lenin Head statue in Ulan-Ude's main square. His glowering face on the gigantic bobble head-like statue weighs more than 42 tons and stands 25-feet tall, making it the world's largest Lenin statue. We saw other Lenin statues - there are many throughout Russia - showing him in various poses, in nearly every city and rail stations, but none were as foreboding.
| | | | | |
| --- | --- | --- | --- | --- |
| | | | | |
| | Sheri getting ready | | Brent on his way | |
We visited historic sights in and near Ulan-Ude, including the Ivolginsky Datsun, before being treated to a "Hospitality of the Old Believers" tour in nearby Tarvagatai where, before dinner, Sheri and Brett Glidden were dressed in traditional clothes and "married."
| | | | | |
| --- | --- | --- | --- | --- |
| | | | | |
| | Receiving their vows | | Time to dance! | |
Irkutsk and Listvyanka
| | | | | |
| --- | --- | --- | --- | --- |
| | | | | |
| | Slow chair to Chersky | | Quick zip back down | |
Another overnight train ended in Irkutsk, a stopover on the way to Listvyanka, a small settlement on the shores of Baikal Lake. The world's deepest lake, Baikal holds 20 percent of the world's freshwater. On the way to Listvyanka we paid a quick visit to the open-air Taltsy museum, which features classic wooden buildings. In Listvyanka we visited the Lake Baikal Museum, an intriguing aquarium that features a simulated submarine dive to the nearly 5400-foot deep Baikal. Later, a slowwww moving chairlift took us up a downhill ski area to the Chersky Stone for a see-forever view of Baikal and, for some, a zipline back to the bus.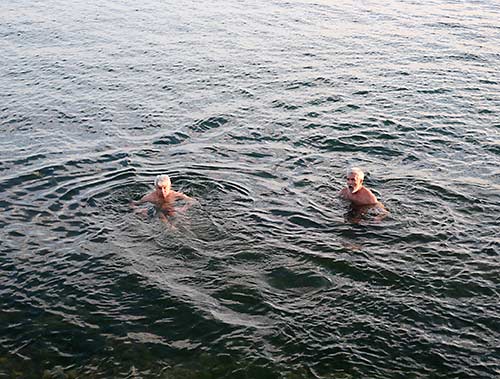 Lee and Vladimir in chilly Baikal
The Baikal visit was way too short, but one goal was achieved - sampling the lake's waters. The others got their toes wet, but Vladimir and I literally took the plunge, taking a quick swim in the lake that's so cold it makes notoriously chilly Crater Lake feel like a sauna. It's said that swimming in Baikal adds seven years to a person's life. Here's hoping.
Next Up - Part Two: On the Way to St. Petersburg
About the Author
Lee Juillerat is a semi-retired writer/photographer who lives in Southern Oregon, His travel, outdoor and other stories appear in newspapers and magazines, including Alaska Beyond, Range, and the AG Mag. He is the author of books about Crater Lake National Park, Lava Beds National Monument and, most recently, Ranchers and Ranching: Cowboy Country Yesterday and Today. He can be reached at 337lee337@charter.net.