OK, this was a gal's weekend out. There were four of us. There was wine. There was snow and driving (well, sliding) in slush. And a hike along a snowy river with a few tossed snowballs.
And there was what we had all come for ... the Christmas Lighting Festival in Leavenworth, WA.
So think of this as an illustrated early Christmas letter.
I had wanted to do Leavenworth at Christmas for years. Decades, actually. And this was the year. No excuses. No last minute cancellations. Just go.
The drive from the Seattle area was fantastic (but also a bit worrisome since there was absolutely NO snow). But it meant we arrived in Leavenworth with plenty of time for a wine tasting at Eagle Creek Winery.
My favorite, even over the reds that I usually drink,s was a white blend called Adler Weiss ... heartier than your usual white with just a hint of sweetness. The folks at Eagle Creek call it the white wine for red wine drinkers. Yes, it is.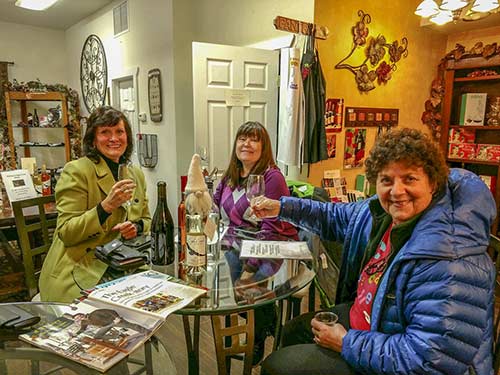 Leavenworth wine tasting
Though the official turning-on-lights ceremony wasn't until the next night, all the town's lights were on ... and would be on every night through Valentine's weekend. The lighting ceremony, itself, is repeated the first three weekends of December.
This festival of lights has been going on since 1966 and last year, there were half a million lights in the town square alone. Which doesn't figure in the town's hotels, cafes, and even a few parking lots. Millions and Millions of twinkling lights.
Plus each year, there's always a blue and white tree since blue and white are Bavaria's signature colors. Those wide strips of white, by the way, are not pre-strung blankets. Each strand is connected one ... at ... a ... time by the town's light assembling savant.
It takes more than a month to put up all the lights, which are always completed by Thanksgiving weekend.
Next morning, it was off to nearby Icicle Creek. Our plan was to drive to a trailhead and hike around a small lake. We got nowhere near our goal. A truck, with big, fat snow tires, sat sideways on the road. Then we went sideways, despite our 4-wheel drive (but no snow tires). Three teenage girls helped push us around so we could escape. We drove back down to a safer wide spot alongside the road and parked. And, instead of hiking the lake, we hiked the road, dipping in and out of the woods to see the icy creek that gives this area its name. Beautiful.
Plus a quick snowball fight: VIDEO of the snowballs flying: https://photos.app.goo.gl/zVYSrsDv7nvN7Sjx9
Then back to town for the lighting ceremony. Yes the parking was ... challenging. Yes, we had our parking angel in the form of Lauree. We spotted a single spot in front of a coffee shop, squeezed our SUV into it and headed for the action just a few blocks away. The less fortunate were parking at the local school at least a couple of miles from the center of town.
Moral of that story ... unless you have Lauree along, come EARLY.
This is one huge block party. Wine shops ladling out mulled wine as fast as they can wash the cups, chestnuts roasting, a huge stuffed bear on a bench, fluffy puppies and a group of friends from Seattle who build their own crazy hats and show up every year. We had hats but NOTHING like theirs.
Of course, there was a Christmas shop. I've seen plenty but, well, Kris Kringle may top them all.
Plus there are the Christmas Characters in town ... reindeer, snowmen, Scrooge, Santa, Mrs. Claus, elves. Some 20 characters roaming the streets so you can take pictures with them. Our favorite? The 6-foot-5 elf. Yes, I asked him how tall he was.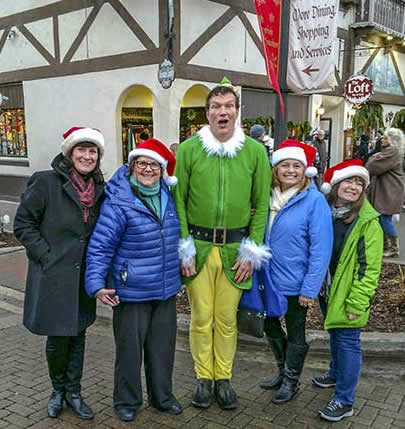 And, finally, the lighting ceremony. Just the four of us and several thousand of our new found friends. But, hey, lots of bodies means it's not so cold. The town mayor greeted us. Alpen Horns played. Santa arrived, as did four people emerging from the crowd carrying four holy stars. And then, the lights went ON.

VIDEO of the lights going on: https://photos.app.goo.gl/EUWtugiY5zDJsguQ9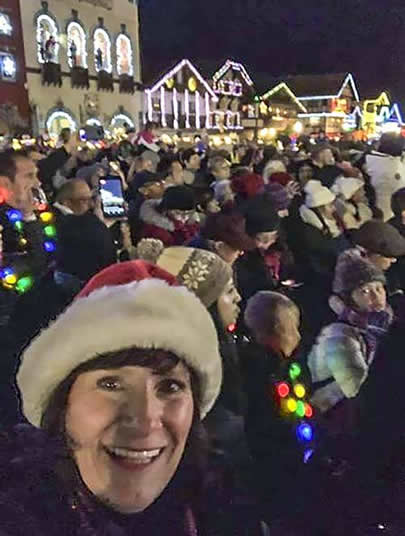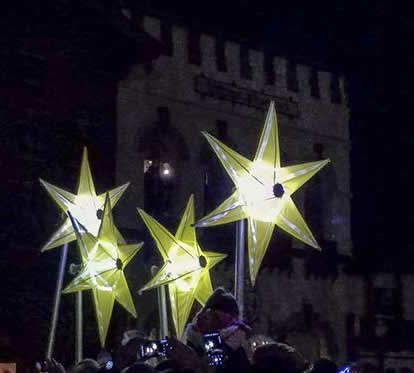 But the night wasn't over. We went to a concert at the local auditorium and heard the Marlin Handbell Ringers, plus singers and a string trio. Playing handbells, one of the performing women said during intermission, is like having 12 people playing a piano at the same time. Each bell ringer has his or her own sheet music. It takes coordination, practice and A LOT of concentration, she said.
VIDEO of the handbell ringers: https://photos.app.goo.gl/SgbdLJbBLUvZMN6J8
We were in a condo for the weekend. Rather than fighting the crowds in Leavenworth, we had a place in nearby Plain, WA, about a half hour ride from town. Alica kept referring to it as "the cabin."
"Um, just how rustic is this cabin?" my husband asked.
"Picture upscale western meets ski resort," I replied.
It came with antler chandeliers, lots of western decor and a truly killer hot tub on the back deck, along with a great view of dusting snow each morning. I would have spent the night in the steaming bubbles but they lured me inside with a table game called Mexican Train.
The next day, our road luck held out. One mountain pass was bare and wet. The one we worried most about was bare and DRY.

INFO
Leavenworth's Christmas Lighting Festival takes place the first three weekends of December. The lights are installed and on by Thanksgiving and stay on each night through Valentine's weekend.
Leavenworth hosts four winter holiday festivals each year. This year, 2019, Nov. 29-Dec.1 is Christkindlmarkt, an Annual Bavarian-style Christmas Market. Leavenworth's grand Christmas Lighting Festival is Dec. 6-8, 13-15, 20-22. The Bavarian Ice Festival for 2020 is January 18-19. And Timbrr Music Festival January 25-26.
For more information --
https://leavenworth.org/event/christmas-lighting-festival-2019-dec-6-8-13-15-20-22/2019-12-06/