This is how the beautiful Napili Kai Beach Resort looks today. But this dream resort began as a labor of love on a muddy, overgrown shoreline in 1957. Because the history of Napili Kai is part and parcel of this one-of-a-kind, authentically Hawaiian resort, a bit of background makes the visitor's experience much richer.


The original Napili Bay in 1957 before any development. Photo courtesy of Napili Kai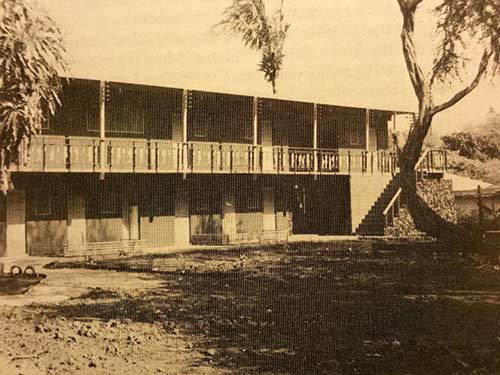 Napili Kai Beach Club's first 16-room Lahaina Wing, 1962. Photo courtesy of Napili Kai
A family of three visiting Canadians, seeking respite in Hawaii from the cold Vancouver, BC winters, grew weary of the
commercial touristic crowds in Waikiki, and fell in love with the shores of Napili Bay in what was then a remote and undeveloped jungle of a Maui beach. They invited friends and colleagues to make small investments and together went full speed ahead.
| | | | | |
| --- | --- | --- | --- | --- |
| | | | | |
| | A typical Napili Kai double rainbow viewed across the central pool near the iconic orange and yellow striped cabana. Photo courtesy of Napili Kai | | A typical Napili Kai sunset when guests gather together under the cabana and on the beach with libations and stories of the day. | |
The Napili Kai story began nearly 60 years ago when the original mud-jungle land was purchased and the resort was incorporated by this handful of Canadian investors in 1960. Over these nearly six decades they have carefully and thoughtfully developed and expanded the property into a luxury resort where people have been coming together year after year, forging lasting friendships with one another and with their loyal, local staff. Originally called Napili Kai Beach Club, the name was changed to "Napili Kai Beach Resort" in the 1990s.
Google aerial map of the Napili Kai property which is seen in the upper 2/3rds of the image.
Photo Google maps.

Today's Napili Kai beach on Napili Bay taken from the resort's Sea House bar which sits right at the water's edge.
As you can see from the Google aerial map, Napili Kai has a lot of open green space, the largest being the two putt-putt golf courses in the middle of the compound. The smaller course is for kids, the larger for adults.
Napili Kai remains faithful to the Founders' original ideals to create an unpretentious, low-rise, traditional Hawaiian-style resort with a philosophy of no nickel-and-diming their guests, while continually improving the resort's facilities and services for the comfort of their "Ohana" (family).
| | | | | |
| --- | --- | --- | --- | --- |
| | | | | |
| | Every morning under the cabana, guests gather for refreshments, demonstrations and cultural talks about native Hawaiian history and tradition. | | One of the many tropical flowers cultivated and grown on property. This is the haleconia, the signature logo of Napili Kai. | |
To this end, the staff and management along with all the shareholder/owners have put in place and supported a traditional weekly schedule of what they call "guest activities." Mornings at ten, the conch is blown and people gather at the cabana for tea, coffee, lemonade and pineapple to listen to discussions, depending on the day of the week, about native customs, demonstrations of weaving, poi-making, coconut husking, tapa -making, fishing traditions, lei history and more.

Following the demonstrations, there is always a raffle where guests with lucky tickets win baskets, hats, tapa cloths, fishhook pendants - whatever the subject of the morning's talk might have been. This happens every morning, rain or shine.
| | | | | |
| --- | --- | --- | --- | --- |
| | | | | |
| | The staff provides thousands of orchids for their weekly poolside lei-making session at no charge for guests 13 and older. | | After just an hour's time, the finished product looks as gorgeous as any lei you'd buy from a professional florist. | |
Following morning "coffee," there are many on-site opportunities. One is a horticultural tour of the exquisitely manicured and maintained grounds with their master gardener. Another, a session with staff in lei-making. Amateurs at lei-making actually make these magnificent garlands in just an hour. If refrigerated properly, they can be worn it all week!
Other weekly activities include a putting party with prizes and unlimited 50-cent drinks, hula lessons, an evening Napili Kai Foundation Keiki Hula Show, and a dressy Mai Tai party hosted by the management and staff. There are no resort fees at Napili Kai, no parking fees.

But there are complimentary snorkel and other equipment like coolers, beach chairs and towels, self-serve coffee, tea and treats in the lobby every morning and afternoon among the many amenities available to guests. Paved paths throughout the resort allow total access for anyone with mobility issues.
| | | | | | | |
| --- | --- | --- | --- | --- | --- | --- |
| | | | | | | |
| | Pineapple Hill Road, looking down. | | Waves crashing against Dragon's Teeth. | | Dragon's Teeth rocks, Kapalua Bay beyond. | |
For more than 49 years, the nonprofit Napili Kai Foundation has worked to preserve the Hawaiian culture by "passing the torch" to the island children. Originally created for the children of Napili Kai employees, the Foundation now teaches Maui children the dances, language, history, arts, and crafts of Polynesia. Every Tuesday at 5:30 pm in the Aloha Pavilion (December performances may vary) the young students present a program of island song and dance.

The show is complimentary for Napili Kai guests. For others there is a tax-deductible fee for the performance: $10.00 for adults, $5.00 for children 6-12. Children 5 and under free. Proceeds benefit the Napili Kai Foundation. Call 808-669-6271 for reservations.
A special weekly treat at Napili Kai is the Wednesday evening slack key guitar performance led by George Kahumoku, Jr., known as Hawaii's Renaissance Man. He's a multiple Grammy and Holy Award winner. Doors open at 6:45 and the show begins at 7:30. Tickets are available at the door or you can combine a 5 p.m. dinner at the resort's Sea House Restaurant with the show, $95 with advance reservations. If you get to talking with George, be sure to ask him about guest Fridays at his Kahumoku Farm.

In the spirit of aloha and to share the experience of where George's Hawaiian music comes from, he offers free enjoyment of his Kahumoku Farm every Friday morning from 7 a.m. to noon. The schedule is:
7 to 9:30 - tour the Farm, gather food and feed the animals (goats, chickens, ducks, and miniature horses.)
9:30 to 11 - gather food and share a farm raised meal
11 to 12 noon - share Hawaiian culture through stories and songs, play music and sing Hawaiian songs together.

Kahumoku Farm address: 555 Kaukini Loop 96793
Call or text 808-280-9948 to reserve a spot.

George Kahumoku, Jr.
photo by Steve Giordano
It seems one would never want nor need to leave the premises! But for the adventurous visitor, Kapalua Point and Bay and other remarkable sights and experiences are only a short walk or hike away. Nearby, is the one-way (up) iconic Pineapple Hill Road, lined with Cook pine trees and named for the explorer who first brought them from New Caledonia.
| | | | | |
| --- | --- | --- | --- | --- |
| | | | | |
| | These jagged rocks are aptly named Dragon's Teeth. | | Many visitors climb and explore the rocky shoreline. | |
| | | | | | | |
| --- | --- | --- | --- | --- | --- | --- |
| | | | | | | |
| | Families explore the labyrinth. | | The labyrinth brings silent contemplation. | | As seen from space? photo Napili Kai Beach Resort | |
Along beach-side paths are the Dragon's Teeth rocks, and an intricate labyrinth which can, no doubt, be seen from space. Local grocery stores and restaurants are also within walking distance, but the seaside Sea House Restaurant on property draws visitors from all over the island. Its Happy Hour has been voted Best on Maui for many years.
One of a multitude of flora on the grounds.

Torch lighting throughout the resort at sunset.

Waiting for you.
Photo Doug Peebles
Napili Kai's commitment to perpetuating the Hawaiian culture is manifested through their support of the Masters of Hawaiian Slack Key Concert series and the non-profit Napili Kai Foundation which funds and fosters the education of local naitve children. Today a Hawaiian sense of place remains, and an unforgettable experience awaits guests who truly want to embrace Napili Kai's motto to "Discover the Unhurried Way of Life."

For more information please visit www.napilikai.com.
Editor Lynn Rosen is an Emmy award-winning television and radio broadcaster, producer and director, and has been on the Journalism faculty at Western Washington University in Bellingham, Wash. She's also a theater critic, travel writer and is a member of the American Theatre Critics Association and SATW. Lynn is one of eight owner/contributors to highonadventure.com and (full disclosure) is married to a Napili Kai shareholder.