While inside a Russian Orthodox Church in Irkutsk, I noticed a sad-faced man who leaned, make that collapsed, against the cathedral wall. He seemed to melt into the fresco, a painting of Sophia. Tears streamed down his cheeks. Sophia, I learned later, plays a complicated role in Russian religion. Based on overly simplified accounts, she is the mother and creator of wisdom, the possessor of divine mysteries. In the fresco, Sophia is with her three virgin daughters, Faith, Hope and Love. They became martyrs when they refused to disavow their Christianity to Emperor Hadrian, who then ordered them mercilessly slaughtered.
Inside the Irkutsk church
The grieving man's sadness was evident and contagious. What caused his grief? Did his wife die? His daughters? A mystery not to be solved.
Krasnoyarsk
Twenty hours after leaving Irkutsk on the Trans-Siberian Railway, our group arrived in the Siberian city of Krasnoyarsk. At Bobrovy Log Ski Resort a chairlift took us to a scenic overlook of Stolby National Park, the place we would visit the next day.

That night, I stepped fully-clothed into the hotel room shower, where I washed shirts, socks, underwear, pants and other dirty clothes before scrubbing myself. The next day I was dirtying them again on a hike at Stolby, a land of wonderfully weird volcanic features. An easy walk in the woods past the Grandma and Grandson rocks led to the Grandfather Rock, where we climbed its shoulder before continuing on to Feather Rocks.
| | | | | |
| --- | --- | --- | --- | --- |
| | | | | |
| | Crowds at Grandfather Rock | | Hunter Glidden at Feather Rocks | |
During a late lunch in Krasnoyarsk, I savored my best meal of the trip, a Dragon Salad featuring scrumptious eel mixed with cucumbers, radishes, salad greens and Asian noodles. A tasty post-meal tour of the Literature Museum featured the life and works of authors who wrote about Siberian life, including Viktor Astafiev - also spelled Astafev - who wrote more than 300 novels.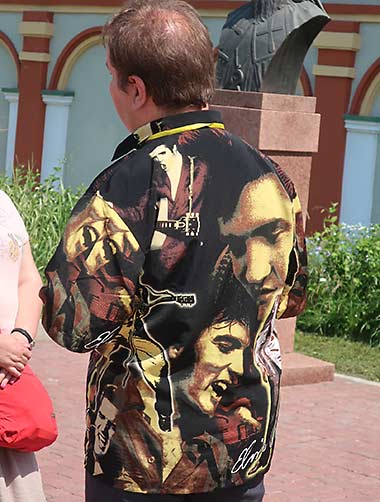 Elvis, he's everywhere
Novosibirsk
The rhythmic, gently jittering train rocked me to sleep on the overnight ride to Novosibirsk, where a day of touring included the obligatory Lenin statue, this time shown waving his hands and wearing a flapping coat. (In Krasnoyarsk, Lenin extended a welcoming hand.) Far more delightful was the humorous Monument to the First Traffic Light, a statute of a man staring bewilderingly at the city's reputed first traffic light.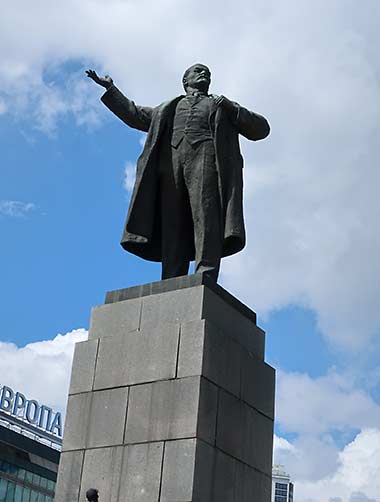 A welcoming Lenin
That night in our train compartment we demolished some of the cold and hot-smoked fish we bought at a Krasnoyarsk fish market. And, during a 20-minute train stop at who-knows-where, while standing outside, a man looked me over and asked, "En-Glish?" Yes. Then, "Trump?," indicating I should answer with an up or down thumb. Back on board we met again. He asked, "Drink?" as he imitated downing a shot of vodka.
Yekaterinburg
Our two-day stay in Yekaterinburg began with a drive to the impressive Military Museum in nearby Verkhnyaya Pyshma. Outside are acres of tanks, anti-aircraft guns, rocket launchers, helicopters, airplanes and steam locomotives from Russia's many wars. Inside a three-story building were more of the same, plus classic retro cars, motorcycles, bicycles.
| | | | | |
| --- | --- | --- | --- | --- |
| | | | | |
| | Low flying plane | | A 1907 classic | |
The next day began at the Temple of Blood, the Byzantine-style Church Upon Blood, where the last Russian Emperor, Tsar Nicholas II, his wife and children were executed by Bolsheviks in July 1918. During the Soviet era it was a museum of atheism until 1977. The Tsar's bloody history continued with a drive to Gania Yama, a pilgrimage site where Nicholas II and his family are remembered and glorified. A side trip took us to where the family's remains were hidden and buried.
| | | | | |
| --- | --- | --- | --- | --- |
| | | | | |
| | The martyred Nicholas II and family | | Temple at Gania Yama | |
More uplifting was a site at the border of Asia and Europe, with the inevitable photos of us standing with a foot in each continent. Unfortunately, and unknowingly, we broke tradition by not providing an offering to a nearby fence with a wall of empty champagne bottles. We'll be ready next time.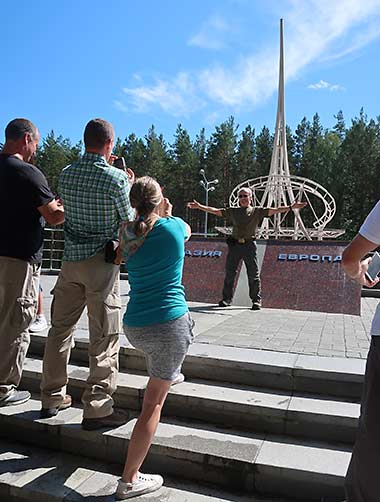 Alden Glidden at the Asia-Europe divide
Back in Yekateringburg we toured the Boris Yeltsin Presidential Center. Its main feature is a museum with interactive exhibits that honors Yeltsin, who became the first president of the Russian Federation during the tumultuous years from 1991 to 1999.
| | | | | |
| --- | --- | --- | --- | --- |
| | | | | |
| | Yekaterinburg from above | | Russian humor | |
That evening we were back on board for an all-night, all-day train ride across the Ural Mountains to Vologda. Along the way was a 15-minute stop in Kirov, the home of Vladimir Koshcheev, our trip organizer. He stepped off to share hugs with his father, aunt and best friend. We re-boarded with bottles of local beer plus fresh rolls and sweet breads, cooked mushrooms, black bread and, best of all, two large smoked fish. That afternoon and evening, and over the next few days, we huddled in a compartment, closing the door while drinking beers and gobbling Vladimir's shared harvest.
Food stands at Russian railway stations
Vologda
Vologda was delightful. The Spaso-Prilutsky Monastery was my favorite of the many churches and monasteries we visited because it didn't feel like a museum. But better still was the intriguing Museum of Lace, with rooms of delicately exotic and stunning gowns, dresses and shawls. Vologda lace, mostly made with flax, is world-famous and, based on the display, deservedly so.
Beautiful creations at the Lake museum
A walk through a town park was another surprise. Unlike other greater-than-life Lenin statues, Vologda's is life-sized, about 5-foot-8. Because it stands on a high pedestal, it seems even smaller, which is why locals call it "Little Lenin."
| | | | | |
| --- | --- | --- | --- | --- |
| | | | | |
| | Music time at Semyenkovo | | Historic wooden buildings | |
Light rain greeted us at the Vologda State Historical-Architectural and Art Museum in Semyenkovo, a village of old-time wooden houses, barns, a school, bathhouse and chapel, and 19th and early 20th Century structures - buildings offering a glimpse of lifestyles in long-ago Russian villages. At one, a docent yakked non-stop, interrupting our guide before she could translate what was being said. She eventually was silenced by her accordion-playing husband, who squeezed out music while group members did what I can best describe as a flirtation dance.
St. Petersburg
Some people spend days or weeks visiting St. Petersburg, Russia's second-largest city that many believe is the country's most fascinating. We had two days to find out - two very delightfully busy days after unloading from the overnight train. A few hours later a local guide whisked us to the Peter and Paul Fortress, Saint Isaac's Cathedral and Church of the Savior on the Spilled Blood.
This Fortress is where the city was founded in 1703 by Peter the Great, who recruited European architects to transform a desolate swamp into what many regard as Russia's most beautiful city. Beautiful it is, with glided domes, dazzling facades and towering spires, including the Fortress. We visited the Church of the Savior on the Spilled Blood, with walls and ceilings lavishly decorated with mosaics. "Spilled Blood" refers to the attempted assassination of Tsar Alexander II in 1881. The golden-domed Saint Isaac's, likewise, is eye-popping ornate.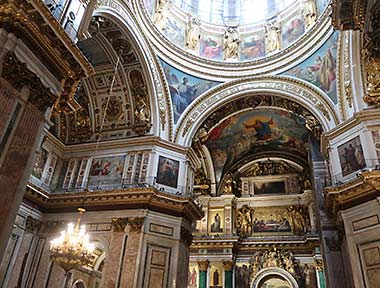 Lavish cathedral mosaics
We galloped up and down the grand white-marble Jordan Staircase at the State Hermitage Museum, seeing highlights of its fabled art. We saw its legendary paintings - Leonardo de Vinci's "Benois Madonna," Rembrandt's "Return of the Prodigal Son" and "Abraham's Sacrifice," and others by Michelangelo, Matisse, Gauguin and Raphael. There are walls and galleries of Flemish, French, Oriental and Russian art. We viewed the Gold Rooms and gawked at Pavilion Hall's exquisitely detailed mosaics.
| | | | | |
| --- | --- | --- | --- | --- |
| | | | | |
| | de Vinci's 'Madonna' | | Inside the Hermitage | |
But even more enchanting was that night's visit to the Mariinsky Theatre, named in honor of Emperor Alexander II's wife. The performers in the ballet, "La Bayadere," were live, passionately and athletically alive. "La Bayadere" is an 1877 love story that combines elements of ballet ensembles, duets and solos. The ballet is, as the program describes, "A colourful and vast canvas, woven together using highly complex choreographic language."
The next day was well-choreographed, beginning with the Peterhof Museum, Peter the Great's lavish 1,500-acre estate. We arrived in time to watch as rows of fountains, including the Grand Cascade with sculptures cast in bronze and gold, were turned on. We wandered the tree-lined grounds, leafy gardens and wooded paths past geometrically designed flower beds and sculptures, and toured the Marly Palace, a residence built for the tsar's guests.
| | | | | |
| --- | --- | --- | --- | --- |
| | | | | |
| | Peterhof's golden fountains | | Running the Umbrella | |
Outside, another path took us along the Gulf of Finland and back to gardens with an array of sprouting fountains - the two-tiered Roman; the seven-tiered Pyramid; the Neptune; and the Adam, located near the Eve, a pairing said to suggest the tsar's "earthly paradise." There were fountains with fish-tailed boys spouting water through conches, others shaped like lions and dragons, another of mighty Sampson. My favorite was the Umbrella, which rains a curtain of water whenever a person triggers the hidden spray. Like others, we tried to run the watery gauntlet without getting wet.
Russia in miniature
An early afternoon visit to the Grand Maket Rosslya featured amazing re-creations of Russia in miniature, from the sights of Moscow to the birch-wooded forests of Siberia and Russia's Far East.  Everyday life is featured - farmers working in fields, construction crews, captives in prisons, car-clogged highways, operating passenger and freight trains. Every 13 minutes, simulating day turning to night,  the lighting gradually fades to darkness, then, after two minutes, slowly returns to day.
Rain caused daylight to prematurely fade that evening as we cruised St. Petersburg's main river, the Neva, on a sightseeing ship. We passed The Hermitage and other sights we'd seen and visited. It felt like touring Venice as the boat branched off into canals, too soon completing a loop that returned us back to the dock. A night took us to Moscow. But that's another story.
All in all, good times rushing through Russia.

For More Information

People interested in learning more about visiting Russia should contact Vladimir Koshcheev, Summits of Russia: Hunts & Tours, at www.summtsofrussia.com or by email at hunter1956@yandex.ru.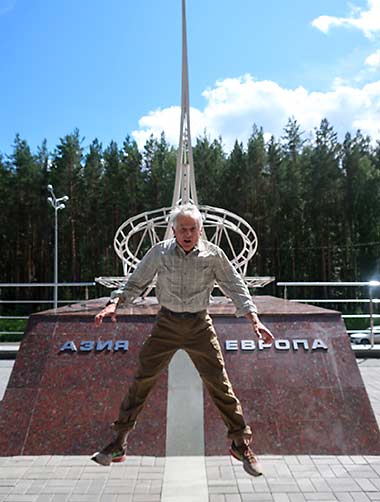 Lee Juillerat above (temporarily) Asia and Europe

About the Author

Lee Juillerat is a semi-retired writer/photographer who lives in Southern Oregon, His travel, outdoor and other stories appear in newspapers and magazines, including Alaska Beyond, Range, and the AG Mag. He is the author of books about Crater Lake National Park, Lava Beds National Monument and, most recently, Ranchers and Ranching: Cowboy Country Yesterday and Today. He can be reached at 337lee337@charter.net.