| | | | | |
| --- | --- | --- | --- | --- |
| | | | | |
| | Wright's personal home, Taliesin, built on the "brow" above a valley in the Driftless Region of SW Wisconsin. | | With buildings from most decades in Wright's career, Taliesin was designated a National Historic Monument. | |
Taliesin was the personal home, studio, school and 800-acre agricultural estate of the eccentric architect, Frank Lloyd Wright (1867-1959) built on land near Spring Green, Wisconsin, homesteaded by his Welsh grandparents. In 1976 it was designated as a National Historic Landmark by the National Park Service.
The unexpected scandal of seven savage slaughters at a Taliesin bonfire loomed even larger than the already existing saga of Frank Lloyd Wright when he built this home in 1911 for himself and the woman for whom he had left his first wife and six children. Taliesin was dubbed the "Love Next" by the local community of Spring Green, a small town not accustomed to this kind of excitement. But when his house went up in flames three years later, and seven souls were lost, it became the biggest single incident of mass-murder in Wisconsin history.
Wright's all-round handyman, Julian Carlton, from Barbados, was rumored to have been fired. He and his wife, the cook, had booked passage on the next night train out. But the day before they were to leave, while Frank traveled to Chicago on business, Frank's mistress, Martha "Mamah" Bothwick, her two children and six other people were having lunch in the home's dining room. After serving the soup, Carlton bolted the doors and windows, poured gasoline under the doors and torched the building. Who knew that FLW's life would build into a scandalous soap opera murder mystery? All the more reason to be a curious visitor and explore this landmark.
| | | | | |
| --- | --- | --- | --- | --- |
| | | | | |
| | This third iteration of the home embodies Wright's ideas of organic architecture. | | Wright used natural local limestone and sand in building this third version of Taliesin. | |
Frank Lloyd Wright, born in 1867 in Wisconsin to a family of Welsh descent, became America's most famous and influential architect and was recognized in 1991 by the American Institute of Architects as "the greatest American architect of all time." Today's Taliesin is actually the third edition of this compound. Taliesin has a history of two previous burn-downs; after the initial build, there were two re-builds. Wright promised to rebuild the house a third time after the bonfire in honor of Bothwick's memory and that is what you see today. Yes, there was scandal in the early 1900s, and yes, he did marry for a third time, but today there remains Taliesin, the Frank Lloyd Wright National Monument that is open for all visitors and students to explore, learn and enjoy.


| | | | | |
| --- | --- | --- | --- | --- |
| | | | | |
| | Taliesin's Birdwalk promontory offers a command- ing view of the southwestern Wisconsin valley. | | Wright later built a home over a waterfall at Fallingwater in 1935, southeast of Pittsburgh. | |
In honor of his Welsh heritage, Wright named Taliesin after a druid bard. It literally means "shining brow" and is exemplified by the architecture framing the crown of the hill and reaching out, as in his famous "birdwalk" promontory. It is said he "owned all his views" as there are no telephone poles nor electric lines to sully the vistas.



Wright incorporated this nearby Silver Maple
into his sagging roof, at the same time
supporting the aging tree.

As age took its toll and the Taliesin roof began to sag, the adjacent aging Silver Maple tree provided a crutch.
Wright's belief in organic architecture - structures in harmony with their environment - brought him to the forefront of the Prairie School movement and his design of the Usonian home, his vision for urban planning. At Taliesin, visitors can see buildings from nearly every decade of his career from the Romeo & Juliet Windmill (1896), to the Hillside Theater (1952) to the Visitor's Center (1967).
| | | | | | | |
| --- | --- | --- | --- | --- | --- | --- |
| | | | | | | |
| | Wright's Romeo and Juliet Windmill water pump, provided water for his aunt's school on this property. | | Hillside Theater was the scene of artistic performances including film and musical concerts. | | Wright designed the theatrical curtain to represent the landscape surrounding Taliesin. | |
Wright designed this Romeo & Juliet Windmill Tower in 1886 as a water pump at the request of his aunts who were, at the time, running a co-ed boarding/finishing school here. The design, built out of Cyprus wood, features two intersecting towers; Romeo, a diamond shape, aerodynamically diverts storm winds and protects Juliet, which is octagonal. The structure was completely restored in 1992. Wright was also a talented musician and performer. He built his Hillside Studio & Theater where a wide variety of performances and cocktail hours were open to audiences dressed to the nines in tuxedoes and ball gowns.
| | | | | | | |
| --- | --- | --- | --- | --- | --- | --- |
| | | | | | | |
| | Wright works with students during the early days of Taliesin's architecture school. | | Student workshop for design students now attending the Taliesin Frank Lloyd Wright School of Architecture. | | Frank Lloyd Wright's personal desk in his home at Taliesin with views of the patio and valley beyond. | |
In the early days of Taliesin, Wright held classes, taught design students and was readily available to those young designers who flocked to hear his philosophy and learn his disciplines. Currently there are students in residence at the Frank Lloyd Wright School of Architecture at Taliesin from May through October who work in the adjacent design studio.
| | | | | | | |
| --- | --- | --- | --- | --- | --- | --- |
| | | | Frank Lloyd Wright loved fireplaces. There was at least one in every room in his home and no one was like any other. These are just a few of his many working fireplaces. | | | |
| | | | | | | |
Wright also favored narrow staircases and these are just a sampling of those skinny steps.


| | | | | | | |
| --- | --- | --- | --- | --- | --- | --- |
| | | | | | | |
| | One of Wright's many elegant pianos. | | An unusual double keyboard piano at Taliesin. | | Sheet music stands with lighting designed by Wright. | |
Wright was a talented musician, owned many pianos, frequently entertained guests with chamber music and, in his disgust for what he considered ugly black music stands, designed stands for sheet music of elegant wood that stood circled together in quartet fashion.
Visitors to Taliesin taller than 6' must watch their heads when touring certain parts of the property.

High-ceilinged dining room for Frank Lloyd Wright School of Architecture students and other groups of visitors.

Wright's bedroom featuring a high ceiling and lots of light from windows overlooking the
nearby valley.
Wright was said to have stood 5'3" - some report him at 5'6" - and wore only bespoke clothes, elevator shoes, tall top hats and capes, all of which gave his countenance and stature an imposing presence. To wander through his dwelling is to understand his mantra that any ceiling higher than 6' was wasted space. He was adamant about conserving space with the narrowest of staircases and hallways - those necessities also considered by him to be a waste of space. However, occasionally he expressed his sense of the dramatic and designed some areas of his home to afford the grande reveal with high ceilings and much light.
The Taliesin Preservation Organization holds many events throughout the year on property - dinners, garden and property tours, various art and plein air painting workshops and buying opportunities, musical concerts, architecture camps, field trips as well as other private parties and festivities. For special events, tour schedules, prices and more information, engage with Taliesin at taliesinpreservation.org.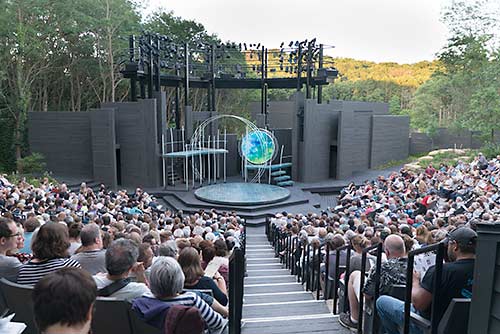 American Players Theatre's outdoor 1,089-cusioned-seat Hill Theatre,
located in a wooded natural acoustical bowl outside Spring Green, Wisconsin.
Photo courtesy of ATP

AMERICAN PLAYERS THEATRE
Truth be told, Taliesin could be the sidebar to the American Players Theatre story. APT, also just outside Spring Green, Wisconsin, a few miles down the road from Taliesin and lovingly referred to as Summer in the Woods, celebrates its 40th anniversary in 2019 with a nine-production season that opens June 8, and closes November 17.
This world-renowned professional repertory regional theatre, literally located in the woods surrounding Spring Green, boasts two theaters on its 110 acres of woods and prairie: The 1,089-seat outdoor Hill Theatre, built into a natural acoustical bowl under the stars; and the intimate 201-seat indoor Touchstone Theatre, situated at the end of a long and winding path at the top of a knoll.
As visitors stroll through the flora towards their appointed theaters, they will notice numerous kiosks/stands along the pathways stocked with multiple cans of bug spray. There's a reason for this thoughtful amenity - mosquitoes. Playgoers are advised to take advantage of this offering.
Many patrons are return season ticket holders who come back year after year to renew friendships, picnic on the premises, chew over opinions and thoughts about productions and just relish what has turned into a rich annual APT experience.
This theater festival has been acclaimed as "America's best classical theater festival" by none other than the Wall Street Journal. This reputation is born not only from its stunning venue but from the quality of its work. APT draws an annual audience of more than 110,000 people from around the country and has earned its national reputation for presenting theater of the highest quality.
The APT 40th season includes the following productions:
At the outdoor Hill Theatre
Twelfth Night by William Shakespeare
She Stoops to Conquer by Oliver Goldsmith
Macbeth by William Shakespeare
Fences by August Wilson
The Book of Will by Lauren Gunderson
At the indoor Touchstone Theatre
The Man of Destiny by George Bernard Shaw
A Lovely Sunday for Creve Coeur by Tennessee Williams
A Doll's House by Henrik Ibsen in a version by Simon Stephens
A Doll's House, Part 2 by Lucas Hnath
Please note that not all plays are up for the entire season and that APT is 40 miles west of Madison. If you're in the neighborhood, it would be a crime to miss American Players Theatre. Please visit www.americanplayers.org for more ticket, travel and lodging information.
Lynn Rosen, co-author of "Camping Washington," Falcon Press, Emmy award-winner, ski guidebook editor and writer, and theater critic, has a long history of both broadcast and print journalism.