All was going well. We ate breakfast, broke camp and were on the river a half-hour earlier than planned. We warmed up with some easy and more challenging "rowdy" whitewater rapids. The adrenaline was flowing. No one was saying it, but we were getting pumped, excited to be nearing the legendary Green Wall, the Illinois River's notorious Class V rapid. If all went well, after the Green Wall, our rafting group of nine - three guides and six guests - would work our way through several Class IV dousers as part of an 18-mile day before making camp.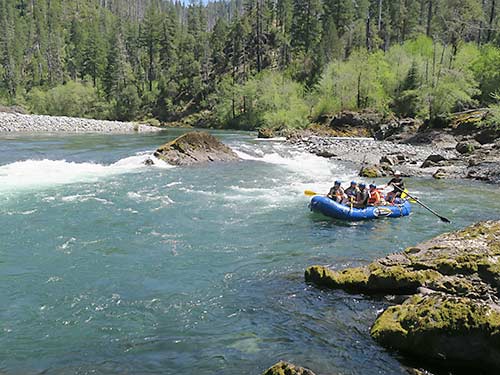 Aiming through an easy rapid
Lorenzo, the guide for the paddle raft I was in, was aiming through one of the challenging rapids that precedes the Green Wall. The Illinois is a wild, technical river, with rapids that require maneuvering to avoid rocks, raft swallowing holes and route-blocking islands. Things were going well. Confidence was building for what was to come.
Except it didn't.
As our raft softly rebounded off a canyon wall and spun to avoid a water-sucking hole, we heard it. "POP!" Lorenzo and I looked at each other, bug-eyed.
After signaling the others, Lorenzo found a place to pull ashore. He and the other guides, Andy and Sam, inspected the cut, a several inches deep gash. We unloaded the raft and dragged it out of the water. The guides pulled out a patch kit, cleaned and dried off the affected area, then glued on a layer of material over the gash. It took an hour to set, so we fixed an early lunch, then waited some more. The raft was returned to the water but tiny bubbles blurped out. The fix hadn't fixed it.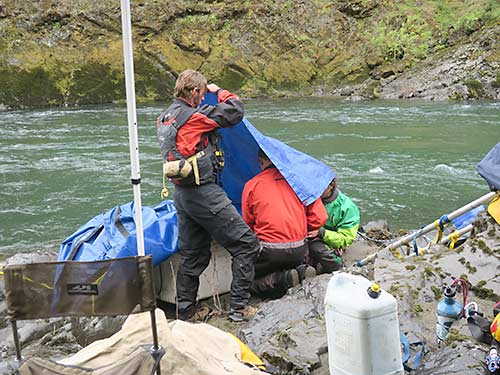 Gluing the punctured raft   
The guide trio placed more temporary patches atop the patch. We reloaded and headed downstream to a sandy campsite at Prelude, sometimes called Fawn Falls, because, legend has it, people traveling the river rescued a trapped fawn from the falls.
| | | | | |
| --- | --- | --- | --- | --- |
| | | | | |
| | Kicking back at camp | | Campsite overlooking the Illinois | |
While we made camp, the guides discussed options. Before we relaxed, a sudden zephyr gust nearly sent a tent airborne, so we hastily loaded boulder-sized rocks inside its corners. Rain fell, sometimes a light drizzle, other times a downpour. Between rainy outbursts, some warmed with liquid concoctions that included dollops of Jim Beam blended with honey, lemon, ginger and tea. When the sun returned, paperback books were retrieved from personal day bags.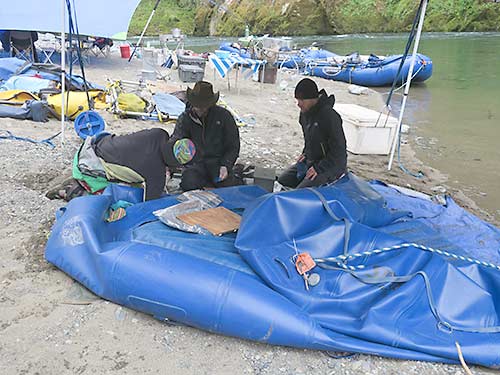 A second coating worked
In between setting up camp - two large tarps over the cooking and eating area - the guide trio hauled the once-again empty raft on shore, opened its valves and waited until it deflated into a lump of blubbery rubber. Over the next few hours they cut, stitched and carved, adding new layers and lathering them into place with more of the awful-smelling glue, then covering the patched-up section with weighty gear.
The next day, a day we'd hoped would be a short, easy paddle to the takeout at Oak Flat so that we could make the long return drive through Gold Beach and Brookings back to Grants Pass and Ashland, instead would prove a marathon.
The Green Wall would have to wait another day.
The Green Wall - Where's That?
Mention the Illinois River and most folks go, "Huh!" or, "Where's that?"
The Illinois begins at the crest of the Siskiyou Mountains near the Oregon-California border. The river makes a brief appearance off Highway 199 near Cave Junction before turning reclusive, tumbling through the coastal mountains of the Kalmiopsis Wilderness. A tributary of the Rogue River, the Illinois' total distance is 56 miles. Nearly 50-1/2 miles designated as a Wild and Scenic River. It's regarded the nation's most inaccessible river because it's mostly inaccessible by trails and roads. Its tall, steep canyon walls add to its isolation.That's part of its attraction.    
| | | | | |
| --- | --- | --- | --- | --- |
| | | | | |
| | A riverside waterfall | | A full moon peek-a-boo | |
The Illinois is a challenging river, with numerous class III rapids, 11 class IV to 4-plus rapids and one class V, the infamous Green Wall. One source says the 31 miles has 150 rapids. There are giant boulders, big holes, steep drops and crystal clear crashing waves. With its emerald green water, it's also beautiful. Waterfalls large and small, too many to count, smash and dribble into the river. The river slices a path through a steep and deep canyon, some of its walls richly forested, but large portions still show the devastation of the 2002 Biscuit and more recent fires.  
Blooming wildflowers added to the river's beauty
The Illinois is fed by low elevation snow pack so the rafting season is April through early May, before water levels drop too low. With this winter's late heavy rain and snow, it should be a banner season. But spring weather, as we experienced during last year's trip, is notoriously fickle. We savored two glorious days with temperatures in the 80s, then two wet, soggy, considerably cooler days. No matter the weather, the food was delicious: Thai coconut curry, grilled chicken, basmati rice with green onion ginger sauce one night: carnitas, shrimp, quinoa, cilantro lime slaw another.  
| | | | | |
| --- | --- | --- | --- | --- |
| | | | | |
| | Cooking dinner | | The night's menu | |
| | | | | |
| | | | | |
| | Ready to eat? | | Another night's temptations | |
Getting Started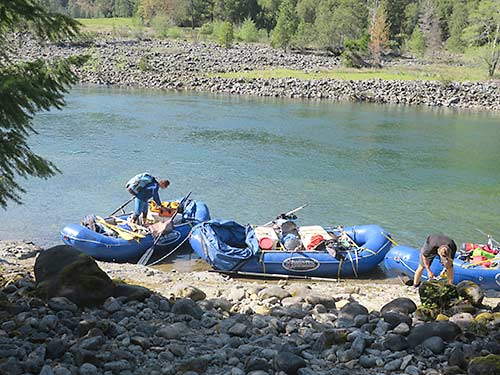 Getting the rafts ready
It was about noon when we put in at Miami Bar, about 13 miles west of Selma, to start our four-day journey. The Illinois'  placid waters soon turned frothy with a series of class III rapids before a trio of class IVs: Rocky Top, York Creek and Clear Creek. "Get down!" was a frequent command yelped when plunging into cauldrons of waves. "Rowdy!" crowed Lorenzo.
Relaxing before the excitement
More fun followed before we made camp at Pine Creek Flat. We enjoyed a lazy morning, crossing the river to a former homestead that's still seasonally used by hunters. The rattlesnake we passed on the way up a mountain trail was waiting for us on our return. Then it was back to camp and the rafts for our short paddle to Deadman's Bar, where we would overnight before the big day that didn't come.
The Green Wall was the mental thriller, but one that only the guides experienced. After a long scout, Andy, Lorenzo and Andy returned with somber faces. Because they judged the water flow dangerously low, and because of possible life-threatening dangers if any of us were tossed overboard, we were instructed to make an uneasy path along the shore. We did, eventually finding perches on rocky overlooks with full views of the Green Wall. Lorenzo and Andy came first, guiding their rafts through an alleyway of protruding rocks, boiling holes and rocky picket fences that ended in an exploding cauldron of whitewater. After beaching their rafts, they hiked back, adding weight to Sam's raft for another run.
Lorenzo and Andy rafting the Green Wall individually
The three guides scaling the Green Wall
We missed the Green Wall, but plunged through more walls of exploding whitewater and held tight through a rowdy series of potentially raft-flipping Class IV rapids - Little Green Wall, Submarine Hole and Collier Creek. The narrow canyon gradually widened, but the sights of tumbling riverside waterfalls, exquisitely contorted rocks and high-rise canyon walls continued. Tranquil sections were interrupted with smashing Class III rapids, reminders to stay awake and alert. Our river journey ended at Oak Flat. It was hours before completing the return shuttle back to motels in Grants Pass and Ashland. But it will be a lifetime before memories of rafting the Illinois fade. In celebrating the Wild and Scenic Rivers Act that protect rivers, it's worth remembering the Illinois is among the wildest - in all senses.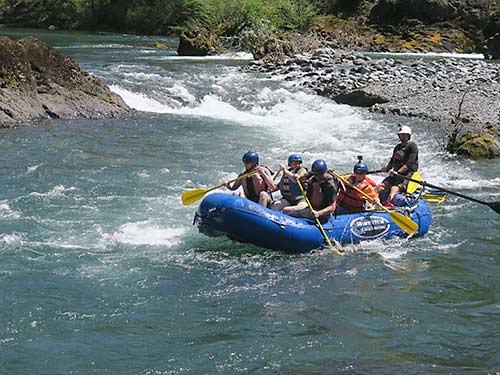 Paddling the Illinois
Much happened on our Illinois journey, including things not expected. That's part of the seductive sense of adventure. Row-rowing your boat isn't always a dream. Some lucky times it's an excursion into the unknown.
If You Go
Relatively few outfitters run the Illinois. My trip was done through Momentum River Expeditions, based in Ashland, Oregon. Because of its many Class IV and V rapids, the four-day trip is recommended for the "experienced and adventurous beginner in good physical condition." The company takes only 24 people each season. For information visit the website at www.momentumriverexpeditions.com/trip/illinois-river-rafting/, call 541-488-2525.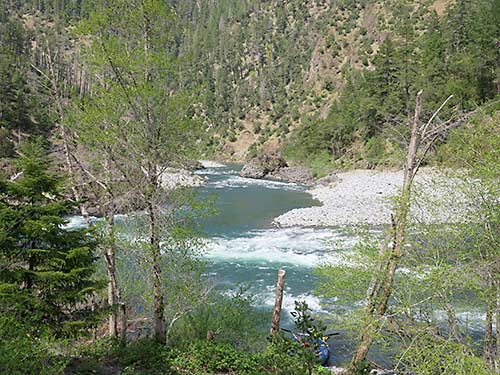 Watching the river flow
About the Author
Lee Juillerat is a semi-retired newspaper reporter-photographer who lives in Southern Oregon. He is a frequent contributor to newspapers and magazines, including Southern Oregon Magazine, Alaska Beyond and others. He is the author of several books, including two about Crater Lake National Park, one about Lava Beds National Monument. Newly released is his book, "Ranching and Ranchers: Cowboy Country, Yesterday and Today," which features more than 150 stories with photos taken and written over the past 40-plus years. He can be contacted at 337lee337@charter.net.