| | | | | | | |
| --- | --- | --- | --- | --- | --- | --- |
| | | | | | | |
| | Gardens are indeed a great place for reflection - a fine slogan for the Chihuly Garden and Glass exhibit at Seattle Center. | | Part of the massive ceiling installation inside the Glasshouse at Chihuly Garden and Glass with the Space Needle visible above. | | The Sun - one of the many Chihuly sculptures in the Exhibition Garden against the backdrop of the Space Needle. | |
Opened at the Seattle Center in 2012 as part of a reinvigoration of the Center, Chihuly Garden and Glass was built at the invitation of the Wright family who also owns and operates the neighboring Space Needle. Chihuly was delighted to design the Exhibition Hall, the Garden installation and the Glasshouse in what was essentially his own home town.
| | | | | |
| --- | --- | --- | --- | --- |
| | | | | |
| | Chihuly's signature pieces for which he is best known are his chandeliers like this spectacular red hanging at his Garden and Glass exhibition at the Seattle Center. | | After a 1976 car crash which blinded his left eye, Chihuly stopped blowing and took to painting while overseeing glass work done by his army of assistants. | |
By all accounts, Dale Chihuly is a Pacific Northwest icon with an international reputation who has revolutionized the world of glass art. His works appear in permanent collections all over the world. Seattle is home to one of his favorite and treasured exhibition spaces - The Chihuly Garden and Glass located right next door to another Pacific Northwest icon - the Seattle Space Needle.
Exhibition Hall
In designing the Exhibition Hall, Chihuly chose specific artworks from different periods of his career and mapped out separate spaces/galleries/rooms for each one of these periods of his developing artistic path. The Hall contains eight galleries and two Drawing Walls of a wide variety of works representing Chihuly's artistry over his career. Not that two dimensional photographs can begin to do these artworks justice, but we're going to give it a shot.
Glass Forest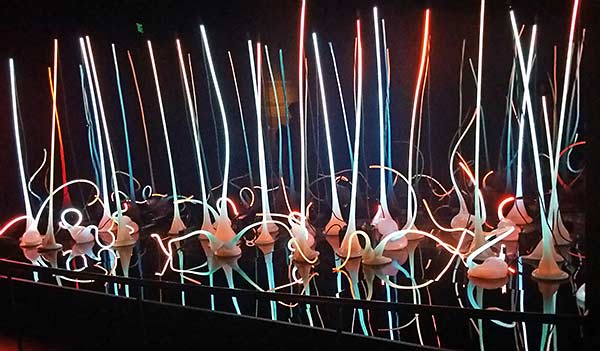 Glass Forest was made at the Rhode Island School of Design where, during the 60s,
Chihuly was a student, and then, as an instructor, established their glass program.
These glass spikes and spires have a fascinating story that is one of many described by the museum's insightful curators, much of which is shared below. These forms were created by simultaneously blowing and pouring molten glass from the top of a stepladder to the floor, where the deflated bubble solidified to form a sort of foot. The glass stalks were then arranged in an enclosed space and illuminated with electrically charged neon and argon gases which glow from inside the stems.
Northwest Room
| | | |
| --- | --- | --- |
| | As a Pacific Northwest native, Chihuly has been influenced by Native American culture as evidenced here in his basket series done during the late 1970s. | |
Chihuly's Basket series marks a departure from the tradition of symmetry in glassblowing which remains his artistic trademark. In a visit to a collection of Northwest Coast Indian baskets, he was struck by their aging, slumped forms and began his experiments in glass to replicate the effects of weight, gravity and time in the wavering forms of his Basket series. One might even imagine a parallel to the effects of these three forces on the human body.
The Northwest Room also presents pieces from Chihuly's Cylinders
and Soft Cylinders series.
In Chihuly's Cylinders series, he experimented with fusing glass-threadings on glass vessels in their molten state. This process was inspired by Navajo textile designs and informed by Chihuly's background in weaving.
The Sealife Room
Chihuly's sea life forms depict underworld structures intertwined with octopus and
other mysterious creatures.
The 15-foot blue Sealife Tower takes inspiration from the sea and from Chihuly's own Puget Sound home. Other sea forms include starfish, octopus, conch shells, sea anemones, urchins and manta rays.
Persian Ceiling
Visitors crane their necks and point cameras upwards to capture the spectre of these multiple,
colorful floral-like pieces lit from above and reflected against the walls.
Chihuly began the Persian series in 1986 by displaying pedestal vessels with smaller shapes nested inside larger bowls. They evolved from his desire to show sculptures in spaces other than those that hung from the ceiling—i.e. his traditional chandeliers. Then, in 1992, his first Persian Ceiling opened at the Seattle Art Museum. Lit from above and resting on a flat glass pane, these pieces come alive with color and brilliance in Chihuly's signature shapes.
Mille Fiori
In designing this exhibition and garden space, Chihuly chose from many periods of his artistic career,
but he was especially taken by the natural aspect of the Pacific Northwest flora.
With the Mille Fiori - Italian for "a thousand flowers," - Chihuly puts together a varied collection of his works. He has said that his mother's garden was an inspiration for these "gardens of glass."
Ikebana and Float Boats
| | | | | |
| --- | --- | --- | --- | --- |
| | | | | |
| | The Ikebana Boat features long, flower-like glass stems inspired by the traditional Japanese art of ikebana flower arranging. | | Niijima Floats were inspired by the artist's trip to the Japanese island of Niijima and by his childhood memories of discovering Japanese fishing net floats found along the beaches of Puget Sound. | |
This installation includes two of Chihuly's wooden rowboats—one filled with Ikebana elements (traditional Japanese flower arranging) and the other with Niijima Floats (Japanese island known for its surfing). The backstory of this exhibit dates to 1995 in Nuutajärvi, Finland, where he tossed glass forms into a river to see how the glass would interact with water and light. Local teenagers gathered the drifting glass into rowboats, which inspired Chihuly to create these two pieces.
Chandeliers
Composed of hundreds of blown glass elements that together, make up elaborate, intricate compositions, Chihuly's Chandeliers are legendary installations all over the globe.
Chihuly has always had a Jones for architectural spaces and how art interacts with that atmosphere. In 1992, he created a fresh form for the Seattle Art Museum - what was to become another of his artistic signatures - his first Chandelier installation. He has continued his Chandelier series over the years. The most famous was his 1995-96 project, Chihuly Over Venice, which gained global recognition.
Macchia Forest
Along with his iconic chandelier installations, Chihuly's Maccia series is perhaps the most well-known and widely owned by private art-lovers of his works.
Chihuly began the Macchia series in 1981 with the attempt to use all the 300 colors available in his glassblowing workshop. The word macchia means "spot" in Italian. Since his realization that the colors appeared much more vibrant against a cloudy background, he devised a technique that laid an opaque white glass layer between the interior and exterior colored glass layers. The speckled color comes from rolling the molten glass in small shreds of colored glass during the blowing process. He then added a lip wrap of a contrasting color to finish the piece.
Chandelier Walkway
| | | | | |
| --- | --- | --- | --- | --- |
| | | | Running along the wall bordering the Seattle Center Garden Plaza is the seven-installation Chandelier Walkway. These chandeliers are seemingly named for their colors: Sunset, Mighty Citron, Royal Jo, Fly Yellow, Emerald, Olympic Blue and Turquoise, and the chandelier after my own heart - Alfa Red Chandelier. (Full disclosure - my first convertible was a red Alfa Spyder.) | |
The Glasshouse
Chihuly suspends his love of gardens and flowers from the ceiling of the Glasshouse
beneath his native Seattle Space Needle.
The centerpiece of Chihuly Garden and Glass is the Glasshouse. A 40-foot tall, glass and steel cathedral-like conservatory, covering 4,500 square feet of light-filled space, the Glass house is home to an enormous glass flower sculpture in the color palette of sunny warm reds, yellows, oranges and ambers. It is one of Chihuly's largest suspended sculptures.
The Garden
The Chihuly Garden is stunning and accessible in any weather
but best on a bluebird day.
The Garden surrounding the Exhibition Hall, Glasshouse, Bookstore and Collections Café, provides the perfect backdrop for Chihuly's "garden" pieces - the Viola Crystal Tower and Citron Icicle Tower. At the center of this landscape, on a bed of black mondo grass, is the 16 foot in diameter Pacific Sun, an explosion of yellow and orange.
In addition to these glass galleries and the Glasshouse, there is a theater that shows videos on Chihuly's working process, interviews and glassblowing as well as Drawing Walls, a bookstore/giftshop and the Collections Cafe with an outdoor patio that may not be open in a snow-blown or rain-blast season.
Known world-wide for his elaborate and intricate glass-blown chandeliers, Chihuly has
in recent years expressed his artistic focus in drawings and paintings.
This from a Wickipedia entry: "In 1976, while Chihuly was in England, he was involved in a head-on car accident during which he flew through the windshield.[7] His face was severely cut by glass and he was blinded in his left eye. After recovering, he continued to blow glass until he dislocated his right shoulder in a 1979 bodysurfing accident. No longer able to hold the glass blowing pipe, he hired and oversaw other artists to do the glass work and embarked on another path of using drawing and painting to express his artistic forms."
IF YOU GO:
The best way to visit Chihuly Garden and Glass is to check out Seattle's CityPASS, which affords admission to five attractions in Seattle at a 42% reduction. CityPASS includes the Chihuly Garden as well as the next-door Seattle Center's Space Needle, Museum of Pop Culture and Pacific Science Center, the Seattle Aquarium, the Woodland Park Zoo and Argosy Harbor Tours. www.citypass.com. Hours at the Chihuly Garden and Glass are Monday - Thursday, 11am-6pm, Friday - Sunday, 10am-6pm.
https://www.chihulygardenandglass.com/
https://www.chihulygardenandglass.com/ https//www.citypass.com
Lynn Rosen, co-author of "Camping Washington," Falcon Press, Emmy award-winner, ski guidebook editor and writer, and theater critic, has a long history of both broadcast and print journalism.