Four isn't par for the course at a quartet of downhill ski areas near Salt Lake City. Four was the number of ski areas a group of us enjoyed over a four-day period in Utah's Wasatch Range. An abundant snowpack - more than 100 inches - combined with sunny skies and ideal snow conditions to create incredible conditions for sampling four Ski Salt Lake areas - Snowbird, Brighton, Alta and Solitude.

A week earlier the region was hammered by snowstorms, but we lucked out with a series of back-to-back blue-bird days, see-forever views and, best of all, perfect snow.

Cruising at Snowbird

Scoping the scenery
Day One - Snowbird
| | | | | |
| --- | --- | --- | --- | --- |
| | | | We began at Snowbird, one of the nation's premiere and largest ski-snowboard areas. Even during a full day, we barely sampled its more than 2,500 acres of skiable terrain. With 10 lifts and a 125-passenger aerial tram, Snowbird is a mountain geared for strong expert skiers and riders. There's a reason black and double-black diamond runs have names like "Thanks for the Memories,""Oh My God" and "Barry-Barry Steep." | |
| | Aerial tram services Snowbird tallest peak | | Ready for more skiing | |
What adds to Snowbird's fascination is its mining history. This history is reflected in runs with names like "High Stakes" and "Big Emma." In 1869, an Army soldier prospecting for silver in Little Cottonwood Canyon literally struck gold and founded the Emma Mine, one of the largest producers of silver ore in the Wasatch Range. Likewise, the resort is named after the Snowbird mining claim. At its peak, 8,000 people lived and worked in narrow Little Cottonwood Canyon, which boasted two smelters, 138 homes, hotels, boarding houses and a railroad - along with 26 saloons and an uncounted number of brothels. The original town was later destroyed by a series of avalanches.
Other runs honor one of Snowbird's founders, Dick Bass, including Bassackwards and Bassanova. Bass is famous for being the first person to complete climbs of the Seven Summits, reaching the highest peaks, including Mount Everest, on each of the seven continents.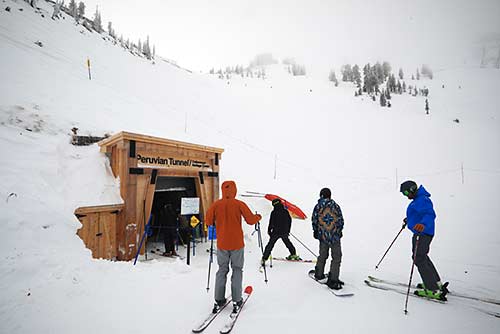 Entering the Peruvian Tunnel
Unique, too, is a nearly 600-foot long tunnel carved through the mountain that connects Gad Valley and Peruvian Gulch with the Mineral Basin. The conveyor belt, the Peruvian Tunnel, was opened in 2005 and is unique in North America. The one-way, four-minute ride, is made more interesting because of its collection of mining gear and interpretive signs. It accesses a variety of beginner to expert runs in the 500-acre Mineral Basin.
| | | | | |
| --- | --- | --- | --- | --- |
| | | | | |
| | Inside the Summit Restaurant ... | | ... And looking out (Lee Juillerat photo) | |
Spectacular are the views from Hidden Peak and the Summit Restaurant, an elevation of 11,000 feet and most easily accessed by the Aerial Tram at the Snowbird Center. Because the restaurant's walls are almost entirely made of glass, on clear days the sights are endless. Our lunch was tasty, but even tastier were views of the Wastach, Unitah and Timpanogos mountain ranges. And, in answer to the oft-asked question, the restaurant and tram are available to non-skiers and boarders during the winter, and for summer tourists who can either ride the tram or hike back down to the base village.
Day Two - Brighton
| | | | | |
| --- | --- | --- | --- | --- |
| | | | | |
| | A hole in the morning sky at Brighton | | A view from Brighton | |
Brighton is a smaller, lesser-known ski area than Snowbird, but locals know bigger isn't necessarily better. Like its neighboring ski-snowboard area Solitude, Brighton is located in Big Cottonwood Canyon and is regarded as a family area that offers a variety of terrain for all levels of skiers and riders with challenging slopes and beautifully groomed runs.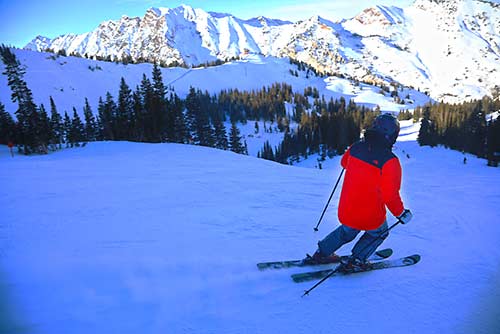 It's all downhill
Brighton also has a history. Opened in 1948 as Mt. Majestic, it's named for William Stewart and Catherine Brighton, who immigrated from Scotland in 1857 and homesteaded 80 acres in 1870. It was the first ski resort in Utah and one of the nation's earliest. Recreational skiing began in 1914 and the first rope tow was built in 1936.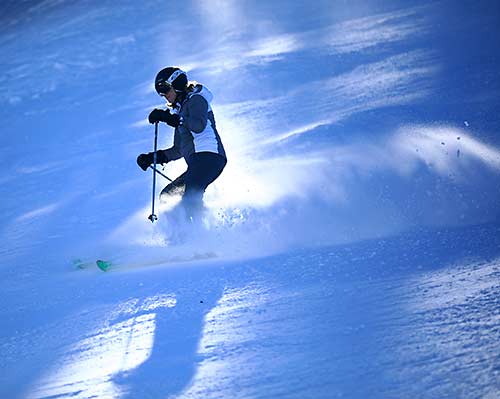 A skier carves turns on groomed Brighton slopes
Skiers and riders make their own history with top-to-bottom, tree-lined runs off the Crest Express, Snake Creek Express and Great Western chairs. After a late lunch, three of us crossed over to the Milly Express. None of the morning runs had been crowded, but from Milly we had slopes nearly to ourselves, slicing down a combination of intermediate and forgiving expert runs. Like crazed gerbils, we repeatedly hoped aboard the Milly Express for more downward explorations on the corduroy-groomed runs.
Day Three - Alta
My day at the Alta Ski Resort ended way too soon. The plentiful snow was perfectly groomed, the mid-week lift lines nearly non-existent and views of the rugged, snow-capped mountains matched or bettered those seen in the Canadian Rockies and Switzerland.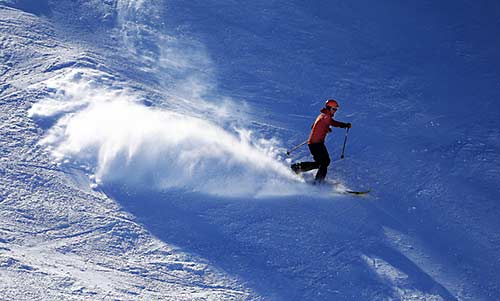 Dancing in the powder
Like neighboring Snowbird, located just up the canyon, Alta is an international destination for skiers - and skiers only. Unlike other areas that rescinded bans against snowboards, Alta remains a self-described "skiers mountain."
Alta is a huge mountain with more than 116 runs over its 2,614 skiable acres, which is 55 percent geared for advanced skiers. We didn't ski everything, but we sampled blue and not too seriously black runs from its six chairlifts. For truly advanced skiers, including ski-film stars, Alta offers daredevil challenges, both off chairlifts and others reached only by hiking and climbing to powder runs under toweringly dramatic Sugarloaf Peak, Devil's Castle and Mount Baldy.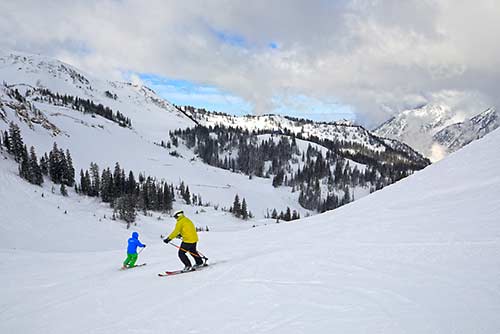 Cruising the perfect run
What makes Alta tempt-delicious is its varied terrain. While some runs are zippity-doo-dah adrenaline-rush steep downhills, more twist and turn through forested runs with undulating dips and curves and others are mellow groomers.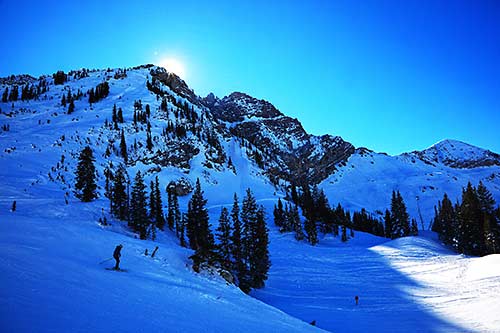 Heading into the powder
By the time a trio of us ski-until-closing diehards took the Transfer Tow from the Albion Base back to Wildcat Base, our legs were fried. It was the kind of day that left us with broad grins and tired legs, a day that reminds me - I consider myself an advanced intermediate/quasi-advanced skier - of why downhill skiing is so addictive. We were pooped when the last lifts closed, but still wishing for more.
Day 4 - Solitude
It had been a day to celebrate, a day of exploring and discovering fun yippie-ki-yay challenging downhill ski runs at the Solitude Mountain Resort, sometimes with others and, appropriately, sometimes in personal solitude. But one run, Woodlawn through Honeycomb Canyon, put the exclamation mark on four days of skiing, a run that generated a sense of satisfaction and gee-whiz delight.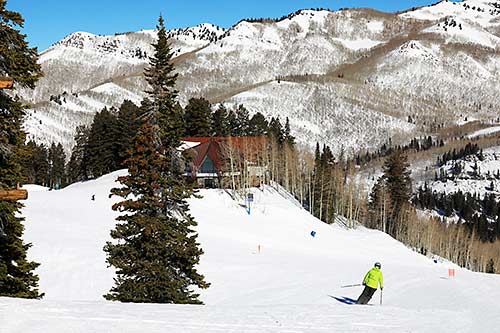 Carving turns at Solitude
That morning we sampled Solitude's various chairlifts before moving to the Summit Express, itself an amazing ride that climbs, abruptly dips rollercoaster-like before finally surging up to a drop-off elevation of 10,035-feet. As Shawn Stinson of Ski City/Visit Salt Lake, who guided our group, confessed, the Summit Express is one of the few chairs where he uses the safety bar.
On our first round from Summit's summit we whizzed down steep, swift intermediate runs back to the its launching site. But on our second swoop, Stinson led us through a gate into Honeycomb Canyon, an area with only expert runs. In my experience expert - or black diamond - runs at most Utah ski areas equate to double-black diamond daredevils at most other ski areas.

Lots of choices
Off we went, swooping and dipping through the canyon. Woodlawn, weaves through a cozy, tree-lined canyon. Locals passed us, confidently carving turns until they disappeared from sight. Our group paused, looked at the waterfall-like drop, then dropped into the void. Although sunny days had left Utah's fabled fresh powder semi-packed, the snow was deep and forgiving. Our skis sliced turns. Then came more dips and climbs weaving through the canyon. Confident, we swooshed down a second steep drop. Too soon we arrived at the Honeycomb Return chair for a short lift to an area served by the Eagle Express, skiing to the Roundhouse, a mid-mountain restaurant for a scrumptious bowl of lamb curry.
| | | | | |
| --- | --- | --- | --- | --- |
| | | | | |
| | The village at Solitude | | Savoring a sunny day | |
Afterwards we split into smaller groups or, like me, headed out individually. After traversing lifts and ski runs it was back to the Summit Express. The first run down Honeycomb Canyon had been an exploration. The second and third times were pure pleasure, let-'er-fly delights, aggressively attacking the deep drops and savoring the sights along the steep-sided canyon walls. Thoughts of quickly returning to the base area and catching the public transit bus back to the hotel yielded to other temptations - "One last runs" multiplied many times over skiing side-by-side Rumble, Stumble and Grumble, and turns on Challenger, Hal's Hollow, Last Run and, finally, Home Run.
Ski Cross skiers get airborne

The skiing and food at Brighton were delicious - and there was an added delight. We shared the mountain with skiers and boarders in the opening day of the FIS Snowboard, Freestyle and Free Ski World Championship in Border Cross and Skier Cross, demolition derby-like events that will be part of upcoming Winter Olympics.
| | | | | |
| --- | --- | --- | --- | --- |
| | | | | |
| | Skiers fly over jump... | | ... And zip along course | |
More than 1,300 athletes were literally flying over a course that featured three jumps and seven multi-feature over the 34 course with 34 rollers. Snowboardcross (SBX) and Skicross (SX) are events that involve multiple athletes simultaneously racing down a hill at the same time using speed and skill to make it over cambered turns, various types of jumps, berms, rollers, drops and steep and flat sections designed to challenge their ability to stay in control while maintaining maximum speed. Snowboardcross are riders while Skicross are skiers. The races included qualifying rounds with the top two athletes continuing onto the finals. Traditionally, Snowboardcross includes qualifying rounds of four or six racers at a time; Skicross limits qualifying rounds to four racers. Larry Turner's photos capture some of the adrenaline-charged excitement
If You Go
Ski Utah and Salt Lake City, which adopted the slogan "Ski City," have teamed up with Alta, Snowbird, Solitude and Brighton to offer a Super Pass. It allows one day of ticketless access to all four lift systems, plus free use of the region's public bus and light rail system. Buses run every 15 to 30 minutes between multiple city stops and each of the ski areas, with runs averaging 30 to 45 minutes. The basic adult Super Pass with no blackout dates costs $300, and can be extended for longer stays. For information visit www.skicity.com. For out-of-towners, instead of bringing your own gear consider using Ski Butlers, which takes rental items to your lodging. Visit skibutlers.com for details.
* * *
About the Author and Photographer
Lee Juillerat is a semi-retired newspaper reporter-photographer who lives in Southern Oregon. He is a frequent contributor to newspapers and magazines, including Southern Oregon Magazine, Alaska Beyond and others. He is the author of several books, including two about Crater Lake National Park, one about Lava Beds National Monument. He can be contacted at 337lee337@charter.net.
Larry Turner is a professional photographer who lives in Southern Oregon and travels extensively. His works have been published in a variety of newspapers, magazines, calendars, galleries and books, Turner has traveled horseback through five states; fly fished remote areas in the Yukon Territory, Belize and Alaska; snow skied 'in places where I should not have been'; and generally tries any adventure "at least twice." His work can be viewed at www.larryturnerphotography.com.