The Joy of Cycling contains 88 pages of both thoughtful and hilarious (sometimes both in the same sentence) inspirations about the bicyle and its riders. For example, Olympic rider John Howard says of the bicycle:

The bicycle is a curious vehicle. Its passenger is its engine.

And Carl Sagan wrote:

If constellations had been named in the 20th century, I suppose we would see bicycles.

Here's one to think about:

The bicycle is the most efficient machine ever created. Converting calories into gas, a bicycle gets the equivalent of three thousand miles per gallon. - Bill Strickland

And here's one I wish I'd written myself:

You are only one ride away from a good mood. - Sarah Bentley

Quotations arranged by Jackie Corley; published by Hatherleigh Press; ISBN 978-1-57826-804-7; $12.50 US
But aside from all the wonderful things you could say about bicycling and how good you feel when you're out doing it, I'm endlessly fascinated by the things I see. I have an eye for visual jokes, or at least puzzles to figure out. Things you can see while you're on a bike are an endless source of amusement. Like what could possibly be the back-story of these photos?
I could tell you the backstories, but your own imagination will come up with better ones. I'm also amused by the variety of bicycles that are out and about, not to mention the bikers themselves, like these:
| | | |
| --- | --- | --- |
| | Whoa, now THESE are something - Cruzbike is the company - the one on the left is their Vendetta and the one on the right is the Q45. Can you guess which one costs almost $2,000 more than the other? These are both fast bikes due to low wind resistance. Notice that they are front wheel drive, meaning more direct pedal power via short chains. We'll review Cruzbike in the next issue. | |
Well OK, I didn't really see these with my own eyes, but you must agree they should be included:
Here's a couple of ways to lock your bike when there's no bike rack around:
Here are two examples of bikers staying highly visible to car drivers:
To round out this display, and to show I'm not totally off-piste, here are some examples of lovely things to see on a bike ride: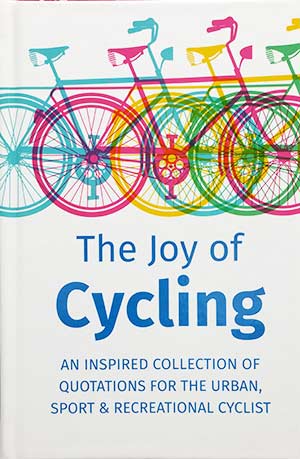 Like Robin Williams said: "Riding a bike is the closest you can get to flying."
This book inspired me to gather all these photos together
and take some more on my daily rides.
Just think what it could prompt you to do...Enjoy the ride!