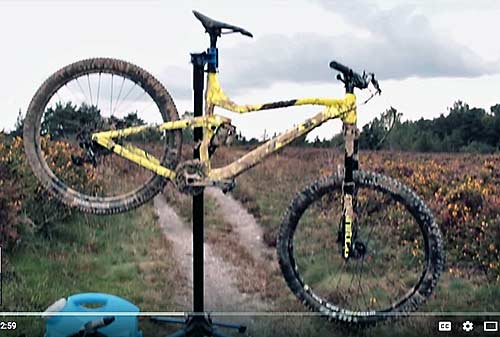 Hey, your bike just might be this muck-caked and covered in crud. If it is - or even if it isn't and has only an accumulation of road and trail dust - have we got a solution for you. (See video at end of review.)
First a bit of background about this array of cleaners that promise to make your ride not only smoother, but no doubt trouble-free. Muc-Off makes really serious do-it-yourself bike cleaning products. We'll get into the lubing and protecting features later.
The company started up in the early 90s in Poole, United Kingdom, by a couple, Rex and Marilynn Trimnell, who were into detailing cars. Rex mixed up something he called Perfectly Pink Spray to keep his kit clean. Soon many others wanted more of this product, which made Rex and Marylinn consider going public with the products. Now, we all have the benefit of his expertise and even Tour de France champs, Team Sky, swear by this cleansing system. https://www.youtube.com/watch?v=g-0T0TbrZOI
Let's take a closer look at that kit and what's inside.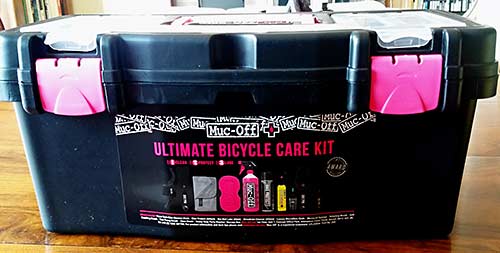 This attractive pink and black tackle box holds a multitude of magical cleansers. Inside you'll discover brushes, cloths, elixirs, cleaners, oils and more lube tubes than you could ever imagine. There's even one for your own personal sweet seat.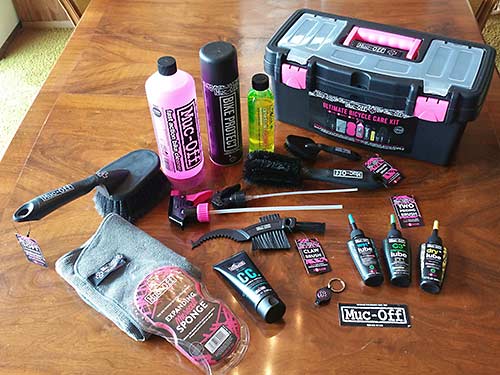 And here are the contents. By the way, everything Muc-Off is biodegradable.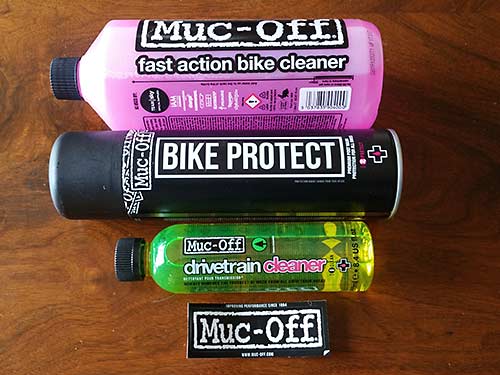 Here's the company's first magic potion. This pink stuff cuts through grime with a secret "Nano Technology" that is biodegradable, acid-free, has no CFC's or solvents, is alkaline-based and doesn't scratch. Bike Protect keeps out corrosion due to its high oil content. A non-sticky protective layer on your frame, drive chain, metal parts and paintwork, this spray prevents all the muck from sticking to your vital parts. The Drive Train Cleaner does just that. You can pour it into a chain-cleaning device or spray directly to deep clean even the dirtiest chains.
| | | | | |
| --- | --- | --- | --- | --- |
| | | | The Muc-Off Bike Cleaning Kit comes complete with a quartet of brushes: the Soft Washing Brush for gentler scrubs of metal parts, the stiffer Claw Brush and scraper for mud-de-clogging of chains and sprockets, the Detailing Brush for hard to reach areas like hubs, sprockets and suspension mounts and fork crowns, and the Two Prong Brush for spokes, shocks, footrests and pedals. | |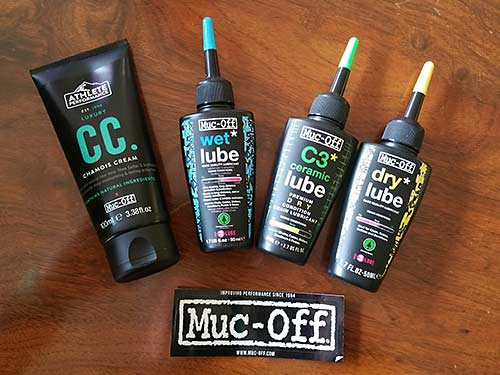 Unfortunately, chafing, even saddle sores, are all part of what you signed up for. But after some deep (sorry) research with professional athletes and pro teams, Muc-Off developed this Chamois Cream without any nasty ingredients. It contains all natural stuff - aloe vera, witch hazel, shea butter and sunflower oil to give your biggest contact point a mild cool comfortable ride. Wet Chain Lube will get you through long distances in wet and/or muddy conditions, and we all need that kind of help in those kinds of conditions. And when it's dry and dusty - and even damp - C3 Dry Ceramic Lube is the chain lube you want to have as your friend. But when the dry gets extreme, it's Bio Dry Lube to the rescue. It will penetrate your chain links, protect against contaminants and give you smooth and quiet gear-shifting. And we all know how that also provides some peace of mind out there on the trails.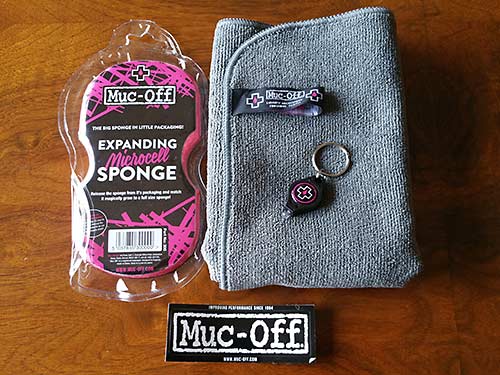 Along with the fluids that you need to clean and protect your bike, Muc-Off includes a washable microfibre cloth that traps dirt and eliminates smears and minor scratches, as well as an expanding Microcell (Pink!) sponge. You think these guys have a thing for pink?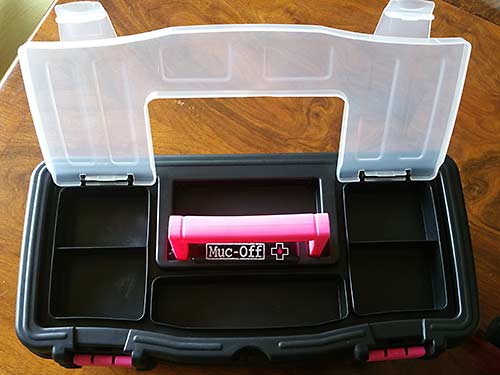 As if the cleansers, brushes, cloths, creams and lubes weren't enough, the tackle box with those pink touches that they're all packaged in proves to be the perfect storage cache for all these cycle treasures. It even has a top-of-box compartment for all those extra things like valves and co2 cartridges and extra tubes, etc. BTW - it just might be the perfect treat for your favorite bike lover/rider.
Here's a video on how to use all that in the field:


For more information visit www.muc-off.com
Lynn Rosen, co-author of "Camping Washington," Falcon Press, Emmy award-winner, ski guidebook editor and writer, and theater critic, has a long history of both broadcast and print journalism.