On mountain climbing trips with Gene "Geno" Howard and Tom Klump,  both medical doctors, at their advice we routinely practiced preventive medicine. Before dinner, they always poured everyone a cup of "snake bite medicine." It wasn't conventional "medicine," it was Stoli or, more correctly, Stolichnaya Vodka. It worked. We never were bitten by a snake.
| | | | | |
| --- | --- | --- | --- | --- |
| | | | | |
| | Evening on the Snake | | Rumbling Rush Creek | |
A few years ago, not heeding Geno's and Tom's advice, I was bitten by a Snake, but in the most pleasant way. I've never fully recovered from marveling at the sights and experiences enjoyed during a multi-day whitewater rafting trip along the Hells Canyon section of the Snake River. It's 80 miles from the put-in at the Hells Canyon Dam north to Heller Bar, with Oregon on the river's western and Idaho on the eastern side. During its final miles, Oregon gives way to Washington.
Entering and blasting through Rush Creek
The Snake is a wild and wondrous, sometimes boisterous, sometimes bucolic river. So, when I received a second chance to raft and kayak the Snake, I bit.
Slithering along the Snake is a journey that includes rumble-tumble rapids and sublime stretches of luscious scenery in North America's deepest gorge. There are hikes to a scenic river overlook, a preserved riverside farm, Indian pictographs, a site where Chinese miners were massacred, and once-upon-a-time homesteads and mines. The Hells Canyon stretch is only a portion of the 1,078-mile long river - the longest tributary of the Columbia River - that begins in Yellowstone National Park in Wyoming and ends in the Columbia near the tri-cities in Washington.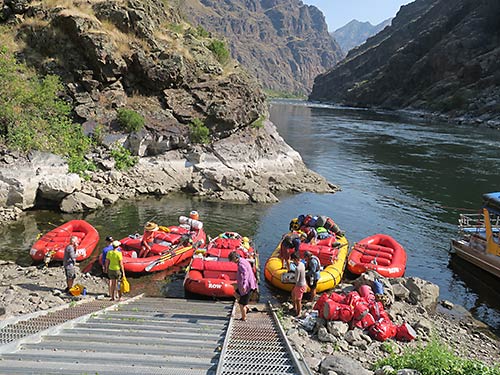 Loading up below the dam
Adding to the pleasure was being joined by my brother, Russ. It was the first time in decades we traveled alone. Not really "alone." Our group included seasoned guides from ROW Adventures and a confluence of more than a dozen others from across the U.S. Russ and I claimed seats in one of the two paddle rafts while some of the others were content with less splashy river views from oar rafts.
| | | | | |
| --- | --- | --- | --- | --- |
| | | | | |
| | Between tall walls | | The supply raft heads out | |
Becoming one with the Snake begins quickly with watery plunges through two Class IV rapids, Wild Sheep and Granite, blustery cauldrons of whitewater that no guide takes for granted. In Wild Sheep our raft nearly flipped, with one other paddler and our guide taking brief Snake swims.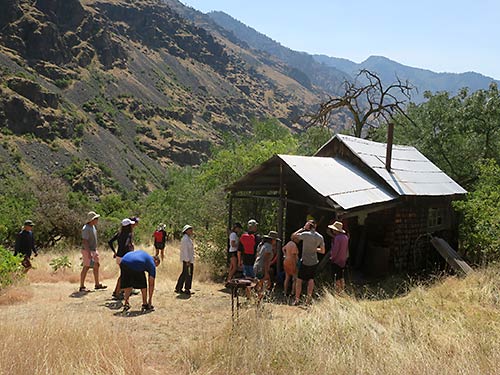 Visiting the Barton Cabin
But the Snake isn't just about the river. Lead guide Connie Kennedy, a long-time Snake veteran, set the trend on the first day with vivid descriptions of the history of a riverside cabin and tales of its long-ago salty homesteader. Over the next several days Connie proved a living Wikipedia of river history with stories of settlers like Ace Duncan and Ralph Barton and, during walks to cabins at Bernard and Sheep Creeks, the aerie Suicide Point viewpoint 300 feet above the river. Her expertise continued at many other stops as well.
Among Connie's many yarns was the story of how Temperance Creek got its name. Alex and Bob Warnock and their packhorses were on their way to their Snake-side cabin, where they planned to spend months placer mining and grazing cattle. When their packhorses fell and rolled, destroying the stash of whiskey, the Warnock were "left high and dry for the winter."
| | | | | |
| --- | --- | --- | --- | --- |
| | | | | |
| | Fixing dinner: sockeye salmon! | | Ready to eat? | |
There are many stories about the people and places along the river. Some of the tales revolve around how Snake River, which has no snakes, got its name. Actually, there have been many names. It's believed that Canadian explorer David Thompson first recorded the Native American name of the Snake River as Shawpatin in 1800. Five years later, when the Lewis and Clark Expedition crossed into the Snake River watershed, they named it Lewis River, Lewis Fork or Lewis's Fork because Meriweather Lewis was the first to sight the river. They also made note of "Snake Indians," who were actually Shoshones, and learned the Native Americans called the river "Ki-moo-e-nim" or "Yam-pah-pa" for an herb that grew along its banks. Those are just a few versions. Others? Wilson Price Hunt of the Astor Expedition named it the Mad River. More names included the Shoshone, after the tribe, and Saptin.
| | | | | |
| --- | --- | --- | --- | --- |
| | | | But its' generally accepted name, the Snake River, was derived from an S-shaped gesture the Shoshone made with their hands to represent swimming salmon. Explorers misinterpreted it to represent a snake. In 1912 the United States Geographic Board made The Snake River official. | |
| | Tranquil times | | | |
| | | | | |
| --- | --- | --- | --- | --- |
| | By whatever name, rafting and paddling the Hells Canyon section is about really experiencing the river. Our second day began with two more rompy Class IV rapids at Rush Creek and Waterspout. After those rapids, a pair of "rubber duckies," or inflatable kayaks, were added to the fleet. On one delightfully wet and wild day, Russ and I splashed and crashed through rapids during a 16-mile stretch in a double kayak, purposely aiming for big waves to cool off from the scorching 90 plus degrees heat. | | | |
| | | | Chilling in the heat | |
| | | | | |
| --- | --- | --- | --- | --- |
| | | | | |
| | Riverside camp | | Full moon rising | |
The river experience includes savoring its remote setting. My nights were spent outside, sometimes enjoying a starry serenade, other times awakened by a penetratingly bright full moon. One evening, a lone coyote's haunting howl was quickly echoed by a chorus of more high-pitched yowls, with the sounds reverberating off the canyon walls.
The Duncan Cabin, outside and inside
There were daily surprises, including paddling alongside a lollygagging band of 13 bighorn sheep nonchalantly nibbling plants along the river's edge, spying an osprey flying overhead with a fish in its talons, hearing the rolling trills of canyon wrens, staring at a bald eagle seemingly posing at a riverside perch, and a stepping carefully to avoid a sunning rattlesnake.
| | | | | |
| --- | --- | --- | --- | --- |
| | | | | |
| | Native pictographs | | Chinese Massacre site | |
More? A short hike to China Creek, where Chinese gold miners were massacred. A stopover at the Kirkwood Historic Ranch with its sheep-shearing shed, blacksmith shop, outdoor array of rusty machinery, and visits into cabins filled with stories, photos and memorabilia from times past. We viewed Indian petroglyphs, and pictographs. There were sights of the remnants of copper mines and the stair-step foundation of a hotel/bunkhouse at Eureka Bar. We paddled past the original trail where Nez Perce Indians crossed the river. And, of course, experienced the river itself, from its lazy gentle stretches to sometimes frothy passages.
View from the Suicide Point overlook.
Snake bit? You bet. And, sorry Tom and Geno, here's to hoping I never find the antidote.
If You Go
Several outfitters organize Hells Canyon rafting trips. Mine was through ROW Adventures, which provided competent guides, oar and paddle rafts and kayaks, tents and sleeping bags, beverages and guide-prepared meals. For information visit www.rowadventures.com. Along with the Hells Canyon stretch of the Salmon, the company offers day and multi-day river trips on the Rogue, Middle Fork of the Salmon, Sea of Cortez, Baja California, Clark Fork, God's Pocket and Lochsa, among others.
| | | | | |
| --- | --- | --- | --- | --- |
| | | | | |
| | Serving up dessert | | ROWing the river | |
About the Author
Lee Juillerat is a semi-retired writer-photographer who lives in Southern Oregon. Along with stories for Southern Oregon newspapers, he is a regular contributor to Capital Press and such magazines as Northwest Travel, Alaska-Horizon inflight, Range among others. He is the author of books about Crater Lake National Park and Lava Beds National Monument and a soon to-be published book featuring some of the more than 300 newspaper and magazine articles about ranchers and ranching. He can reached at 337lee337@charter.net.
Brother Russ showing no stress