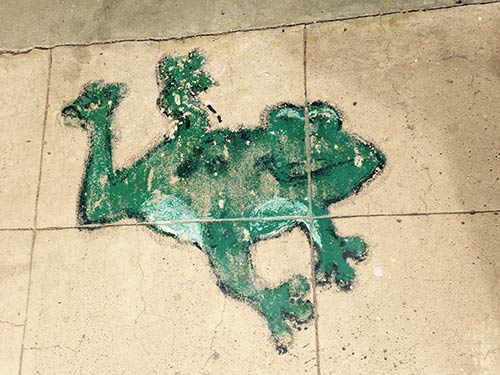 Jumping frogs made Angels Camp famous
Angels Camp is a heavenly place to visit and remember times past, times during the mid-1800s California Gold Rush days when its Main Street was ripe with hellishly devilish  temptations - saloons, gambling, ladies of the night and other diversions. Obviously, it wasn't named for its angelic reputation. Actually the name honors Henry Angel, an early arrival who opened a trading post in the budding Sierra Nevada foothills mining community.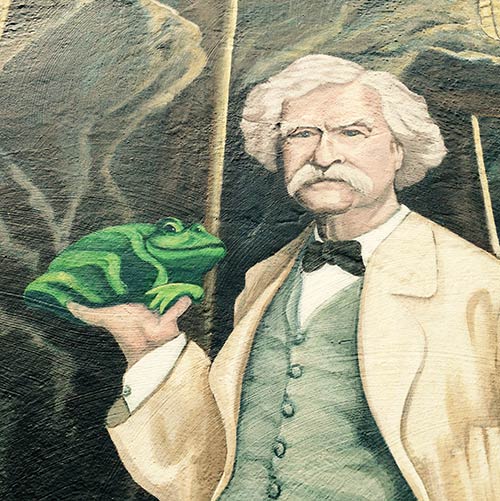 A Mark Twain mural in downtown Angels Camp
But it took a tall tale about a jumping frog to make the town famous. In 1865, a youthful Samuel Clemens was spending several months living in a ramshackle cabin on nearby Jackass Hill. While in town at the Angel Hotel, he heard a yarn about a legendary frog. The resulting short story, "The Celebrated Jumping Frog of Calaveras," made him and the town famous.
| | | | | |
| --- | --- | --- | --- | --- |
| | | | | |
| | A downtown jumping frog statue | | A not so long early jumping frog record | |
Clemens, better known as Mark Twain, is remembered with a downtown mural and statue. Each May the region capitalizes on his tale with "Going Frog Wild, the Calaveras County Fair & Jumping Frog Jubilee." But year-around, downtown Angels Camp stores are filled with Twain and jumping frog souvenirs and knick knacks. Main Street features sidewalk plaques with the names of winning frogs and their handlers, and the frogs' jumping distances - several over 20 feet. With its still very-alive history, Angels Camp is not a place where never the Twain shall meet.
Angels Camp Museum features stagecoaches and wagons
There's more than Twain. A do-it-yourself walking tour features historic buildings where echoes remember the town's wilder times, places like the site of the former Crooked Nose Joe's and other saloons, a theater where Lola Montez thrilled lonely miners, a shop that sold hand-rolled cigars, and the former Woods Hall and Opera House. As the tour brochure recommends, "Imagine the Ladies of the Night coming to the performance dressed in all their finery."
Just off  Angels Camp's Main Street is the Angels Camp Museum with its overshot water wheel, steam tractor engines, a Mark Twain exhibit and one of the largest collection of stagecoaches, carriages and wagons.
But Angels Camp, with a population of less than 4,000, is just one of the region's attractions. During a several day stay, one morning was spent following a wise-cracking guide while meandering through the depths of a showy cave. Other times we walked through another Mother Lode town that's a California State Park. Even better, we hiked trails with scenic lake views and, better still, forests with towering aptly-named Giant Sequoias.
| | | | | |
| --- | --- | --- | --- | --- |
| | | | | |
| | Dwarfed by a Giant Sequoia | | Fallen Giant | |
Giant Sequoias, known as Sierra redwoods or Sequoiadendron giganteum, are the focus of Calaveras Big Trees State Park. The most popular hike is the 1.7-mile North Grove Trail, a loop route that weaves its way through a grove of sky-climbing redwoods. It's worth the 50 cents for a trail guide that provides information on sights along the trail - and the trees' remarkable history.
Tall tales about the tall trees began in 1852 when people thought Augustus T. Dowd was telling tall tales about the sights he saw while chasing a wounded grizzly bear. As the trail guide notes, "Dowd was a colorful character and his story of the big tree was initially met with skepticism," skepticism that persisted until he convinced others to see for themselves. Seeing is believing, and that's what people have been doing ever since at Big Trees.
| | | | | |
| --- | --- | --- | --- | --- |
| | | | | |
| | Exposed Redwood root | | Boardwalk allows up close view | |
The tree that stumped Dowd in 1852, called the Discovery Tree, was short-lived after its discovery. It was stripped of its bark and felled in 1853. It took five men 22 days to drill holes in this monstrous tree. It was more than 25 feet in diameter at its base and more than 280 feet tall - but it was several days before it toppled over. Its bark was assembled into its original form for a traveling exhibit, but was destroyed by fire a year later. Despite protests by Dowd and John Muir, what's left, the Big Stump, was planed smooth to serve as a dance floor while a two-lane bowling alley and bar were built on the fallen trunk.
The Big Stump is just the North Grove Trail's first discovery. The route passes by other giants, including the Empire State, so named because its base diameter is 30 feet. There's also the Granite State Tree, Siamese Twins (two trees that seemingly merge into one about 50 feet off the ground), Old Bachelor, Mother and Son, the fallen Hercules, Father of the Forest, Mother of the Forest, Pioneer Cabin, Abraham Lincoln, Three Graces of Greek Mythology, and Sacrificial.
| | | | | |
| --- | --- | --- | --- | --- |
| | | | | |
| | Amazing cave colors | | Looking into a chasm | |
A totally different type of hike weaves through a portion of Mercer Caverns near Murphys, another Mother Lode town best seen on a self-guided walking tour. The caverns were discovered by Walter J. Mercer in 1885. The dazzling formations weren't what Mercer, a miner, was looking for, but they proved worth their weight in gold mine by luring tourists. Its features include an array of frost-like, aragonite crystals and formations like Simon's Thumb and the Bridal Veil. A piece of trivia: of the 440 steps, 208 go down while 232 climb up. Along with explaining the caverns geology and history, our guide spilled out delightful, well-rehearsed factoids and jokes.
| | | | | |
| --- | --- | --- | --- | --- |
| | | | | |
| | Simon's Thumb | | Cave popcorn | |
The town near Mercer Caverns is Murphys - and, no, that's not a typo. The town was named for two brothers named Murphy - and is known as the Queen of the Sierra. While there are several hours of historic building to appreciate, possibly its main attraction is a series of wine tasting venues, places to stop and sip.
The region also features other enchanting caves. On a previous visit, I toured the caves at California Caverns State Historic Landmark and followed guides through narrow nooks and crannies at Moaning Caverns. The multi-hour Middle Earth Expedition at California Caverns is especially memorable because it includes shimmies through horizontal fissures, an in-cave rafting trip across Tom's Lake, visits into crystalline rooms, a squeeze hole that seemingly gives birth to emerging spelunkers, and goo-filled passages. Fun stuff.
| | | | | |
| --- | --- | --- | --- | --- |
| | | | | |
| | Waiting for passengers | | Rumbling through town | |
It's just a short drive from Angels Camp to Columbia, another Gold Rush era town. Columbia State Historic Park encompasses downtown's business district, which is closed to motor vehicles, but open to a stagecoach that offers rides. Columbia's historic district is alive with nearly 30 buildings that date back to the California Gold Rush days. There are people in period clothing, a store featuring handmade candy, two hotels, general stores, a blacksmith shop, a Daguerreotype store, a museum and town tours. Columbia has served as a location for movies and television shows, including "High Noon," "Little House on the Prairie," "Behind the Mask of Zorro," "Death Valley Days" and many more. Just a short walk away on School House Street is the town cemetery, also worth a walk to view classic tombstones and markers.
Tombstone honors people from Gold Rush era Columbia
There are walks - and also hikes. The North Grove Trail is the major draw at Calaveras Big Trees, but a network of trails in the North Grove and South Groves offers other possibilities, from the short Three Senses Trail to the 2.5-mile Bradley Grove loop trail to the challenging eight-mile long Blue Canyon Trail.
| | | | | |
| --- | --- | --- | --- | --- |
| | | | | |
| | Mountain bikers | | Hiking a trail | |
At New Melones Lake, about midway between Angels Camp and Columbia, hiking trails bisect the Tuttletown and Glory Hole areas. We explored the Heron Point Trail where the vegetation includes shady groves and Manzanita along with lake views. We also learned that the lack of signage can make for interesting times and longer-than-planned treks. Even more enjoyable were trails at the Melones Glory Hole section, especially a loop hike that begins with the Carson Creek Trail, merges with the hilly Tower Climb and returns to the parking area via the Fire Access Road.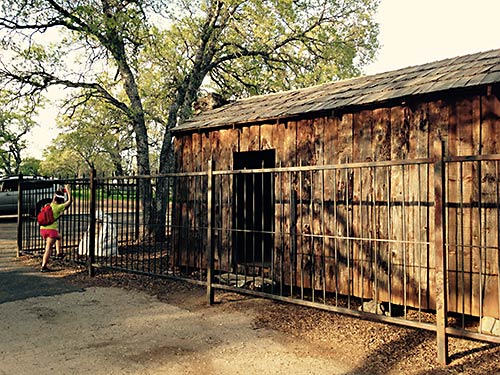 Mark Twain Cabin
Near Tuttletown atop Jackass Hill - named for jackasses used in pack trains - sits the Mark Twain Cabin. It's a replica of the cabin where Twain spent the winter of 1864-65 as the guest of two local miners, the Gillis brothers. It was during a visit to Angels Camp that Twain heard the story about the jumping frog that helped leap-frog his career.
Twain's books and stories are the stuff of legends, but one of most famous quotes explains why a visit to the Gold Rush sites, towns and other attractions are worthwhile. As he wrote, "Twenty years from now you will be more disappointed by the things that you didn't do than by the ones you did do. So throw off the bowlines. Sail away from the safe harbor. Catch the trade winds in your sail. Explore. Dream. Discover."
When You Go Websites include: Angels Camp, angelscamp.com. Calaveras County, gocalaveras.com. Mercer Caverns, www.mercercaverns.com. Calaveras Big Trees State Park, www.bigtrees.com New Melones Lake, www.usbr.gov.mp/ccao/newmelones/index.html. Columbia State Historic Park, parks.ca.gov/columbia. California Caverns, californiacavern.com. Moaning Caverns, moaningcavern.com.
About the Author
Lee Juillerat is a semi-retired writer-photographer who does outdoor stories for Southern Oregon newspapers and other stories for several magazines, including Southern Oregon, Range, Alaska Beyond and others. He is the author of several outdoor/travel books, most recently, "Lava Beds National Monument." He can be reached at 337lee337@charter.net.