It's called the "20-Centimeter Rule." Around the southern British Columbia town of Nelson, a vibrant burg of nearly 10,000 people on the western shores of Kootenay Lake in the Selkirk Mountains, when 20 centimeters, or about 8 inches, of snow falls overnight, it's understood that townspeople can disappear for the morning to take advantage of fresh powder skiing at nearby Whitewater Ski Area.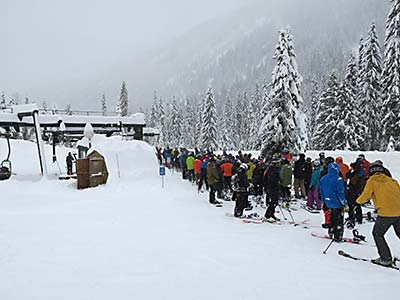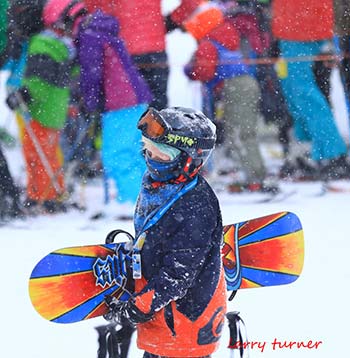 Lines form early on days of the 20-Centimeter Rule
That's what happened on a weekday morning. Before the lifts opened at 9 a.m., throngs of eager power-hounds were forming quickly-lengthening lines at the two chairs near the base area - the two-seater Silver King and Summit Quad - and the Glory Ridge triple down the access highway. "I think everybody took the day off. Is there anybody left in Nelson?" one Whitewater first-timer quizzed. "Probably not until about noon," answered one of the locals.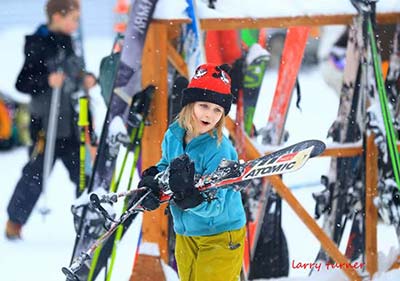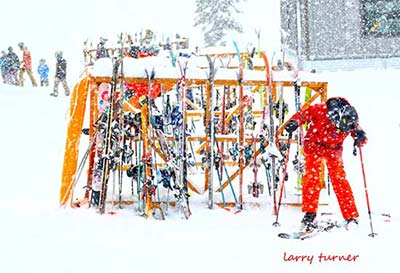 School? Not on snow days
"This is typical," Rebeckah Hornung, Whitewater's marketing manager, later explained of the exodus from Nelson. "A big dump at night and people take off the morning at work or from school. It's an accepted part of the culture." Located about 13 miles from Nelson, Whitewater is a skier's mountain. With an average snowfall of about 40 feet, the area spans 1,104 acres served by lifts and, for back-country skiers willing to do some hiking, 2,367 acres. Elevations range from 5,400 to nearly 7,900 feet.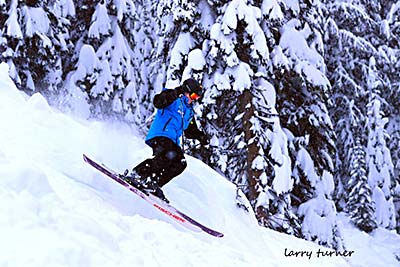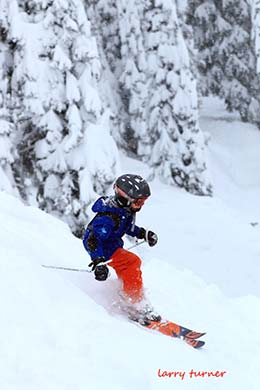 Fresh powder lures skiers of all ages
Whitewater has no overnight lodging. There is a new ski rental shop and restaurants at the base area - the food at Coal Oil Johnny's is delicious and the servings humongous - also at the very basic Fresh Tracks Cafe. Nothing at Whitewater is upscale - and that's not a criticism. The area touts itself as "humble but huge." The region promotes "self-propelled activities" - mostly downhill and back-country skiing plus cross country skiing, and snowshoeing. The mountain also has a small terrain park. World class snow-cat and heli-skiing are offered by several companies. "We come here to ski," a local proudly stated.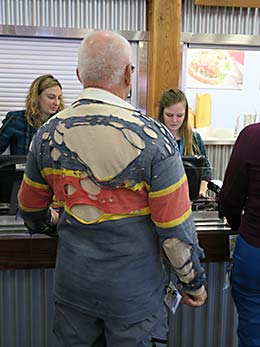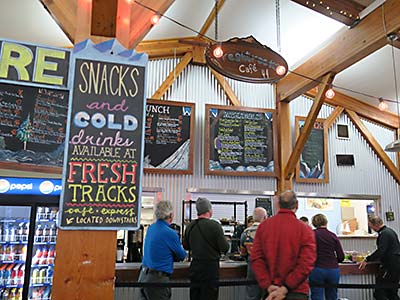 Fueling up at the Fresh Tracks Cafe
Skiers have been coming to Whitewater since the early 1970s, but the area's history goes back even further, to 1934 when the first ski lodge opened at the north end of Nelson. A small rope tow driven by the rear axle of an ancient Model-T Ford carried skiers with long wooden skis and bear-trap bindings. Wanting more vertical, the ski area moved to the old Silver King Mine site south of Nelson. Families built a small ski lift and log cabin lodge in 1956. On opening day, 175 beginners were given lessons. The Silver King Lodge, added in 1961, served as the home to many potluck dinners and work parties. On Friday nights, kids and adults boot-packed and side-slipped the towline and hill to set tracks for Saturday's skiing. Although late night snowfalls often obliterated those hard-made tracks, volunteers were back at it Saturday morning. Silver King Ski Club members kept things going until the 1970s, when the quest for steep and deep led them to the Whitewater Valley and, eventually, the formation of the Whitewater Ski Area.
The area that is Whitewater was discovered in the late 1960s when two businessmen, Tex Mowatt and John Stanger, were joy riding on their motorcycles when they came across what they believed was a natural ski bowl. In 1969 they worked with the Silver King Ski Club to initiate development of the Whitewater basin. Finances came from a provincial government grant, bank loan, local initiative program and the people of Nelson, who over a five-year period donated goods and services and volunteered almost 9,000 hours of work.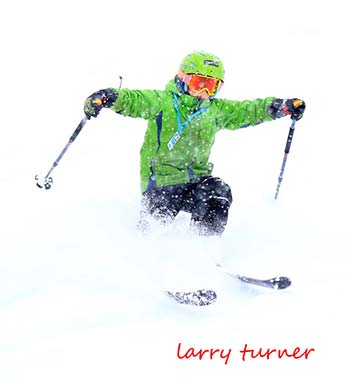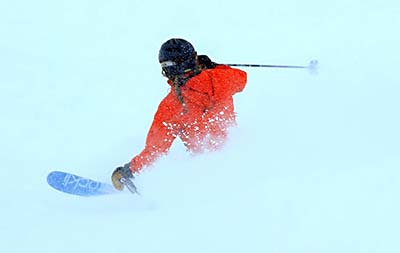 Skiers and boarders find fresh powder
Whitewater's initial facilities were installed over a six-year period. Four runs, lifts and the parking area were completed in 1973. The lodge opened a year later. In 1975, two chairs were installed and a T-Bar was later added. In August 1986, a group of locals purchased the ski area from the Ski Society. In 1993 the T-Bar was replaced by the Silver King Chair and an office was opened in downtown Nelson.
In May 1997, Shelley and Mike Adams bought the area and that summer installed the Hummer Handle Tow, which provided lift-served beginner terrain. The Adamses figure in a charming back-story: Whitewater purchased the Olive Chair from Whistler in 1992, something the Adamses, who were Ski Society board members, supported because - so the story goes - the chair was where they first kissed.
| | | | | |
| --- | --- | --- | --- | --- |
| | | | | |
| | Fitting boots in the rental shop... | | ...and getting ready outside | |
The Summit Chair, installed with the ski hill's original development in 1975, was originally a double chair that served skiers and snowboarders for 40-plus years. During the summer of 2017, it was retired and upgraded to a new quad fix-grip chair, which carries skiers and riders up over the area's best-known run, The Blast.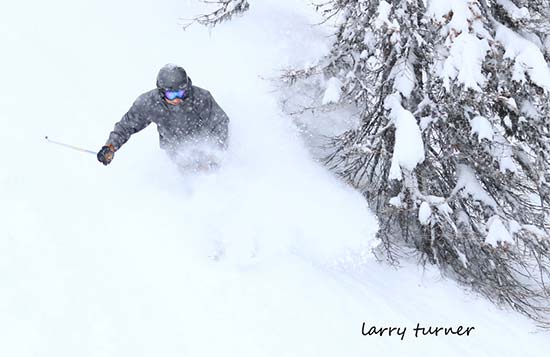 Blasting off at Whitewater
Riding the chair is indeed a blast. During my visit, rides up The Blast featured views of skiers and boarders literally flying through the air, some twisting, turning and jumping Shawn White- and Mikaela Shiffrin-like down deep powder runs, others freelancing off-trail in between trees on elevator-shaft steeps. "It hurt my knees just to watch it," confessed a friend as we watched from the chair.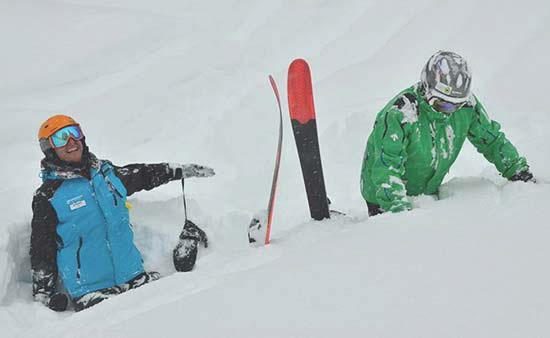 Digging out
Kornung believes the mountain's often steep routes and often deep snow "pushes people to become better skiers and riders and ski more challenging terrain," a thought echoed by George Kilpatrick, who helped launch the mountain host program in 2013. Although he and his wife live in Ottawa, they've made winter trips to Nelson and Whitewater for more than 20 years. "I haven't missed a year on snow in 50 years," the 70-year-old Kilpatrick said with evident pride. "I love what I do and meeting people from all over the world." Retired from construction, his mantra is, "Snow is to play on, not to work on."
Kilpatrick is also aware and proud of the ski area's story, including its recent history. In August 2008, the Adamses sold the resort to Knee Deep Development Corp., a Calgary based company, a move Kilpatrick applauds. He and others credit the new owners - Dean Prodan, Andrew Kyle and Mitch Putnam - for upgrading the area's infrastructure and for realizing Whitewater's economic importance to Nelson. In 2010, what is now the Glory Ridge triple chair added an additional 749 acres of terrain with a vertical drop of 2,044 feet in the area formerly known as the backside.
| | | | | |
| --- | --- | --- | --- | --- |
| | | | | |
| | Celebrating another great day | | Having fun | |
Whitewater's connection with Nelson is  part of the ski area's attraction. It's only a 20-minute drive from Nelson, which calls itself a "small city with a big personality," and celebrates its thriving arts community and heritage, something kept alive with more than 350 preserved heritage buildings. As Hornung explained, "Whitewater has aprés skiing, but just not on the hill." With more 40 restaurants, including Torchlight Brewing, Nelson is full of surprises. During a dine around, after sampling brews at Torchlight, I devoured gobble-me-up calamari featuring wild mushrooms and shrimp at the All Seasons Cafe, helped to empty plates of Mexican temptations at the Cantina Del Cantina and found room for sinfully delicious desserts at the West Coast Grill.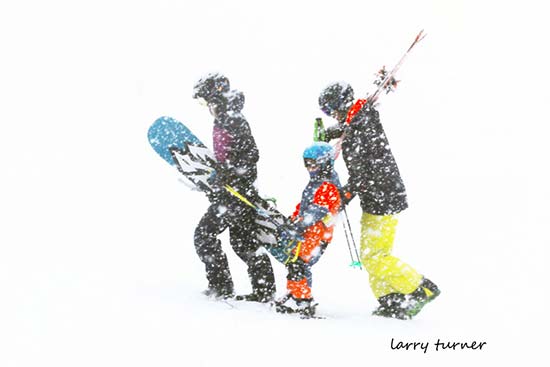 Calling it a day
Nelson is place with incredible selections of food, local brewed beer and easy access to a surprising, challenging ski area known for its fresh and deep snow with a laid-back atmosphere. After all, Whitewater is a place where in winter the water falls white.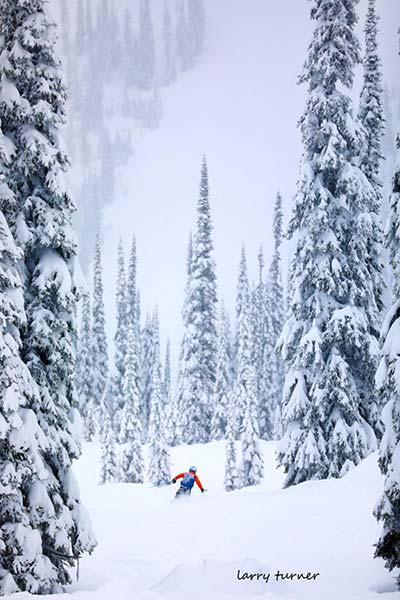 Whitewater's amazing beauty
When You Go For more information on the Nelson Kootenay Lake region visit nelsonkootenaylake.com and for information on Whitewater visit their website at skiwhitewater.com.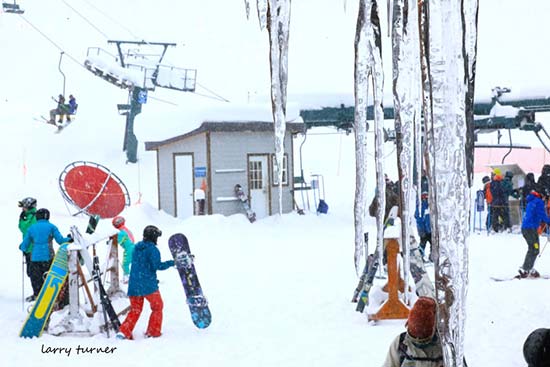 About the Author Lee Juillerat is a semi-retired reporter-photographer who lives in Southern Oregon and is a frequent contributor to magazines and other publications. Recent stories have appeared in Alaska-Horizon Airlines in-flight magazines, Southern Oregon Magazine, Range, Northwest Travel and others. He has written and co-authored books about various topics, most recently "Lava Beds National Monument." Lee has produced photo-stories about U.S. and worldwide travels in High On Adventure for 20 years. He can be contacted at 337lee337@charter.net.
3-minute video on The Evolution of Whitewater
24-minute Whitewater anniversary video 40 Years Young