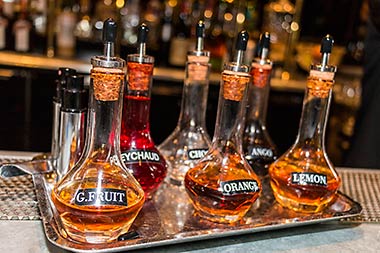 Assortment of bitters
     Okay, this was just as cool as I expected.
     A mixology class in a Las Vegas Strip hotel bar.
     It was, honestly, way more than I expected...starting with a history of alcoholic drink in America, then on to a demo of some crazy drinks, then a chance to try mixing them ourselves.
     The $75 class is part of something MGM calls the M life Mixology Moment, a two hour class held in HIT Lounge at Monte Carlo Resort & Casino (now branded as the Park Mgm). You don't have to be staying at an MGM hotel but you do need to be a member of the chain's M life rewards program.
     "This teaches you how to create drinks properly at home, which is what you're really after," said Philip Dow, beverage manager and master mixologist, as he spread an array of his "tools" before him. Proper tools are of the utmost importance, he explained.
     There was the "Boston shaker" (a 16 oz pint glass and companion 28 oz mixing tin) strainers, bar spoon, measuring jigger, decent water, ice. Dow added that proper drinks are built, not mixed. You build the cocktail, THEN add ice, which chills it and opens the flavor. 
     That ice-shaking dance, by the way, is far more vigorous and lengthy than I ever imagined. Dow does it showman style, with flare and a wide grin.
But before we got to that, we learned the history. 

     The cocktail, it turns out, is an American invention. The crude roots were in early settlement days when pioneers needed something safe to drink, leading to beer, mead, wines and eventually, distilled spirits. They mixed these creations with water, thus (hopefully) purifying and extending the safe drinking supply.

     Over the years, mixes became ever more exotic, reaching an exuberant peak in the "Golden Age of Cocktails" of the late 1800s - sours, fizzes, Manhattans, martinis, you name it.

     And then, Prohibition.

     "That was a dark time, not just for the obvious reasons but also because many of the secrets of the craft are now lost to us due to what was tantamount to an all out war on the art of the cocktail," says the class book (yes, of course there's a book).

     With secret distilleries and moonshiners, the quality of the alcohol plummeted. The reason for creative adjustments to the cocktail was to mask the horrible flavor of bootleg liquor, not complement it.

Las Vegas skyline
     Prohibition ended in 1933 but, still, drink didn't exactly rebound. Drink became mainly a way to get drunk. Then came the '70s and liquor suddenly had to compete with pot and LSD, leading to a bizarre array of ever stranger concoctions. 
     Trying to make it all sexy, there came, among others, Surfer On Acid (a wicked mix of Jagermeister liquor, coconut rum and pineapple juice) and the Harvey Wallbanger, which has ruined me for Galliano, though I still keep flowers in that tall, tapered bottle.
     But perhaps top on the list: The Blow Job - Kahlua and Baileys covered with whipped cream. You put a drink-filled shot glass on a napkin and if the woman could put her lipstick on the napkin....well, you get the, er, gist.
     Leading us, slowly, to today, where, finally, quality spirits are back.
     "We're getting back to the core, remembering what made those original drinks great, with fresh ingredients and high quality liquor. We're  celebrating the quality of the drinks rather than trying to make them sexy or just get drunk," said Dow.
     Which explains the welter of fine distilleries that are popping up seemingly everywhere from big cities to small towns to ski resorts.
     Dow then digressed a bit down the fermentation and distillation lane.
     Fermentation? "Yeast eats sugar, pees out alcohol and farts out CO2, he explained with an absolutely straight face. (Remember, this is Vegas and we're all grownups here...or maybe not)
     When aging distilled alcohol, say whiskey in oak barrels, the key, he explained, is that the wood expands and contracts, drawing the alcohol into the wood and expelling it, along with the barrel's flavor. This smooths out the rough edges of the spirit and adds the signature warmth and mellowness. 
     Moonshine is basically straight, raw, un-aged whiskey.
| | | | | |
| --- | --- | --- | --- | --- |
| | | | | |
| | Mixing a drink in class | | Mixology class book: The Art of the Craft | |
     And now, on to what we've been waiting for...the mixing and sipping and swallowing.
     First up, a drink called Aviation, a product of the Roaring 20s and fascination with early airplanes. Its claim to fame is creme de violette, which gives it a distinct pale blue color "reminiscent of soaring at 30,000 feet."
     Dow did the demo, mixing together gin, maraschino liqueur, lemon juice and, finally, the creme de violette. Then we tried it on our own. And no, my attempt wasn't the same. Not enough cherry liquor so it wasn't quite sweet enough. It certainly demonstrated why precise measurements are so important.
     But the real fun came with the Pink Cashmere, featuring a huge ball of cotton candy, then a mix of cherry vodka, cranberry juice and lime juice. You pour, the cotton candy dissolves and turns into a surprisingly pleasant after dinner drink.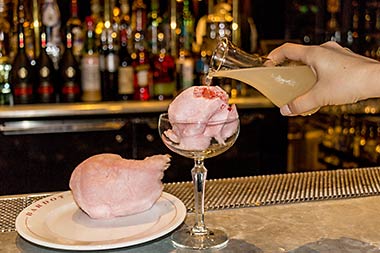 Pink Cashmere
     The star of the demo (no we didn't get a chance to try making it) was what mixologist Ricardo Murcia called "our approach to Bellini heaven in a glass." The Rosso Bellini includes Fragoli (wild strawberry) liquor, raspberry syrup, lemon juice, Hangar One Raspberry vodka and is topped off with Prosecco sparkling wine.
| | | | | |
| --- | --- | --- | --- | --- |
| | | | | |
| | Finishing touches on Bellini Rosso drink | | More finishing touches | |
| | | | | |
| | | | | |
| --- | --- | --- | --- | --- |
| | | | | |
| | Finished Bellini Rosso drink | | Presenting the Bellini Rosso | |
     First, though, a caramel cradle is set atop the glass. A gilded raspberry is added. Then the liquid is poured, melting the gold. Yes, it's a "woman's drink," added Murcia.
     While the Rosso Bellini is not normally part of the M life Mixology Moment, it IS available at Lago, an Italian restaurant in the Bellagio. And the usual class features six separate drinks.
     No wonder this program is one of MGM'S most popular tours.
     "We've had several people take this many times and one person did it six times," Dow said.
     For me, that final creation was a "look-don't drink" concoction. I'd had one too many super sweet sips and, rather, dived into the plate of cheeses, salamis and marinated whatnots the staff had quietly slipped before us.
     Of course, I would do this again. But not on an empty stomach.
| | | | | |
| --- | --- | --- | --- | --- |
| | | | | |
| | Start of Fremont Street | | Crazy Fremont Street | |
INFO
     The M life Mixology Moment class is offered at HIT Lounge in MGM's Monte Carlo Resort & Casino on the Las Vegas strip.
     You don't have to be staying at an MGM hotel but you do have to be a member of the MGM Resorts rewards program, which is free for signup. It's a two hour class with bar manager Philip Dow and can accommodate two to 10 people. You get the history, tips, demo of half a dozen drinks and a chance to make a few of your own. 
     Cost is $75. Call Monte Carlo Concierge at 877-459-0268 to book the class.
 The class: https://www.mlife.com/moments
 Monte Carlo Resort & Casino: http://www.montecarlo.com/
 A video of the pink drink: https://www.youtube.com/watch?v=o9csskBEagk