Waterfalls, including a horsetail-style that cascades down a 100-foot drop. Weeping walls, where water seeps down moss-covered cliffs, some as long as football fields. Wildflowers and towering trees, more than enough varieties to keep botanists and arborists satiated.
| | | | | |
| --- | --- | --- | --- | --- |
| | | | | |
| | Trailside waterfall | | Trillium | |
Fascinating, complex geology - wild, varied and challenging enough that one section of Oregon's North Umpqua Trail is dubbed "Dread and Terror" while another segment features a series of spa-sized, toasty body-soaking hot springs.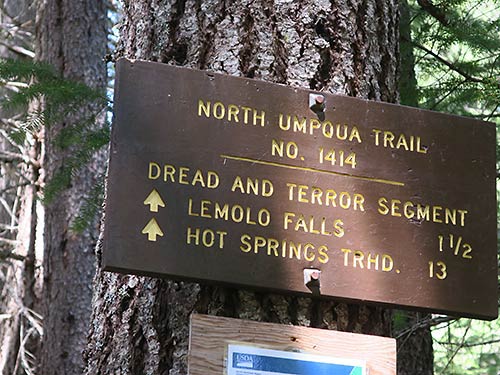 "Dread and Terror"
The North Umpqua Trail has it all.
Flowers along Dread and Terror
Five of us - Bill Van Moorhem, Bernadette "Bernie" Kero, Dave Potter, Rebecca Sexton and I - sampled the many and varied delights of the NUT (North Umpqua Trail) during a four-day backpacking trip that covered about 28 miles of the 79-mile long trail. The full length begins at the North Umpqua River's headwaters near Maidu Lake in Oregon's Cascades and carves its way to the Swiftwater Trailhead, 22 miles east of Roseburg. Our abbreviated trek began at the White Mule Trailhead near Lemolo Lake and ended at the Soda Springs Trailhead. It was a journey through tantalizingly beautiful country that's sometimes showy and spectacular, sometimes sublime and subdued.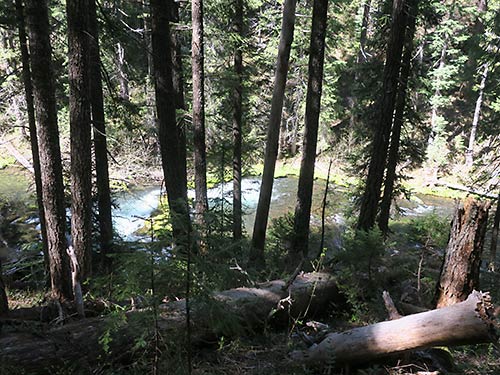 The river through the trees
Along the way we stared mesmerized as a thick-bodied rattlesnake noisily vibrated "get-away" warnings, trudged up and around massive trees fallen across and blocking the trail, and enjoyed views of  the North Umpqua, sometimes from high above, or, even better, alongside its boisterously dancing waters.
There were challenges. The biggest came on Day 2 when Rebecca got her foot stuck while trying to climb over a trail-blocking tree. No one, her included, knew it was a broken leg until she gamely hiked 7-1/2 miles - stepping over more logs, butt-sliding down slippery slopes, shuffling up and down steep sections - to the Umpqua Hot Springs Trailhead. After begging a ride and completing a complicated car shuttle, Rebecca drove back to her home near Salem, where she was examined by a doctor, diagnosed and outfitted with a cast.
| | | | | |
| --- | --- | --- | --- | --- |
| | | | | |
| | Bill and Bernie | | Deep purple trillium | |
Before Rebecca left, we five hiked along a trail shaded by an often dense canopy of big-bellied Shasta red fir, western white pine, mountain hemlocks and lodgepole pine, part of the 13-mile "Dread and Terror" segment that begins at the White Mule Trailhead. It was named in 1908 by rangers who dreaded the possibility of battling forest fires in the steep canyon. We hikers, however, found nothing to dread. Flanking the trail were showy wildflowers, including trilliums, dogwood  and almost-blooming rhododendrons. At a bridge that crosses the river, we stooped under a massive tree that rests on the bridge's shoulders. After our early afternoon start, our first night's camp was at a small clearing five-plus miles into the hike. Of course the next morning, only another half-mile away, we hiked past a dreamy riverside campsite.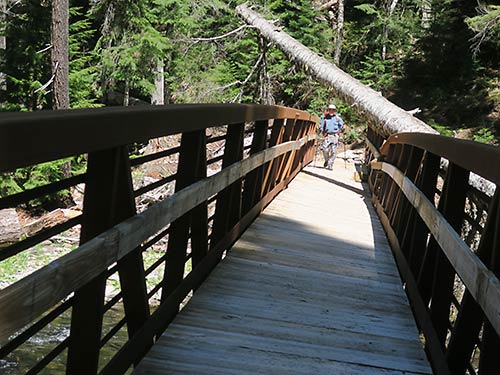 Tree on the bridge
It was early during Day 2 that we passed and gawked at 102-foot tall Lemolo Falls, a dramatic horsetail falls. Rebecca's accident happened shortly afterwards, only a few miles into our second day. Even with a gimpy ankle she smiled and stayed positive as we aimed for Umpqua Hot Springs, passing too-many-to-count smaller waterfalls and endless weeping walls. We grumbled as the trail seemingly climbed up more than down. Close to the Umpqua Hot Springs Trailhead, the path traveled on planked boardwalks, across marshy flats and alongside two more splashy waterfalls - Surprise and Columnar.
| | | | | |
| --- | --- | --- | --- | --- |
| | | | | |
| | Weeping Wall | | Riverside rest | |
After arranging a ride for Rebecca and revising a car shuttle for Bill, Bernie relaxed while Dave and I headed to the hot springs. It was a short but steep walk to a half-dozen spa-sized pools. The hottest is 110 degrees while the downhill pools are cooler. Because of the lateness of the day, I soaked in a pool by myself. That's a luxury because during the summer the hot springs are routinely visited by thousands of people on a daily basis. During any season clothing is optional.
| | | | | | | |
| --- | --- | --- | --- | --- | --- | --- |
| | | | | | | |
| | Covered hot pool | | Graffiti on the wall | | Relaxing at the hot springs | |
After Bill's traditional croaking of "I Hate to Get Up in the Morning," Day 3 included more hilly ups and downs and, near Tokatee Lake, a brief section that is just steps from the river. But the North Umpqua went into hiding following a series of river crossings and steadily uphill stretches that put us 500 feet above the river, often through dense stands of Douglas fir, incense cedar, hemlock, ponderosa and sugar pine. The floral display shifted to include Indian paintbrush, lupines and lilies - and the unexpected sounds of croaking frogs. It was along an open meadow where the rattler snaked and did his threatening dance. Back in the trees we groaned as - time after time - the trail dropped and curled around creeks, then climbed back up the ridge.
| | | | | | | |
| --- | --- | --- | --- | --- | --- | --- |
| | | | | | | |
| | | | Wildflowers along the trail | | | |
Twelve miles from our Umpqua Hot Springs area camp we pitched tents alongside rumbling-tumbling Medicine Creek.
| | | | | |
| --- | --- | --- | --- | --- |
| | | | | |
| | Medicine Creek bridge | | Rumbling Medicine Creek | |
The unexpectedly long Day 3 hike - the few potential campsites were far from water sources - shortened our effort to the Soda Springs Trailhead, where Bill had shuttled his car. Just before the parking area, the trail passes under a massive pipe. From the trailhead it was an easy stroll to an eye-popping tall wall of columnar basalt, which was created when lava flows cooled and formed vertical columns. Over the ages the pillars have become more showy by layers of brightly colored, wall-hugging lichens.
| | | | | |
| --- | --- | --- | --- | --- |
| | | | | |
| | Trail goes under a pipeline | | Columnar basalt wall | |
The section of the North Umpqua Trail we visited is challenging and endlessly fascinating because of the sights and sounds of the river, forests of many tree species, colorful wildflower displays and the trail's frequent catch-your-breath beauty.
In Indian languages, the word "Umpqua," has many possible meanings - "Thundering Water," "The Sound Water Makes," "One is Satisfied." Just as its name implies, the North Umpqua Trail is a path of many possibilities.
Going There:
For more information on the North Umpqua Trail visit the website at www.blm.gov/or/districts/roseburg/recreation/umpquatrails/ and download a trail brochure or call the Bureau of Land Management's Roseburg office at 541-440-4930 or the Umpqua National Forest's Roseburg office at 541-672-6601.
Mobile phone North Umpqua Trail maplets are available at http://www.mobilemaplets.com/showplace/12293
About the Author:
Lee Juillerat is a semi-retired writer-photographer who does outdoor stories for Southern Oregon newspapers and other stories for several magazines, including Southern Oregon, Range, Alaska Beyond and others. He is the author of several outdoor/travel books, most recently, "Lava Beds National Monument." He can be reached at 337lee337@charter.net.