Haida Gwaii. The name is fascinating.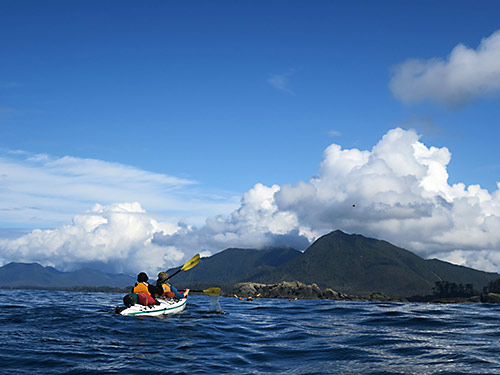 Paddling in Haida Gwaii
What is Haida Gwaii? It's part of the Gwaii Haanas National Park Reserve in British Columbia, an island chain formerly known as the Queen Charlotte Islands. Located about 1,000 miles northwest of Vancouver, B.C., Haida Gwaii has two main islands and another 150-plus smaller islands, an archipelago that covers a land mass of nearly 4,000 square miles.
What's the best way to experience Haida Gwaii? Week-long guided kayak trips.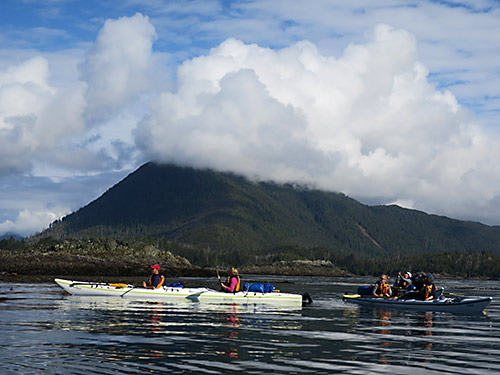 Lazy times in Gwaii Haanas National Park
Our paddle began watching a black bear foraging in the best kind of a crabby mood and ended with a morning-welcoming sapsucker serenade. In between, our group of 12 paddled our six two-person kayaks about 60 nautical miles. We were a mixed bag - three kayakers from Sweden, four from Canada, three from the U.S., and our guides/cooks/naturalists, Jessica Roy and Grant Thompson, the owner of Tofino Expeditions. Our experience ranged from first-time paddlers to an experienced Swedish couple who effortlessly cruised far ahead.
| | | | | |
| --- | --- | --- | --- | --- |
| | | | | |
| | Trip leader Jessica Roy in the kitchen | | Tofino owner Grant Thompson | |
There's much to see. The islands feature dense, temperate rain forests of old-growth Sitka spruce, western red cedar and western hemlock in spongy Hobbit-like areas cushioned with moss and lichen. Some towering giants are up to 300 feet tall and 800 to 900 years old. But part of the fascination, and a reason for traveling by kayak, are the island's marine forests, underwater regions thick with giant and bull kelp and, on their outer edges, urchin barrens littered with sea urchins.
We met at Sandspit - so named because the area is part of a lengthy spit of sand that extends into the open waters of Hecate Strait - where an airport provides access to a Moresby Island community of about 300 people. From there, an hour-plus ride over logging roads ended at Moresby Camp, where a  Zodiac raft sped us another 2-1/2 hours to Swan Bay, where we got a lecture on proper poop protocol, set up camp and, under the evaluating eyes of Jessica and Grant, paddled a few easy miles.
| | | | | | | |
| --- | --- | --- | --- | --- | --- | --- |
| | | | | | | |
| | Eagle-eyed bald eagle | | Bat star | | Crab | |
Wanting to take advantage of favorable tides, our first real paddling day took us to Burnaby Narrows. Because it was a super low tide, we glided through the narrow channel viewing hundreds of marine species - bat stars, sunflower stars, clams, sea cucumbers, large and small crabs, turban snails and a kaleidoscopic variety of anemones. Watching us was a bald eagle, nonplussed as we paddled past its rock perch.
Foraging Haida Gwaii black bear
Before we had reached the narrows we spotted a Haida Gwaii black bear, a distinct species because of their large jaws and teeth. He saw us but, even as we drifted within a few yards, paid no attention, focused on foraging for crabs, effortlessly tossing aside large boulders. We watched transfixed.
That was just the start. Several hours and 16 nautical miles later through Skincuttle Inlet, we set up camp at Iron Point. On the way, we watched a harbor seal that likewise eyeballed us during a lunch stop at Bulkus Island. We heard two chattering bald eagles and their distinct high-pitched whistles. We watched as delightfully goofy, orange-beaked oyster catchers noisily fluttered about. We heard the distant cacophony of grunting Stellar sea lions. But most intriguing was a sight from camp. What looked like a broken sprinkler system were hundreds of clams buried along the low tide shore squirting water.
"Sorry guys, that's a long day," Jess apologized after we'd unloaded our kayaks, pitched our tents and gathered to eat the first of a series of scrumptious meals. "The good news is that the rest of the trip is going to seem a lot easier."
Our easier day began with a quick, hearty breakfast and loading kayaks with gear damp from overnight rains. We hustled because Grant wanted to take advantage of clearing skies and favorable tides around often-challenging Benjamin Point, what he and Jess called the "crux" of our paddle.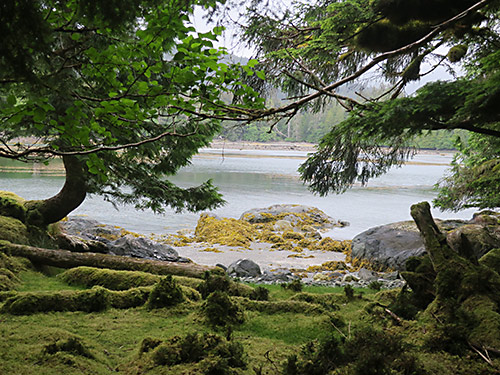 View from my Ross Island tent
Twelve miles later at Ross Island my tent was pitched in the shade of an enormous spruce in a clearing cushioned by thick moss. Happily, the feared Benjamin Point swells weren't all that swell, but the headwinds sometimes made it feel like we were walking the wrong way on an escalator. There were visual delights - a mother black bear and her youngster, who retreated to its cubby hole. More and more bald eagles. Raucous oyster catchers. A sea lion exhibiting stellar water aerobics. And an old-growth forest with mushrooms and sluggish slugs.
| | | | | |
| --- | --- | --- | --- | --- |
| | | | | |
| | Sluggish slug | | Forest fungi | |
Visible from my campsite were more squirting clams and a tidal pool filled with starfish, rock weed, bull kelp, several varieties of lichen, butter clams and, delightfully, a turban snail that when pinched, shriveled into itself while protectively emptying its bladder.
Because it was a two-night stay, our camp day was spent paddling into Rose Inlet, passing small islands and, in the inlet, watching browsing deer. On the paddle back someone shouted, "Orcas!," and we caught glimpses of their watery spouts.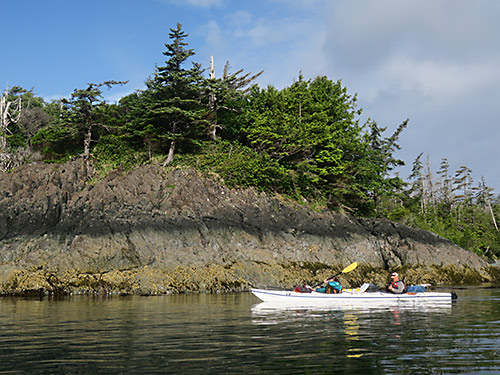 Cruising the cliffs
A day later, a relatively short paddle to camp in another enchanted forest featured wait-five-minutes weather changes. But there were also sightings of spouting humpback whales and a compendium of seabirds, including ancient and marbled murrelets, pigeon guillemots ("silly gillys"), rhinoceros and Cassin's auklets, pelegic cormorants and glaucous gulls.
Yet another early morning departure led to the trip's cultural highlight, SGang Gwaay, a World Heritage site on Anthony Island. On the way, we were treated to comical aerial stunts by tufted puffins, visually remarkable with white faces, yellow head tufts and massive orange bills. Jess whooped and hollered in delight  as they zipped and awkwardly zoomed over us from their Adam Rock perches.
| | | | | |
| --- | --- | --- | --- | --- |
| | | | | |
| | Barking sea lions | | Photo time | |
Because others arrived at SGang before us - only 12 people are allowed on the island which is home to culturally significant mortuary totem poles - we spent the time paddling into unchartered waters and an island with barking female sea lions.
| | | | | | | |
| --- | --- | --- | --- | --- | --- | --- |
| | | | | | | |
| | Island Watchkeeper Ken Hans | | Totum tour features | | mortuary poles | |
Our time at SGang Gwaay, or "Wailing Island," featured a totem tour by Ken Hans, a Haida Gwaii Watchman. He told tales and legends of the dozen mortuary poles carved with symbolic panels of ravens, eagles, bears, humans and other images. The poles, he explained, are intended to fall to the ground and, like the chiefs they represent, become one with the earth.
SGang Gwaay mortuary poles
From there we paddled to a campsite in a hidden cove at Luoscoone Point, where a gathering of eagles perched in trees and soared the overhead thermals. By then our group, mostly strangers who had joined for a week together, had now molded together. Velma and Kristyn are Canadian teachers who met on the plane to Sandspit. Brooke, a Wikipedia of knowledge about sea life and birds, and Lisa, are friends from Seattle. Kadi and Noah are mother and son. Husband and wife Beugt and Anna from Stockholm were joined by their friend Sussie.
| | | | | |
| --- | --- | --- | --- | --- |
| | | | | |
| | Velma drying soaked socks | | Grabbing lunch | |
Our final day's paddle to camp at Little Raspberry included a detour to Rose Harbor and more flip-flapping aerial displays by sea birds and - surprise - a humpback whale that cruised near our kayaks, repeatedly slapping its tail and, when breaching, spouted loud "Pooofs!"
The  Zodiac that carried another set of kayakers, deposited us at Moresby Camp for the shuttle to Sandspit. That night, 11 of us - Jess stayed behind to lead the next tour - gathered for a farewell dinner. Grant Thompson, the owner of Bend-based Tofino Expeditions - which also offers trips in Italy, Baja California, Vietnam, Cuba and Brazil - said he characterizes clients as "travelers who like to kayak...Our trips are structured as a journey, as an expedition."
| | | | | |
| --- | --- | --- | --- | --- |
| | | | | |
| | | | | |
For me, the sense of finality to our expedition of exploration happened earlier that lazy morning at Little Raspberry. Nestled in my sleeping bag I listened, fascinated by three distinct variations of staccato "rat-a-tatt-a-tatt-tatts!" One set featured loud, deep pounding sounds. Another tatted the same rhythm, but at a higher-pitch. It was immediately followed by a third set, with a softer, hauntingly distance tone. The birds, I later learned, were sapsuckers, a type of woodpecker regarded as a pest species because they severely damage live trees while feeding on sap and insects. But I didn't know that. For me, the simple symphony of stuttered drumming  was a song of farewell, a Sapsucker Serenade.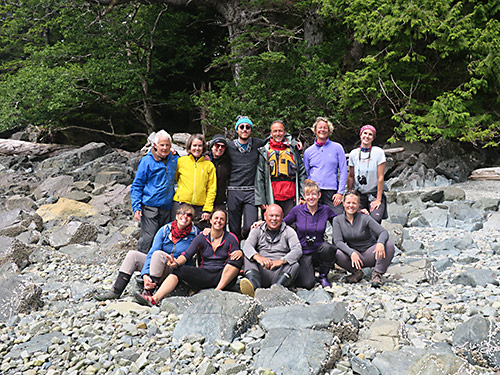 The Haida Gwaii clan
If You Go
For information about Haida Gwaiis kayak trips, which are only offered in July and August, visit the Tofino Expeditions Limited website at www.tofino.com, email info@tofino.com, call toll-free 800-677-0877 or send mail to Tofino Expeditions Limited, 1567 NW Elgin Ave., Bend, OR 97703-3033.
About the Author
Lee Juillerat is a semi-retired writer-photographer who lives in Southern Oregon. He writes for newspapers, several magazines and is the author of books about Crater Lake National Park and, most recently, author of "Lava Beds National Monument." He can be contacted at 337lee337@charter.net.