Of course, this is a Christmas story. What else when you are talking about EATING Christmas trees?
    Actually, it's just the growing tips that you eat. And the fir flavor is, well, way better than you expect if you are more used to smelling the fragrance of pine sap when handling fresh cut boughs. 
    When Laura Waters planted Douglas firs on her four acres of land in 2009, she intended to sell them for Christmas trees. 
    "But it takes six years for them to grow and then, all you wind up with is stumps," she said one late spring day as we inspected the bright green growing tips of her trees.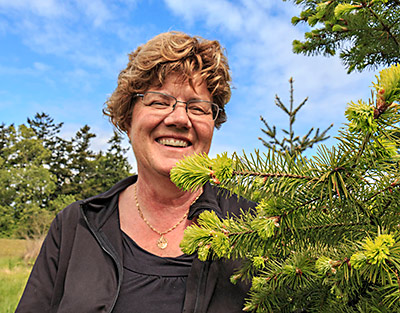 Laura Waters and one of her fir trees with growing tips to be used for edibles
    "I was out there, hot and bothered, mowing to keep the grass down between the trees and I had a pot of strawberries on the stove in the kitchen. I cut a branch and out of curiosity, tossed it in."
    In the same way that vinegar adds an essence of sweet/tang to fruit compote, the fir tips added...something. And it was a sweet and tangy something good. That experiment became Laura's first strawberry fir vinegar.
    A bit of research revealed that First Nations people in the area used to make tea from these fir tips. It was not only tasty, it provided more vitamin C than citrus fruit. 
    "When Capt. James Cook was on the BC coast, everyone had scurvy and the local natives told them to make tea out of the Doug fir tips. That took care of the scurvy," Laura added.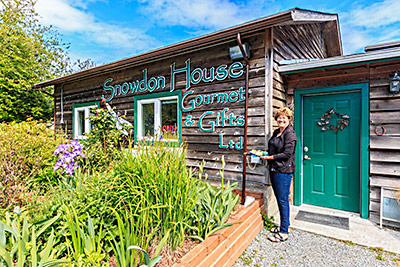 Laura Water at her Snowden House and planted edibles
    Laura's first vinegar led to carbonated drinks, which led to fir-seasoned bread, brie toppers, a drinkable vinegar that you add to evening cocktails, dried seasoning blends and more. She sells all this in her shop, Snowdon House, in North Saanich, a suburb of Victoria on Vancouver Island. While I was there, a group of visitors arrived. They had come up from Seattle by ferry and taken a cab out to the shop.
    Along with the visitors, I tasted the fir essence drink, a bottled non-alcoholic drink that was amazingly refreshing. It had a piney back woods flavor along with citrus and floral notes that hit the top of my tongue. I learned that I could make my own fir essence drink with Laura's fir vinegar, so I bought a bottle that I would later add to tonic (with a splash of vodka) once I got back home. 
    The visitors and I also nibbled our way through her Fir and Fire Brie Topper, which is actually a sweet, piney red and green chili jam that offsets the stringent brie flavor really well. I also bought a packet of dried seasoning blend (parsley, lemon peel, Doug fir, dried spinach, ground juniper berries) with which I plan to make a party dip.There's a bread mix (with an added blend of Doug fir tips and juniper berries) that results in fresh bread with a pine accent.
    Laura makes gift papers, cards and sells outside products such as an organic hot chocolate mix wrapped in her own papers, and fresh eggs when her crowd of chickens are in a producing mind.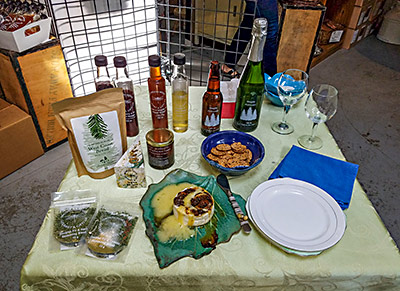 Fir tree edibles
    In addition, she has created a collection of recipes and offers cooking classes. If this isn't enough, on her drawing board are plans to dehydrate the fir tips for a tea, pickle fir tips for capers, and whip fir flavor into butter for popcorn topper. This busy bee also opened a B&B this year. 
    Snowdon House is open Tuesday through Saturday 10am - 5pm.
                                 Snowdon House Gourmet Gifts - http://www.snowdonhouse.ca 
Just for fun, here's a sample of her scurvy-averse dessert.

Strawberry Fir Sorbet

Serves 4, requires ice cream maker

1 bottle Snowdon House Strawberry & Fir vinegar

* Prepare ice cream maker according to instructions

* Place Snowdon House Strawberry & Fir vinegar in ice cream maker and turn on. Nothing more is needed. This will take 20-30 minutes until finished. After processing, the deep strawberry red of the vinegar will change to pink.

* Serve in a sorbet or clear glass dish and top with a strawberry and a dessert wafer.

Strawberry fir sorbet