We were on our way out of the park when we noticed a pullout with a large wayside exhibit and, not far behind it, a sign indicating a trail.
The map in the Joshua Tree National Monument newspaper and the "Best Easy Day Hikes" book didn't show the trail but, as we had already learned, that wasn't unusual. Several times over four other days we saw pullouts and trails that weren't indicated in the park newspaper or in our book. And, as had happened previously, the wayside exhibit didn't offer any information about the trail.
| | | | | |
| --- | --- | --- | --- | --- |
| | | | | |
| | Steve heads out  | | Look but don't touch | |
Intrigued and easily tempted, Steve Underwood and I headed out, following the broad wash and the alluring trail signs. We had no idea where we going but, hey, isn't that sometimes part of the fun?
During my three days with Steve and one with another friend, we'd been befuddled seeing pullouts, some with obvious trails, that didn't appear on park maps or hiking guidebooks. Sometimes we'd driven on, other times we stopped and quenched our curiosity. Joshua Tree has a lot to offer.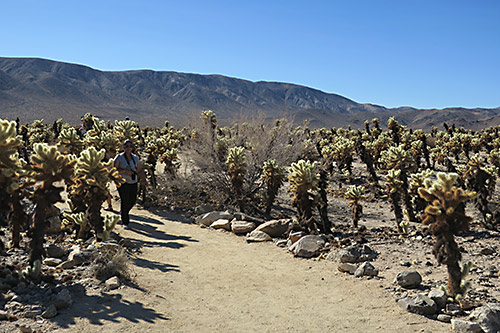 The Cholla Cactus Garden
Among the marked trails, the easy, quarter-mile Cholla Cactus Garden loop was enticing enough to hike twice. The trail meanders through a profusion of the cacti, nicknamed the "teddy bear cholla," because they appear soft and fuzzy. Look, but don't touch. The barbed prickly bristles are reputed to sting. They're also called "jumping cactus" because those bristles are easily detached if touched, seemingly jumping at the unlucky person.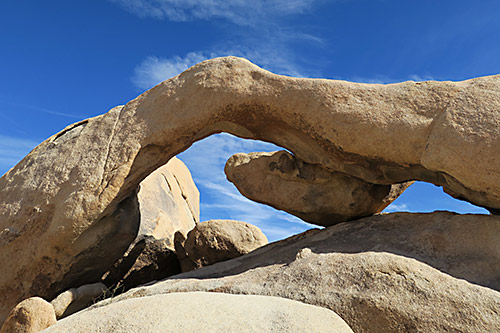 Curvy Arch Rock
Fascinating in another sense are sights along the Arch Rock Nature Trail, a short walk that curls around weirdly shaped boulder piles. The reward is Arch Rock, which spans about 35 feet and rises 15 feet above the underlying rock. Nearby is the White Tank, a dam built by cattlemen in the early 1900s across a wash to collect rainwater for cattle.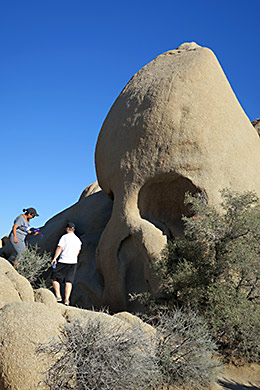 Spooky Skull Rock
Yet another roadside attraction is Skull Rock, one of several bizarre, eerily-shaped boulders. Skull, with its haunting, seemingly empty eye sockets, can be seen from the road or as part of a 1.7-mile loop hike. Confession: we numbskulls never found the section of the trail that loops from the Jumbo Rocks Campground back to Skull Rock.
| | | | | | | |
| --- | --- | --- | --- | --- | --- | --- |
| | | | | | | |
| | Trails bisect desert landscape | | Blooming yucca | | Hikers swallowed by expansive terrain | |
We had better luck on other walks, including the short Oasis of Mara, Cap Rock, and the Split Rock and Keys View trails. Keys View and nearby Inspiration Peak are especially, well, inspiring, with panoramic views of the Coachella Valley, Salton Sea, San Bernardino Range and, further south, Mexico's Signal Mountain. A highlight of the Oasis of Mara Trail were phainopepla, songbirds with distinct crests and red eyes that perched atop palm trees. As I later learned, the name is from the Greek "phain pepia," or shining robe, a reference to the males' plumage.
| | | | | |
| --- | --- | --- | --- | --- |
| | | | | |
| | Palm trees in desert oasis | | Towering ocotillos | |
After a night at Cottonwood Campground near the park's south end, Steve and I hiked the Mastodon Peak Loop. The trail begins through rolling desert terrain before climbing to the site of the Winona Mill, where gold from the Mastodon and other mines was processed in the 1920s. Further along is the fenced-off Mastodon Mine, a gold mine that operated between 1919 and 1932. It takes some imagination to see the mastodon, or prehistoric elephant head, that gives the mine and mountain its name. The loop, with helpful interpretive signs explaining the area's geology and its Native American and mining histories, continues to Cottonwood Spring, an oasis of fan palm and cottonwood trees in the otherwise arid landscape. According to park brochures, the trees were planted by early miners to create an oasis-like atmosphere.
| | | | | |
| --- | --- | --- | --- | --- |
| | | | | |
| | Mastodon Mine sign | | Steve passing mine ruins | |
Possibly our favorite hike was the Lost Horse Loop, an 8-1/2 mile trek that climbs to the Lost Horse Mine through rolling terrain that features the park's namesake Joshua trees. The Lost Horse Mine was reportedly one of the region's most successful. It's name stems from an 1893 search by Johnny Lang, who sang the blues searching for his lost horse. During his search, he reached the camp of Frank Diebold, a German prospector who discovered the gold but sold his rights to Lang. The structures - including large cyanide settling tanks, foundations of stone buildings and various mining equipment - are among the park's best preserved mining remnants.
| | | | | | | |
| --- | --- | --- | --- | --- | --- | --- |
| | | | | | | |
| | Lost Horse Mine Stamp Mill | | Lang Mine chimney | | Relaxing at the mine | |
Instead of doubling back to the parking area, we continued on, hiking over a pass to the Lang Mine and, further on, a sturdy fireplace chimney, one of the remains of the Optimist Mine.
And, what about the unsigned trail?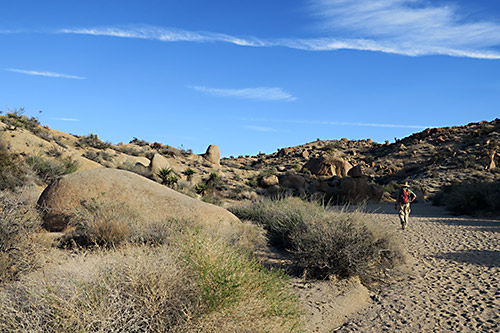 In search of the unknown
Steve and I hiked on, uncertain where we were headed - but hopeful. Hopeful until the signs disappeared. Still we were captivated, partially by the unknown, partially by sightings of oddly shaped granite outcrops and beavertail and Mojave yucca. We followed footprints into a canyon, then circled back. Steve went one direction, I chose another. Surprise! Some obscure but obviously hand-built steps led to a trail above the canyon and wash. I followed it a quarter-mile or more, hollering to Steve to follow. When he didn't, I retreated. After meeting up, far from the new found trail, we decided to give up the search and return to the car.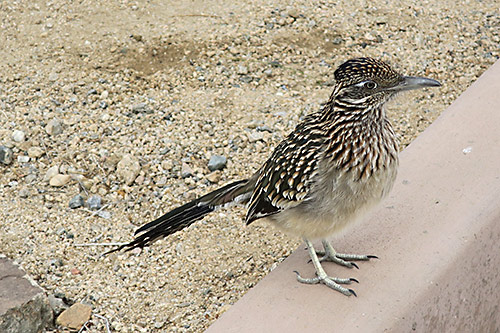 Visitor center greeter
At the park's Oasis Visitor Center, I asked about our mystery trail. The park volunteer dug under the counter and pulled out a weathered hiking book, "On Foot in Joshua Tree National Park." Our unknown destination, he explained, was the Contact Mine, an early 1900s gold and silver mine. The site, according to the book, includes remnants of buildings, machinery, tram tracks, a cable winch and partially collapsed shafts.
"Based on your description," he explained, "you couldn't have been an eighth or a quarter-mile from the mine."
Aargh!
Next time, with a copy of "On Foot in Joshua Tree National Park" added to my library, we're planning to go that extra half-mile.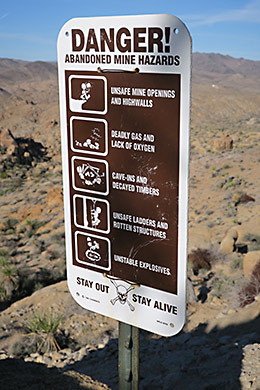 Use caution
If You Go Visits to Joshua Tree National Park are recommended in the spring, when wildflowers are at their peak, or in the fall. Summer temperatures can soar into the 90s and above and, combined with little shade, dehydration is a serious concern. For information about the park - including hiking, camping, rock climbing and ranger-led programs - visit the park's website at www.nps.gov/jotr. Or check out this new guidebook for RV camping in the park.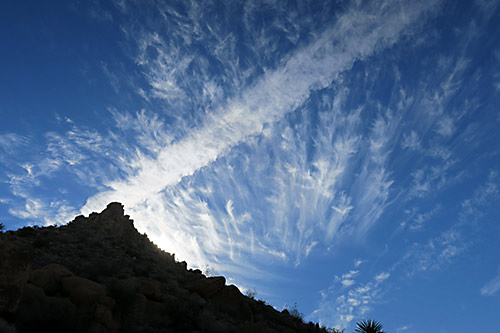 ss
Joshua Tree skyline
About the Author
Lee Juillerat is a semi-retired writer-photographer whose stories have appeared for 20 years in High On  Adventure. Recent photo-stories have been in Southern Oregon Magazine, Northwest Travel & Life,  Range, Alaska Beyond and other magazines along with newspapers in Southern Oregon. He is the author of two books about Crater Lake National Park and, more recently, Lava Beds National Monument. Lee can be reached by email at 337lee337@charter.net.