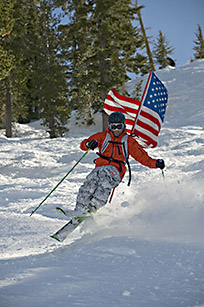 Courtesy Squaw Valley
Chile and New Zealand aren't required for summer skiing any more.
You do want want to ski on the 4th of July, don't you? Sure, why not? The 4th falls on a Monday this year so you could ski the whole weekend and Monday still get home in time for Tuesday duties. Should you want to, that is.
Well, California has a plan for your winter-in-summer, Catch the Winter Wave. By July, three of them will still be available. Experiences include:
LASSEN VOLCANIC NATIONAL PARK
* Snowshoe Across Volcanos at Lassen Volcanic National Park (you're required to carry a bear canister, rentable at the Kohm Yah-mah-nee Visitor Center from 9 am to 5 pm daily). With winter conditions expected through June or July, you can snowshoe across volcanoes in the park in thesummer. Located near Redding in northeastern California, the park is home to Lassen Peak, the world's largest plug dome volcano. The extended snow season means visitors can still enjoy activities including cross-country skiing, ranger-led snowshoe walks, winter camping, sledding and snowplay.
MAMMOTH LAKES

For skiers and snowboarders who prefer to earn their turns, hire a guide and get out of bounds for backcountry recreation in the Eastern Sierra's Mammoth Lakes. Or bring your own snowshoes to take advantage of the snow along the trails of the Mammoth Lakes Trail System or blaze your own route. Spring also brings the fishing opener to Mammoth Lakes along with ideal conditions for mountain or road biking, allowing visitors to enjoy the Mammoth spring trifecta – ski, fish and bike ride all in the same day!

MAMMOTH MOUNTAIN

Mammoth Mountain, claiming the title of Southern California's mountain home, will remain open for skiing and riding through July 4 and maybe beyond. Skiing and snowboarding lift access will beavailable at Main Lodge and The Mill base areas; Canyon Lodge and Eagle Lodge are closed for the season. Shuttle service from Juniper Springs, Canyon and The Village is available.

Mammoth snow depth as of May 8 was 310 inches (that's over 25 feet!) on the upper zone, 210 inches of machine groomed in the middle, and 160 inches in the lower. An adult lift ticket on July 4 will cost $72.42 but check for deals.

Mammoth trail signs Steve Giordano
SQUAW VALLEY
Squaw Valley is considering staying open all summer for one continuous season from 2016-2018. While you're thinking about the implications of that, consider going to the Squaw Valley Freedom Fest this year on the 4th of July weekend, July 1-4, 2017. You can celebrate summer skiing and the 4th of July with a four-day music and ski festival. There will be 3 days of live music mid-mountain, paying tribute to the 1991 concert by the Jerry Garcia Band that took place near this location. There will be even more music daily at the High Camp pool & hot tub, a summer pond skim on Sunday, and a free show at KT Base Bar followed by a fireworks show on Monday evening.
Squaw Valley Alpine Meadows has reached 700 inches of cumulative snowfall for the 2016-17 season, equaling just over 58 feet – the second greatest snowfall in the resort's recorded history, ranking only behind 2010-11 which saw 810 inches. This will be the fourth time in 50 years that Squaw has been open on the 4th of July.

Skiing & Riding Schedule

• Open for skiing and riding July 1-4
• Terrain and operating hours to be determined based on conditions
• Must have lift ticket, 2016-17 season pass or 2017-18 season pass to ski or ride and access on-mountain concert

Tickets, Passes, Lodging

• Ski & ride FREE this spring, July 1-4, into summer AND next winter with the 2017-18 Tahoe Super Pass
• Flash your season pass from any other resort to get a $52 lift ticket
• Ski & ride for less than $75/day with the Tahoe Super 2
• Limited slopeside lodging availability! Stay in the heart of the spring skiing action from $336/night plus lift tickets are included.

For the full 4-day schedule, click here.

Courtesy Squaw Valley