When travelers think of visiting China, the immediate must-see experiences most likely on their lists are The Great Wall, Beijing, Tienanmen Square, the Forbidden City, the Terra Cotta Warriors, and certainly the most universally adored and iconic symbol of China - the Giant Panda.
The main reason we traveled to Chengdu, China—a large interior city close to the Tibetan border—was to visit the Chengdu Research Base of Giant Panda Breeding. A six-mile bus ride outside the city, this panda base is one of the main facilities in China for rearing, breeding and researching the beloved bear in captivity.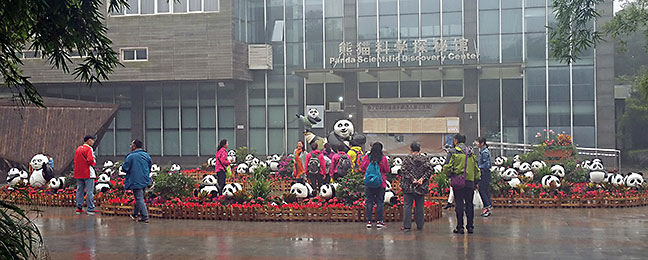 Tourists gather in front of the popular Panda Scientific Discovery Center to take pictures amongst
the many whimsical replicas of the giant panda which is bred, studied and researched at this base.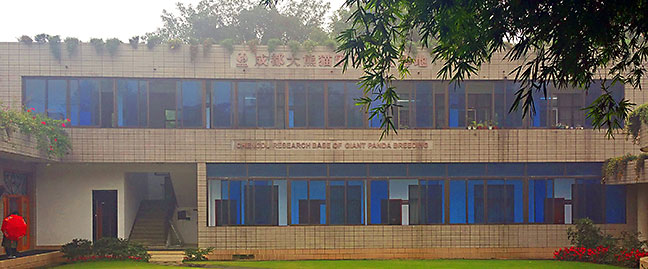 The Chengdu Research Base of Giant Panda Breeding houses facilities where baby panda
cubs are treated and cared for. This is also the center for other medical and research activities.
Although it was pouring down rain the day we visited, it didn't seem to matter to the thousands of people who flocked to this 92-acre park, laid out with beautiful landscaping and idyllic lanes amongst the research and medical buildings, panda exhibit and habitat areas. The rain didn't seem to bother the pandas either as they like a wet environment.
| | | | | | | |
| --- | --- | --- | --- | --- | --- | --- |
| | | | | | | |
| | Visitors to the Chengdu Panda Base wait in line to get into the park, seemingly ignoring the downpour, eager for the chance to catch a glimpse of the iconic giant panda. | | When visitors enter the beautifully groomed grounds of the Chengdu Panda Base, they are greeted by this tribute to the research dedicated to the beloved giant panda and her cub. | | The Chengdu Research Base of Giant Panda Breeding is a 92-acre park where visitors spend an entire day together with friends and family. Maps may be available at the entrance. | |
We were a small group of American journalists traveling together with a lovely young Chinese guide whose "American" name was Seven. She was most generous with her information as we made our way through the well-manicured park under the drenching down-pour. Some of the interesting details she shared about these iconic bears follow.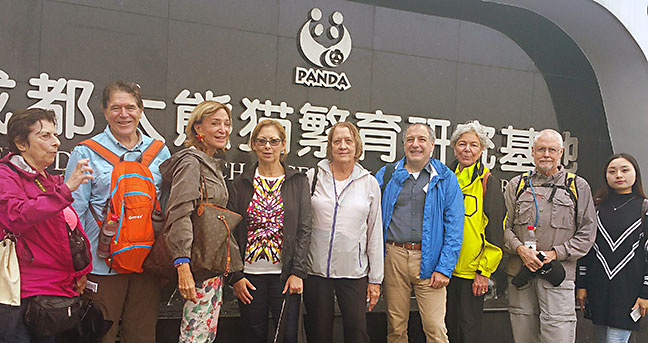 Eight American travel writers gather with their young Chinese guide, Seven, in front of the entrance to the park.
The park is also home to ten thousand clumps of bamboo tress and bushes, cultivated to provide for the pandas' diet. Staffers cut and clean anywhere from 20 to 40 pounds of the plant for each adult panda's daily consumption. If a giant panda is really hungry, it can consume up to 88 pounds a day.
| | | | | |
| --- | --- | --- | --- | --- |
| | | | | |
| | Visitors stroll along one of the many paths through the park - this one, beneath an arc of bamboo, grounded in ferns. | | One of many staffers cleans many pounds of bamboo every day for the 83 giant pandas living at the Chengdu Research Base. | |
Bamboo makes up 99% of the giant panda's menu - at least for those in captivity. In the wild, or on occasion, they also eat fruits, bugs, and rarely - small rodents, fish, birds and carrion. But most of their time is spent eating bamboo and sleeping. They may look lazy, but because the nutritional value of bamboo is so low, giant pandas must spend over 50% of their time eating and the rest of their time digesting.
Consuming bamboo is hard work, so resting after eating is critical to retain as much of the caloric value of bamboo as possible. They're not lazy, they're energy efficient. They sleep mostly in trees, but fall asleep anywhere they find themselves. In captivity, the pandas are also fed milk, eggs, vitamins, apples and maize bread.
| | | | | |
| --- | --- | --- | --- | --- |
| | | | | |
| | Giant pandas rest anywhere they find themselves. This one is currently inside an enclosure, possibly for observation. Many others are outdoors, free to roam. | | These giant pandas grab a nap in the trees, one of their favorite spots to sleep. | |
Why do they eat so much bamboo? Originally carnivores, it is thought that they chose bamboo to avoid hunting competition with black bears. Even though they have internal organs like other carnivores, their intestines are shorter and their DNA indicates unique bacteria, not found in other carnivores, that digest these fibers. And, bamboo is always available any time of year.
The panda's white colored fur stems from the ice age when it served as an evolutionary camouflage from predators in the snow. It may be that their black eye fur shields their eyes from the light much like a football player's black cheek stripe does the same. In China, when people don't sleep well, they are said to have panda eyes.
In total, there are fewer than 1,600 giant pandas alive in the mountains of central and south western China and more than 300 that live in captivity in various facilities around the world. The Chengdu Panda Base currently houses 83 of these bears. They are classified as an endangered species, but in the last decade, their numbers have risen by 17%.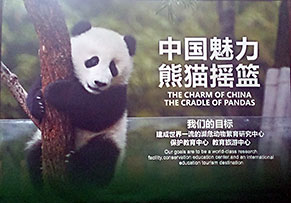 Giant panda conservation is the goal of the many
research facilities in China and around the globe.
In the United States, giant pandas currently live at the National Zoo in Washington, D.C.; Zoo Atlanta in Atlanta, Georgia; the San Diego Zoo in San Diego, California; and the Memphis Zoo in Memphis, Tennessee. Their average life span is 20 years which translates as 60 in human years. The oldest living panda in captivity was Jia-Jia, who lived to 38 (114 human years) at ocean Park in Hong Kong and had 6 cubs over her lifetime. http://www.bbc.com/news/world-asia-37672804
Many tourists want to have their picture taken holding a baby panda. This is possible at some of the many Giant Panda bases in China, but arrangements need to be made prior to the visit. Although the entrance fee to the Chengdu park is only CNY 58 or USD $8.40, there is a fee of CNY 2,000 or USD $290.00 to hold and be photographed with a cub. However, all activities relating to close contact with giant pandas have been suspended at Chengdu. Visitors currently can no longer join in the volunteer program or hold a cub to take photos due to an earlier canine distemper accident that occurred in Xian. The restart time depends on when the epidemic ends.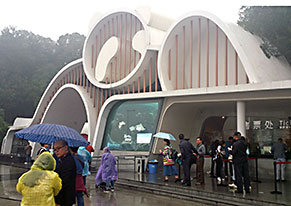 In front of a giant TV screen showing giant panda
activity, visitors wait in the rain to enter the
Chengdu Research Base of Giant Panda Breeding.
When we visited, we intended to visit the exhibit area where the baby pandas were housed. However, it was so popular, we couldn't get anywhere near the windows to view these young bears. A few intrepid members of our group decided to take an early taxi the next morning in order to beat the crowds so they could get images. With the generous permission of one of our colleagues, Larry Bleiberg, here is a short video he was able to capture. https://www.instagram.com/p/BL-AgMqjmk5/?taken-by=lbleiberg
Facts about the Giant Panda
Name: Giant Panda as distinguished from lesser panda.  
Scientific Name: Ailuropoda melanoleuca, bear family
Color: Normally black and white. Complete white ones have been found in the wild.  
Length of Adult Giant Panda: 3.9-5.9 feet
Weight of Adult Giant Panda: 176-276 pounds
Food: More than 20 kinds of bamboo. They have greater appetites in summer than winter and in the wild, eat other plants and occasionally dead or small animals. Their ancestors were true carnivores. About one million years ago, they began to eat bamboo.
Morphological Features: Their paws have five digits and a modified sesamoid bone that enables them to hold bamboo while they eat.
Habits: They like cool and wet areas and do not hibernate. Although they look plump, they are good at climbing trees, which is an instinctive response to dangers. They are naturally solitary and live alone except for one month during mating season.  
Mating and Breeding: In the wild, female pandas are able to reproduce at the age of 6.5, mate and have a baby at the age of 7.5. In captivity, pandas can breed three years earlier. Males mate at 7-8 years. Pandas are on the rampage when they search for mates, and emit different cries to draw their attention. The breeding season is short, during March to May, and the mating happens in 2-4 days of this period. Wild female pandas can have 3-4 pregnancies at most, usually one baby each time. They raise cubs alone till they fend for themselves, usually at the age of 1.5 or 2.5 if she does not have new cubs. The pregnancy is about 130 days. The possibility of having twin cubs is small, but when this happens, the mothers are only capable of raising one. In captivity, as at the Chengdu Panda Base, that second cub can be and is kept alive.  
For further information, pictures and videos, visit http://bit.ly/2oOr8WZ and www.travelchinaguide.com/tour/panda from which some of these facts above are sourced.
Also visit www.panda.org.cn, the official Chengdu Research Base of Giant Panda Breeding. Although the text on this site is in Chinese, the images and videos are spectacularly understandable.
For more live panda cam activity from the Chengdu Research base, visit http://en.ipanda.com