Washington, D.C. is a monumental city. From Capitol Hill to the White House, it's the place where decisions are made that impact the world. It's a city designed to impress with its intentionally stunning architecture. It dazzles by day, but adds another patina of beauty at evening. Whether watching the Capitol building lustrously glow golden at sunset or, at the far end of The Mall, savoring the radiant brilliance of the Lincoln Memorial in its reflecting pool, landmarks take on other degrees of luminosity.
| | | | | |
| --- | --- | --- | --- | --- |
| | | | | |
| | Sunset on the Capitol | | The Lincoln Memorial from the reflecting pool | |
Sunset and evening are also times when a city, intentionally designed to mimic European capitals, transforms itself into a sparkling hub-bub of shimmering aliveness, a cosmopolitan center of cultures. It's said, with some pride, that no city in the world harbors as many spies. It's no secret that visiting Washington, D.C., can't compare to hiking the John Muir Trail or rafting the Colorado River, but traipsing Capitol Hill and other monumental sights prominent in United States history is certainly an adventure.
By day, sights worth spying out range from, appropriately, the International Spy Museum, to the many Smithsonian Institution museums and art galleries, the Capitol itself, Library of Congress and the many memorials along the Capitol Mall.
| | | | | | | |
| --- | --- | --- | --- | --- | --- | --- |
| | | | | | | |
| | White House | | Supreme Court | | Library of Congress | |
Four hours at the Spy Museum, complete with a "mission" that took our small group on a fast-paced "Operation Spy" romp to solve a dastardly case of international espionage, could have easily lasted several more hours. It's a place of fascination with displays of such seemingly innocuous gadgets as a single shot weapon disguised as a tube of lipstick, histories of "spymasters," camera-carrying pigeons that photographed military installations, and memories of James Bond, including a model of the Aston Martin used in "Spyfall."
| | | | | | | |
| --- | --- | --- | --- | --- | --- | --- |
| | | | | | | |
| | Apollo space capsule | | Dinosaur | | The Hope Diamond | |
| | | | | | | |
| --- | --- | --- | --- | --- | --- | --- |
| | | | | | | |
| | | | | | | |
| | Aquatic display | | Natural History Museum's big elephant | | Spirit of St. Louis | |
It's impossible to thoroughly tour the many Smithsonian museums in even a week. So I focused on the National Air and Space Museum, National Museum of Natural History and, because it stays open later than the others, the American Art Museum & National Portrait Gallery. At the air and space museum I joined the hordes touching a moon rock and gawking at Charles Lindbergh's "Spirit of St. Louis" and space ship Enterprise. I gawked at dinosaurs, Marie Antoinette's earrings, the Hope Diamond and multi-colored butterflies in the natural history museum's butterfly pavilion. It's impossible not to admire sculptures, paintings and old news clippings of everyone from Lincoln and George Washington to Bill Clinton, George H.W. Bush and Babe Ruth.
| | | | | | | |
| --- | --- | --- | --- | --- | --- | --- |
| | | | | | | |
| | | | | | | |
| | Abraham Lincoln sculpture | | George Washington sculpture | | The Babe | |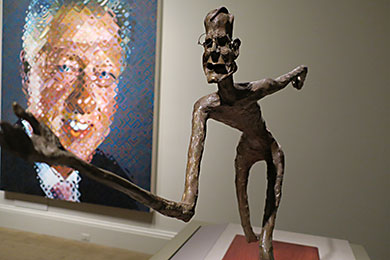 Bill Clinton and George H.W. Bush
My visit was part business and part pleasure. Business was a conference focused on public lands. Because of the change of administrations, most attendees made lobbying visits to their state's Congressional delegations. Our small Oregon group met with aides for Senators Jeff Merkley and Ron Wyden and Representative Peter DeFazio while Representative Greg Walden carved out a half-hour to meet with us. Unfortunately, the Trump Administration had not yet opened the White House for tours - reservations can be made through Congressional representatives - but a staffer from Walden's office provided an insightful Capitol tour, also something that can be arranged by anyone.
| | | | | |
| --- | --- | --- | --- | --- |
| | | | | |
| | Frescos in the Capitol rotunda | | Guided tours provide Capitol insights | |
Through the help of a teacher at the Senate Page School, I was guided through usually unseen halls for lunch at the Senate Dining Room, at a table next to Massachusetts Senator Elizabeth Warren. And, as I learned later, five other look-alike male senators, all wearing white shirts, ties and dark suits. Because I arrived without a coat and tie, I was directed to a cloak closet to dress appropriately before being seated.
But it was at sunset that sights seen by day literally glowed. While downtown D.C. always bustles, it's electric at night with locals and international visitors hustling from work to restaurants to theaters. One night I visited Ford's Theatre, where President Abraham Lincoln was assassinated, for a tour and a powerful performance of the Edward Albee classic, "Who's Afraid of Virginia Woolf?"
| | | | | |
| --- | --- | --- | --- | --- |
| | | | | |
| | Statue of Lincoln in the Ford Theatre museum | | Set for Virginia Woolf, with Lincoln's box seat overlooking the stage | |
Another evening was spent strolling from the Library of Congress, where I'd joined a highly informative tour group, past the Capitol. The setting sun cast ever-changing tones of colors on the building and "Freedom," the allegorical figure perched atop the Capitol dome.  As I learned, "Freedom" was sculpted in 1857 by Thomas Crawford, with considerable help from Philip Reid, a black slave.
| | | | | | | |
| --- | --- | --- | --- | --- | --- | --- |
| | | | | | | |
| | "Freedom" perched atop the Capitol dome | | Research desks at the Library of Congress | | Ornate library ceiling | |
Still another day closed savoring sunset at the Lincoln Memorial, a sight made more enchanting by looking back from the Reflecting Pool. The short walk from the Lincoln Memorial to the Washington Monument passes a series of memorials - the Korean War, National WWII, D.C. War, and the Vietnam Women's memorial. I was most personally impacted by the Vietnam Veterans Memorial "Wall," with the names of more than 58,000 Americans who died in Vietnam War, etched on black granite panels. Some were my high school classmates.
| | | | | |
| --- | --- | --- | --- | --- |
| | | | | |
| | The Wall | | Flags surround Washington Monument | |
* * *
Returning "Home"
My week in D.C. was a sense of homecoming. It was less than two miles from my third floor East Capitol Street NE apartment to the Washington Navy Yard, my duty station as a Navy journalist. "Home" was only four blocks from the Capitol. For more than a year I had no car and walked or took the bus. For several months I volunteered off-hours at a California Congressman's office and, even better, as an usher at Washington Senators baseball games. No pay, but saw the games for free.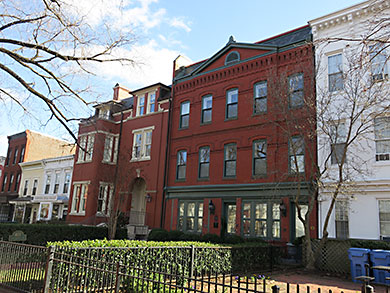 My East Capitol Street home
I revisited my old apartment on my recent D.C. journey. The two lower floors that was a downstairs doctor's office is now the home of Kelsey & Associations, Inc., a firm that provides historical building preservation and services. They gave me a copy of a report detailing the building's history. The brick house was built prior to 1856 and was a confectioner's and "fancy" store before being reconstructed in the 1870s as a dairy and stable with a residence and lunch counter. It was a doctor's office from 1943 until 1985, when it was owned by various other businesses and residents until purchased by Kelsey & Associates. The third floor apartment continues to be rented.
During my Navy years, I "Capitolized" on my easy access - watched Richard Nixon being sworn in as president, joined the procession viewing former President Dwight Eisenhower's casket in the rotunda, celebrated the return of the first astronauts to walk on the moon. And, down the block at Robert F. Kennedy Memorial Stadium, I yelped loudly at the All Star Game as the National League - led by my favorite San Francisco Giant, Willie McCovey, who earned Most Valuable Player honors for blasting two home runs - whipped the American League 9-3.
Several years ago I spent a week in D.C., primarily to run the Marine Corps Marathon. (My time was 2 hours, 37 minutes and 2 seconds.) Afterwards, I walked the halls of Congress embarrassingly answering questions about the race from Oregon Rep. Al Ullman, then chairman of House Ways and Means Committee. We were continuously circled by aides wanting to refocus him on national issues. Other hours were spent collecting information for newspaper stories - "interviewing" Smokey Bear at the zoo, watching money being printed at the Department of Engraving and Printing, and hobnobbing for a day as a member of the White House press corps, where I munched tea and cookies as President Jimmy Carter talked policy. But most haunting was being shown the skulls of Captain Jack and three other Modoc Indians who were hanged and, in secrecy, beheaded for their roles in the Modoc War of 1872-73.
* * *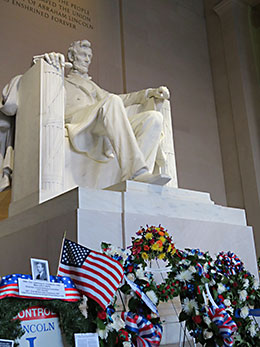 The Lincoln Memorial
Washington, D.C., is a city of stories and history, past and present.  Spring and fall are the most gentle months, with the spring Cherry Blossom season being the most popular. During summer, temperatures soar into the 90s and, even worse, so does the humidity. Access within the D.C. region is easy on Metro, the subway system. In any season there's much to see, whether in D.C. itself, or by taking short drives to Mount Vernon, Annapolis, Williamsburg, Maryland's Eastern Shore, the C&O National Historic Park, Monticello, and Civil War sites like Gettysburg, Antietam and Harpers Ferry.
Yes, visiting Washington, D.C., is a Capitol idea.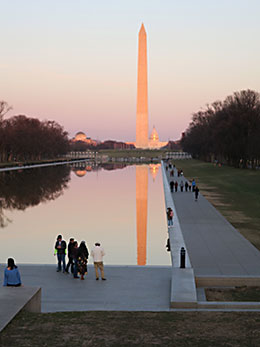 Washington evening reflections
About the Author
Lee Juillerat is a semi-retired writer-photographer who does outdoor and other stories for Southern Oregon newspapers and a variety of Pacific Northwest magazines. He is the author of travel and outdoor books, most recently "Lava Beds National Monument." He can be reached at 337lee337@charter.net.