I'd been to Bogus Basin ski area before but, like most people, I thought of it only as the deceptively large and challenging ski area that's 16 windy uphill miles from downtown Boise. With 78 named runs spread over 2,600 acres of skiable terrain that's serviced by three detachable lifts, three double lifts and a triple chair, Bogus is a big time community ski-snowboarding area with a community atmosphere.
So, when Bogus told me about other opportunities, I realized Bogus is the real deal. Thinking Bogus is only about downhill skiing and riding is, well, bogus.
| | | | | |
| --- | --- | --- | --- | --- |
| | | | | |
| | Bogus' Nordic Center | | Skate skier | |
Just down the road from the ski-snowboard complex are two other facilities, a tubing hill and a Nordic Center that serves as base camp for classic and skate cross country skiers along with, surprise, snowshoers and fat tire bicyclists. Besides offering recreation for a cross section of winter recreationalists, both generate a different type of energy from the more populated ski hill.
"It's quiet. That's the big difference between here and ski hill," explained Josh Williams, the Nordic Center's manager. "We've got enough trails that, if you're a good skier, you can get out and be by yourself, even on a busy day."
| | | | | |
| --- | --- | --- | --- | --- |
| | | | | |
| | Downhill flying | | Savoring the sun | |
"People don't realize there's more than downhill skiing," echoed Jonathan Hill, the tubing hill's general manager. "We show people a real good time up here. People are flabbergasted - they don't realize we're here. It's a great way to bring the family and friends out of the valley."
Earlier in the week, on a day dedicated to sunny, swisssshy laps of downhill skiing, Boise and the Treasure Valley were only lightly hidden by an inversion layer. Several days later, when heading up to go cross country skiing and tubing, Boise and the surrounding valley were swallowed by dense cloud layers. It took longer to rise above the muck and pop into the sunshine, where temperatures were 10 to 15 degrees warmer than below.
Following Williams' recommendations, I cross country skied along the Nordic Highway. It's mostly flat over the first mile-plus, then takes a speedy descent past branch trails and the downhill ski area's Bitterroot and Superior chairs before climbing steadily to a junction with the Shafer-Butte Extension trail. Like the rest of the area's 23-mile trail system, or about 37 kilometers, the Nordic Highway is groomed.
| | | | | |
| --- | --- | --- | --- | --- |
| | | | | |
| | Uphill tug | | Kick and glide | |
Even on a weekday, the route was active but uncrowded with classic and whippy-fast skate skiers, along with snowshoers - including one woman running on snowshoes - and a single fat-tire bicyclist. The views, especially sights of the distant snow-burdened Owyhees, were dramatic.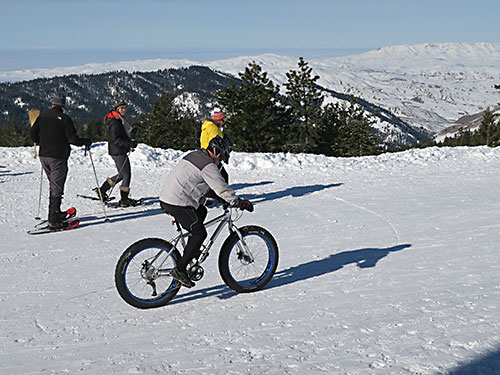 Fat tire biker
Williams said the Nordic Center complex lures 800 to 1,000 skiers a week. The 26-year-old said he's been making the drive up to Bogus "all my life." Making the trip more years is 71-year-old Paul Pasero, who spent years on the ski patrol for both the Nordic and downhill ski areas before working at the center. "A lot of downhill skiers will come over here and ski," he said of people who mix downhill and cross country skiing.
Just as Bogus offers more than downhill skiing and snowboarding, the Nordic Center offers more than cross country skiing. Especially popular on weekends and holidays is a rental yurt available for overnight stays. Reservations are necessary. The groomed tracks include sections for large numbers of snowshoers, including school groups. Gaining in popularity are fat-tired mountain bikes. Lessons, equipment and information are available through the Nordic Center.
| | | | | |
| --- | --- | --- | --- | --- |
| | | | | |
| | Slow but steady | | Skating downhill | |
Night skiing, snowshoeing and biking on lighted portions are offered Wednesdays, Thursdays and Fridays until 8:30 p.m., which Williams said allows area high school Nordic ski teams opportunities for after-school workouts. He also envisions hosting races, explaining, "We do a lot of beginner lessons, but I want Bogus to be a place where advanced skiers can come." After reaching the Nordic Highway-Shafer-Butte junction, my too-quick cross country outing included a variation back to the center on Sapper's Return, a one-way route that's more challenging and offers even better long distance views. After returning, Pasero mapped out possibilities for a return visit, including more miles of groomed track off the Nordic Highway and trails below the Nordic Center and the  ski area's Simplot Lodge.
The Tubing Hill
A different kind of energy was palatable at the tubing hill. Some tubers were loudly whooping it up, especially on the steep initial pitch. It takes about 14 or 15 seconds to take the 800-foot plunge, which ends at a safe and spacious run-out area.
| | | | | |
| --- | --- | --- | --- | --- |
| | | | | |
| Headed down | | Swooshing down | | A pod of four |
"It's a nice change when it's a swamp down there," said Matt Morgan, who was assisting Hill and other staff, referring to inversion-layered Boise.
Hill said weekends and holidays are especially busy, with reservations recommended for two-hour all-you-can-ride sessions. (The ride back uphill is easy: tubers flop on their tubes that are tugged uphill by a paddle tow.)
| | | | | |
| --- | --- | --- | --- | --- |
| | | | | |
| | Uphill is easy | | Hang on | |
My rides were solo, but groups variously locked feet and arms to form pods of two to four interlocking tubes. Shouts and screams were frequent, especially when tubers were given spins as they were  pushed down the slope.
| | | | | |
| --- | --- | --- | --- | --- |
| | | | | |
| | Mother and child reunion | | Backward races | |
"We'll have 100 tubes going out on the weekends," Hill said between loading tubes and giving first-timers brief safety talks. "It's really popular because it's so much fun."
Speed down the tubing hill or ride a fat-tire bike. Trade downhill skis or snowboard for a pair of snowshoes or skinny skis. No matter what or how you do it, Bogus is the real thing.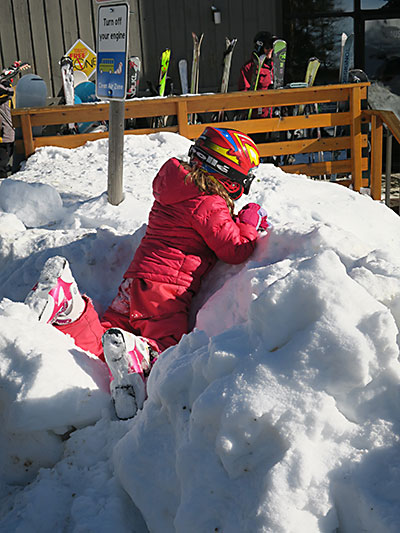 Finding other fun
When You Go
The Bogus Basin Nordic Center is open daily - 9 a.m. to 6 p.m. Saturdays and Sundays and 10 a.m. to 6 p.m. Mondays and Tuesdays for cross country skiing, snowshoeing and fat-tire biking with night outings on lighted trails from 10 a.m. to 8 p.m. Wednesdays, Thursdays and Fridays. Lessons and rental equipment is available. The Tubing Hill is open Fridays from 11 a.m. to 7 p.m., Saturdays from 9 a.m. to 7 p.m. and Sundays from 9 a.m. to 5 p.m. with two-hour sessions beginning at 9 and 11 a.m., and 1, 3 and 5 p.m. For more information visit the Bogus Basin website at bogusbasin.org.
About the Author
Lee Juillerat is a semi-retired writer-photographer who does outdoor stories for Southern Oregon newspapers and a variety of photo-stories for various magazines, including Southern Oregon Magazine, Alaska Beyond, Range and others. He is the author of travel-outdoor books, most recently "Lava Beds National Monument." He can be reached at 337lee337@charter.net.