We had climbed uphill a short ways from Showcase T-Bar and traversed out to the neck of Blackcomb Glacier. John exclaimed, "Well if Heaven is this good, beam me up Scotty." He took down his goggles from his helmet, clicked his ski poles, smiled, and immediately released himself and his sturdy Swiss made Stockli skis into the new POW, making fresh lines with his strong Norwegian-Swedish linebacker legs. After a series of clicks from my camera, I slipped in, too, enjoying the buoyant freshies.
Just another beautiful late winter, early spring day at Whistler Blackcomb, consistently considered the finest ski resort in North America and to many, the best in the World. By weeks end, my bud and I were beautifully refreshed and equally tuckered out from skiing Whistler Mountain and Blackcomb Mountain, covering the full breadth of terrain offerings from both.
Each year that I visit Whistler Blackcomb, I explore new runs, while continuing to enjoy the 'oldies but goodies'. In March 2016, under the guidance of her daughter Talia, my Whistler/Vancouver friend Camilla Joubert and I explored the West Ridge of Whistler Mountain. Some tree and small chute skiing certainly challenged my expertise. If it wasn't for local Talia, I would have never known this aspect of the mountain. The size of Whistler Blackcomb is immense, offering endless ski and board possibilities for folks of all levels.
WHISTLER BLACKCOMB'S 50th ANNIVERSARY
Our 2016 Whistler stay was notable as this was the 50th Anniversary of the two mountains. A variety of celebrations took place throughout the year. Whistler-Blackcomb industry, film and communications supervisor Chris McLeod said, "The 50th was a huge success, and provided a great opportunity to reflect and celebrate Whistler Blackcomb's past. One of the ways Whistler Blackcomb looked to the future was through the new 'Big Picture' documentary series. This Big Picture series takes a look at the future of skiing and snowboarding in a four-part documentary series exploring climate change, backcountry access, the state of the industry, and the risks of losing kids to technology. The hope is to gain some perspective and generate some conversation with the documentaries exploring these big picture questions." The series can be watched at: www.whistlerbla[ckcomb.com/BigPicture. The most notable change during the 50th Anniversary was the sale of WB (for US 1$billion) to Vail Resorts Inc., a US ski resort company. Vail Resorts plans to cut the price of a Whistler season pass for 2017-18 - normally around CDN$2,000 - to half that, and blend it into Vail's popular 13-resort Epic Pass, which is presently USD$809. Vail unveiled its Epic Pass program in 2008, reducing a Vail season pass from $1500 to $600 and saw the ensuing sale of what were then 40,000 season passes, grow to 550,000 today.
SKIING the two MOUNTAINS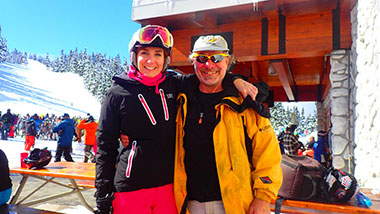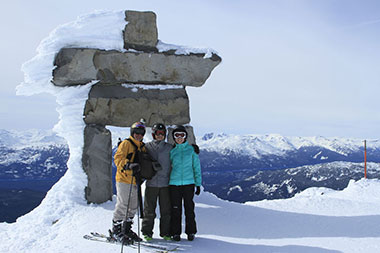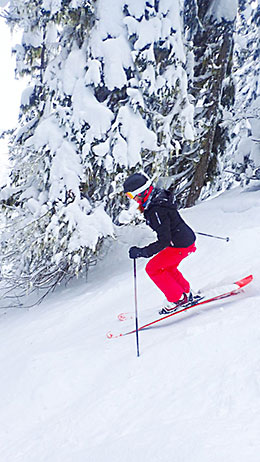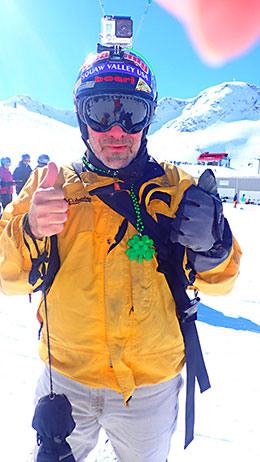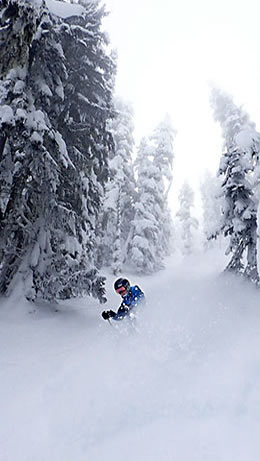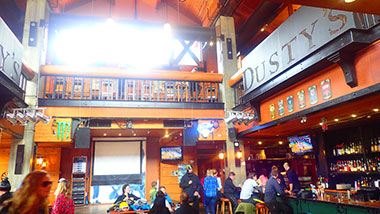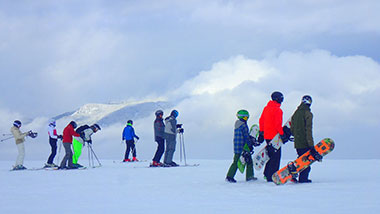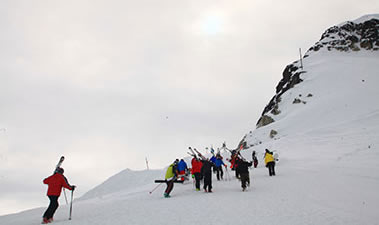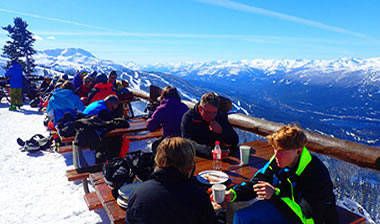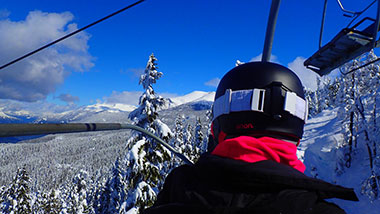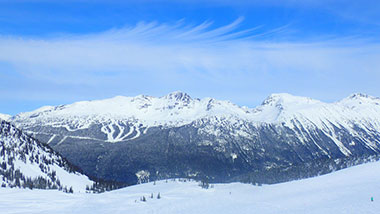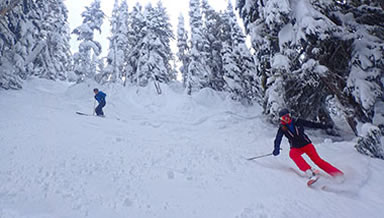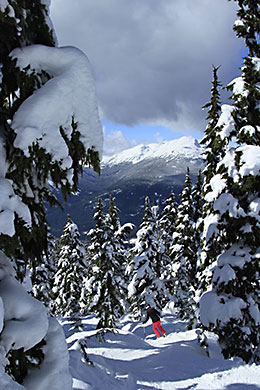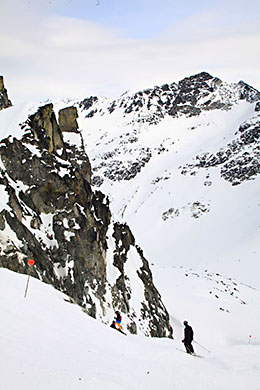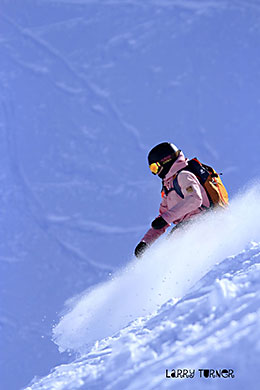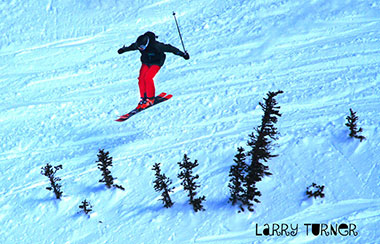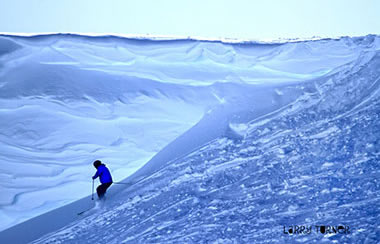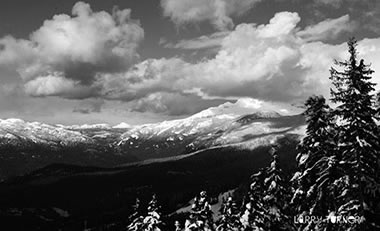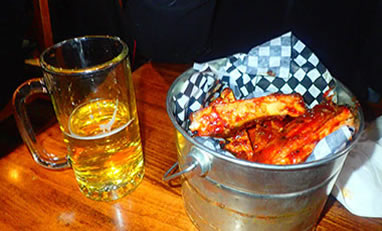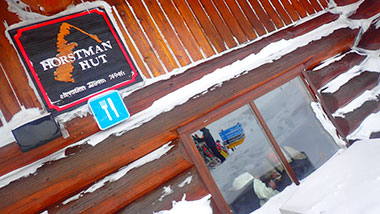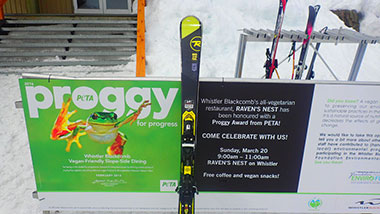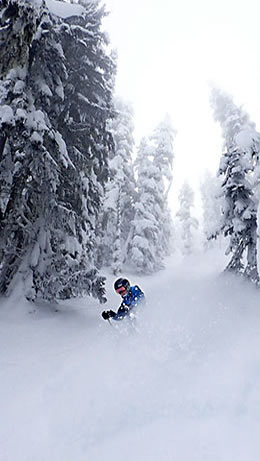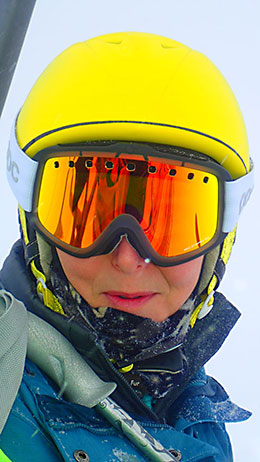 If you're booking a winter ski or board vacation to WB, it's best to choose the long end as opposed to the short end as far as ski/board days. John and I spend at least a week. This gives you an opportunity to get a deep taste of both mountains along with having a day or two off to explore the lovely Whistler Village and surrounding area. Generally, we stay put, and the car never moves from the basement of the World Mart Cascade Lodge. Whistler's bus system is excellent, so use it if you need to go a longer distance.
I love both mountains and the Peak to Peak 360 Experience Gondola that connects the two. Generally I ski both mountains each day, spending a morning on one and an afternoon on the other, depending on snow conditions. One of my favorite areas is 7th Heaven, just below 8000 foot Blackcomb Peak. The powder is often light and lovely there but make sure you get there early as it quickly gets skied out. There is notable tree skiing there, too, and for a moment I will digress to underline the importance of tree skiing close to a partner.
On March 14, 2016, I took a chair up Blackcomb with a ski school supervisor (she introduced herself as Sarah Prunier) who had two Whistler Kids (ski school) with her. We had a nice chat, extending pleasantries. The following day on her day off (while skiing with her husband) she went to her death in a tree well in 7th Heaven (http://www.piquenewsmagazine.com). The two had become separated when skiing the fresh powder in this zone. Thus my caution: when skiing or boarding off piste, have your partner within eyesight, if all possible.
Last year, WB had abundant snow. This year, the same. If you love seeing the heights from a chair lift, try Whistler Mountain's Peak Express. The scenery is dramatic as you near the Peak Lookout at 7160 feet. When on top, I like to take either The Saddle run or work my way over to Harmony and Symphony Express chairs for some pleasant powder pockets and some great GS skiing on their groomed runs. Photographically, I prefer the views from Whistler over Blackcomb.
When skiing Whistler, I love to take the Dave Murray Downhill (the downhill course for the 2010 Winter Olympic event) all the way to Creekside, shuck my skis for a time and slip into Dusty's Bar and BBQ for some mouth watering food, a good pint of beer and often to watch a part of a March Madness game. By the way, if you're into single and double black diamond runs, Whistler Bowl has plenty.
This year, Whistler Mountain's winter operations will close April 23; Blackcomb Mountain will close May 22.
WHISTLER VILLAGE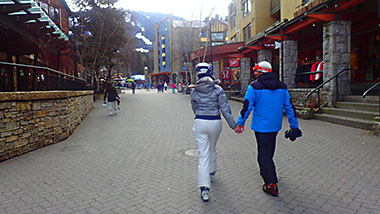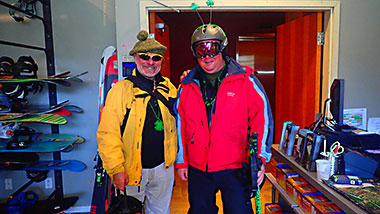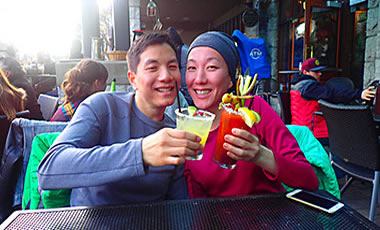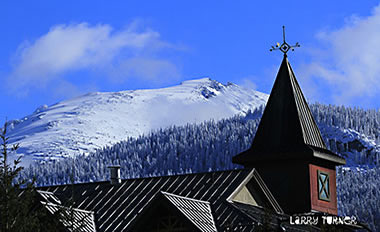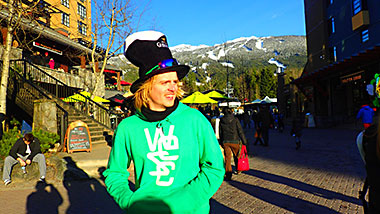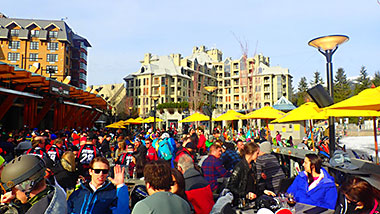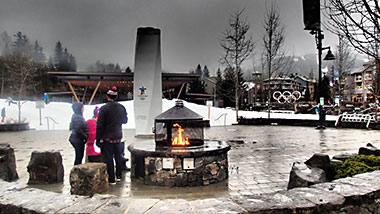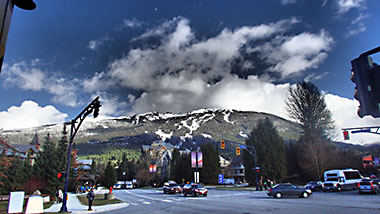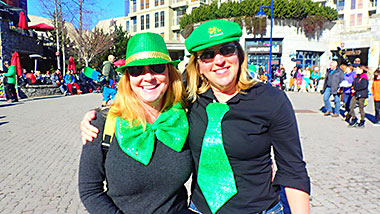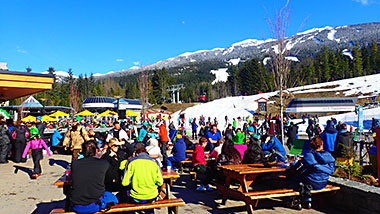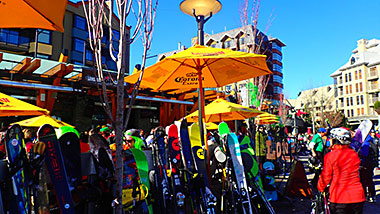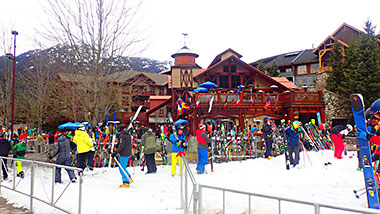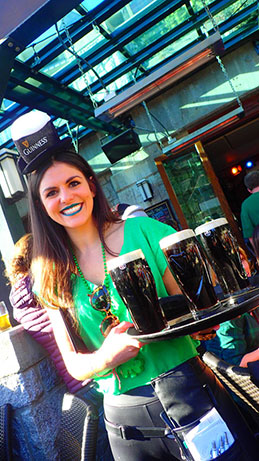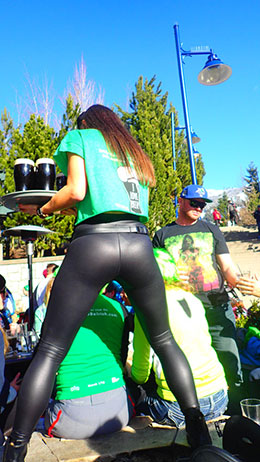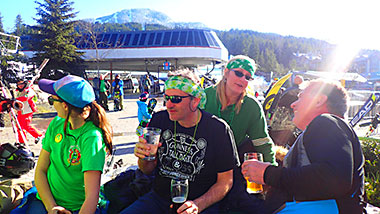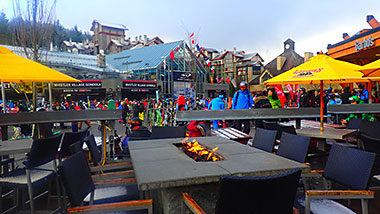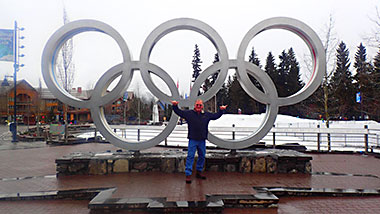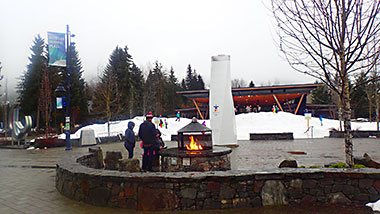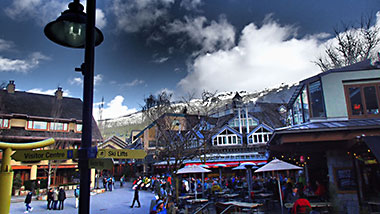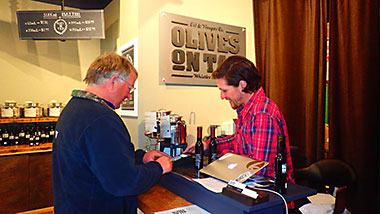 This dynamic resort has it all. You might call it the perfect ski resort. In fact, the very reputable Ski Magazine last autumn named WB—the third year in a row—the Best Ski Resort in North America. Having skied my fair share of resorts in North America, I wouldn't argue against their choice.
One of WB's allures is Whistler Village itself. I love to stroll the charming streets discovering hidden and unhidden gems everywhere. A must during St. Patty's Day is the Dubb Linn Gate Irish Pub. It is the perfect place to go after a hail and hearty ski day. It is crowded but you can always seem to find a spot. New friends will be made and there is a sea of green cheer everywhere. The live music will help keep your Irish up. You must have Guinness of course, but there are plenty of other libations, matey, to keep your blarney up. Try the Dark and Stoutly which may trim your sails a bit with a mixture of dark rum, fresh lime, ginger, and habanero syrup topped with Guinness. Try a nip of 16 year old Bushmills and soon-after you may be singing Danny Boy. Among my favorites are their bar menu which says: 'I can resist everything except temptation.' Their stick-to-the-ribs bar food is good, but if you fancy something 'well, more fancy' give Trattoria di Umberto (right across the street from where we stay) a go. There are a plethora of others, too. If you're on a tighter budget, cook in your room. The two local grocery stores have ample offerings. John and I always stop at Granville Island (Vancouver) en route to Whistler to pick up fresh fish, herbs and other goodies.
Peaked Pies (www.peakedpies.com) on Main Street is one of my favorite places to get something to go - chicken mushroom and leek is my favorite Australian savory pie. Olives on Tap is a must stop for a variety of olive infused oils. I always end up with a six-pack to take back to the States. One thing which I would like to do sometime is to take a fondue tour which is run by Canadian Wilderness Adventures (www.canadianwildnerness.com). When you arrive in Whistler, pick up a copy of FAQ The Insiders' Guide to Whistler booklet and you'll find all of the business listings along with a list of 99 Things to Do.
SUMMER in WHISTLER
I've never been to Whistler in the summer but I have that on my bucket list. I asked Chris McLeod what he would recommend if planning a summer trip and this is what he said, "The one experience I tell everyone visiting Whistler in the summer is to make sure that you take time to get into the Alpine via the PEAK 2 PEAK 360 Experience. Whistler's pinnacle summer experience is more than just sightseeing on the Guinness World record-breaking PEAK 2 PEAK Gondola. It's the entire 360° experience that comes with it: two side-by-side mountains, 50+ km of alpine hiking trails, beautiful vistas, free and custom guided tours, viewpoints in every direction, and an ever changing timeline of seasonal highlights from May through to October. From May - June hike through massive snow walls left from the winter, June through July see wildflowers blooming, and July through September is the best time to get to the Summit of Whistler Mountain via the Peak Chair."
Sounds dang good to me!
IMPORTANT INFORMATION: www.whistlerblackcomb.com
World Ski and Snowboard Festival April 7-16
Go Fest, Whistler's Great Outdoor Festival May 19-22