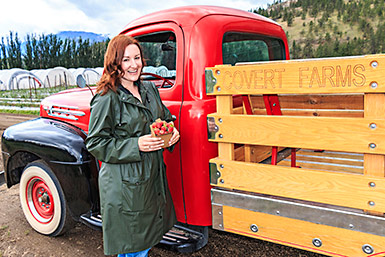 Farm tour using antique 1952 Mercury 1 ton truck
at Covert Farms in the southern Okanagan Valley
Wineries always seem to be perched on some ridge. Waaaay up along some ridge. At the end of a gravel road. And you're on a bicycle.
How many wineries have I done by bike?
Lots.
How many hills? Too many.
So when I learned of a way to do this on a bike...WITH AN ELECTRIC ASSIST MOTOR...I signed up.
The company is called, oddly enough, Heatstroke Cycle. The bikes are bright orange, solid, heavy, with gears for when you want to do the pedaling. As for the motor, you twist a ring on one handlebar, there's a bit of a kick and off you go, gliding along without so much as rotating a leg.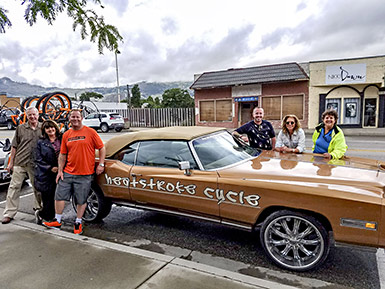 Bikes are loaded and the group is ready to ride
We were in the South Okanagan, a British Columbia, Canada, farming valley just north of the US border. This stretch of semi desert is actually a continuation of a long series of dry, fertile valleys that run just east of North America's western mountain ranges from Canada clear to California and south into Mexico.
| | | | | |
| --- | --- | --- | --- | --- |
| | | | | |
| | Cycling through Okanagan vineyard | | Iconic wine barrel truck at Cassini Cellars | |
It's the Thompson/Okanagan in Canada, the Okanogan in Washington State, the Willamette Valley in Oregon and an assortment of valleys in California. Thanks to irrigation, they're lush and filled with all sorts of tasty growing food. And wine.
The land rolls with low green hills and sparkling lakes. Orchards filled with cherries, apples, pears, peaches and berries line the view with straight, neat rows of trees and bushes. Vegetables of all sorts grow everywhere, even though the area gets only 12 - 16 inches of rain a year.
Wineries, like the fruit, have blossomed.
Twenty-five years ago there were 17 wineries in British Columbia. Now they number 255, along with craft breweries, distilleries, cider shops and fruit stands. Yup, you can sip (and chew) your way from one end of this 440-mile series of valleys to the other.
My friends and I headed for Oliver, billed as the "wine capital of Canada" and started with Hester Creek Winery, perched high on a hill, where we sampled assorted whites and reds, then met our bikes.
These are sturdy Pedego cruisers, 52 pounds with the motors, able to take even a 250-pound guy uphill if he's willing to pedal a bit. The "high on a hill" part was important, since our introduction to the bikes merely involved coasting downhill, tapping the brakes, trying out the motor and watching the grape vines flow past our eyes.
| | | | | |
| --- | --- | --- | --- | --- |
| | | | | |
| | Watermark Resort on Osoyoos Lake | | Okanagan farmlands | |
Then it was onto a lightly traveled country road and, a few minutes later, up a small hill to Cassini Cellars, with its colorful antique farm truck (they seem to be a requirement of wineries) and more sipping. Road 13 Vineyards looks like a castle. More sipping, some nibbling and off again.
The entire route is hardly nine miles. The heroes of this trip are the wineries, not necessarily the exercise.
| | | | | |
| --- | --- | --- | --- | --- |
| | | | | |
| | | | Okanagan landscape (photo by Morgan Sommerville, Serena PR) | |
I did get a chance, at one point to ask about why all those wineries are always perched atop some hill.
It's not for the scenery, though that's a wonderful bonus. It's because it's easier to run the irrigation water downhill than pump it up, even if you have to first get it from the lakes below. Yes, I also shook my head. But when you start thinking about it....
That night, we ate at Miradoro Restaurant, part of Tinhorn Creek Vineyards. Of course, killer views. And yes, we sampled their 2014 chardonnay, which got a 95 ranking this year from Decanter magazine, possibly the first Canadian wine to score that high. It sells for about $15 US.
From the magazine's review: "Very well made and Chablis-esque with a crisp green-apple nose augmented by nutty, mineral, light oak notes. To taste, it's dry, crisp yet fruit-driven with nectarine and lemon-infused fruit framed by a soupçon of toasty oak, finishing with a graceful smidgen of minerality."
Okay, as someone who likes a good wine but is certainly no expert, I can say it was dry but not too dry, crisp and, interestingly, left a hint of almost sweet on my tongue. It went great with the pork scaloppini and wild morel mushrooms.
| | | | | | | |
| --- | --- | --- | --- | --- | --- | --- |
| | | | | | | |
| | Kenn Oldfield, Chairman of Tinhorn Creek Vineyards, shows off his award winning chardonnay during dinner at Miradoro Restaurant at Tinhorn Creek Vineyards. | | Chef Adair Scott & asparagus mushroom appetizer | | Chocolate Mousse & more at Backyard Farm | |
What I really like about the area is the chance for unique experiences. Bringing us to Covert Farms Family Estate.
The cool thing is the tour. You start out visiting the animals...the pigs, the llamas, the cows. Then you climb into the back of a restored 1952 farm truck for a ride where, depending on when you come, you get to pick (and eat and eat and eat) strawberries, some of the 13 varieties of wine grapes, and various veggies.
And you also learn about organic farming.
"We work WITH nature rather than against it," said guide/chef/farmer Campbell Kearns.
Our animals," he explained, "are not for meat but for their fertilizer...manure and compost. We're all about building soil naturally and in the end, we believe this produces food with a better taste."
Well, the strawberries we inhaled certainly attested to that. Ripe. Sweet. Yum.
And then, there was the matter of the birds. The farm planted 2.5 acres of sunflowers TO ATTRACT the small, very destructive birds.
The concentration of small birds attracted hawks..."So now we have a resident group of hawks. They're very uninterested in eating grapes but very interested in eating small pesky birds." Then it was back to the wine lounge...converted from an old horse barn...to taste wines and snack on local cheese and assorted cured meats. For the full experience, you can also add on a "Farm to Vine Signature Experience" dinner at Watermark Beach Resort in Osoyoos which features a multi-course meal made with the food of Covert Farms.
| | | | | |
| --- | --- | --- | --- | --- |
| | | | | |
| | Sundowners at Spirit Beach Cantina in Osoyoos | | Picking their own strawberries at Covert Farms | |
We wrapped up our few days by visiting Backyard Farm.
This isn't a winery. It's two acres of heritage fruits and the most amazing meal served by Chef Chris Van Hooydonk and his wife Mikkel.
Each course comes with an explanation of the farm, his produce and his farming methods.
Everything is made on site...the sourdough bread we ate, for instance, is created with a starter from heritage Italian plums that Mikkel named Delilah.
"We were the first to use arctic char manure. People ask how did that go? I show them a picture of our two pound peach," Chris continued.
Their tiny farm is crowded with fruit trees...cherries, apricots, plums, nectarines, pears...many of them heritage varieties that, Chris added, "People don't grow anymore. Some of the cherries aren't pretty, they aren't huge. But the flavor is amazing."
Yes it is.
We started lunch with baby romaine lettuce topped with seared sablefish and lentils, moved on to free range chicken breast atop, of all things, savory French toast with a quinoa salad and wrapped up with a fantastic chocolate mousse with red wine spiced cherries.
Yes, I want to go back. But next time, I plan to book the overnight farm experience where you stay in a guest cottage, follow Chris and Mikkel's family around the acreage as they work, watch Chef Chris make his food and, of course, eat it.
So much to do in the Okanagan. So much to eat and drink.
I'm already making plans for next summer.
| | | | | | | |
| --- | --- | --- | --- | --- | --- | --- |
| | | | | | | |
| | Wine tasting at Hester Creek Winery | | Sablefish lentil appetizer at Backyard Farm | | Stop for bubbly on Covert Farms tour | |
INFO BOX
Summer in the Okanagan can be toasty, with temperatures topping 100 degrees. Spring and fall, especially September when crops are being harvested, is an ideal time to visit.
Direct flights from the US land in Kelowna, about half way up the series of valleys and a two-hour drive north of the South Okanagan.
Thanks to the cheap Canadian dollar, prices here are extremely attractive. Tours on Heatstroke Cycle's electric-assist Pedego run from about $60 to $175, depending on length and whether food is included.
Covert Farms tour and multi-course gourmet Signature Experience dinner is (without tax/tip) about $70 or $82 if wine is included.
Contacts:
Heatstroke Cycle - http://www.heatstrokecycle.com

Watermark Beach Resort - http://www.watermarkbeachresort.com/

Farm to Vine Signature Experience tour and dinner - http://www.watermarkbeachresort.com/osoyoos/signature-experience/

Hester Creek Winery - http://hestercreek.com

Cassini Cellars - http://www.cassini.ca

Tinhorn Creek Vineyards - http://www.tinhorn.com/

Covert Farms - http://covertfarms.ca

Backyard Farms - http://backyard-farm.ca

Road 13 Vineyards - http://road13vineyards.com/