Alpine peaks and mountain villages. A totally charming, architecturally intriguing capital. Surreal cave systems. A sublime Adriatic coastal city.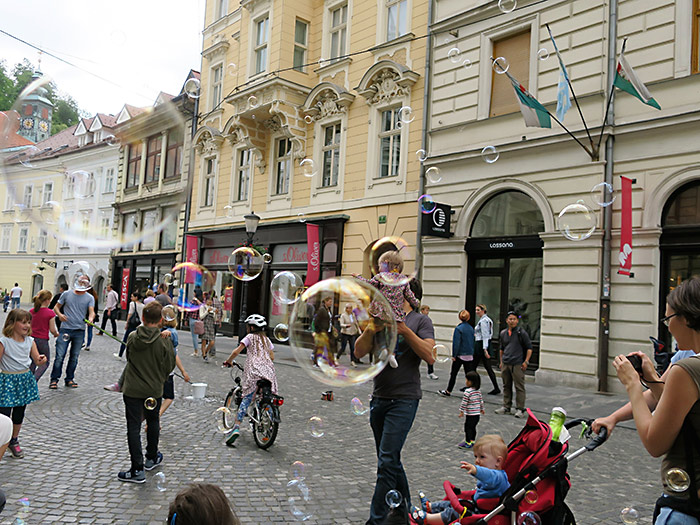 Fun times in Ljubljana, Slovenia's capital
Two weeks in Slovenia proved well beyond my high expectations, but two weeks was not enough. I didn't visit any wineries, spend time at its most visited lake or, disappointingly, climb the country's cherished mountain.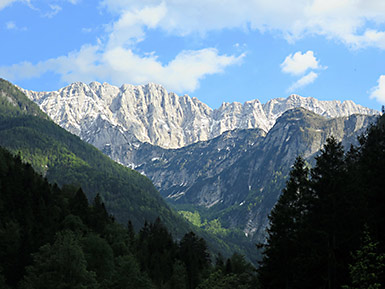 The Julian Alps tower over the country
Slovenia, formerly part of Yugoslavia, is one of Europe's least known countries. Ask most folks and they'll reply with a Where's Waldo? double-take.  I did. What I learned is that Slovenia is a country of two million. Geographically, however, Slovenia is only the size of New Jersey. It's bordered by Italy, Austria, Hungary, Croatia and the Adriatic Ocean. The mountains, part of the Julian Alps, channel Switzerland. Piran is a coastal city often called a little Venice.
| | | | | | | |
| --- | --- | --- | --- | --- | --- | --- |
| | | | | | | |
| | Boats cruise the Ljubljana River | | Rainy day bicyclist | | Old Town from Ljubljana Castle | |
Ljubljana, Slovenia's capital and largest city, focuses around an Old Town with a hilltop castle, lively central market and distinctly different bridges that cross over the emerald green Ljubljana River. The city is also the home of Park Tivoli, delicious eateries and gracious historic buildings, obelisks and statues.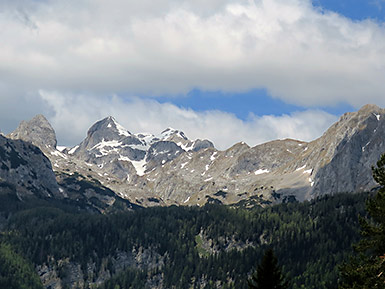 Ragged, rugged Mount Triglav
But Slovenia's focal point is Mount Triglav. At an elevation of 9,395, it's the tallest mountain in Slovenia and the Julian Alps. It's part of the national consciousness because it's visible from throughout the country. It's a mountain so embedded in Slovenia's persona that a former president declared it the duty of every Slovenian to climb it at least once in their life.
Slovenians take it to heart. Trails to its summit - some challenging, others accessible by people in good fitness - are reportedly jammed, especially at the final elbow-to-elbow final section fitted with cables and pitons, in the peak climbing months of July and August. Most people I asked - male or female, young or old - had visited Triglav's summit, often several times.
| | | | | |
| --- | --- | --- | --- | --- |
| | | | | |
| | The River slices through a deep gorge | | Wooden bridge crosses the Soca River | |
| | | | | |
| --- | --- | --- | --- | --- |
| | | | | |
| | | | | |
| | Beautiful Lake Bohinj | | Hiking in Vrsic Pass | |
Much of my visit was spent touring Triglav National Park. Because it's not contiguous, Triglav seems like three or four different parks. Along with ragged, jagged, dramatically upthrust mountains, the park's highlands feature fields of gaily-colored wildflowers, lush green forests, plunging waterfalls, boisterously tumbling rivers and wooden bridges that teeter across gorgeous gorges.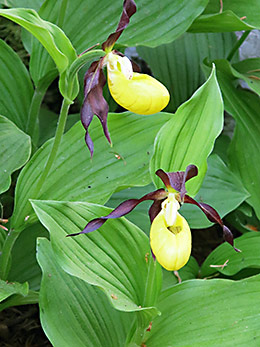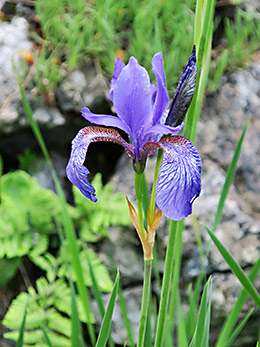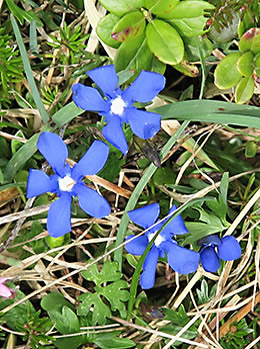 Wildflowers, including Lady's Slipper and Alpine Iris, brighten fields
There's also a Heidi-like alpine village at Klek Pasture. Another park region features the Pocar Homestead. Pocar's highlight is a stone-built house with rooms filled with gritty reminders of past eras, including a hisna kamra, or bedroom, with the date 1775 inscribed on its ceiling, and a "black kitchen," with its walls and ceiling blackened and tarred by  years of grimy creosote.
| | | | | |
| --- | --- | --- | --- | --- |
| | | | | |
| | Klek Pasture | | Black kitchen | |
Unlike U.S. national parks, most of Triglav National Park is privately owned. Within the park are homes,  villages, farms, resorts and eateries. There are also downhill and cross country ski areas. Within or just outside its boundaries are churches and cemeteries with headstones, some dating back to the 1700s, others remembering men killed during the brutal World Wars I and II and other conflicts. There are villages like Trenta, populated with proud people like Marko Pretner, whose families have occupied the same lands for 10 generations or longer.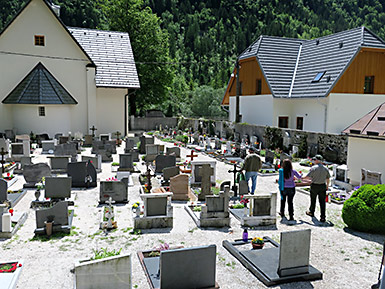 Cemetery near Tresta
People like Pretner, proudly tell tales of life past and present in the villages and mountains, of myths about unicorns and gold-horned goats, and stories about dragon-slaying Jason and the Argonauts. There are legends about places like the Tolmin Gorge, where the river's color is mellowed a soft blue from the limestone mountains, and about how it served as the setting for Ernest Hemingway's epic, "A Farewell to Arms," and is said to be the place where Dante found inspiration for his "Divine Comedy." Peter Skobernne, a former Triglav park director, said it doesn't matter if tales, myths and legends are factual. As he explained, "I don't care if the story is correct if it has a powerful message."
| | | | | |
| --- | --- | --- | --- | --- |
| | | | | |
| | Dragon at Dragon Bridge | | Farmers market | |
Other sorts of messages were heard or sensed in other areas of the surprisingly diverse country. Each of my four days in Ljubljana provided insights of its diverse charms. My hotel room in Piran overlooked  the Adriatic Ocean and was steps away from a plaza where a symphonic orchestra made an evening performance.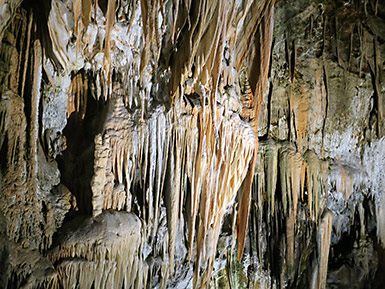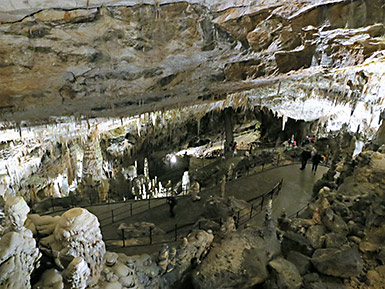 Postojna Cave is surreal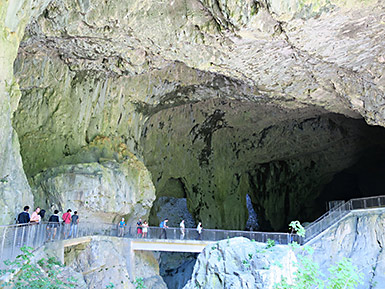 Skoejan Caves
Slovenia is also a country bisected by caves. Postojna Cave is surreal. With an underground train accessing underground rooms with so many intricate features - chandelier-like stalactites and spaghetti-like stalagmites - it felt like Disneyland. Skojan Cave, its features shaped by a river that runs through it, might have inspired J.R.R. Tolkien's Hobbits. And Predjama Castle, a fortress carved into a steep hillside cave that was occupied by a Slovenian "Robin Hood," whose death is the stuff of legend, also reflects that Disneyland fantasy.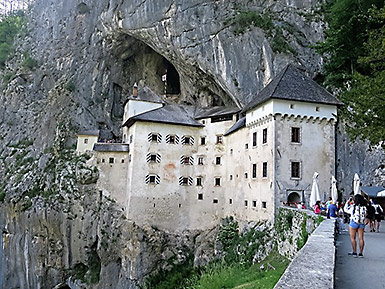 Predjama Castle
Although Slovenia is a relatively young country - it gained its independence from Yugoslavia in 1991 - its history dates back to the 5th Century BC and a succession of rulers, from ancient Rome to the Ottoman Empire to Stalin and Tito. Through the centuries, generations of storytellers have passed along tales and myths, many of them with several variations.
Based on my experiences, a version of one Slovenian legend personally rang true. It says that when God was creating the world he gave out land for all the people, then realized one small group wasn't included. So, to make amends, "God gave to Slovenia what he had planned to save for himself."
| | | | | |
| --- | --- | --- | --- | --- |
| | | | | |
| | Lee on the ledge to the headwaters of the Soca River  | | Appearing Knight Lee | |
About the Author
Lee Juillerat is a semi-retired newspaper reporter-photographer who lives in Southern Oregon. He is a frequent contributor to newspapers and magazines, including Southern Oregon Magazine, Alaska Beyond and others. He is the author of several books, including two about Crater Lake National Park, one about Lava Beds National Monument. He can be contacted at 337lee337@charter.net