It is late June, 2017, as I write these words from the old cabin at the mountain lake, specifically Lake of the Woods. I write these words from a cabin at my favorite: Lake of the Woods where I hear water lapping at the shore, twenty feet away. There is a grand and wild view of Oregon's first large volcano heading north from the California border: 9,495-foot Mount McLoughlin, partially blanketed with fields of snow. I plan to climb it soon.
Not far away is Oregon's only national park - Crater Lake - that is also the deepest lake in the United States and ranked #2 in North America. Canada's Great Slave Lake is #1 at seven feet deeper. Many - myself included - consider Crater Lake one of the great wonders of the world. Also nearby is Klamath Lake, Oregon's largest and one of the largest lakes in the West. Lower Klamath on the Oregon-California border is the first waterfowl refuge in the United States. Some of the world's best trout fishing can be found on the Williamson and Wood Rivers. This is a land of lakes, rivers, streams, and brooks. What do all of these land and water forms have in common? They are either totally or partially in Klamath - my home county. I was born and raised (and still live here though I've lived in many states and Old Mexico) here in the little Czech settled town of Malin which has the nicest park and summer swimming pool in the state for a town its size.
If you want to do some adventuring this summer, head to Klamath County.
City of Sunshine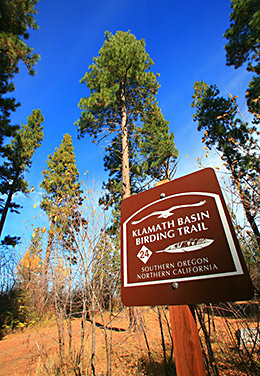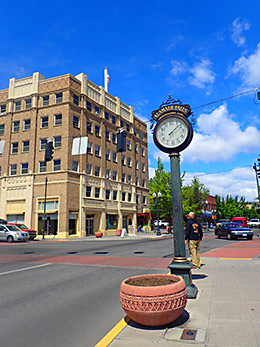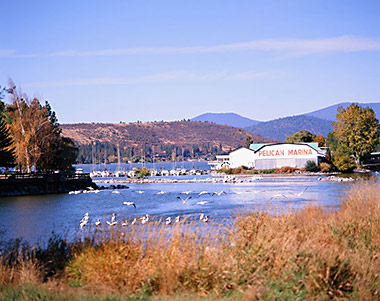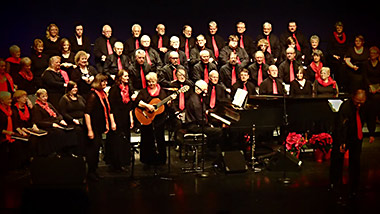 Klamath Falls is the hub of the county. It is also ranked as the #1 city/town in the state for sunshine. Welcoming signs announce "The City of Sunshine, 300 plus days." In fact, six of the states top cities/towns for sunshine are in Klamath County, including my hometown of Malin, which comes in 2nd. Chiloquin is 3rd, Merrill 6th, Altamont 7th and Bonanza 8th. Folks, we have sunshine and our summertimes are divine!
Klamath Falls is a great place to begin your summer adventuring. First stop should be the Discover Klamath Visitor and Convention Bureau at 205 Riverside Drive. Jim Chadderton is the executive director of Discover Klamath and Meet Me in Klamath (www.meetmeinklamath.com). The engaging, affable Chadderton says, "For the outdoor adventurer, we have it all in the county, including dynamic sight seeing, bird watching, bicycling, hiking, camping, fishing and hunting, mountain climbing, river rafting, sailing and boating along with a historic downtown, robust small towns, a world class museum (www.favellmuseum.org), extraordinary smaller museums (www.museums.klamathcounty.org), a great 742 seat performing arts center (www.rrtheater.org), Oregon's longest zip-line (www.craterlakezipline.com/ 541-892-ZIPP) and our best asset: friendly people."
Klamath County can be accessed by plane (Crater Lake Klamath Regional Airport, www.FlyKFalls.com), auto, bus and Amtrak Train. I've also gotten there by wagon train, traveling the historic Applegate Trail in a reenactment, and by horseback, traveling the historic California and Applegate Trails—known as the Southern Route to Oregon—in a reenactment. History abounds in this region as the last Indian war in the US was fought here: the Modoc War. Nearby Lava Beds National Monument gives a history of the war as does the Fort Klamath Museum in Wood River Valley where the famous Captain Jack, chief of the Modocs, is buried. Historic Applegate Trail passed through the county.
Using Klamath Falls as a starting point for summer adventuring, what follows are some day-trip suggestions. Bear in mind, all these day trips can be planned as extended camping and lodging trips as well. Crater Lake National Park, Wood River Valley, National Refuges and Lava Beds National Monument, The Lakes, North County Lakes and The East Side.
CRATER LAKE NATIONAL PARK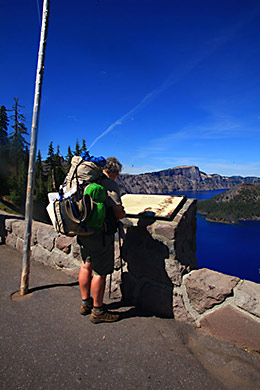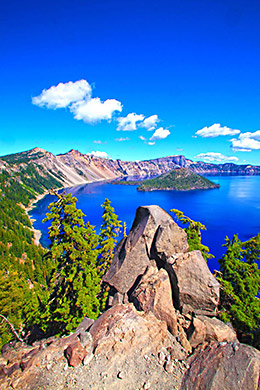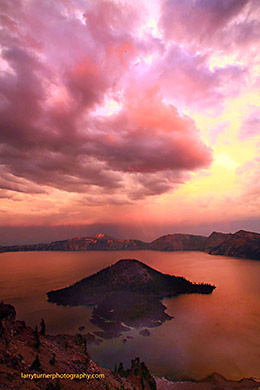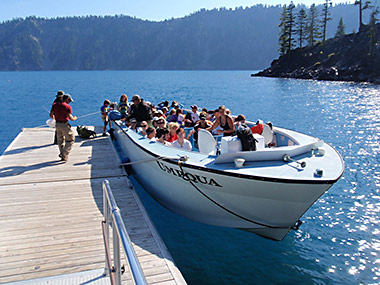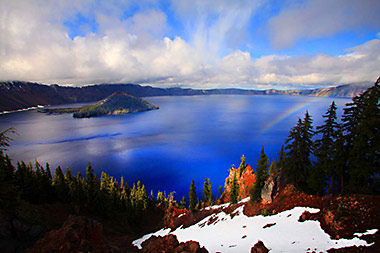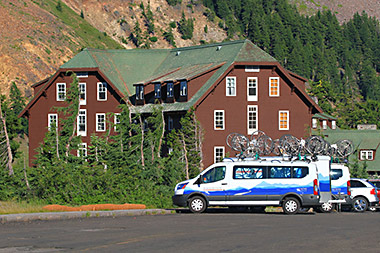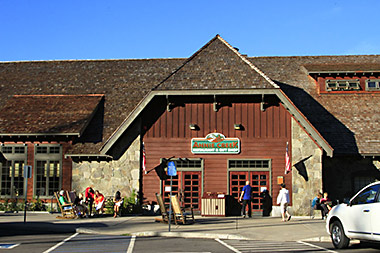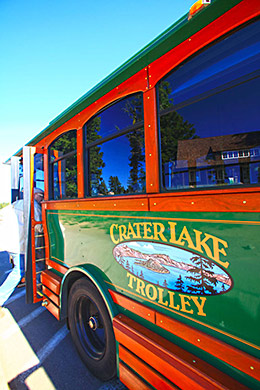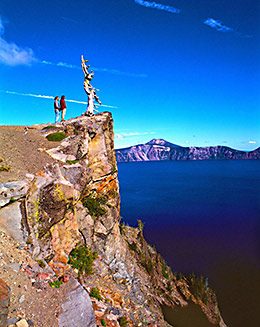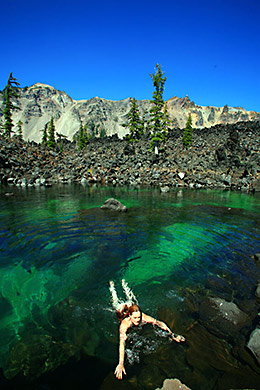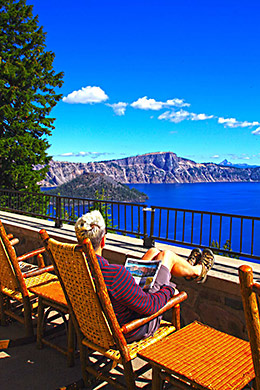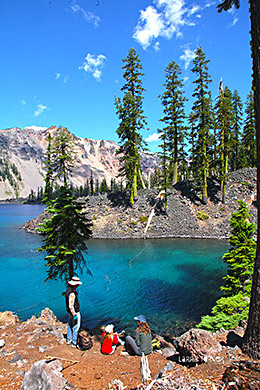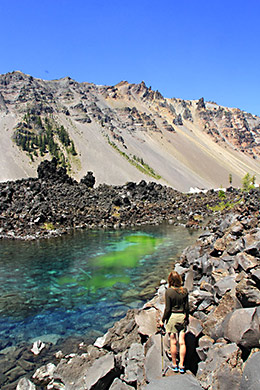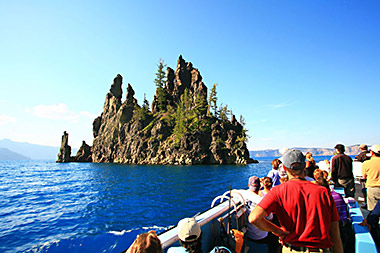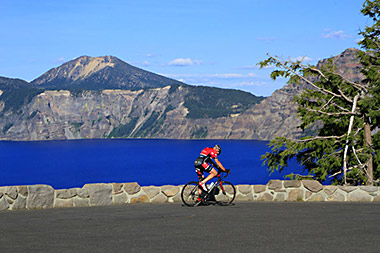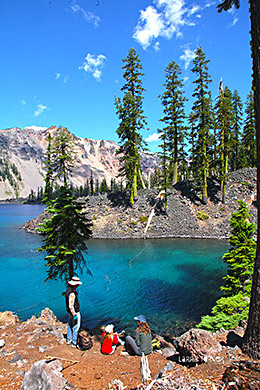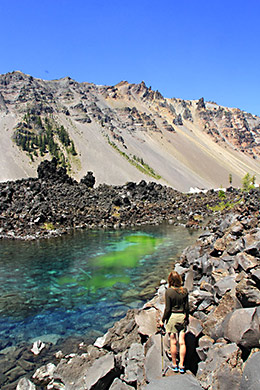 Tourists throughout the world and the country have made Crater Lake National Park a 'must' summer stop. Once you peer into this vaulted gem, you'll understand why. Technically a caldera (formed by the collapse of the ancient Mount Mazama) Crater Lake is achingly beautiful. The water is so pure that you can drink straight from the lake. That drinking, though, will require a stamina trek though down Cleetwood Trail. The trail is also the entry place where one can tour the lake in a boat (http://www.craterlakelodges.com/activities/volcano-boat-cruises/) Best to register early for these trips as they sell out quickly. However, a finite number of tickets are available every 24 hours for the following day at the Crater Lake Lodge kiosk and the Mazama Village kiosk.
It is one of my personal favorite trips that I like to take every year, boarding the first boat out to Wizard Island where I trek, explore, swim and fly fish. If you go, bring plenty of water, trekking food, sunscreen, good hiking boots and a camera. The waters on Wizard remind me of Belize and Honduras. Swimming in the lake is invigorating. Actually, because of the chilly water temp, it is more like "jump in and get your butt out as quickly as possible!" I swear, I've nearly walked on water in Crater Lake because of the chill factor!
There is much to explore at Crater Lake and one could easily spend a week. Several campgrounds are available. Accommodations also include the famous Crater Lake Lodge (get your reservations a year in advance if possible). But my personal favorite is the backcountry Lost Creek Campground located in the park's southeast corner. A must-do is to drive (or hike) the 33-mile rim drive. There are turnouts and vantage points all along the way, giving many perspectives of this fascinating deep blue azure body of pure water that is fed by springs and snow melt. The Crater Lake Trolly also offers 2-hour treks around the lake enhanced by a knowledgeable park ranger sharing valuable park knowledge.
The park is a hiker and biker's paradise. Along with trekking Cleetwood and Wizard Island, I like hiking to The Watchman and to the top of Mount Scott. Friend Terry Richards from The Oregonian newspaper recommends these treks: http://www.oregonlive.com/travel/index.ssf/2014/07/crater_lake_national_park_one.html. The park will host two vehicle-free days this year on the rim drive: September 9 and 16 (2017) (https://home.nps.gov/crla/planyourvisit/vehicle-free-days-on-east-rim-drive.htm). It will be a great time to hike and bike without vehicles around. This is done every year.
I'm an avid snowshoer/cross country skier and with heavy snows such as we've had this year, one can do both these activities, sometimes well into the summer months.
WOOD RIVER VALLEY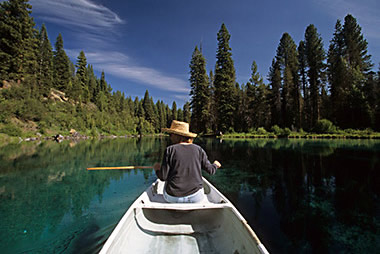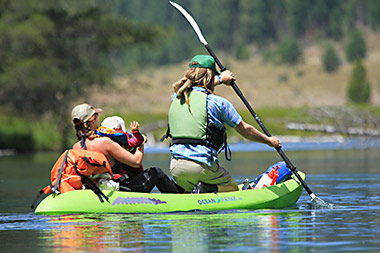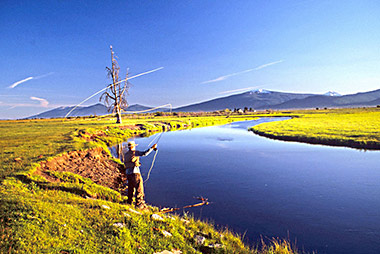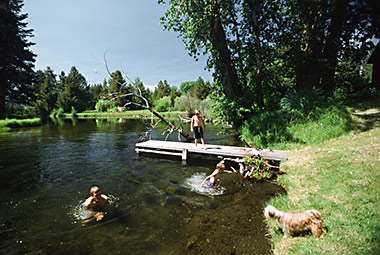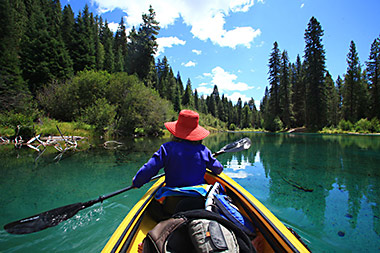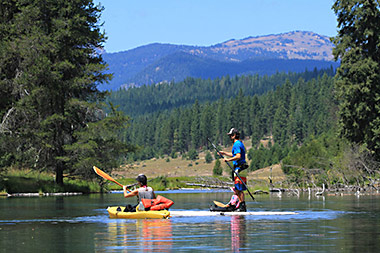 Picturesque Wood River Valley is a must-see for the Klamath County visitor. My personal favorite summertime activity is kayaking Wood River, beginning at its source in Kimball Park. Beautiful crystal clear water gurgles from natural springs at the park. Swimming here would be like swimming in the Arctic. Baby, it is cold! However, it gets a bit more tolerable farther down the river. A good river float would be to the small hamlet of Fort Klamath. Along with canoeing, paddle boarding is getting a small following here. The river is also a noted fishery with large browns and rainbow trout.
There are several other streams in the valley worth exploring and fishing. Also, on the valley's western edge, one can access the trail to Seven Lakes Basin and Devil's Peak, both wilderness areas.
Organic food supplies are available from Jim and Robin's Joe's Motel in Fort Klamath. They have a nice selection of organic beers and wines, too.
The Wood River Valley is the southern gateway into Crater Lake National Park.
THE LAKES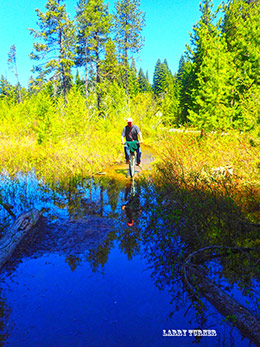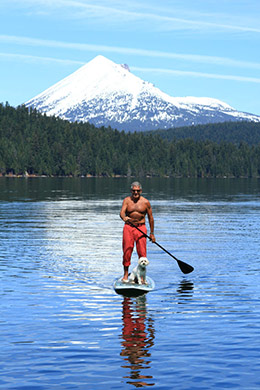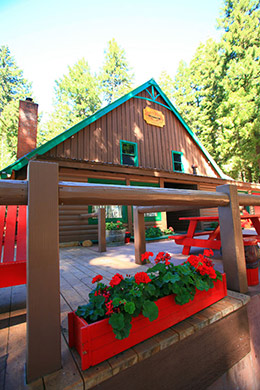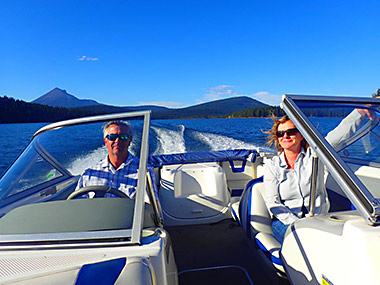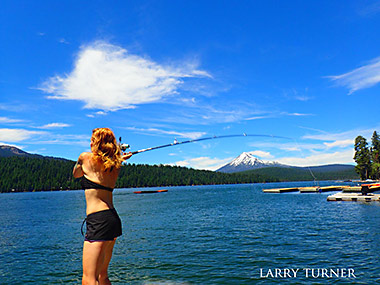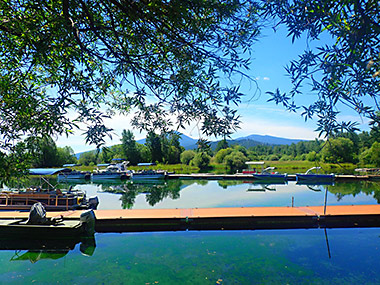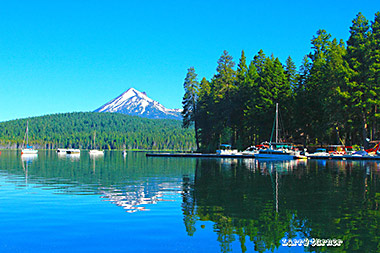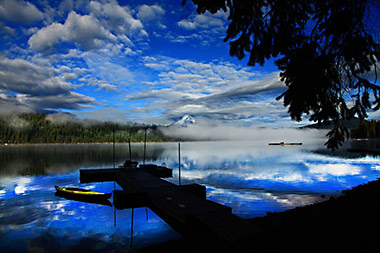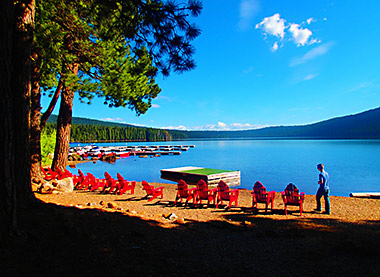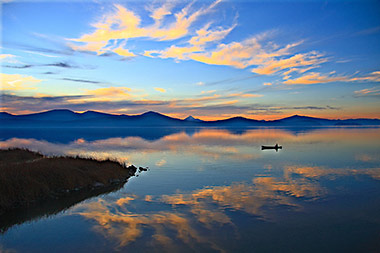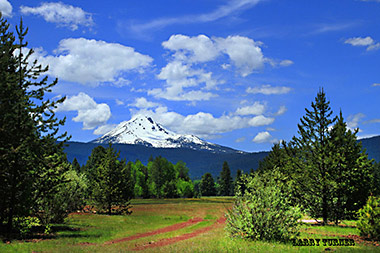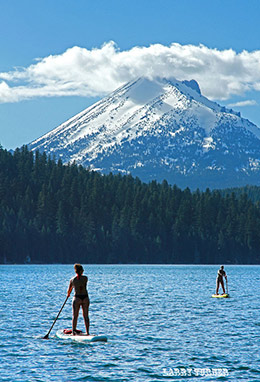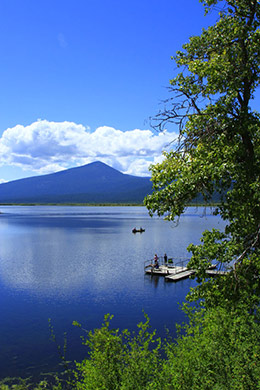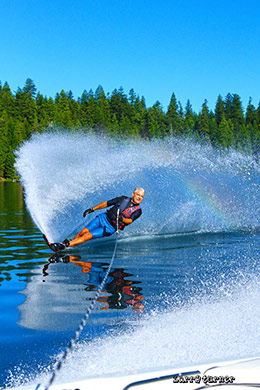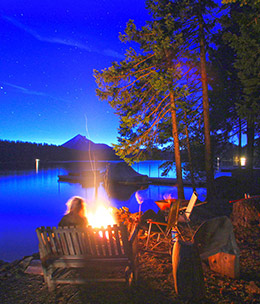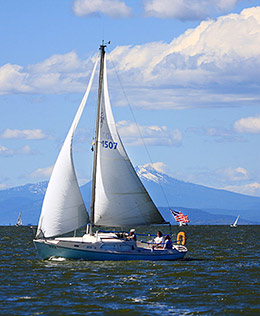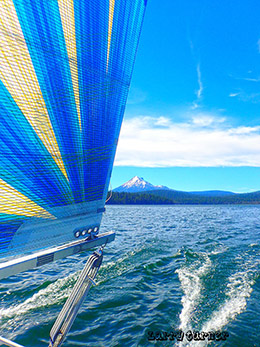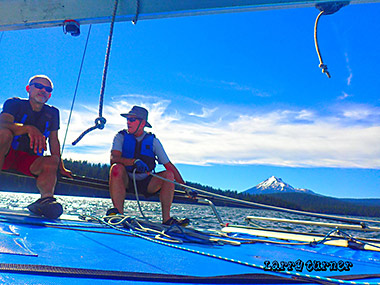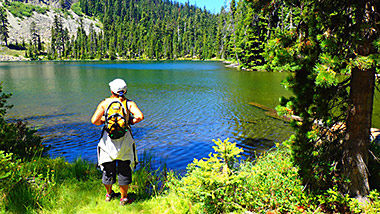 Klamath County is often referred to as the Land of the Lakes. Picturesque Mount McLoughlin is framed beautifully from my writing table. There are many lakes and all have their enticements. Lake of the Woods is noted for fishing, water sports including sailing, great camping, biking/hiking and resort lodging (www.lakeofthewoodsresort.com). Weekends are very busy during the summer months but the weekdays are quiet and pleasant. I often bike around the lake every day on both paved and dirt roads/trails. There are bike trails to other nearby lakes, too.
Down the road from Lake of the Woods is Rocky Point, a charming hamlet along Upper Klamath Lake. Lodging and rv/camping facilities are available here at Rocky Point Resort and Harriman Springs Resort and Marina (www.harrimansprings.com). Klamath Lake is known for its large rainbow trout and also a plethora of canoe/kayak trails.
Rocky Point is also home of Oregon's longest zipline, Crater Lake Zipline (www.craterlakezipline.com). There are nine ziplines covering a mile and a half of cable. Though I haven't done it, it is on my bucket list for this summer. Yahoo!
Sky Lakes Wilderness Area and Mountain Lakes Wilderness Area are offering great adventures for the hiker and backcountry horse rider.
REFUGES, MONUMENT AND SOUTH COUNTY TOWNS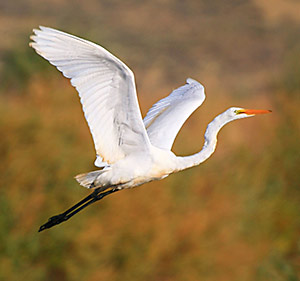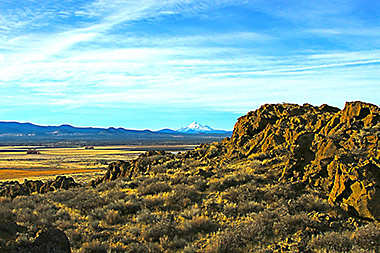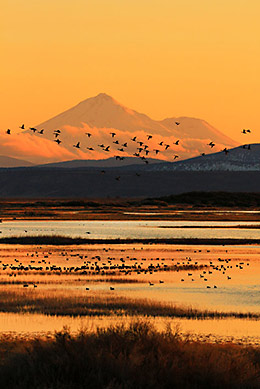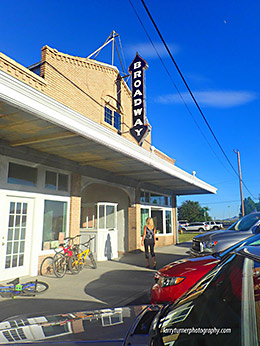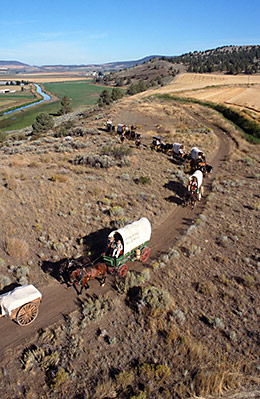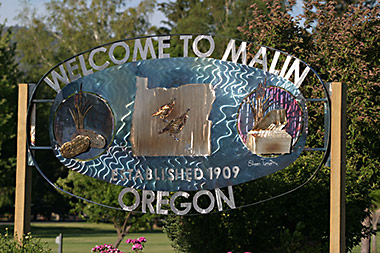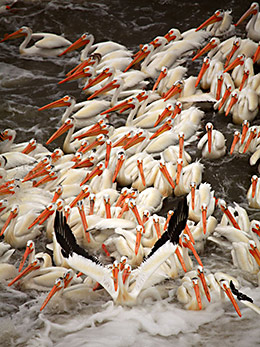 The Heart of the Pacific Flyway is south of Klamath Falls on the Oregon-California border, and offers birdwatchers and photographers plenty of sightings. Lower Klamath National Wildlife Refuge is the nation's first waterfowl refuge, established in 1908. Nearby is Tulelake National Wildlife Refuge and south of that Lava Beds National Monument (https://en.wikipedia.org/wiki/Lava_Beds_National_Monument). Geographically and technically, this is California, but this is part of our regional area, bordering Klamath County. Spring and autumn when the migrations are in progress are the best times for viewing lots of birdlife. The summer months afford plenty of sightings as well, such as white pelicans, sandhill cranes, white-faced ibis, Canada geese, egrets, herons, a variety of ducks and shore birds.
Take a day trip and drive to the refuges and monument. From Klamath Falls, you can hit Lower Klamath first, then Tulelake and follow Hill Road to the Lava Beds. If you're extra ambitious, exit the Lava Beds and go to Petroglyph Point where you can view large panels of Native American rock art. You can slip back across the border into Oregon and travel to my hometown of Malin where there is an rv park and camping available (www.cityofmalin.org; www.ruralklamathconnect.org) in our city park, adjacent to our local swimming pool. You can mosey your way back to Klamath Falls via Merrill or take a side trip to the beautiful little town of Bonanza, while traveling through charming farm valleys and countryside.
NORTH AND EAST KLAMATH COUNTY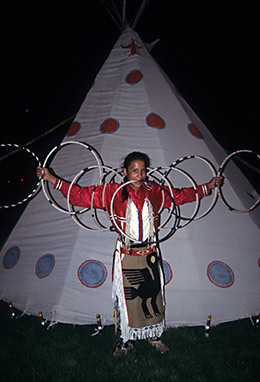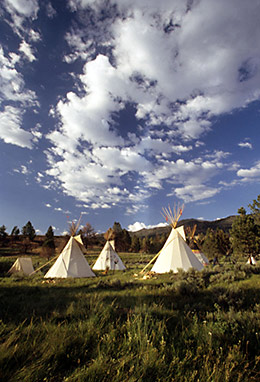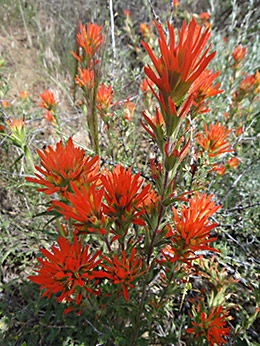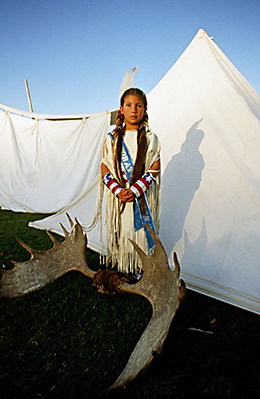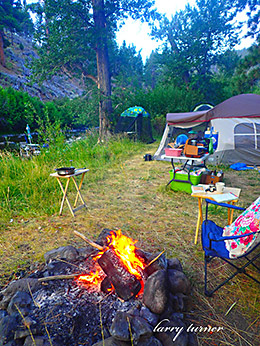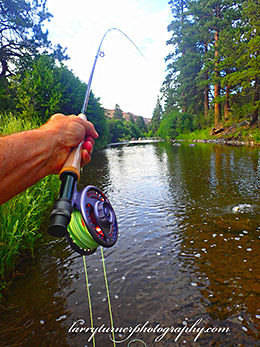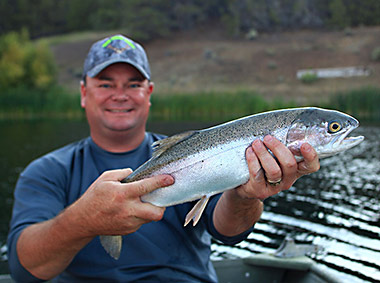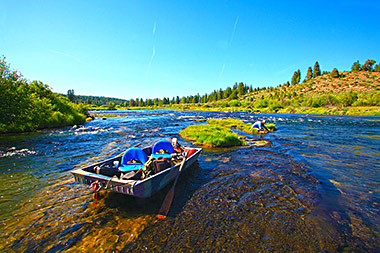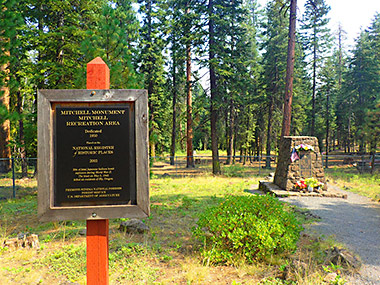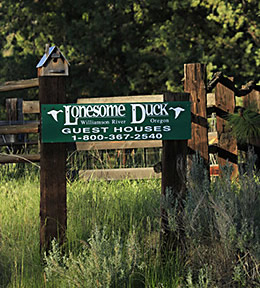 East Klamath County has wide-open spaces and plenty of mountains. Outside the tiny town of Bly is the Gearhart Mountain Wilderness, seldom visited by adventure tourists. I've hiked to the 8,364 feet top of Gearhart Mountain where sweeping views revealed vistas as far as the eyes could see. I've trekked up Dairy Creek through high mountain meadow fields of wildflowers to its source, just below Gearhart Mountain. I remember all of the little brooks and springs—banks laden with summer wildflowers—coming together to form Dairy Creek's beginning. The little creek is filled with tiny, tasty brook trout that easily go to a fly such as a black gnat, mosquito or the royal coachman.
Not too far away is the Wild and Scenic North Fork of the Sprague River. As a young man with my father, I fished this beautiful little river and its sister the South Fork, just outside of Bly. My brother, his son and grandson fished the South Fork this very day of my writing this piece. They had called me and asked for directions as time and their memory had been far separated from this remote land where we had spent part of our childhood.
One can follow the Sprague River from Bly to the hamlet of Sprague River, then on to Chiloquin, the center of the Klamath Indian Reservation. The Sprague has some great fishing, as does the famous Williamson that runs through Chiloquin. The noted hexagenia fly hatch occurs in early July every year.
North of Chiloquin one travels beside the Klamath Marsh to Chemult. Outside Chemult is a wonderful camping and fishing lake: Miller. And above it Crescent and Odell Lake which borders Lane County. Odell Lake is a great place to camp, rv, lodge (www.odelllakeresort.com) and to fish for large mackinaws. Hiking and biking trails are abundant here, too. Both lakes are stunningly beautiful in the summer. Trapper Creek—which runs into Odell—is fascinating in autumn as the kokanee (sockeye salmon) turn bright red and run up to spawn. I love photographing them in this bright, waning stage of their lives.
Important Information: