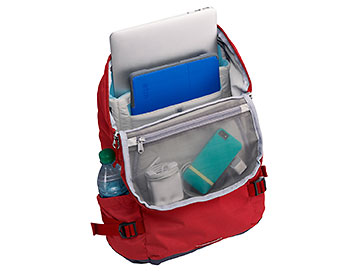 stm Drifter backpack
Stm 15" laptop drifter backpack, SKU: stm-111-037 $139.95 USD www.stmbags.com
Press releases and product descriptions are written by savvy PR pros in order to persuade customers to buy their wares. We all know the gift of exaggeration is golden in that world. But, darn, if the corporate patter for the stm drifter backpack www.stmbags.com doesn't ring so true, I could've written it myself. Here's their patter and I couldn't agree with it more:
"The drifter pack is like your favourite pair of cargo pants; easy to wear, pockets in all the right places and comfortable to boot."
That comfortable part is what really stands out. Most backpacks have lots of pockets, zippers, compartments, loops, straps, etc., to accommodate all your stuff. But most backpacks are just downright lumpy, bulky, heavy and highly uncomfortable once they're full of all your stuff.
| | | | | |
| --- | --- | --- | --- | --- |
| | | | | |
| | stm Drifter backpack | | stm Drifter backpack | |
Climb into your stm drifter backpack and you feel like you're slipping into a custom-made, tailored-just-for-you, bespoke vest. Weight is evenly distributed, the padding prevents irritating binding and there's room for documents, gym gear, lunch, umbrella, water bottle and your laptop. The specs state that a 15" laptop will easily fit, but my 17" MacBook Pro slides snugly into the padded slot just as well.
These are just some of the stm drifter backpack features:
• Top load main compartment with padded laptop cell holds up to 17" screen
• Large main packing space for books, shoes, gear, clothing, etc.
• Reflective light loop on outside for night visibility
• Tablet pocket with cord and battery storage space
• Water bottle pockets with straps
• Padded shoulder straps, sternum strap to stabilize loaded pack
• Quick grab haul loop on top of pack
• 3D foam mesh back panel with air-flow channel for a comfortable carry in hot climates
• Tuck-away rain cover in a bottom pocket for the unexpected downpour
• Luggage pass-through strap to secure pack to the handle of your wheeled bag
• See-through inside zippered pocket for cosmetics or all that other small stuff
• FREE RewardTag TM for tracking recovery if pack is lost
Specs:

• Outer dimensions: 18.5 x 12 x 7.5 in
• Weight: 2.3 lbs
• Capacity: 1094.4 cu in
• Colors: graphite, red, olive
• Main materials – Cottna 320D/640D Water Resistant Poly
• Lining: 200g Polyester with Brushed Nylex

Like a good table wine, the drifter goes well with everything. Haul all your athletic gear to the club while riding your bike, load it with groceries at the market, take it on mountain hikes, pack it to class at the U or make it your go-to bag for traveling anywhere in the world.

It will be your best travel companion. It protects your electronic devices as well as your documents, lunch, toiletries, jewelry and even your brolly. There's a pocket for everything. The drifter is the last backpack you'll ever need. And if it rains, no danger. Just zip out its raincoat.

FYI, stm also makes a snazzier version of the drifter backpack - the drifter energy 15" laptop backpack SKU: stm-111-037PZ-16 for $239.95.

I haven't used this model, and it is not pictured, but if it's anything as comfortable, convenient and easy to use as the original drifter, the addition of an integrated energy supply can only be an improvement.

This energy model has a built-in power source for an extra 15-20 hours of phone time and additional power for your laptop. Its LED dashboard has easy access for a plug-in point.

(Link to three short videos on the Drifter backpack.)

https://www.stmbags.com/laptop-bags/drifter-laptop-backpack.html

stm Drifter backpack