Maybe the mapmakers should consider changing the name of Cataract Canyon to something more appropriate, like Cardiac Canyon.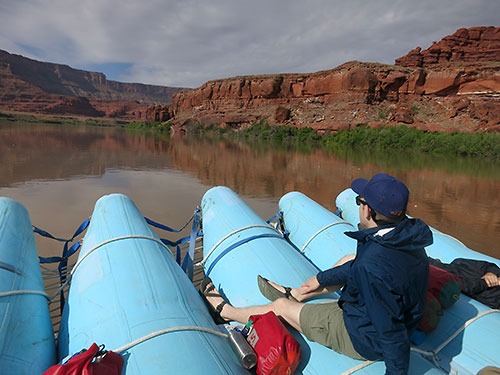 Chilling before the rapids
For most of two days the rapids along the Cataract Canyon section of the Colorado River had been mellow and, more often, non-existent. On day three we'd been assured, or warned, that things would change.
Wow! Did they ever. I'd been talked into riding on the front center tube of the J-boat, the style of whitewater raft used by our outfitter, Western Expeditions, through the hurly-burly section of rapids that feature two reputed monsters–Big Drop 2 and 3. Big Drop 1 was more than a drop in the bucket, with waves that towered over our raft. I felt like a mouse being attacked by a famished eagle.
"What are you going to write about?" Brad, a Navy pilot taking a diversion while driving from his previous base in Florida to his new assignment in San Diego, had asked a night earlier. "Just have to wait and see what happens," I'd replied. After Big Drop 2 I had my hook.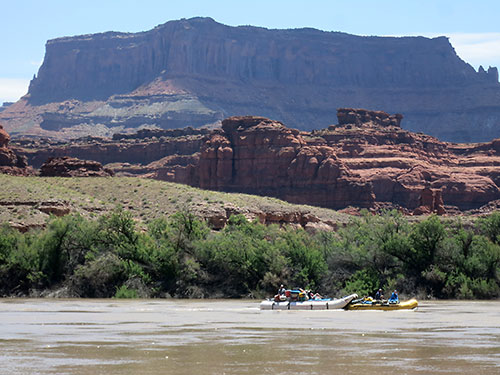 Canyonlands National Park from river level
The details are sketchy. Like gaping mouths, each waiting to take a gulping bite, the towering waves seemed to lull us in, then eagerly snap away. Earlier, I'd seen the person on the right front tube towering high above those of us on the raft's left side. The long rubber rafts literally flex and bend–like, I imagined, a nervous penitent supplicating in hopes to qualify for a heavenly afterlife.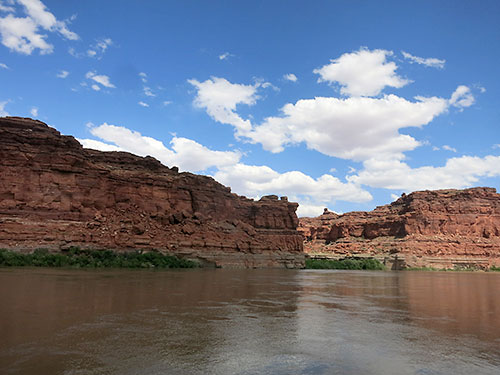 Entering the canyon
The feeling was also like being in a washing machine, with water exploding in every direction, simultaneously flooding in and draining out. Like the others sitting on the raft's tubes, I had one hand cupped under the front rope, squeezed tight, and the other behind with a death grip on a second rope. Oops. Didn't work. Suddenly I was being tossed like a rag doll, a bounding, twirling dervish. I remember feeling one of my sandals slide off, hearing alarmed shouts, and realizing that Daniel, one of the guides, was partially sitting on me, asking if I was OK. Yep. There's a cowboy adage, "It's not how many times you get bucked off, it's how many times you saddle back up." So I cowboyed up and reclaimed my front and center position for Big Drop 3. During my years paddling a whitewater canoe I have experienced massive rapids on the Rogue, Salmon and other rivers. But none matched the size and ferocity of Big Drops 2 and 3. Even the "gentler" rapids that followed—Little Niagara, Satan's Gate and The Claw—were gloriously chaotic paddy-whackers. I'm relatively small and lightweight. The J-raft comes without places to secure feet. My feet bounded up and down and side-to-side while my hands and the ropes became one.
Suck Rubber!!! is a 30-minute video of the treacherous bucking bronco of a ride over Big Drops 1, 2 and 3
in the Cataract Canyon section of the Colorado River.
| | | | | |
| --- | --- | --- | --- | --- |
| | | | | |
| | Riding the raft | | Loaded and ready to go | |
This adventure was wild beyond imagination, but Cataract Canyon isn't always like this. The river was at its highest flows during our trip in late May. Later in the season, the water volume and velocity eases and the Cataract Canyon section becomes doable for families. Instead of big ginormous water, the challenge becomes a simpler maneuvering through passages exposed by lower water volumes.
| | | | | |
| --- | --- | --- | --- | --- |
| | | | | |
| | Fascinating geology | | Afternoon shadows | |
The Big Drop rapids and others were adrenaline-inducing, but Cataract Canyon offers plentiful opportunities to savor the scenery. And what remarkable scenery it is. The Colorado gouges through geologic history, with layer upon layer of sandstone that date back hundreds of thousands and even millions of years. Some are layers neatly stacked. But others are twisted, punctured and gnarled—some like solidified exposed innards, others lined up like bowling pins or punched with uniform cavities. Shortly after the put-in near Moab, the mostly-lazy river slips under landmarks like Deadhorse Point, the Island in the Sky and then slithers past The Doll House, a series of candy-colored spires and towers.
| | | | | |
| --- | --- | --- | --- | --- |
| | | | | |
| | Trail to the ruins  | | Lathrop grainary | |
| | | | | |
| --- | --- | --- | --- | --- |
| | | | | |
| | Ancient pictographs | | Squeezing through | |
| | | | | |
| --- | --- | --- | --- | --- |
| | | | | |
| | Hiking Dark Canyon | | Waterfall stop | |
We stopped daily for optional hikes. At Lathrop Ruins, guide Daniel and Taylor, the raft's captain, led us along a ledge with granaries, places where prehistoric Indians hid food and seeds, and showed us pictographs - images painted on the sandstone rock walls. At The Loop, where the river doubles back on itself, most of the 15 passengers climbed up and over a 700-foot cliff from near river mile 5, then re-boarded the raft near river mile 8. At Dark Canyon, Taylor guided the raft upstream to a squeeze, where Daniel led several of us upstream to a small waterfall that pours into a clear pool.
| | | | | |
| --- | --- | --- | --- | --- |
| | | | | |
| | Colorful camp | | Riverside camping | |
| | | | | |
| --- | --- | --- | --- | --- |
| | | | | |
| | Morning pancakes | | Fish fry | |
Yummy appetizers
We ate well. French toast, egg scrambles, orange juice, coffee and tea for breakfast. Sandwiches and tacos for lunch. And barbecued chicken, salmon and steak with potatoes, vegetables, salads and other delectable concoctions for dinner.
Returning to Moab was another type of heart-pounding experience. From Hite Marina, our take-out point, a short bus ride took us to a landing strip and a trio of small airplanes for the flight back to Moab. We flew over our river route, including the confluence of the Green and Colorado, and The Maze and The Needles sections of Canyonlands.
Rafters and resident view camp from the ridge
Cataract, not so incidentally, has two definitions. One refers to blurred eyesight, the other to large waterfalls or rapids. On the Cataract Canyon section of the Colorado River, both meanings apply. Entering the rapids it's easy to believe that something is wrong with your vision—because, really, they can't be That Big! When water levels are at their highest, Cataract Canyon is not for the faint of heart. It's a place where rafters rapidly learn that seeing is believing.
Desert flowers
When You Go
For information about rafting Cataract Canyon and many other river destinations, contact Western River Expeditions at www.westernriver.com or call 866-904-1160. Other rivers include the Colorado through the Grand Canyon in Arizona, Middle Fork and Main Salmon in Idaho, Rogue in Oregon and Pacuare in Costa Rica.
About the Author
Lee Juillerat is a semi-retired writer-photographer who lives in Southern Oregon. He is a frequent contributor to several regional magazines and newspapers. Recent stories have appeared in Southern Oregon Magazine, The AG Mag, Alaska-Horizon Airlines in-flight magazines, among others. He is the author of books about national parks, including most recently "Lava Beds National Monument: Images of America. He can be contacted at 337lee337@charter.net.