Not so busy times on the Bizz.
Much of the year the Bizz Johnson National Recreation Trail is a "Bizzy" place. The 25.4-mile multi-use trail between the far Northern California cities of Westwood and Susanville is used by equestrians, walkers and runners. It also hosts the annual Bizz Johnson Marathon, a Boston Marathon qualifier. But it's especially popular with mountain bikers.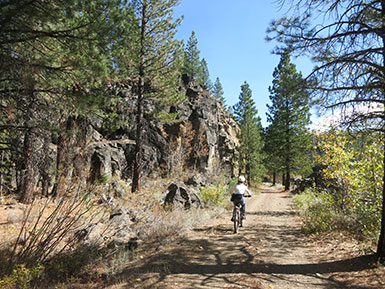 Fall colors along the Bizz
During the fall, especially in mid-week, people traveling the entire route are likely to travel alone, except near Susanville, where townspeople often get in after-work rides on the stunning, beautiful 14-mile out-and-back section between Devils Corral and town.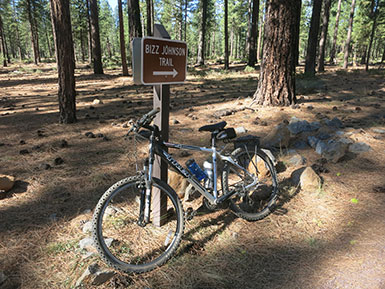 Rest before the ride
Our ride began at Mason Station, just north of Westwood, where the Bizz follows the former Southern Pacific Railroad's Fernley and Lassen branch. The branch was part of a line once intended to connect Portland with San Diego through Klamath Falls in Southern Oregon and Susanville. The rail line was built by SP to haul timber and lumber from the Red River Lumber Company's Big Mill in Westwood. The mill, then one of the nation's most modern, opened in 1912, a year before the rail line reached Susanville from Fernley, Nevada, and two years before it reached Westwood.
SP operated passenger, freight and logging trains in the early 1900s. Eventually, passenger service ended and, following ownership changes and the increase in log hauling on highways, the line was abandoned in 1978. Thanks to federal legislation that allows abandoned rail lines to be "banked" for recreational corridors, the Bizz Johnson Trail was designated by Congress to honor former California Rep. Harold T. "Bizz" Johnson.
| | | | | | |
| --- | --- | --- | --- | --- | --- |
| | | | | | |
| | | Tall trees line the Bizz | | Westwood Junction | |
The first seven miles of the trail from Mason Station to Westwood Junction mostly heads north through a pine forest past former logging camps at Facht and Lasco. Our ride was made unusual because of a controlled burn that blackened portions of the trail. Thanks to fire crews that took pity on us, we flew an especially dense smoke section with our bikes loaded aboard a Kawasaki Mule.
It's at Westwood Junction where the Bizz gets interesting. The seven miles from Mason Station is slightly uphill - the trail's grade is a gentle 3 percent - rising to an elevation of 5,600 feet. From Westwood Junction, the trail is mostly downhill, a gradual drop of 1,400 feet. Angling east from Westwood Junction, the Bizz mostly parallels the Susan River, often playing peek-a-boo with the water for seven miles to the Goumaz Trailhead - the site of an unimproved Forest Service campground.
| | | | | |
| --- | --- | --- | --- | --- |
| | | | | |
| | Spectacular scenery | | Falls color along the trail | |
East of Goumaz, the scenery becomes spectacular, with fall providing colorful displays of aspens and cottonwoods. It's along the Susan River Canyon that the geology turns fascinating, a mix of high desert, riparian and higher elevation conifner forest habitats. Jeff Fontana, the Bureau of Land Management's Susanville-based spokesman, said the visual mish-mash of geology results because the region is where the southern end of the Cascades, northern branch of the Sierra Nevadas, Modoc Plateau and Great Basin converge.
It's also a place of diverse plant and animal life. We saw garter snakes, juncos, chickadees, jackrabbits, deer and, most comically enthralling, a large marmot propped on a rocky perch casually devouring acorns. Fontana said he and others have occasionally spotted foxes, bobcats, mountain lions and bears, along with raptors, kingfishers and a variety of waterfowl. Strategically placed wooden benches, mostly Boy Scout projects, provide restful stations to savor the surroundings.
The trail follows the Susan River
"The perfume of sun-heated Ponderosa pine needles permeating the air, lungs filled to capacity with the addictive, relaxing scene, transporting me back to my childhood summers of carefree camping trips and the magic of living in the forest for a few days, before it was back to town life," a biking companion wrote of her transforming experience.
It was all that, and more. Shockingly red aspens and cottonwoods flanked the Susan River. Pedaling through the canyon, we were surrounded by towering basalt walls, their irregular ridges often irregularly flaked like badly chipped teeth.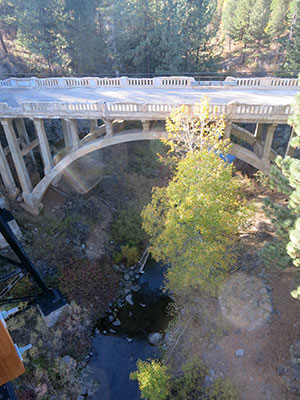 Devil's Corral Trestle Bridge
True magic began at the Devil's Corral Trestle Bridge. It was restored in 2010 after a 2000 wildfire burned 900 feet of the bridge's east end. A short distance from the bridge, the trail dips under Highway 36, and reaches the Devils Corral Trailhead and Campground. The final seven miles to Susanville and its historic railroad depot is pure delight, with two tunnels, most of the trail's 12 bridges and eye-candy sights of the river, canyon walls and northern Sierra Nevada range.
| | | | | |
| --- | --- | --- | --- | --- |
| | | | | |
| | Entering a tunnel | | Light in the tunnel | |
During those final miles we passed, and were passed by, mountain bikers (some younger and older than I and my fellow bikers), and people walking dogs.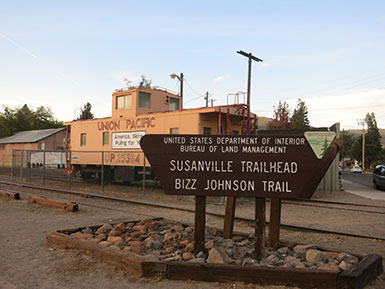 Susanville Trailhead
Our ride ended at the Susanville Historical Railroad Depot, and Lassen Land & Trails Trust Office. It's not necessary to ride the entire 25.4 miles of the Biz. Depending on time, ability and transportation, rides from Westwood Junction, Goumaz and, especially, Devils Corral, offer the best scenery.
The Bizz isn't a one season wonder. During winter it's a Mecca for cross country skiers.
***
There's more to do in Susanville than just the Bizz Johnson Trail. For those wanting a more challenging mountain bike experience, the new South Side Trail offers single-track terrain that variously delves closer to the Susan River or climbs to scenic overlooks.
Morning light on the South Side Trail
Another 28 miles of non-motorized, multi-use trails for mountain bikers, bird watchers, dog walkers, hikers, runners and equestrians is available on the 1,100-acre Susanville Ranch Park not far from downtown Susanville. The terrain varies from gentle grades for walkers and mountain bikers on southern trails along meadows to steep, challenging areas in the northern section. Maps and information are available from the Lassen County Public Works, 530-251-8288, from 8 a.m. to 5 p.m. Monday through Friday, or from www.susanvilleranchandpark.com.
Downtown Susanville offers its own delights. Eight murals in uptown Susanville help explain the town's and region's history. Topics featured include a picturesque ranching mural, colorful "Tribute to the Women of Lassen County," appropriately black and white "Mr. Eastman" honoring the famous photographer, "Centennial Mural" and, inside the Pioneer Saloon-Lassen Ale Works, a locals-favorite eatery and waterhole, the wall-bending "History of Lassen."
Other recommended stops include the informative Lassen Historical Museum and adjacent Roop's Fort and Memorial Park. Roop's Fort was built in 1854 as a trading post. It boasts a complex history, from hosting wagon trains traveling to gold fields in the 1850s and 60s to serving as Fort Defiance during the Sagebrush War of 1863. The compact museum offers a fascinating array of historic artifacts and new displays.
If You Go
Information about the Bizz Johnson National Recreation Trail is available from the Lassen Land & Trails Trust, PO Box 1461, Susanville, CA 96130, www.lassenlandandtrailstrust.org, 530-257-3253; Bureau of Land Management, 2950 Riverside Drive, Susanville, CA, www.blm.gov/ca/eaglelake, 530-257-0456, and Lassen National Forest Eagle Lake Ranger Station, 477-050 Eagle Lake Road, Susanville, CA, www.fs.usda.gov/recarea/lassen/recreation/, 530-257-4188.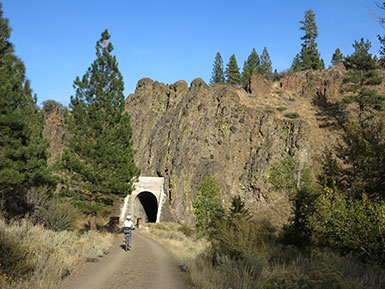 Tunnel along the Bizz
One way rides are possible on the Bizz Johnson National Recreation Trail by using the Lassen Rural Bus. From Susanville, the West County Commuter Route offers stops at the Devils Corral seven miles west and Westwood Mondays through Saturdays on buses equipped with bike rakes. Morning, mid-day and evening trips are offered. For information, visit the website at www.lassentransportation.org/a/Lassen-Rural-Bus-LBR.php.
Special shuttles for groups of six or more can be arranged by calling Lassen Land & Trails Trust as 530-257-3252.
About the author
Lee Juillerat is a semi-retired writer-photographer. In addition to doing stories for newspapers in Southern Oregon, he is a frequent contributor to several magazines, author or co-author of several books about Crater Lake National Park, and most recently published a book about Lava Beds National Monument. He has written about his travels and adventures on five continents for High On Adventure for more than 30 years. Juillerat can be contacted at 337l33337@charter.net.