Winter is here, as is the ski season, along with travel to ski resorts. So this is a good time to talk about assorted ski and travel gear.
A huge segment of the people on skis these days are boomers. 
Today, there's ski equipment aimed at men, at women, at kids, at experts, at beginners. And also, some seriously nice gear that can best be described as "senior friendly."
How? 
To answer that question we talked to Kevin Dreher, ski shop manager at Gerk's, a ski chain in western Washington state. (And if you happen to be one of those seniors, visit www.seniorsskiing.com
SKIS
Senior-friendly skis with narrow tails
A lot of older skiers grew up skiing on skinny skis with their feet close together (picture Stein Erickson), Dreher said. 
For some, learning to break that habit has been hard. Still, modern tech in the form of shaped skis has made the sport so much easier. 
So enter the compromise, the pin tail shaped ski.
It still has a wide shovel and a more narrow waist. But the tail tapers, so it's not quite so wide, not so much an hourglass shape.
This, said Dreher, does two things...allows a skier to keep his/her feet closer together and also, if they are tired, to slightly skid the turn. But it also has all the easy skiing benefits of shaped ski tech.
It's not brand new technology but seems to be getting more popular lately, perhaps as a segment of the ski population has gotten older.//www.seniorsskiing.com
Dreher mentioned two brands in his shop that have tapered tails, Salomon and Atomic. Salomon's QST 85 and 92 run $400 and $500 respectively. The more expensive ski is aimed at a more aggressive skier.
Atomic's Vantage also has two models, the 85 and 95, again $400 and $500 retail.
But none of these are aimed at highest end skiers. For experts who still want a bit of taper, he suggested the K2 Pinnacle 88, $600 retail.    
BOOTS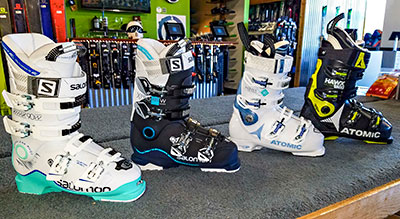 Examples of boots that allow not only the liners but also the shells to be custom heat fitted.
Now on to boots. 
Once again, amazing tech is available. Custom liners, that are heated to fit the foot, have been around a while. But now there are also custom shells that can be heated and shaped to your foot. Virtually all the higher end boots have this. The exact model in a specific brand depends on your basic foot shape - wide or narrow, high arch or low. And again, gone are the days when you had to go to a specific boot brand if your foot was, say, wide or narrow.
The Salomon boot, for instance, has the Xpro for wider feet, the Xmax for narrower feet.
Boots aren't cheap but they may be the single most important piece of ski gear you ever buy. Dreher said the $400 boots are his most popular and called them "a lot of boot for the price." But he added these are boots that will take you through advanced intermediate. For experts, it really is necessary to move up to a $500 or $600 boot.
So how long will that boot, which may cost more than your first car, last?
Figure 150 days of skiing, Dreher said. So if you are like most folks and average only 20-30 days a year...a long time. And you can prolong this, he added, by thoroughly drying your liners. 
No, not everyone has the hand strength to wrench their liners out. And for them, there's a wide range of wand style boot heaters.  
SKI BAGS
Then, we get to my favorite...the heated (yes, heated) boot bag.
Don't you just love driving hours to the hill and then struggling into stone cold boots? Now, there's a boot bag with a cord that works on either AC (house) current or DC (your car). 
One version of this bag is made by "Hot Gear," but appears to be sold as Zip Fit through Amazon.com for about $200. Another version, Transpack, is sold for about $180 through Amazon and REI. 
Finally, among the senior friendly bits of gear are boot warmers. The bad old days when these things hooked onto the back of your boot where you couldn't reach the controls but the chair lift sure could (good-bye battery), are gone. They now attach on the side of the boot. 
But honestly, you can also get those disposable foot warmer packs and do as the patrollers do, put them ON TOP of your toes instead of under them. Take it from one with chronically cold toes, that works.      
AND FOR YOUR NON SKI STUFF  
EC BC HERCULES LAPTOP BACKPACK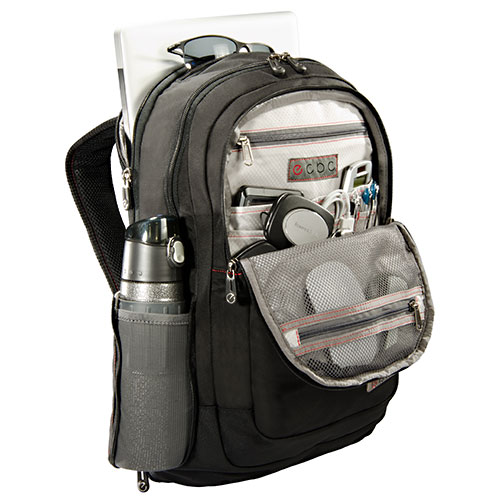 Backpack from ECBC stuffed with travel gear.
The bag is TSA approved so it zips open to lie flat
meaning the laptop doesn't have to be removed in the USA.
Photo by ECBC.
I have to admit, I am a pocket freak. The more the better. I once owned a ski jacket with 21 pockets and, honestly, I did tend to lose things in it. I once found a 7-year-old trail map from Switzerland tucked far, far away in one of those elusive pockets.
But with a backpack, it's safe to say, lots of pockets mean lots of seriously usable places to stash things.
The Hercules laptop backpack from ecbc has, yes, 21 assorted pockets and nooks for stashing.
And even better, it's TSA approved, which means (in the US, at any rate), you don't have to take out the laptop (just zip open the pack and lay it flat on the scanner belt) And in another country, it's easy enough to slip the laptop out. The downside is if you do open the bag to lay it flat, all those magazines and papers you stuffed inside will have to go somewhere else, though there IS a second pocket for some of it.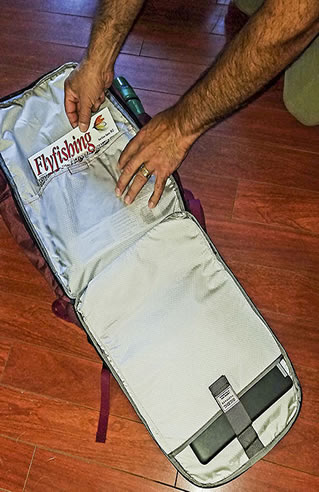 ECBC opened for airport scanner
So here's how it went for me. 
Starting with the laptop pocket: It's designed for a beefy 17 inch computer but if you have a micro thin 13 incher like me, there's a "modular insert" to take up the extra space. I pulled that out immediately because I prefer to have my laptop securely seated all the way down in the pocket. Even with the extra room, there's enough padding to keep it safe.
And speaking of pockets...there are actually more than I need. But, as with all spare spaces, I'm sure I will soon fill them all. There are two easily accessed front outside pockets for stuff you need in a hurry (say, travel itinerary, boarding pass) and more inside with zips and velcro closures. The two side pockets expand to hold a water bottle and zip shut when you just want to stuff in other things. The one thing I would have liked is a thin vertical pocket on the front for an instantly accessible pen.
The fit: A female friend said the 2.5 inch wide straps were a bit wide for her. Not for me. But I'm not exactly small. I started to criticize the chest strap for being placed too high...until I discovered it's adjustable. Yay designers. And at 2.7 pounds empty, the pack is way lighter than my briefcase.
| | | | | |
| --- | --- | --- | --- | --- |
| | | | | |
| | Backpack with the front pocket loaded | | Backpack on the go | |
The one thing I would have added is a waist strap to take a bit of the weight off my shoulders. ecbc's Lance Executive Daypack has a waist strap but it's also a much larger bag (28 liter capacity vs 20) and for a women, even a larger one like me, that would be overkill.
The bag comes in five colors: Black, blue, beige, green and an understated red. I went with the red, figuring mine wouldn't disappear in the welter of dark-hued packs.
The bag itself is made of waterproof fabric, a truly useful feature. 
Am I FINALLY giving up my tattered, so-out-of-date briefcase?     Well....yes. I think so.       
ecbc - https://www.ec-bc.com/       
Hercules Laptop Backpack - http://www.ec-bc.com/hercules-laptop-backpack.html 
For more information on skiing for seniors www.seniorsskiing.com