Holidays are approaching and we all know that adventurers and travelers appreciate knowing about and especially receiving new gear and gifts. We'll share with you a few new products out there on the market that can make outdoor adventure a lot more comfortable, safe and convenient.
Zakees Turn Signal Gloves ($90-$100) www.zackees.com
Bike riders are all too aware of the dangers and difficulties of riding on the same streets with cars, but Zakees turn signal gloves give the biker an advantage on the roads with their battery-powered directional lights. These gloves have lighted arrows that are activated by simply pressing the thumb and index finger together. Zakees are especially crucial in the dark. Both fingerless and full-glove models come with rechargeable coin cell batteries.
VIDEO - TURN SIGNAL BIKE GLOVES
Zakees turn signal gloves have signls on the backs of both gloves
and are great for visibility when turning left or right.
They can also be activated and seen in front while hands are on the bike handles.


FixnZip - zipper repair without tools, thread or needles (three sizes, $9.99) www.fixnzip.com
| | | | | |
| --- | --- | --- | --- | --- |
| | If you've ever had a zipper go on the fritz, especially if it happens to be your suitcase, sleeping bag or jacket while you're on vacation or not, you'll welcome this simple new gadget. Zipnfix, a tiny four-piece kit, slides over any broken zipper and replaces it as a new zipper. Whew! You can get your suitcase open (or closed), get that jacket or sleeping bag closed (or open) and then easily reuse the kit on another item. It repairs tooth and coil, metal and plastic zippers. | | | |
Since not all zippers are created equal, Zipnfix comes in different sizes.
Green Goo – first aid salve for dry skin, insect bites, cuts, sunburn and more (.70z $7.95, 1.82 oz $12.95) www.greengoohelps.com
Green Goo First Aid is an herbal formula that helps soothe and heal insect bites, cuts, scrapes, sunburns, chaffing, poison ivy and dry, cracked skin. It's a whole medicine chest in one small tin, a welcome relief to have tucked in your backpack or purse when you're traveling or always ready in your medicine cabinet at home.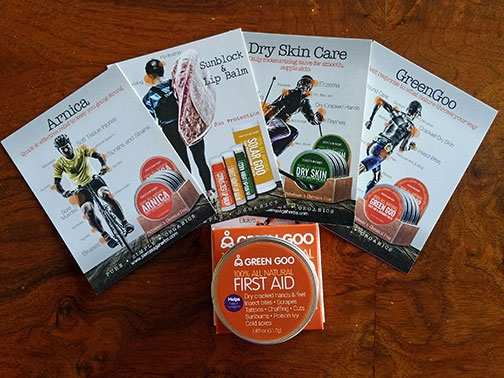 The Green Goo company makes other health prodcuts (pictured): Arnica, Sunblock & Lip Balm,
Dry Skin Care and their signature all-round salve, Green Goo.
Orange Screw - the "ultimate" ground anchor (small, $6, large, $12) www.orangescrew.com
Screw this multi-use tool into the ground to secure pets on their leashes, tie down RV awnings and hold tarps over boats, ATVs and firewood. This screw is a handy tool for outdoor use that is simple to use and has the bonus of being made of recycled materials and manufactured in the US.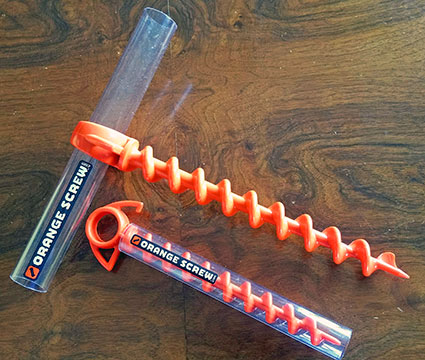 The Orange Screw company makes their all-puprose screw in two sizes.
The hard plastic packaging container slips off the screw shank
and through that hole in the top to form the perfect handle for turning.
Muscle and Joint Rub/Anti-Itch Cream ( $10.99, 2.5 oz/$10.99, 2.4 oz) www.earths-care.com
How to deal with those pesky pulled muscles, hamstrings, backs and necks! Especially when you're out of town and far from your favorite chiropractor. Earth's Care Muscle & Joint Rub temporarily soothes sore muscles, bruises, strains and sprains from minor injuries, sports activities and minor backache. It contains camphor and Arnica Montana as analgesics. Earth's Care Anti-Itch Cream, a combination of menthol and camphor, alleviates itching by desensitizing sensory nerves so the itch is temporarily suppressed. Menthol provides a cooling/warming effect while camphor soothes that itch. This small tube is always handy to pack in your backpack or carry-on.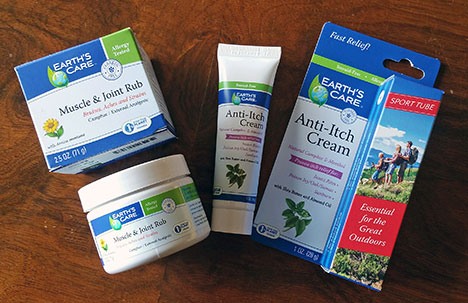 The Earth's Care mkaes other products as well. Check out their website.
Trail Crampon Pro ($80) and FreeSafe6 ($40) www.hillsound.com
Whether you're planning a major foray into the alpine or just a walk to the corner grocery store through an icy blizzard, Hillsound's crampons are the Cadillacs of all crampons. These pictured easy-on/easy-off ratchet buckles make fastening these crampons onto any hiking shoe or boot simple and truly easy. Well, maybe not high heels, but… From icy city pavements to your local trails, the redesigned FreeSteps6® (not pictured, but would be perfect on those pink runners) offers durable, ultra-light traction performance to those needing a simple anti-slip aid for outdoor activities. Utilizing high-quality stainless steel chains and spikes, the new FreeSteps6® is a solid choice to support your active life style.
Hillsound's FreeSteps6® are the ideal traction device for a variety of activities including city walking, light hiking, ice fishing and trail running. The minimalist spike design means that you can comfortably wear the FreeSteps6® for an extended time, even when standing on hard surfaces. For winter use, the 21 spikes provide grip on a wide range of terrain- from ice to packed snow.
The crampons pictured here (as well as the FreeSteps6) are both light and compact and, if you're traveling, will fit easily into your pack. The length and width are adjustable with an allen key (included). They have been tested in the Himalayas, but if you're just walking down an icy, snowy neighborhood street, the FreeSteps6 will keep you safe. Visit Hillsound's website for more details.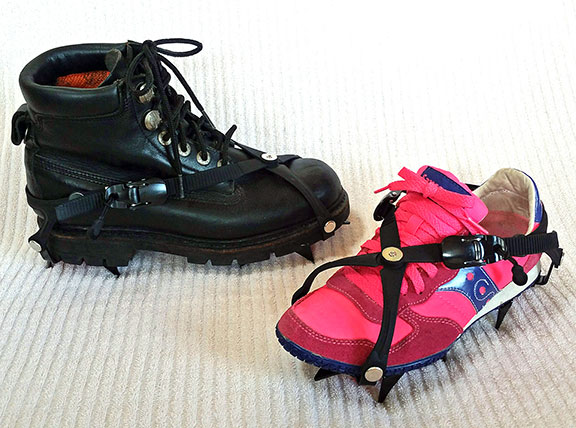 No need to buy different sizes in these Trail Crampon Pros.
One size fits all as the base platform slides back and forth to accommodate any foot gear
while the ratchet fastener on top snugs over the toe and instep and connects firmly to the heel strap.