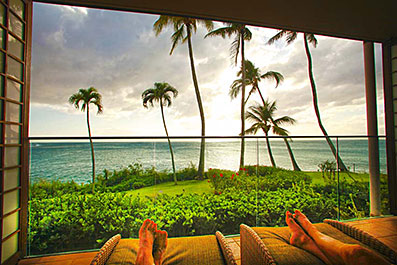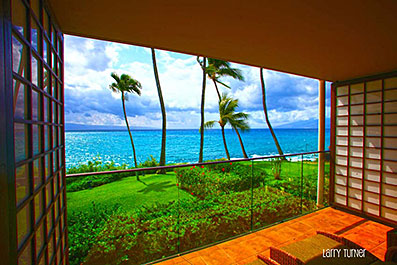 If there is a perfect world, it could be seen from my lanai at Napili Kai Beach Resort (www.napilikai.com) as I write these words in March 2016. The eternal blue Pacific is tepidly angry. Some record waves had recently visited the islands, attracting surfers from around the world. The palms sway in the twilight. The humpbacks are breaching, just two miles away. The dimming light reveals and conceals the islands of Lanai and Molokai.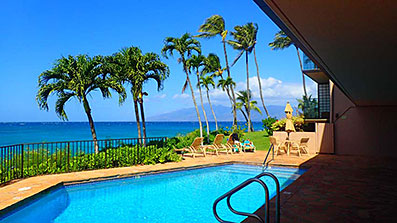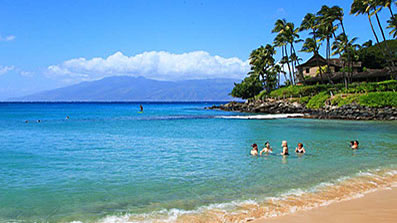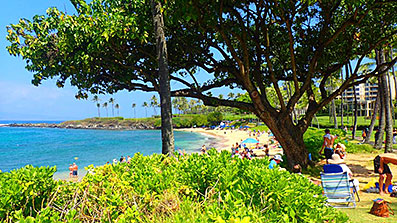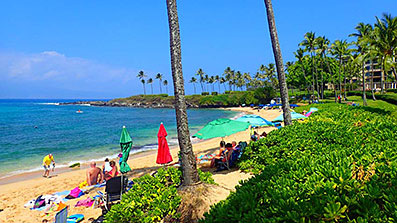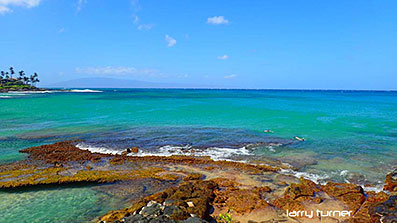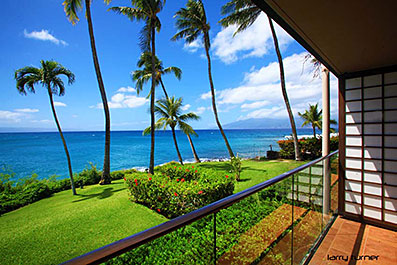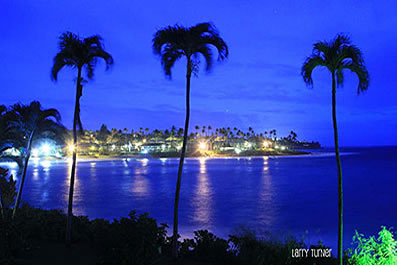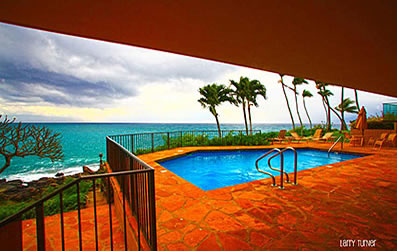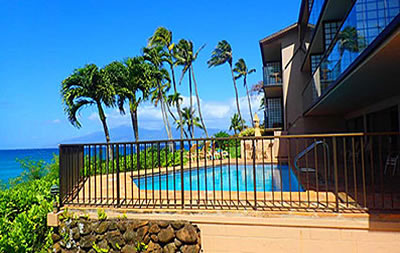 The beautifully swelling ocean and the lively, pounding surf is but 30 feet from the lanai. No sounds but the ocean crashing can be heard from my large lanai, with lounging chairs and tables on each side. The glass wind barrier is four feet high. My eye level is just above the glass, giving me definitive views of the restless sea. I am content and the world is perfect at the moment.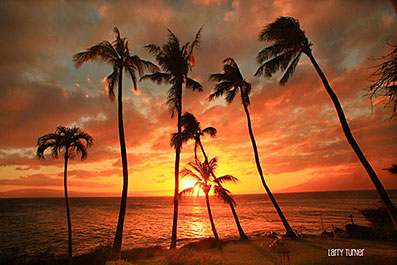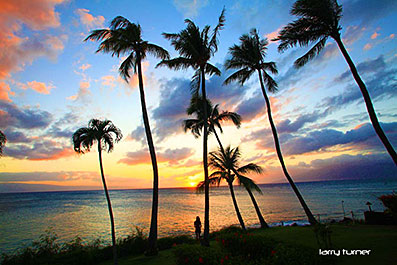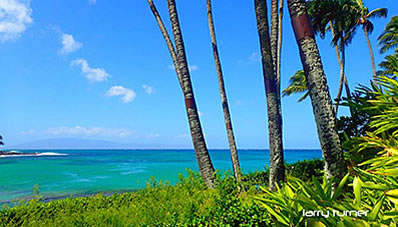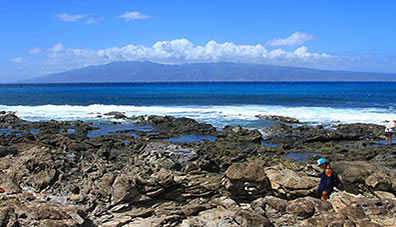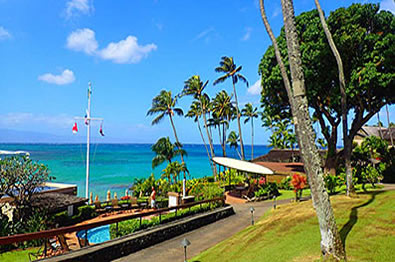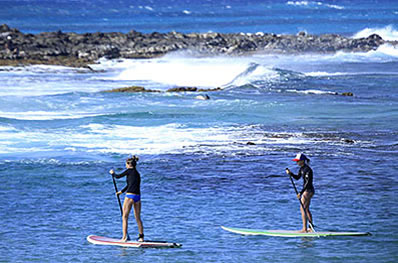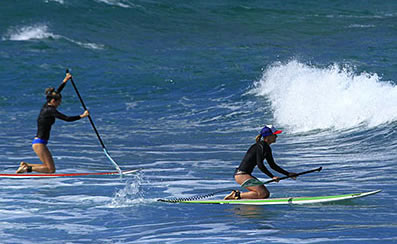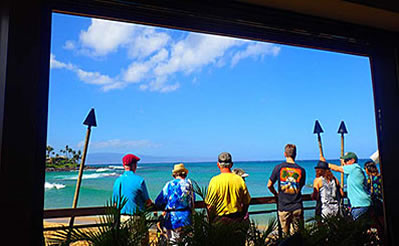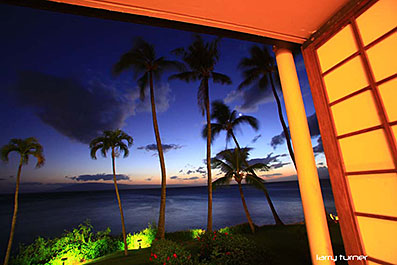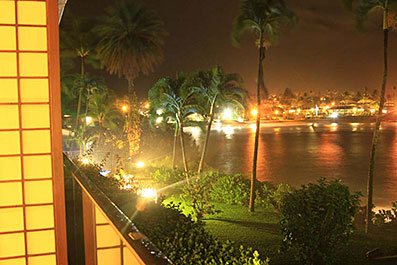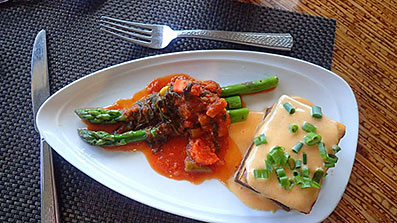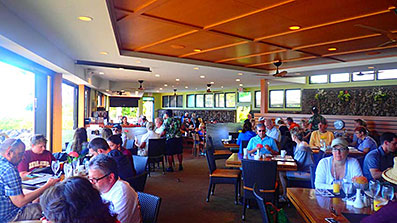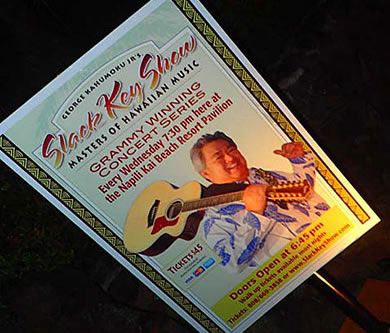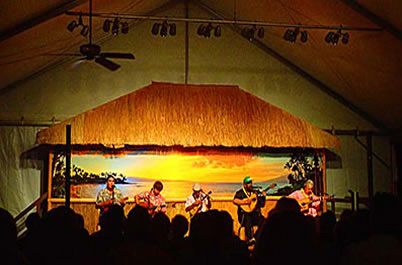 The Napili Kai stay came at the end of a 10 day Maui sojourn. The room and view were so perfect that I would have been content to spend the entire Napili Kai stay inside the room and out on the lanai. It was the perfect medicine for the previous week of active exploration around the island. Napili Kai has a wonderful beach, one of the best happy hours on the island at the Sea House Restaurant, a Wednesday Slack Key Guitar Show (featuring the best of Hawaiian music) that is extraordinary, a weekly Mai Tai Party, swimming pools; well, the list just goes on and on for this beautiful and unique resort, the third ever built on Maui. And I love their slogan: "We don't nickel-and-dime our guests."
COLD/HOT/COLD
A few days before departing to Maui, I had been snow skiing. And immediately after my departure, I would head to Whistler, Canada, for a week of skiing. Cold, hot, cold! The Maui temps were perfect during my stay. My sis Nancy McCollam, and a former hometown neighbor Pam McCollam, picked me up at the Kahului Airport. Pam and I rented a car together and were traveling companions while my sis and brother-in-law Rod, (he is the Supervisor of Maintenance for Haleakala National Park) worked. In the warm midnight Hawaii air, we drove to Nancy and Rod's home, located on a coffee farm up a twisty road outside the charming village of Makawao. The property owner, Bobbie, owns Maui Mountain Homegrown Coffee (mauicoffee@hawaiiantel.net, 1-800-572-1370)...as good a coffee that you'll ever drink.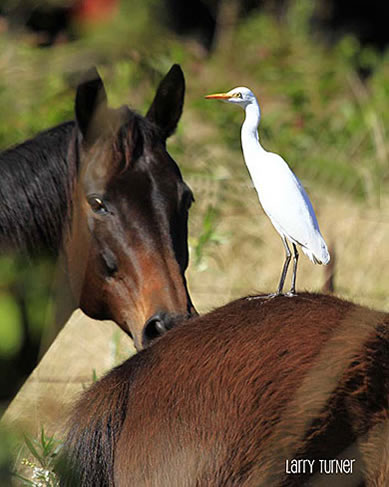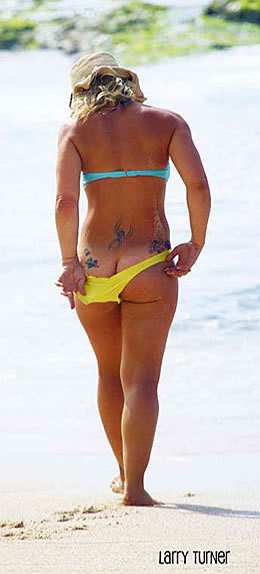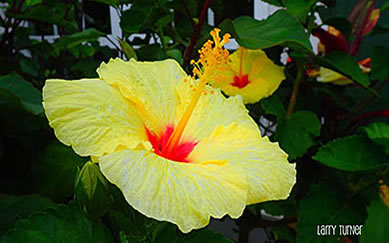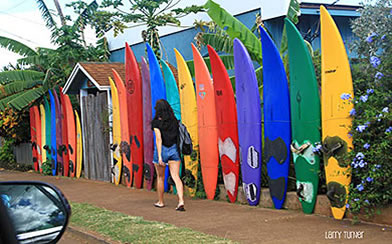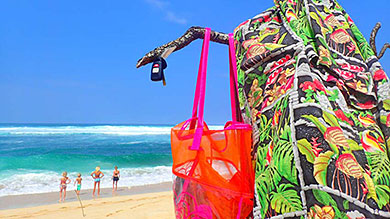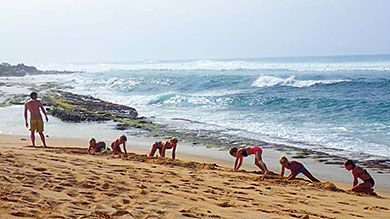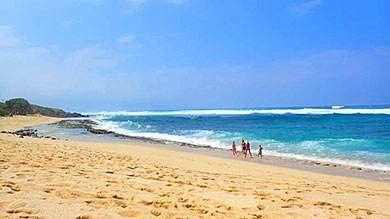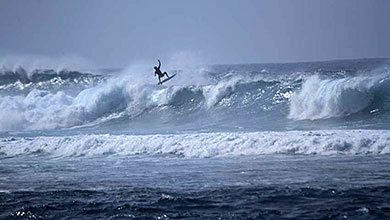 MAKAWAO and SEARCHING for JAWS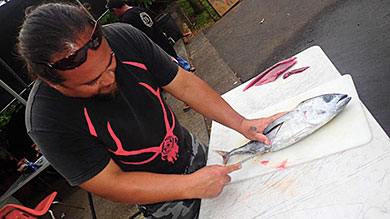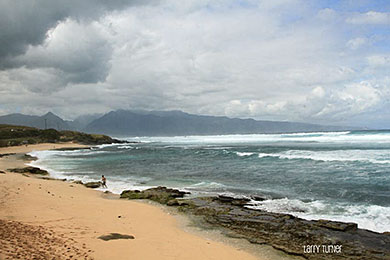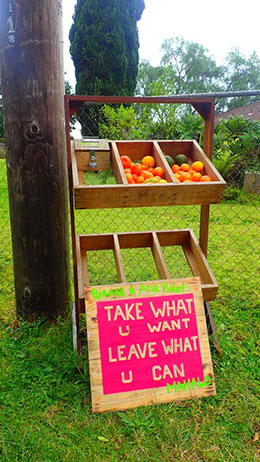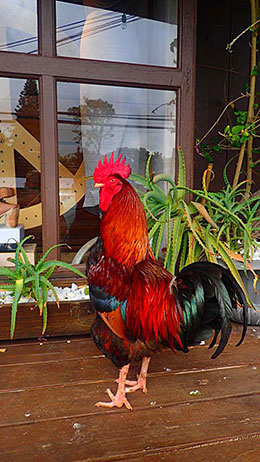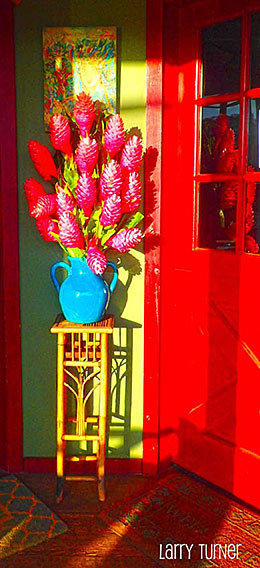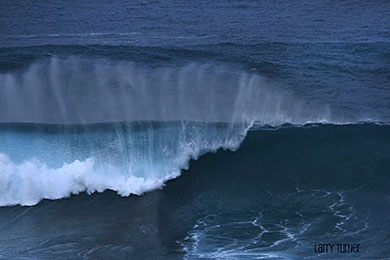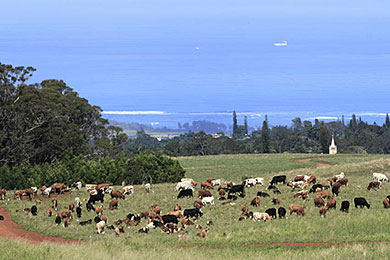 Our first day out, Pam and I visited historic Makawao. Known as Maui's paniolo (Hawaiian cowboy) town, it has the character of a small New England village. It hosts Maui's largest rodeo every 4th of July. There are plenty of tourist shops and art galleries to peruse. Chickens freely roam the streets. I purchased a whole ahi from a local home while doing the historic Makawao Historic Walking Tour. It doesn't take much time and is well worth it. Polli's Mexican Restaurant is the lively place to be for happy hour (which we did with Nancy, later in the day) liliko'i (passion fruit) margaritas and food. Also, check out Rodeo General Store, T Komoda Store and Bakery and the Makawao Steak House - if you're hankering for red meat in cowboy country. The sugar cane industry has been one of the mainstays of Makawao. However, this year is the last cane harvest in Maui after a 144 year history. It will be interesting to see what happens to these large land holdings.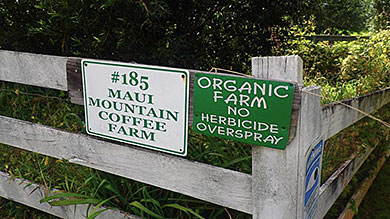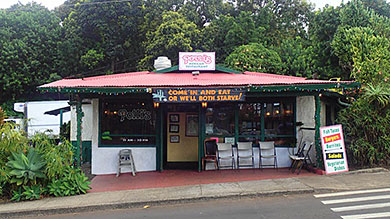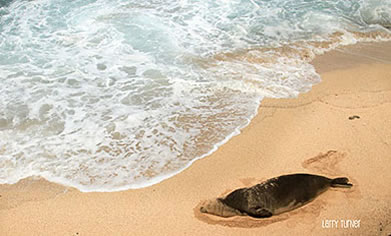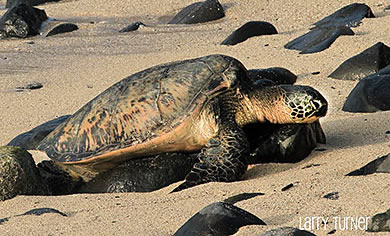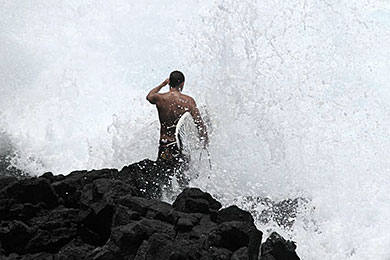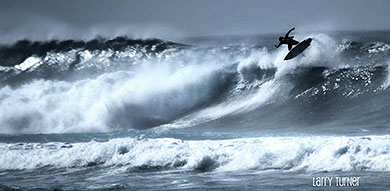 Prior to my Maui arrival, I had been reading about the high surfs in the islands. Pam and I put Jaws into our GPS and we left Makawao to find this legendary location of big surf and big-time surfers. The opening scene in the James Bond movie "Die Another Day" was filmed there. We weaved our way through a maize of roads and came out on top of a hilltop that was indeed, not Jaws! It was literally located in Pe'ahi which means waves. We elected not to push our luck and decided on a promontory near Ho'okipa Beach to view the action - which was awesome! We were also fortunate to come across a rare and endangered monk seal. Finding Jaws — which I've heard sometimes gets overrun by tourists such as myself — will have to take place another time...without GPS co-ordinates.
UPCOUNTRY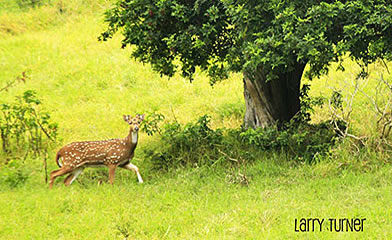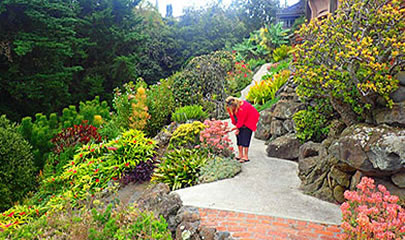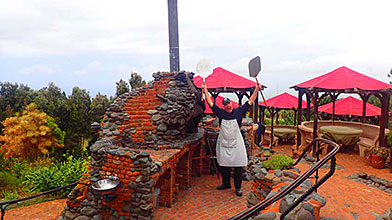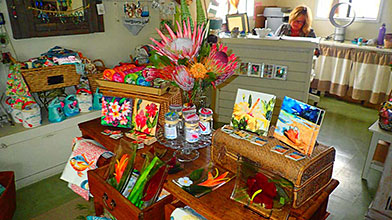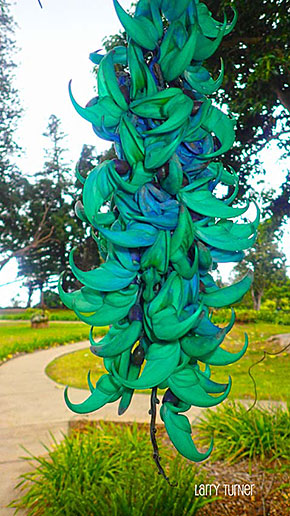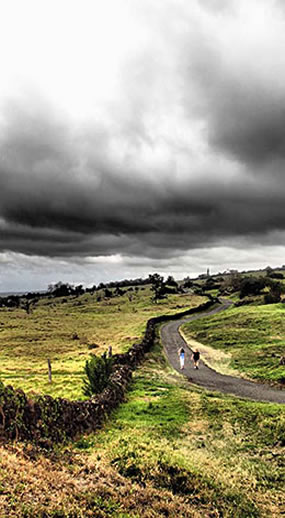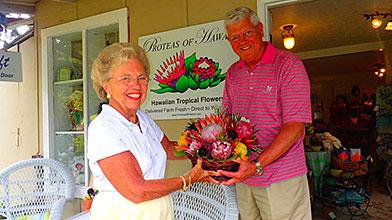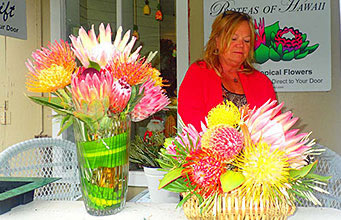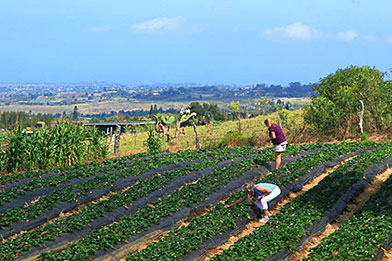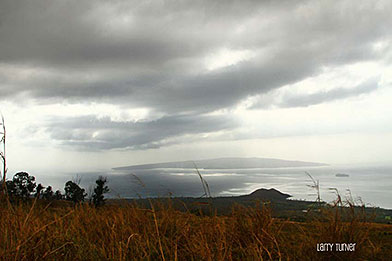 Upcountry — as the locals call it — is basically the heart of Maui and leads to Haleakala National Park and the famous Road to Hana. Makawao is in Upcountry as is Kula, where my sis works in one of the best little shops on Maui: Proteas of Hawaii (www.ProteasOfHawaii.com). Many consider the tropical proteas (which is a tree) as the world's most beautiful and exotic flower. After seeing them (and especially the bouquets which my sister makes), I would not disagree.
Driving in Upcountry reminded me of my old days in Mexico — when my wife was living — when we would take the high roads above Puebla where we lived into the temperate tropic zones. Maui's Upcountry is much cooler than their more reknown beach areas, so dress accordingly. And if you wish to catch a sunrise or sunset at Haleakala, wear a jacket! The Kula Lodge and Restaurant (www.kulalodge.com), next door to where Nancy works, is perfect for an afternoon cocktail around the fireplace. Though I didn't sample thier food, the diners I spoke to gave it two thumbs up. Make sure you stroll their fascinating gardens when visiting.
There is a lot of small farming/gardening in Upcountry. Two must-stops are Kuna Country Farms (Nancy and Pam picked fresh strawberries there) and Maui Wine (www.mauiwine.com). The Maui wines were good but not off the charts. The King's Cottage tasting room was built in 1874 to celebrate the visit of King Kalakaua. The restrooms behind the cottage are worth a visit because the rare and beautiful flowering jade plant can be seen therOne afternoon, Nancy took us to a country road for a walk that included walking beside one of Oprah's homes...which tickled Pam, but made no difference to me as I am not a groupie.
ROAD to HANA and CHARLES LINDBERGH'S GRAVE
One Sunday Rod, Nancy, Pam and hometown friends Stacey and Bob Kandra (who now live in Kihei) and I drove the Road to Hana. "You'll always remember this day," said Rod, as we departed their home. "This is my favorite part of the island as parts of it remind me of our beloved Steens Mountains in Oregon. The drive is unforgettable with road conditions as such that many of the car rental places have a clause forbidding rentals to be driven there."
We met Bob and Stacie at Grandma's Cafe along Upcountry's Highway 37. We consumed fresh coffee and the best carrot cake on the island. We could have stopped at the Ulupalakua Store for their famous elk burger but we didn't. Another time!
The Hana Road is narrow and dangerous and one has to pay attention at all times. When we hit the lava flows from Haleakala, my heart soared as I love rugged, big open country and we were now far removed from the tourist beaches and all of its hubbub. The lava meets the sea here and beaches are sparse. Notable stops are Huialoha Church (1855), Charles Lindbergh's grave at Palapala and the Seven Sacred Pools. The island doesn't advertise the famous aviator's grave much. We had this special location all to ourselves. The big open country had now given way to rainforest and such would be the topography as we drove all around Maui's western edge and northeast back to Makawao...a circle of driving which actually should be done over a span of two days instead of one.
Continuing on, we found a rugged, rocky beach front where we set up and had lunch. Rod and Bob grilled burgers. After a lingering lunch, Bob and Stacey drove back the way we had come, but we continued on, eventually stopping for dinner at Colleen's Restaurant and Bar in Haiku.
HUMPBACKS and the PRIDE of MAUI

One memorable day Nancy, Pam and I took a four hour humpback whale watching cruise with the Pride of Maui (www.prideofmaui.com) crew, skippered by Captain Patrick Grady. At $45—which includes lunch and all that you wish to drink — cthis is the best deal on the island. We were treated to countless breaching humpbacks, including one right beside the boat. The Pride of Maui is located at Maalaea Harbor.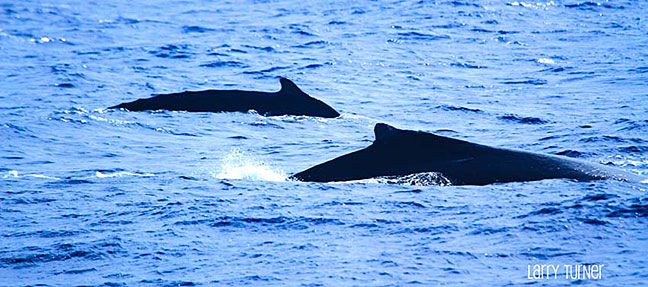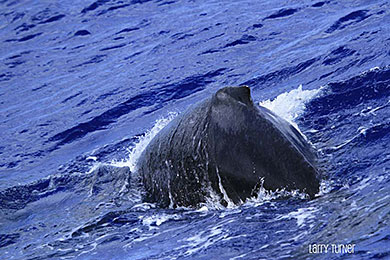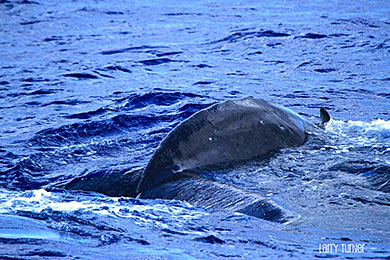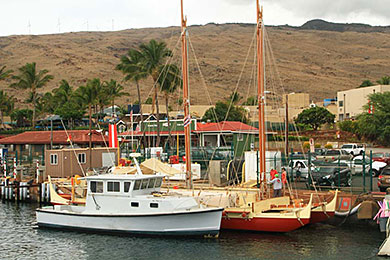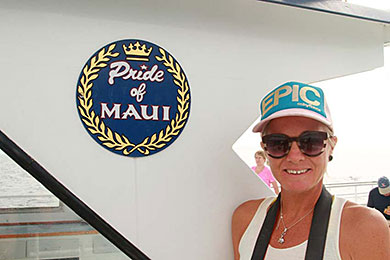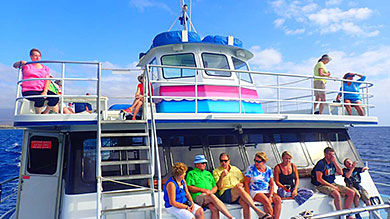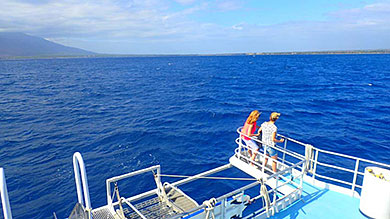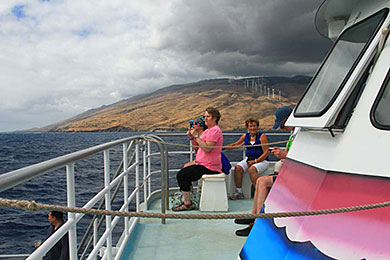 Larry Turner is a freelance photographer/writer from Malin, Oregon. His work has appeared in publications throughout the world. You can see his daily postings—wherever he is traveling—on Facebook at: https://www.facebook.com/larry.turnerphotography.3.