A few days earlier I'd seen The Needles, a lesser-visited district of Canyonlands National Park, alongside crowds at the Grand View Point and White Rim overlooks in the park's Island in the Sky district. From above, the distant Needles appeared a mumbo-jumbo maze of tumbled earth.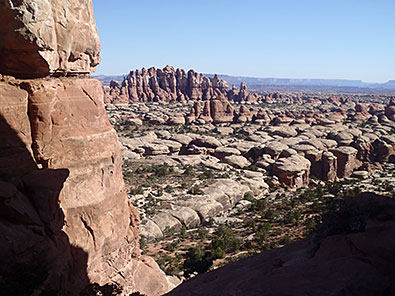 The Needles - a surreal, enchanting world
                This day I was threading through The Needles, following rock cairns through an enchanting, often surreal, terrestrial world of erratically-shaped towers and domes, cracks and fractures, sometimes shimmying through shoulder-width squeezes, more often clambering up and over willy-nilly randomly shaped sandstone formations. Fun stuff.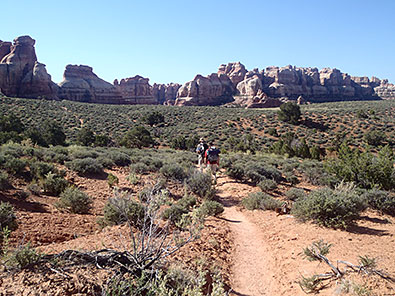 Hikers threading The Needles
                I had started from the Elephant Hill Trailhead, just a short drive from my campsite at the Squaw Flat Campground. With picnic tables, water faucets  and bathrooms with flush toilets, soap dispensers and paper towels, Squaw Flat was a welcome change from the no-frills campgrounds at other locations in and near Canyonlands and neighboring Arches National Park.
                A day earlier, after arriving in The Needles district, a 75-mile drive from Moab, Utah, I'd spent the afternoon hiking the short Roadside Ruin, Cave Spring, Pothill Point and Slickrock trails.
| | | | | |
| --- | --- | --- | --- | --- |
| | | | | |
| | Cowboy era remnants | | Ancient pictograph | |
                Cave Spring merits interest because of its cultural history. From 700 to 1,000 years ago, ancestral Puebloan Indians seasonally grew crops and lived under protected alcoves. Pictographs reflect that heritage. In the 1920s, Cave Spring was a camp used by cowboys from the Scorup-Somerville Cattle Company, which ran 7,000 to 10,000 cattle. Many camp items left behind at the outdoor kitchen when grazing ended in 1975 - pots and pans, Dutch ovens, wooden tables - remain. In contrast, the brief Roadside Ruin Trail ends at an easy-to-access granary, where Puebloans stored corn, seed and nuts. As its name implies, the 3-mile long Slickrock Trail follows scrambles over slickrock to a trio of overlooks.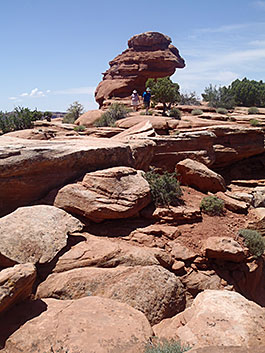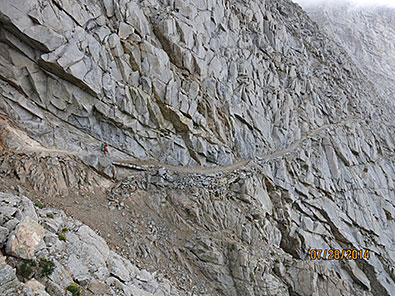 Traveling the Slickrock Trail
                But The Needles district's main attractions are trails that thread though its tapestry of geologic irregularities. The most traveled route heads to Chesler Park, an expanse of desert  grasslands nestled within acres of whimsical, unpredictable geography. These aren't the walk-in-the-woods trails seen in the forests of the Pacific Northwest or Sierra-Nevada. Instead, with rock cairns marking the way, routes scoot and scramble up and over oddly carved sandstone ridges, squeeze through narrow divides and, sometimes, seemingly disappearing in a discombobulated maze of possible routes. From the Elephant Hill Trailhead, the path immediately climbs between massive sandstone blocks into a fantasyland of spires, fins, balancing rocks, hoodoos, domes and finger-like towers.
| | | | | |
| --- | --- | --- | --- | --- |
| | | | | |
| | A shoulder-width squeeze  | | Balancing rock | |
                The cairns and signs eventually lead to the panoramic Chesler Park overlook. Intrigued, instead of doubling back I continued along a trail past designated back country campsites - reservations are required - unaware that  I'd missed a junction. Oops. No problem. Instead, an unplanned route provided more delights - deep, narrow fractures and more weirdly contorted, twisted needles and spires, features geologists say were created over millennia by relentless erosion of wind and water.
Spires and sandstone blocks are a-mazing sights

| | | | | |
| --- | --- | --- | --- | --- |
| | | | | |
| | A fantasyland of oddities | | Blooming yucca plant | |
                Much later than planned, but still much too soon, I wound my way back to the Elephant Hill Trailhead.
Newspaper Rock
            The only road into The Needles, Highway 21, passes by a must-see feature, Newspaper Rock State Historic Park and its 200-square-foot rock panel filled with a boggling array of petroglyphs. There are more than 650 depictions of animals - pronghorn, bighorn sheep, buffalo, deer - along with human figures, some on horseback, and curiously odd, inexplicable symbols. Newspaper Rock is 25 miles before the Needles entrance and 53 miles south of Moab. Across the highway is a picnic area and campground.
Petroglyphs at Newspaper Rock

Other Canyonlands Gems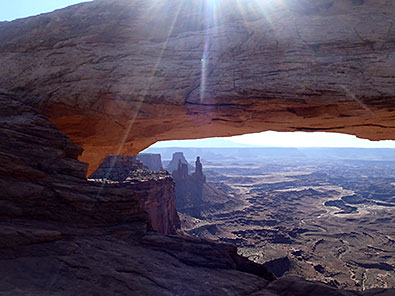 Mesa Arch
                Over several days I also hiked many of the trails in the Island in the Sky District, Canyonlands' most accessible area because of its proximity to Moab, 32 miles away. Highway 313 also passes by Deadhorse State Park, a could-be national park. The district's hikes are easy walks to often heavily-traveled Mesa Arch and Grand View Point. Of the overlooks, I preferred the White Rim Overlook. From their perches, the White Rim and Grand View overlooks and Murphey Point offer sweeping vistas 2,000 feet above moonlike landforms and the meandering Colorado and Green rivers.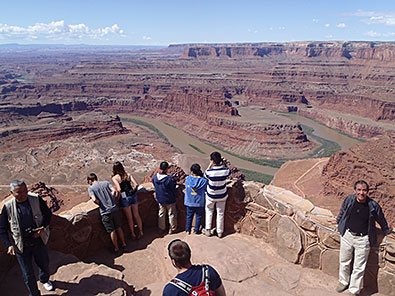 Visitors at Grand View Point  

View from White Rim
                Slightly more challenging is a longer trail to a pair of Upheaval Dome overlooks. The first offers an excellent view, but the second promontory is especially stunning, perched over a steep drop-off. Upheaval Dome is a place of mystery. Some geologists believe it was created by a meteor 65 million years ago, others by a collapsed salt dome. Whichever, it's a formidable sight with a massive bowl of tortured, craggy rocks. Next time I'll include the longer, challenging Syncline Loop, with a side trip that penetrates the dome's jumbled, eroded interior.
| | | | | |
| --- | --- | --- | --- | --- |
| | | | | |
| | Peering into Upheaval Dome | | Aztec Butte granaries | |
                Worthwhile, too, is the nearby Aztec Butte Trail, which requires scrambles up steep slickrock slopes and a side-trip to ancient tucked-in-an-alcove Puebloan granaries, and Whale Rock, a short but even steeper climb up a sandstone dome.
| | | | | |
| --- | --- | --- | --- | --- |
| | | | | |
| | Old fence at Neck Spring | | An alcove at Neck Spring provided shelter for cowboys | |
                The first 3.2 miles of the Neck Spring Loop Trail is fascinating, dropping below the rim to alcoves nestled in the canyon wall. Remnants of former cowboy camps remain near Neck and Cabin springs, which served as water sources for buckaroos and grazing cattle. The loop continues another 2.6 miles up a steep canyon wall, past a weather beaten trough, then across barren flats to a junction where the trail parallels the road back to the parking area. Next time, I'll plan to double back from Cabin Spring to avoid those tedious final miles.
                Other trails deeper into the district are traveled by 4-wheel drive vehicles and mountain bikers, often on overnight drives and rides. Permits are required. Just outside the Island in the Sky district is Deadhorse State Park, with trails that mimic its neighbor. Unlike Canyonlands, the park allows mountain bikes on its 17-mile Intrepid Trail system.
                More remote and seen by only a tiny percentage of visitors is The Maze district. It remains notorious because of remoteness, difficult access, primitive trail and road system, and its history as a place where outlaw groups, including Butch Cassidy's Wild Bunch, hid in the intricate maze of canyons.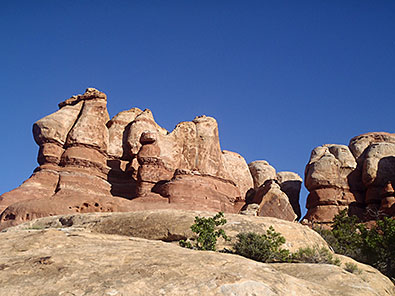 The Needles
When You Go
                Information about Canyonlands National Park is available from the website at www.nps.gov/cany. Books about Canyonlands, which often include neighboring Deadhorse State Park, are available from the Canyonlands Natural History Association. Visitor centers with sales areas are located at all three Canyonlands districts. For information on Canyonlands visit www.cnha.org and for Deadhorse visit http://stateparks.utah.gov. The guides include "50 Best Short Hikes: Utah's National Parks," "Best Easy Day Hikes Canyonlands and Arches National Parks," "Hiking Canyonlands and Arches National Parks" and Canyonlands Trails Illustrated Map.
About the Author
                Lee Juillerat is a writer-photographer who has contributed stories for High On Adventure for more than 20 years. A semi-retired journalist for newspapers and magazines, he is the author or co-author of books about Crater Lake National Park and, most recently, Lava Beds National Monument. He can be contacted at 337lee337@charter.net.