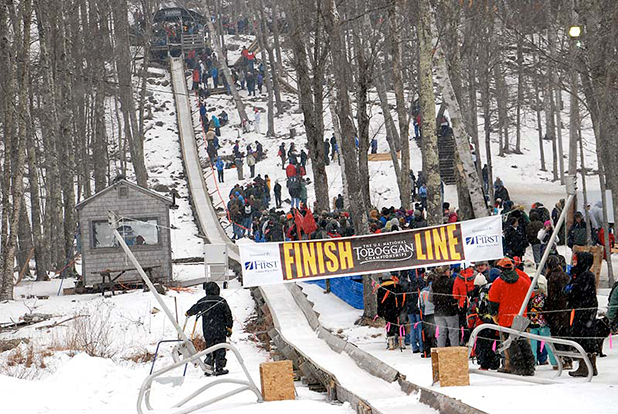 Site of the Toboggan Championships in Camden, Maine
A raucous winter carnival, like a Maine winter Mardi Gras, is on right now in Camden, Maine. Actually, it IS a Maine winter Mardi Gras.
It will culminate in the 26th annual U.S. National Toboggan Championships, February 5 – 7, 2016. It is the longest-running signature event of the nine-day Camden Winterfest, which is quickly becoming recognized as Maine's Mardi Gras!  
| | | | | |
| --- | --- | --- | --- | --- |
| | | | | |
| | Toboggan team costumes | | Just for fun costumes | |
Competitors from around the country travel to Camden, Maine, every year fully costumed and with traditional wooden toboggans in tow—some hand-crafted and lubricated with ultra-top secret wax recipes—in the hopes of winning top honors and perhaps even breaking the seven-second record for descending the only 400-foot wooden toboggan chute in the country.  
In addition to the toboggan nationals, Winterfest will host the only nationally sanctioned snow-sculpting competition in Maine, and the CamJam – a freestyle ski and snowboard jam set at the Camden Snow Bowl. No other mountain in the East but the Snow Bowl has views of the Atlantic Ocean, a feature which draws pros and aspiring amateurs alike for the stunning images of their stunts captured against such a unique backdrop. The Toboggan Championships and Winterfest have become major fundraisers for the municipally-owned and -operated Camden Snow Bowl.
| | | | | |
| --- | --- | --- | --- | --- |
| | | | | |
| | Toboggan racers line up at the start | | Sheer terrorizing fun | |
The whole festival brings with it a rich history of community spirit, costumes, traditions and family fun. Information on registration, rules, toboggan regulations, parking and more can be found at www.camdensnowbowl.com or by calling 207-236-3438.
Other highlights include a snow plow parade, fireworks over the harbor, a polar plunge, family entertainment, ski films and a downtown Mardi Gras parade and dance.
| | | | | |
| --- | --- | --- | --- | --- |
| | | | | |
| | Staging area for Winterfest | | Staging area for toboggan racers | |
Here's the complete festival and race schedule:
THURSDAY, JAN. 28
• "Snow Creatures & Castles" Neighborhood Snow Sculptures: All Around Town Awards for the most creative announced at noon on Sunday, January 31
FRIDAY, JAN. 29
• Frost Heave Challenge begins, runs through the week, vote for your favorite themed drink
SATURDAY, JAN. 30
• Community Ice Festival: noon to 3 p.m., Camden Public Library and Amphitheatre
• Community ice carving and hot food outdoors, live music and crafts for children indoors
• CamJam Freestyle Ski and Snowboarding Demos: Harbor Park • Maine State Snow Sculpting Championships: Village Green, sculptors work all weekend, judging takes place Sunday at noon
• Winterfest Polar Plunge for Coastal Mountains Land Trust: 2:30 p.m., Harbor Park
• Ski Film, "Paradise Waits": 6:45 p.m., Camden Opera House, $12 in advance, $15 at the door, kids under 16, $8, sponsored by Ragged Mountain Ski Club
SUNDAY, JAN. 31
• CamJam Freestyle Ski and Snowboarding Competition: Harbor Park
• Awards for U.S. Sanctioned Maine State Snow Sculpting Championships and
• "Snow Creatures & Castles" Neighborhood Snow Sculptures: noon, Village Green
MONDAY, FEB. 1
Ski area closed
TUESDAY, FEB. 2
Ski area closed
• Movie, "Groundhog Day": 6 p.m., Camden Public Library, free
WEDNESDAY, FEB. 3
• Frogtown Mountain Puppeteers: 6 p.m., Camden Opera House, $5, children 5 & under free
THURSDAY, FEB. 4
• Mardi Gras Concert: CJ Chenier and the Red Hot Louisiana Band with opening act, the Dolphin Strikers: 7 p.m., Camden Opera House, $18 in advance, $22 at the door. Tickets at www.camdenoperahouse.com or local outlets
FRIDAY, FEB. 5
• U.S. National Toboggan Championships: Camden Snow Bowl
• Toboggan Chute, 10 a.m.-2 p.m, open to the public (conditions permiting); 3-5 p.m., first runs
• Snow Plow Parade: 6:30 p.m., downtown Camden
• Fireworks over the Harbor: 7 p.m., Harbor Park
SATURDAY, FEB. 6
• U.S. National Toboggan Championships: 8 a.m.-4:30 p.m., Camden Snow Bowl
• Bus Shuttle: 7:30 a.m.-5 p.m., service between Village Green and Snow Bowl
• Winter Fairy Fun: 1 p.m., Camden Public Library, author's stories, crafts and activities, free
• Chili Challenge: 4-7 p.m., First Congregational Church
• Ski Film, "Sammy C. Project": 6:45 p.m., Camden Opera House, $12 in advance, $15 at the door, benefits the Ragged Mountain Recreation Area Foundation
• Mardi Gras Sidewalk Parade: 6:30 p.m., meet in Harbour Park, head toward Bay View Street
• Mardi Gras of Maine Block Party and Dance featuring Just Teachers: 7 p.m., 16 Bay View Street Hotel
SUNDAY, FEB. 7
• U.S. National Toboggan Championships, 9 a.m.-3:30 p.m., Camden Snow Bowl