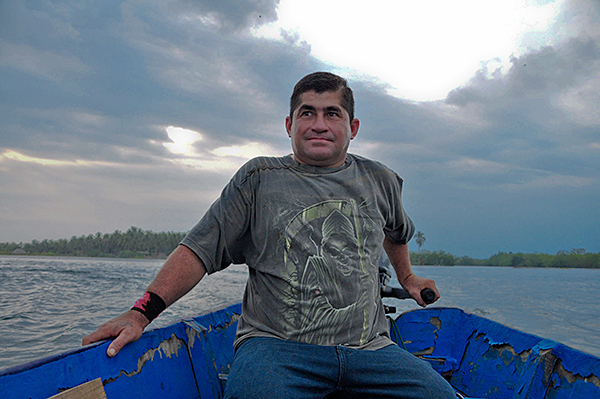 Salvador Alvarenga photo by Oscar Machon
"If you are a real fisherman, you fall in love with the ocean. Some fishermen like to go out one day and then stay ashore the next, not me. As soon and as often as I could, I went out to sea until the bosses told me not to. It is love because the ocean gives you food, she provides money and it is a habit. When you love the ocean you love the adrenaline, the energy. You battle the ocean. It is your enemy. You share combat and you fight. She might kill you but you are defying death." Salvador Alvarenga as told to Jonathan Franklin in 438 Days: An Extraordinary True Story of Survival at Sea, page 12; Atria Books, November, 2015.
Indeed he did, for 14 months until he drifted ashore in the Marshall Islands. He drifted due west from Chiapas, Mexico, and passed south of the Hawaiian Islands, for 7,000 miles. His boat mate lasted four months.
"His name was Salvador and he arrived with bloody feet," begins Jonathan Franklin's epic tale of survival, 438 Days: An Extraordinary True Story of Survival at Sea (Atria Books, November 2015). January 30, 2016 marks the two-year anniversary of Salvador's rescue. 438 days prior, on November 17, 2012, Alvarenga left his adopted home of Costa Azul, Mexico for a two-day fishing trip. This short expedition would turn into fourteen months lost at sea after a vicious storm. Alvarenga survived constant shark attacks, learned to catch fish with his bare hands, faced the loss of his shipmate, struggled with suicidal thoughts, and dreamt of returning home to El Salvador to establish a relationship with his long-estranged daughter, Fatima.
About the Author:
In addition to approximately 40 hours of interviews with Alvarenga, Franklin -- who regularly reports for The Guardian, GQ, and Esquire -- spoke with shark fishermen along the Mexican coast, oceanographers and climate scientists, psychologists who study extreme survival, and Navy SEAL trainers in his research for 438 Days. Based in Manhattan and Santiago, Chile, Jonathan Franklin regularly reports for The Guardian, GQ, and Esquire, focusing on Latin America. He also works with the team at Retro Report producing documentaries broadcast by The New York Times. His previous book, 33 Men, offering a behind-the-scenes account of the Chilean miners trapped nearly a kilometer underground, became a national bestseller in the U.S. and UK and was translated into nineteen languages.