My heart was a racing a bit—actually quite a bit!—as I peered down into the narrow opening that looked like a large, smooth, white, icy pipe. I immediately thought of the large cannons in the traveling circuses of old that would shoot a person into space and hopefully, onto some kind of a soft landing pad. But, in this case, I was being 'shot down' instead of up. The attendant at the Whistler Sliding Centre (www.whistlerslidingcentre.com) said, "Are you ready for this adventure Mr. Turner?" I gulped, then forced out the words. "Yep, bring it on!"
And so it began. Like a warm sack of potatoes—with helmet and gloves on—I laid face down on the skeleton sled. My hands were extended and placed straight behind me, grasping a 'hold on for your dear life' handle with my head and feet extended beyond the sled. The attendant held onto my feet and then said, "You're off. Enjoy!" And so it began. Wow! Wow! Wow! I was moving so fast that enjoyment was probably not the operant word—survival was! Yikes, what in hell had I gotten myself into? All I saw was the white blur of ice an inch away from my face as I reached a speed of 90 plus km/hour and experienced 3 Gs on the world's fastest course. For the public, this course is just one-third the distance on which the Olympic and other athletes compete. Both as a kid and a grownup, I've sledded, tobogganed (even taken a car hood down the mountain) and inner-tubed. But speed and exhilaration-wise, nothing compares to the skeleton! Whew! Being such an adrenalin junkie, I even went back up for one more run, though I would bloody myself up on that one at the famous Thunderbird Corner when my nose (that damn big nose) scraped the track after I got a little 'out of control' at the final corner.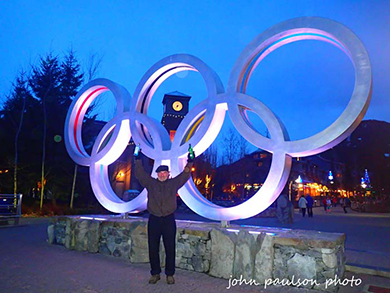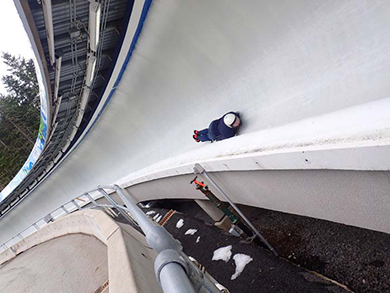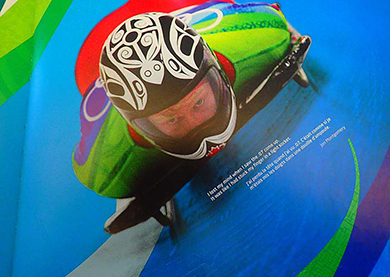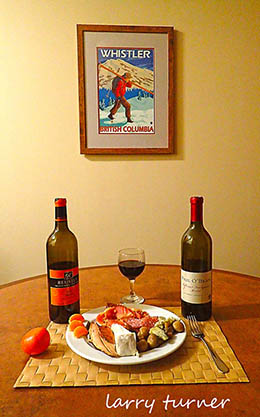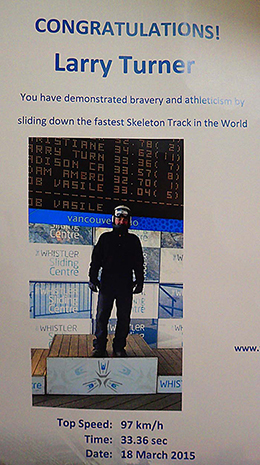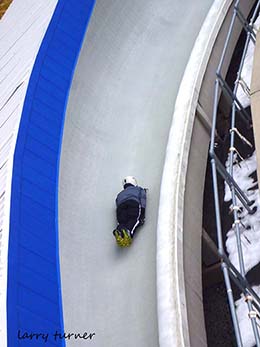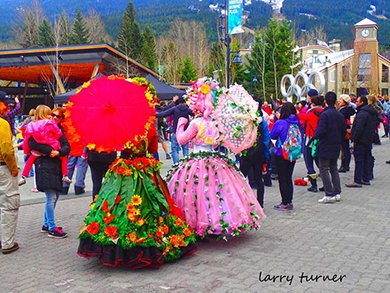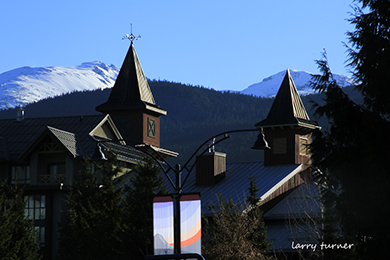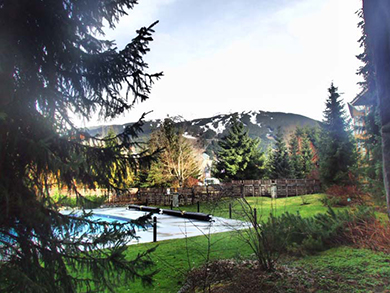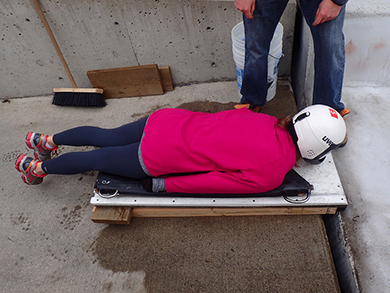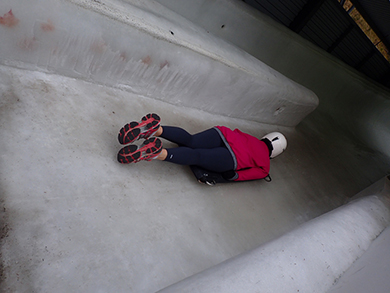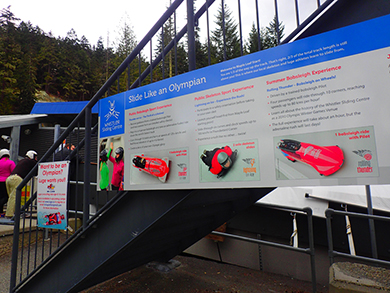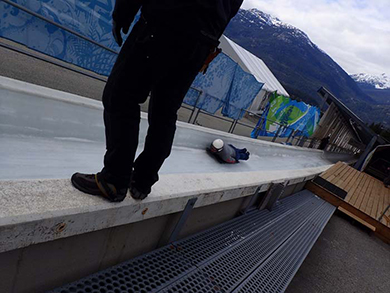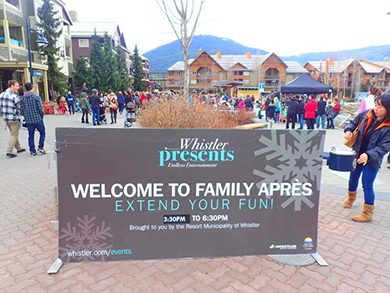 Whistler for Adventure
My friend John Paulson and I spent 10 days last March at Whistler, BC, Canada. Whistler and Vancouver was host to the 2010 Winter Olympics and much of that infrastructure is now open to the public. During our stay, adventure was on our docket everyday and it included skiing, zip-lining, the bobsleigh and the skeleton sled. To unwind after our adventurous days, we used the swimming pool and spas at the World Mart Cascade Lodge, strolled the picturesque streets of Whistler and the Olympic Plaza and made our way to the Scandinave Spa. The robustness of our activities always gave us both a good night sleep.
If you crave living on the edge, the skeleton is a special, rare treat. Part of adventuring is overcoming your fears and this particular activity perfectly fits that billing. 'Lightning on ice' is what it's called and I can't think of a better name. John celebrated his 60th birthday during our stay and his treat was two runs on a bobsleigh ('thunder on ice'). He wanted to do them both on the same day, but because of the Gs pulled (5-6), a rider has to take one day off in between rides. Neither the skeleton nor the bobsleigh are for the timid-at-heart. Speaking about that, you're not allowed to ride if you have a bad ticker.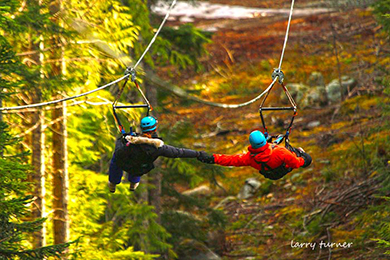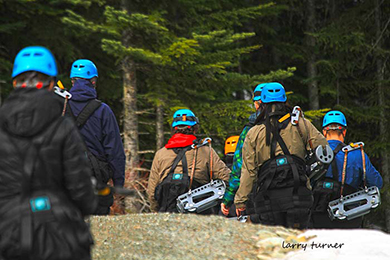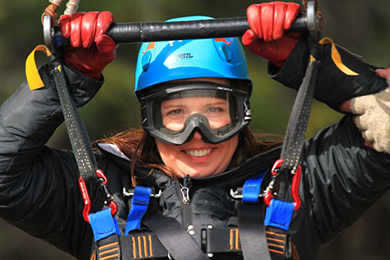 Super Fly Winter Zip-line
Super Fly (www.superflyziplines.com) operates Canada's longest single and tandem zip-lines. They're more than a kilometer long and 600 feet high. We reached speeds up to 100 km/hour. It was extraordinary. Except for one run, we did them all upside down, just for the thrill of it. These runs are in the temperate Canadian rainforest. We were flying above wild creeks, old growth trees and spectacular mountain backdrops. On the longest run we took (right side up), John first held back. Then he zoomed past me like a rocket. Check out the video. As the zip leaders are well versed in forest ecology, we also got a heap of knowledge along with our thrills.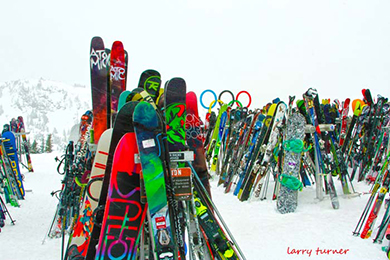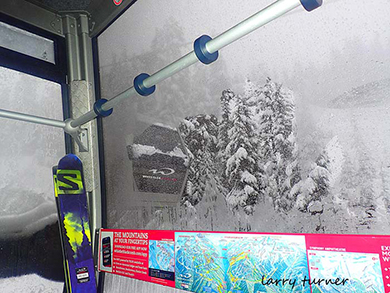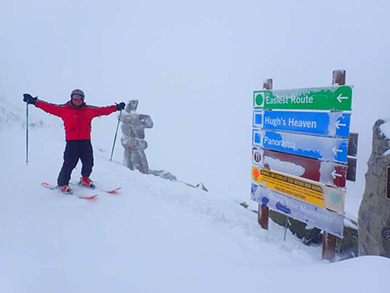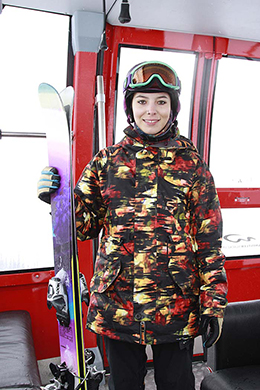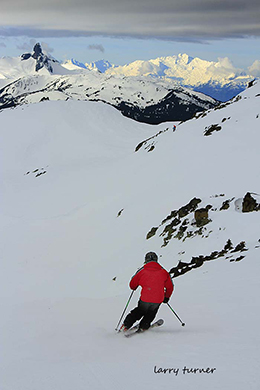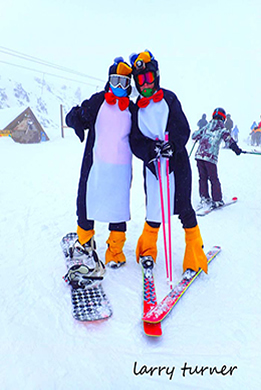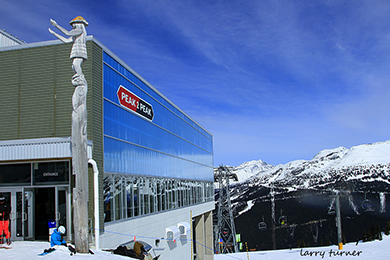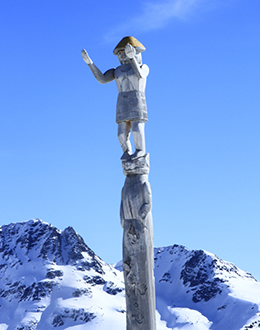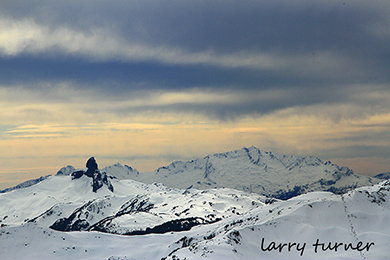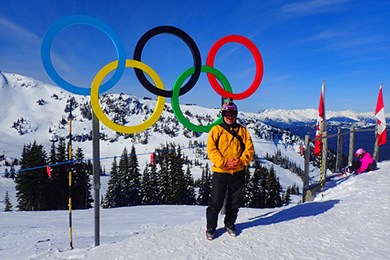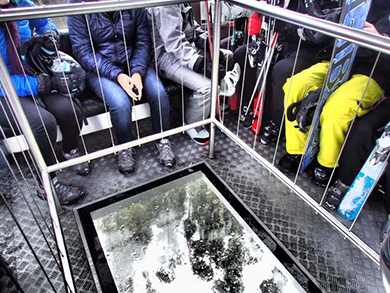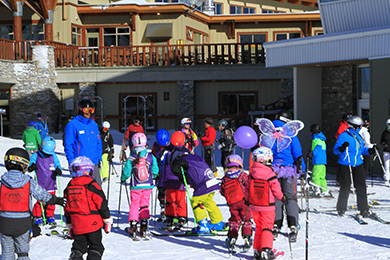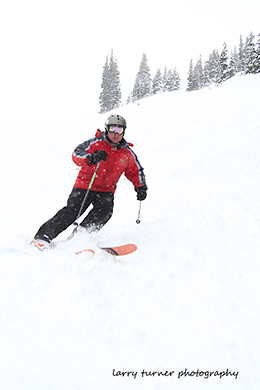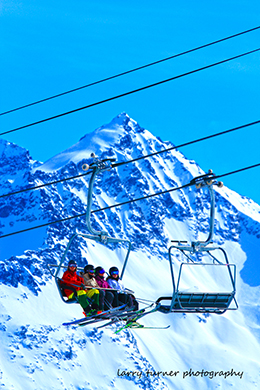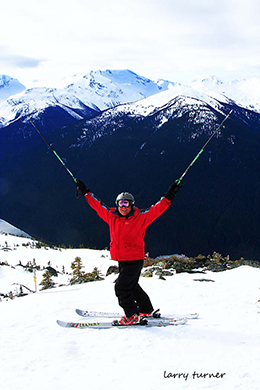 Skiing Legendary Whistler Blackcomb
We came mainly to ski, and that is what we did every day. While the rest of the Northwest was experiencing major droughts, creating a paucity of skiing, Whistler Blackcomb had ample snow, though it was skimpier than normal. But because of its vast terrain and elevation, we were able to find wonderful snow somewhere everyday. Whereas in 2014 I spent more time skiing Blackcomb Mountain, in 2015, most of my time was spent on Whistler Mountain. We skied mostly on Peak Express, Symphony Express and Harmony Express. The views from on top of Symphony, Little Whistler Peak and Peak Lookout were simply spectacular. One afternoon I popped down the Lower Dave Murray Downhill run to Creekside for some lunch and to watch a bit of March Madness basketball. Several days we had offerings of lovely fresh powder.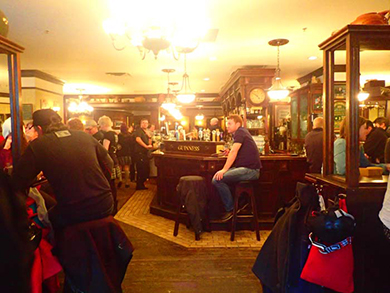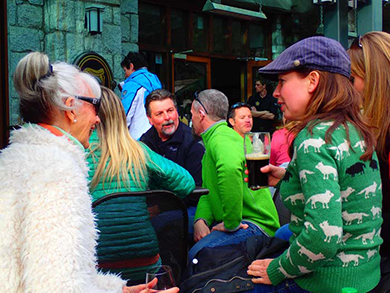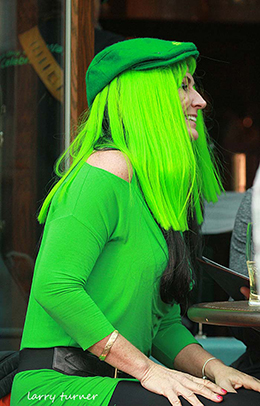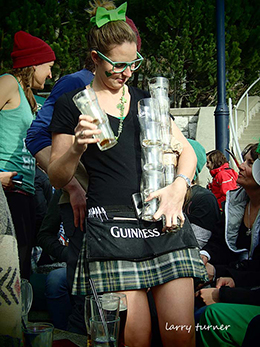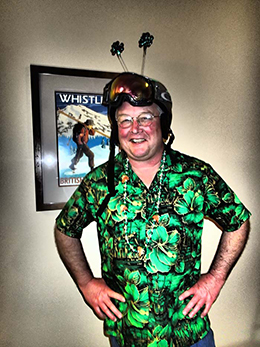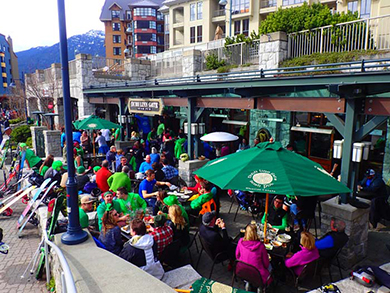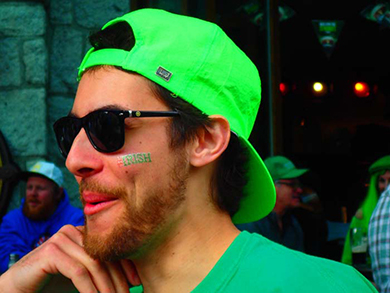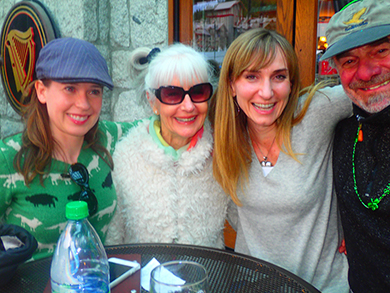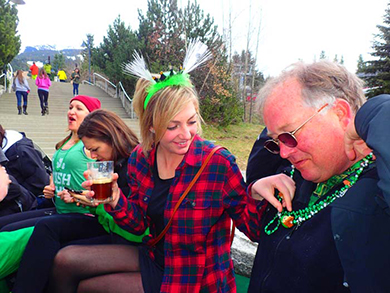 St. Paddy's Day at Dubb Linn Gate
Our favorite apré ski haunt in the Village is Dubb Linn Gate Irish Pub. It is a great place to wet your whistle at the end of any rigorous ski day—but especially on Saint Patrick Day. Skiers, boarders and others come out of the woodwork with their St. Pat's costumes. We had our own special trinkets, as well. I love Guinness. But the Pub also has a lively beer tap offering and a great list of Irish whiskeys and single malt scotches to go along with their spirited live Irish toe tapping, jiggin' live music. If you like something really different, try their drink called Dark and Soutly. It's a blend of dark rum, fresh lime, ginger and habanero syrup topped off with Guinness. Don't get your Irish up too much if you plan to ski the following day or you can just plan on having a room-bound recoup day instead!
In my opinion, Whistler Blackcomb is the greatest snowsport resort in North America—maybe in the world. You can always depend on WB for ample snow, even in dry years. This year snow is abundant. Make your plans to head north from the Lower 48, or wherever you may be coming from.
Larry Turner is a freelance photographer/writer from Malin, Oregon. His work has appeared in publications throughout the world. You can see his daily postings—wherever he is traveling—on Facebook at: https://www.facebook.com/larry.turnerphotography.3.