| | | | | | | |
| --- | --- | --- | --- | --- | --- | --- |
| | | | This is a story of Canadian opposites...family friendly Big White and steep-and-deep Revelstoke: Two British Columbia ski resorts that couldn't be more different.  | | | |
| | Family fun in the snow at Big White ski resort Photo by Big White Ski Resort | | | | Skiing at Revelstoke Mountain Resort Photo by Blake Jorgenson/Revelstoke Mountain Resort. | |
Big White is families skiing together and lines of toddlers with teddy bears tucked in their snowsuits, shuffling off to learn to ski. It's locals coming up for one day clinics and semi-permanent residents living in condos, gathering in the common rooms for impromptu jam sessions or trekking downhill to Happy Valley for bingo night. It's family BBQ nights and a dozen non-ski options that range from an ice climbing tower to ice skating, sleigh rides and snowmobiling.
Revelstoke is one large hotel at the base of the slope, somewhat like Alyeska in Alaska. It's locals onslope (on skis)  launching glider wings to fly downhill and the sound of helicopters out your window, landing next to the hotel parking lot late each afternoon with heliskiers. It's noisy crowds cramming into Rockfort Wok Bar and Grill for 35 cent Monday wing night. It's hot tubs filled with 30 and 40-something Aussies there for a boys' powder week. And it's also the old ski town down the road with its quirky apres-ski bars, its restaurants, its old ski town feel.
I went first to Big White, frankly, to warm up for Revelstoke. There had been virtually no snow at resorts where I live in the Seattle area and, honestly, nobody should make Revelstoke their first runs of the season.
But Big White? How perfect.
| | | | | |
| --- | --- | --- | --- | --- |
| | | | | |
| | Sleigh ride at Big White ski resort. One of many non-ski winter activities. Photo by Big White Ski Resort | | BigWhite snowboarding - Photo by Keiran Barret/Big White Ski Resort | |
The place is intermediate/advanced (and also beginner) heaven. Yes, it's called BIG White for a reason. But somehow, the way the runs flow make sense and are easy to grasp in just a day or two. 
Some 20 years ago when I visited Big White there were just a couple of hotels down the road. And boy, have things changed. Now there are 17,000 pillows, every one of them accessible on skis. Big White is, today, Canada's largest fully ski in/ski out resort.
Though, honestly, some accommodations are more ski in/out friendly than others. Yes, the condos down the hill can be skied to and from. But for sheer convenience, there are three hotels right onslope, forming a compact village at the hill's base.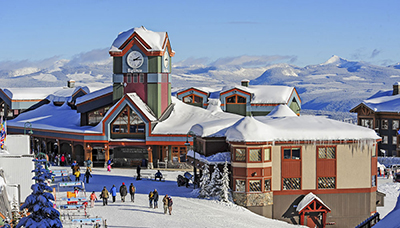 Big White ski resort base village.
Photo by Gavin Crawford/Big White Ski Resort
And on to the skiing. I joined Masters' Mondays, a program at Big White set up for folks over 50. How nice to ski with people who understand aging joints. I spent the morning in a class learning to "keep my ta-tas" over my knees. And thanks to that centering of my balance, was able to go on to Revelstoke and bomb the 35 percent (yes, that's REALLY steep) Separate Reality run.
| | | | | |
| --- | --- | --- | --- | --- |
| | | | | |
| | Big White ski resort gondola linking Happy Valley area with the main ski hill. | | Now a restaurant, this was once the private home of the founder of Big White ski resort. It sits at the base of the mountain in the resort village. | |
My first afternoon at Big White, I took the gondola down to Happy Valley, a lower base area where the non ski snow sports are. My first sight was the 60-foot-tall ice climbing tower, built each year atop a wood frame. Nearby are the rest...snowmobiling, tubing, nordic and snowshoe trails, dogsledding, an ice skating pond, horse drawn sleighs and also gentle beginner ski slopes, kept safely away from more aggressive skiers.
The next day, it was onto the slopes. 
Ice climbing on 60 foot tall ice tower, one of many non-ski winter activities at Big White ski resort.
Photo courtesy Big White Ski Resort
Woman skier has a coffee jolt before hitting the ski slopes



Again, Big White is a family friendly resort aimed at the great mass of intermediate skiers. To this end there are:  
* Green (beginner) runs off every chair including the top T-bar.  * Green or blue runs paralleling many bump and tree runs so slower skiers can connect back up with the faster, more adventurous ones.
 * Cruising (blue) runs that have character. Instead of the straight fall line runs you get at many resorts, these cruisers twist, turn and roll. They are never boring.  
* The "Cruz The Blues," program, which is a kid favorite, with passports that are to be stamped at each blue run. Some stamp stations are easy to find, some are not, turning it into a treasure hunt that aims to get folks all over the mountain.
And then, there were my adventures in, um, eating.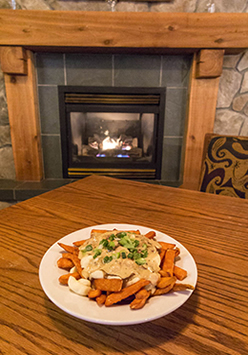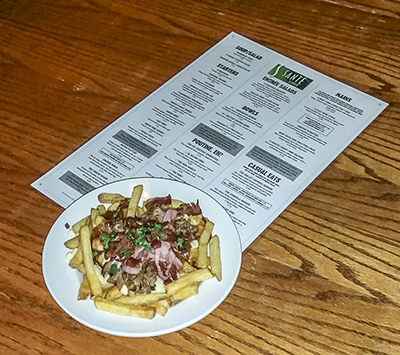 BigWhite Lobster Poutine - The "Lobster-Yama," (upper left) and Pulled Pork Poutine - The "Bob Marley," (upper right) gourmet poutine dishes served at Sante Grille, a restaurant in the base village of Big White ski resort, British Columbia, Canada. The lobster poutine is served with with hollandaise sauce over cheese curds and yam fries with gravy; the pulled pork with BBQ sauce over cheese curds and fries with gravy.
The US may have gourmet mac & cheese, but that's nothing against Canada's gourmet (yes, the ultimate oxymoron) poutine. And the endless varieties of Caesar drinks. And that thing Sam's Gunbarrel Grill at Big White does with flaming brandy and a rifle barrel.
When I posted a Facebook comment on the poutines at Sante's, a friend called them "heart attack on a plate." But if you've racked up 20,000 plus vertical that day it's, well, refuel food.
Poutine comes originally from the French part of Canada where minus 50 degree winters are not uncommon. The original is cheese curds and French fries smothered in gravy. If hot dogs are America's signature dish, poutine is now Canada's. 
Sante Bar & Grille, in Big White's base village, has seven upscale takes on this and I nibbled two, the Lobster-Yama - lobster, chopped bacon over yam fries topped with...be still my struggling heart...hollandaise sauce, and the Bob Marley - pulled pork with spicy jerk BBQ sauce over the gravy and cheese curds.
Okay, my fav was the lobster. How can you win against hollandaise sauce and fork tender lobster?
| | | | | |
| --- | --- | --- | --- | --- |
| | On to the Caesar drinks. The Caesar is Canada's answer to a Bloody Mary. Instead of bland tomato juice, it's clamato juice with tabasco and from there, it can go anywhere. It starts with a base of vodka, gin or tequila, then pickle juice or garlic horseradish and is often topped with pickled veggies and sometimes candied pork belly. Nearly a meal in itself. | | | |
| | | | Caesar drink made with clamato juice, vodka, tabasco, rimmed with celery salt and topped with olives. | |
But the star of all this digesting is the Gunbarrel Coffee at Snowshoe Sam's. They bill it as a "show," as well they should. For a jaw droppingly cheap $9.50 Canadian if you are also eating ($11.50 if not) someone comes to your table with a cart and a gun.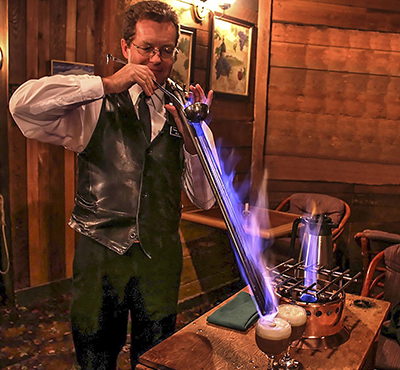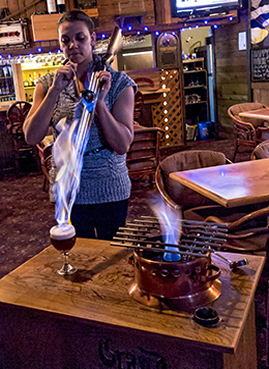 The Gun Barrel coffee show at Snowshoe Sam's restaurant at the base of Big White ski resort. A heated gunbarrel is shouldered with the barrel aimed at a sugar rimmed glass filled with coffee, brandy, creme de cacao and whipped cream. Flaming Grand Marnier is then poured down the barrel into the glass. Upper left photo courtesy Big White Ski Resort
The gently heated gunbarrel (early on the restaurant tried heating the rifle in a pizza oven...not a good idea if  you don't like explosions) is shouldered with the barrel aimed at a sugar rimmed glass filled with coffee, brandy, creme de cacao and whipped cream. Flaming Grand Marnier is then poured down the barrel into the glass. Blue flame flows like a river of fire.
And the drink, which comes off like Irish coffee, is serious yum.
Next on to Revelstoke Mountain Resort
Twenty years ago on a visit to Revelstoke, my husband and I were whining to a local friend about how hard it was to get there.    "Revelstoke is remote," he replied, "You DO know what remote means, don't you?
Well, Revelstoke is remote no longer.
You can fly into Kelowna and grab a seat on one of the four daily Revelstoke shuttles. The drive is a speedy 2.5 hours. The town even has a Tim Horton's,  for heaven's sake. 
On that early trip, I was cat skiing, which, with various heliski operations, were the only real games in town. The mammoth ski hill, then called Powder Springs, had a single chair and a shack. 
| | | | | |
| --- | --- | --- | --- | --- |
| | | | | |
| | View of Revelstoke town, the valley, Columbia River and Monashees Mountains from the top of Revelstoke Mountain Resort ski slope. | | Apres-ski at The Village Idiot, an iconic town apres-ski pub in Revelstoke, British Columbia, Canada. Bar stools are made with old skis and snowboards. | |
It's hard to realize that today's Revelstoke Mountain Resort only dates back to late 2007 and now has the greatest vertical drop in North America (400 feet more than Whistler, locals like to point out). And while it has only a third the skiable acres of Whistler, there are dreams of eventually having 10,000 acres, which would be more than twice Whistler.
Yes, this is a Big Boy mountain.
People come here for the powder, for the cliffs, for the STEEP. Ski run categories (beginner, intermediate, expert) are relative to each mountain. The greens (beginner) here would be blues (intermediate) most anywhere else. And the blacks, well, you do need to be able to ski.
Skiing at Revelstoke Mountain Resort
Photo by Ian Houghton/Revelstoke Mountain Resort

Skiing at Revelstoke Mountain Resort
Photo by Royce Sihlis/Revelstoke Mountain Resort
There are, however, milder runs lower down on the mountain. And the Burn Down run on the backside is a true intermediate trail.  Meanwhile, there's an interesting feature to many of the "intermediate" runs here. They start off relatively mild and as you go along, gaining confidence, they gradually get steeper and more technical.
"So your skiing improves without you even knowing it. We have people who would never ski a black run but by the time they've gotten down one of these, they are skiing black with confidence," guide Geoff Elliott said.
Also from the top of the mountain, there is The View.
"Do you remember this?" Geoff asked.
Suddenly, my memories of the cat skiing came back. This view of the town and the Columbia River, backed by the Monashees, was what we saw as we started our skiing every day. A lot of that old cat terrain is now part of Revelstoke's in-bounds (and groomed) acreage.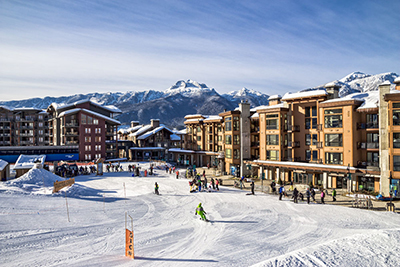 Sutton Base Area 2 - Base village at Revelstoke Mountain Resort.
Photo by Ian Houghton/Revelstoke Mountain Resort
The Sutton Place Hotel sits at the base of the mountain, along with a hot tub area that has a liquor license, restaurants, apres-ski bar and shops. The resort even has its own heli ski operation (run by Selkirk Tangiers).
Revelstoke's real claim to fame, however, is powder, which, sadly, was absent when I visited. But at least there WAS snow...probably the best at that time in the west while Seattle areas were closing and Whistler had lifts sitting in puddles of water.
Even so, there was powder in the higher mountains, helping serve the four heliski operations in town. And the compact downtown has an array of hotels, restaurants and apres-ski bars including the quirky Village Idiot pub with bar stools made of old skis.
For the non downhill skiers in the crowd, there's snowshoe and nordic trails, hiking trails, dog sledding and more. 
| | | | | |
| --- | --- | --- | --- | --- |
| | | | | |
| | Apres-ski snack at MacKenzie Tavern at the base of Revelstoke Mountain Resort, British Columbia, Canada. Home made chips, salsa, ranch dressing. | | Rock 'n Roll sushi served at Kawakubo, sushi restaurant in downtown Revelstoke, British Columbia, Canada. Avocado, cucumber, scallions topped with tuna, salmon and yellowtail. Along with sake. An amazingly wonderful sushi place located in a landlocked ski town. | |
Meanwhile, for folks staying on the mountain, there are hourly shuttles back and forth to town.
My last night, I went to town for dinner with Clyde Newsome, who had run the cat program that I did 20 years ago and now owns the Powder Springs Inn. And we reminisced.
I'm seriously thinking of going back next year, perhaps staying with him and finally getting Revelstoke's fabled powder. But not before I do Big White's Masters' Ski Week first.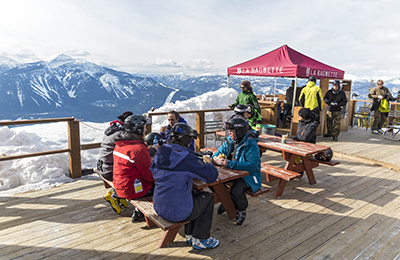 Mackenzie Outpost, mid mountain lunch deck
with a stunning view of the Monashee mountains.
INFO
Ski season at Big White and Revelstoke runs late November to mid April. Both resorts have daily shuttles from the Kelowna airport. 
Big White is a great place for families, with plenty of beginner and intermediate runs and family activities. Plus it has a "ski with an Olympian" program where you get a day with Kelsey Serwa, winner of silver in ski cross in the 2014 Olympics and granddaughter of one of the mountain's founders. Revelstoke has steep runs and access to heli skiing, along with an historic railroad/ski town.
Big White has 118 runs and 16 lifts spread across five bowls, just under 2,800 skiable acres and a vertical drop of 2,550 feet.
Revelstoke has 65 runs and named areas, 3 lifts, 3,100 acres of skiable terrain and a vertical drop of 5,620 feet (about 400 more than Whistler). On a normal year, it gets 40 feet of powder snow.
Big White: http://www.bigwhite.com      
Revelstoke: http://www.revelstokemountainresort.com/ 
A word about prices and why you should head north:
The Canadian dollar when I was there equaled about 75 cents on the US dollar. At Big White, there were packages that INCLUDED lift tickets starting at $76 US, per person, double occupancy, a night. And in the condo where I stayed (though not all have this) I had free long distance phone, apparently not only to the US but also overseas. The Masters' Ski week was $150 US and included not only two hours' of class for five days but lunch and nightly activities.
Meanwhile, some of the price savings at Revelstoke boggled the mind. In town, at Powder Springs Inn (http://www.powdersprings.ca ), the rooms (that's per room, not per person) started at $75 Canadian a night, including buffet breakfast and a 15 percent break on other meals. Take, for instance, the prime rib special. An eight ounce prime rib that comes with heavy salad bar and lots of hot sides, is $25. So knock off the 15 percent hotel break, then the 25 percent dollar difference and you've got a steak dinner with everything but alcohol for about $16 U.S.  Heli skiing, meanwhile, can be had at $650 US for three runs, about two thirds the usual going rate.  
VIDEOS & LINKS
Google+ photo diary of the trip to Big White + Revelstoke: https://plus.google.com/116146064817580609744/stories/7e1b6b3c-2777-3af7-abe5-7712ff5e18b214bf4cac79f?authkey=CKiZ3bCliNjElwE  
PAPARAZZI PASS APP   
Ok, this really is the ultimate no-effort selfie.
Download the Paparazzi Pass app to your smartphone (android or iPhone), and enjoy the day skiing while documenting the whole experience.
Some cameras take automatic videos or stills, others are triggered by you with a tap that then allows 20 seconds or so to pocket your phone and take off. The footage downloads directly to your phone once you have a solid internet connection. Then, like any video or image on your phone, you can edit the separate videos and stills together and share it on Facebook, Instagram, YouTube, email, whatever.
Kind of makes Star Trek seem like old stuff.
It works through your phone's bluetooth technology. Yeah, the company can make your head swirl explaining it all, but in the end, you've got unlimited  high definition videos or high rez stills without having to take the picture yourself or even have a friend do it.
Hans Dietterich is president of DejaView Concepts, the Massachusetts company that developed this. He tried it first at Wachusett Mountain in Massachusettes, then moved on to bigger (way bigger) things at Revelstoke in British Columbia.
At Revelstoke, there's one still camera for grin shots on the deck of the MacKenzie Outpost mid-mountain grill and six video cameras salted here and there. One honker is mounted on the mountain's backside and aimed at skiers 200 yards away skiing through the expert chutes of North Bowl on the other side of the valley.
Last season, Revelstoke was set up to video skiers as they went down the mountain. Their plan is to install more camera stations so skiers can ski TOWARDS the camera. 
"We're targeting the major ski resorts and also golf courses and in the future, other tourist destinations such as historic places," Dietterich said.
Meanwhile, add one more cool thing to your app list.
The youtube link below shows a compilation of videos and a still shot from one of my days at Revelstoke Mountain Resort. Several videos were edited together, along with a still shot at the end. This is similar to what many people do with what was filmed and photographed the day they use the Paparazzi Pass.   https://www.youtube.com/watch?v=jqcxSg5rmus  
    
My video from the Paparazzi Pass app. We would trigger the video at the top of the run
and cameras onslope would film us. Seriously cool.