We came in late summer from different parts of the country for this September adventure song. Last year, our rendezvous was in early autumn. Ron and Ann from St. Louis, Karen and Dave from Colorado, Syd and Jim from Idaho, Lynette from California and myself, from Oregon formed the group. A reunion—every two years—of a bonded pack called the Condor Kids...named from their college days at Cal Poly San Louis Obispo when we camped and explored together in California condor country. Ron, Karen, Syd and Lynette are original members of the group (as are Scotty and Rich who could not attend). It was Ron's idea to rent a two-story log house in Driggs, Idaho, the hub of the magnificent Teton Valley near Alta, Wyoming, and Grant Teton Resort where I once skied in divine dry powder up to my waist. Perfectly located along a stream with grand views of the Grand Tetons, at the dead end of a road we had plenty of elbow room. The palatial house with a large deck, hot tub and fire pit suited us perfectly. This adventure gathering coincided with my September 16 th birthday, so it was extra special for me. It was a road trip for all of us except Ron and Ann who flew from Missouri to Jackson, Wyoming, and rented a car. We came for friendship, camaraderie and adventure as we are like minds who like to hike, bike, kayak, sight see, eat, drink and be merry. Ann, Ron and I also share a deep love of fly fishing.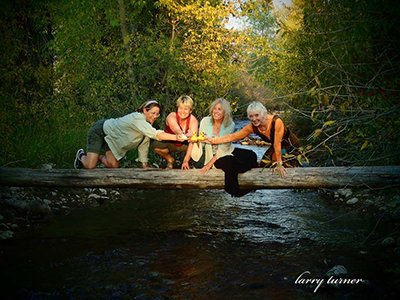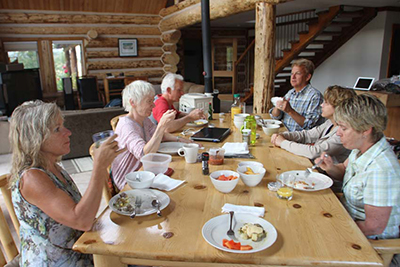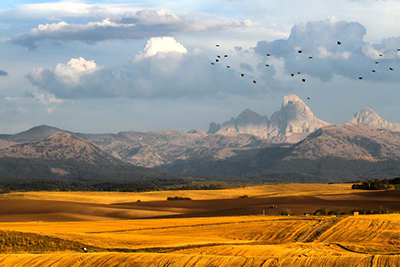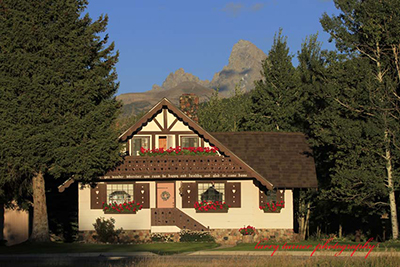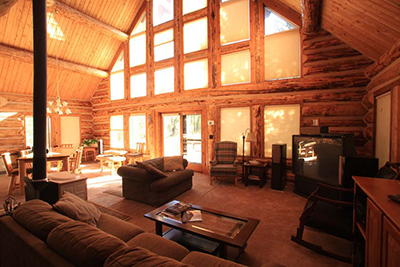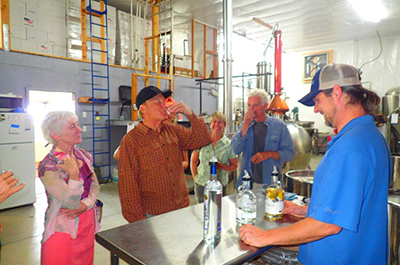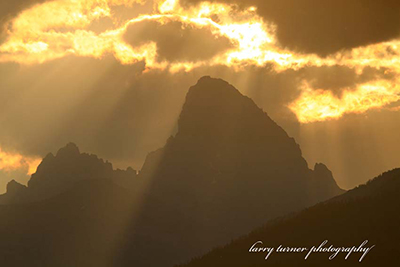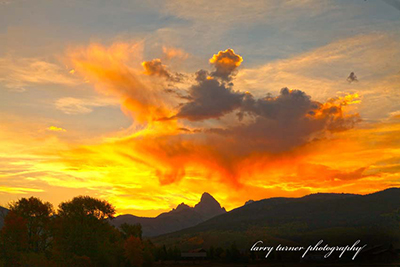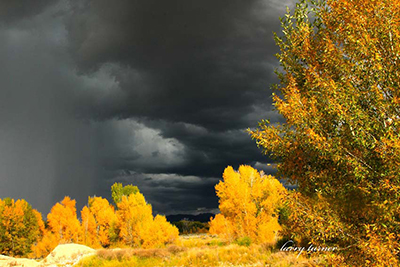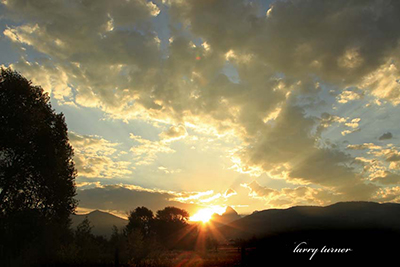 TETON VALLEY, DRIGGS, ALTA, UTAH
| | | | | |
| --- | --- | --- | --- | --- |
| | | | I had first driven through Driggs in the late 1960s. Then, it was just a sleepy little farm/ranch town. Those days have changed. It has become a vibrant, large town with a robust tourist business and a continuing lively agriculture-based economy. Teton Valley and Driggs have a very diverse portfolio of offerings for locals and tourists (www.LifeInTheTetons.com), including world class fly fishing, kayaking, rafting, mountain biking, geotourism (www.tetongeotourism.us), dining, businesses (www.digdriggs.com), local farmers markets, breweries, flying, sailing, skiing and snowboarding (www.grandtarghee.com), horse-riding and sight-seeing. It also has the best vodka that I've ever tasted, produced by head distiller John Boczar and his crew at Grand Teton Distillery (www.tetonvodka.com). The naturally gluten-free vodka is advertised as the #1 American Made Vodka in the World. No surprise - it's made from Idaho potatoes. With their cache of gold medals, I do not dispute their claim. John gave all of us a great tour of their facility. Since we prepared most of our food at the log home, we didn't experience the Driggs culinary world so you'll have to do that on your own. | |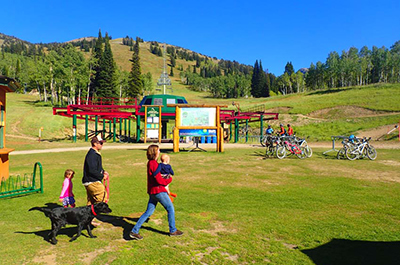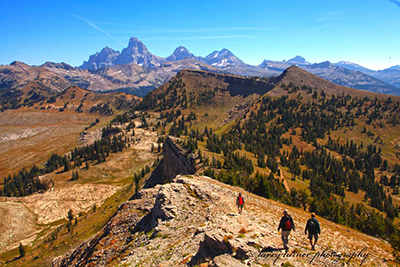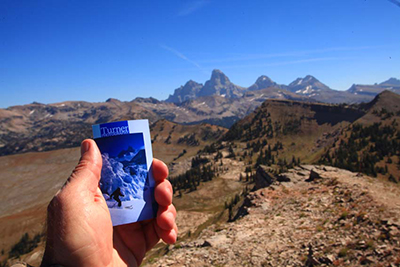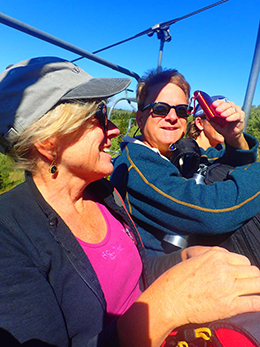 GRAND TARGHEE RESORT, HIKE AND BIKE
Like many ski resorts throughout the country, Grand Targhee Resort has expanded facilities to accommodate summer and autumn activities. My first time skiing at Grand Targhee, located just outside Alta, Wyoming, was epic. Ann, Ron, Lynette and I spent the better part of a day hiking Grand Targhee while Syd and Jim biked it. We all met for lunch and drinks afterward. It was odd traveling up the Dreamcatcher quad mountain lift without a pair of skis on. I made a remark to the group that we needed some Jagermeister to toast the event. Lo and behold, Lynette said, "I think I might have a flask in my day-pack." Sure enough, she did and the four of us passed it around...a tradition I often follow when I go up a ski lift for the first run of the day. 'Kinda takes the kinks and fear out' is my reasoning. After arriving on top of Dreamcatcher, we took the Grand Traverse and Sidewinder trails for our hike back to the Grand Targhee Plaza. The hiking views of the Grand Teton Range are spectacular, including 12,605 foot Mount Moran, 13,770 Grand Teton, 12,928 Mount Owen and Mary's Nipple a 'measly' 9,920! Horny French trappers named the Tetons after woman's breasts 'Les Trois Tetons', slang for three tits. I wasn't that horny - just fascinated by the great views, the caches of wildflowers and the feel-good exercise. Attention ski and snowboard buffs: give Targhee a go this winter. Their 500 inches of annual snow is the deepest for all Wyoming ski resorts.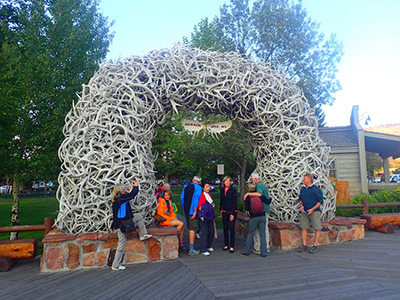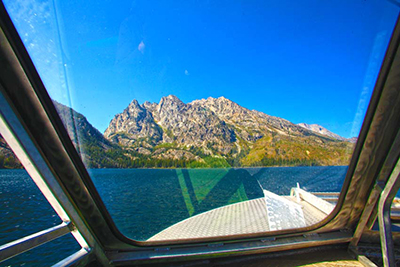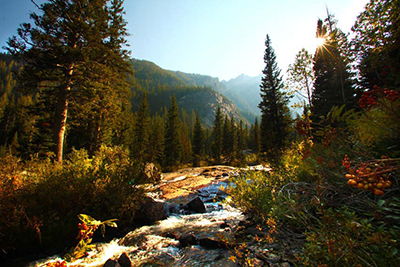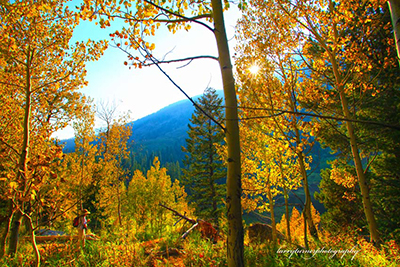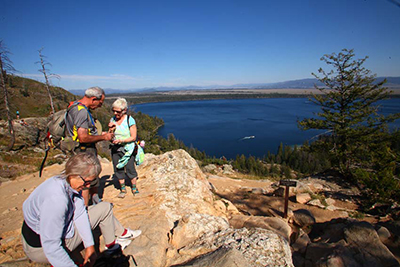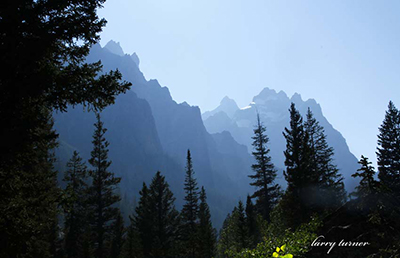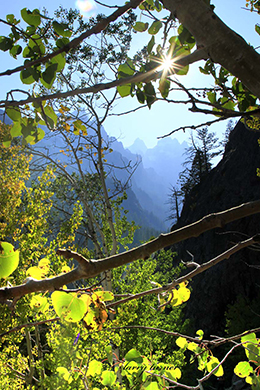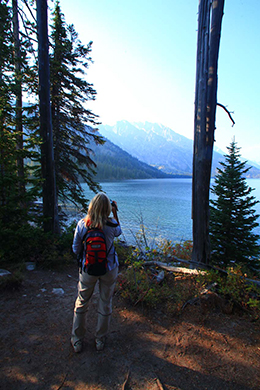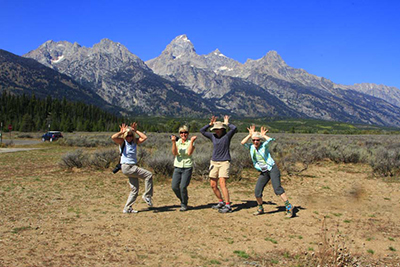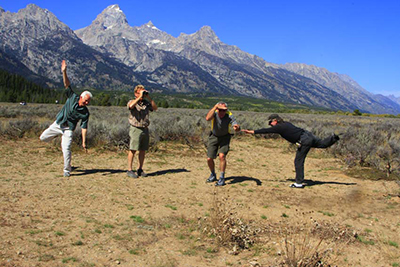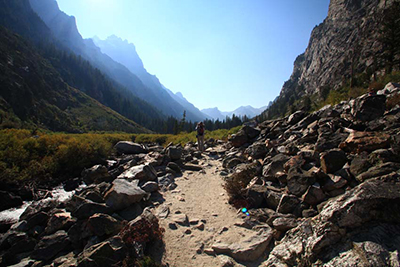 JACKSON HOLE, JENNY LAKE, TETON HIKE
The drive to Jackson from Driggs via the Teton Scenic Byway is a picturesque day trip with Grand Teton National Park the ultimate destination. Eight of us piled in one vehicle for the outing of thirty plus miles. We had our paper bag lunches ready but later we would have dinner at the Snake River Brewery in downtown Jackson. Our first stop was the Laurance S. Rockefeller Preserve near Phelps Lake where we did a short hike and checked out the local ecology. We then made our way to the Craig Thomas Discovery and Visitor Center, a must for knowledge about the Park. Afterward, we drove to Jenny Lake and took a shuttle boat across the lake to a trail head, which lead to a several mile hike into the Tetons. It was a dramatic, invigorating hike along a creek, filled with steep pitched views of these splendorous mountains. The first blushes of autumnal change were upon the landscape. Instead of taking the shuttle back, we hiked back to our departure point. Returning through Jackson, we parked near downtown and took a stroll, stopping for an adult beverage at the Million Dollar Cowboy Steakhouse. We posed under the antler arbor in the town square, then drove several blocks to the Snake River Brewery to sample their brews and tasty food. When we arrived back at the log home, we were plum tuckered out, but mighty happy from the lively adventurous day.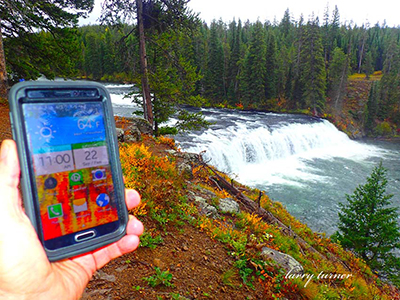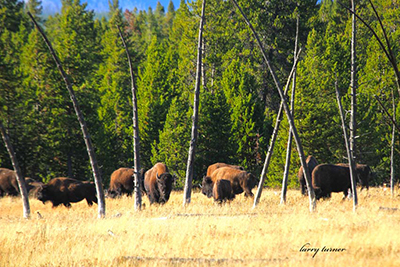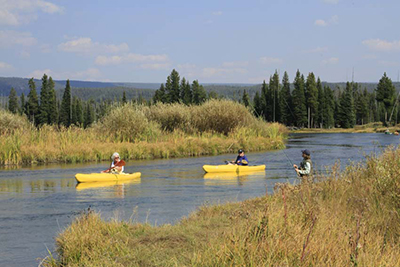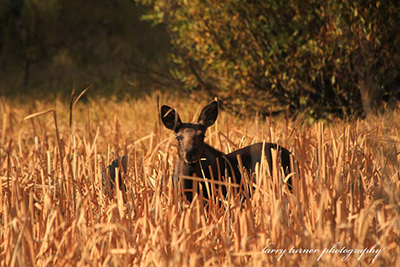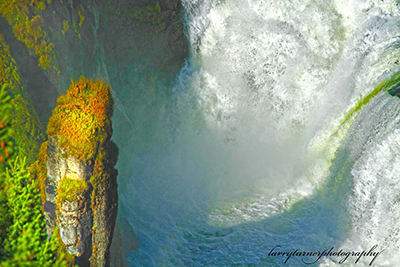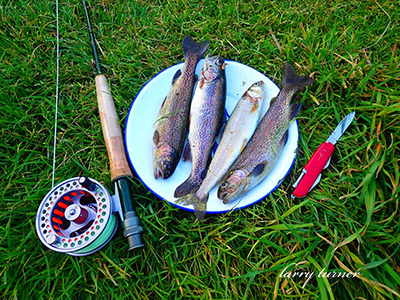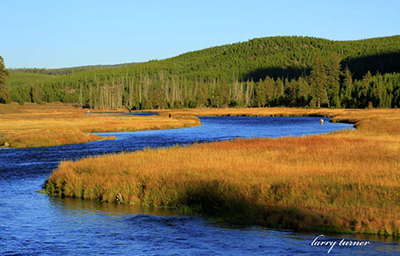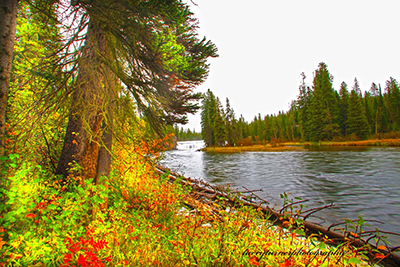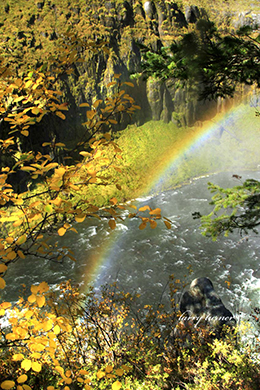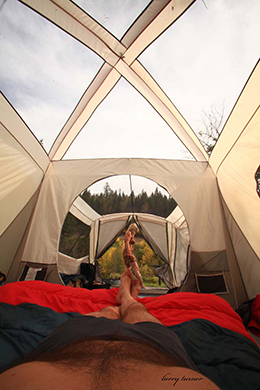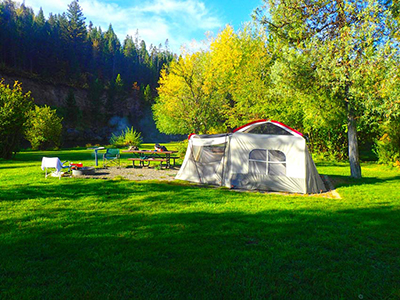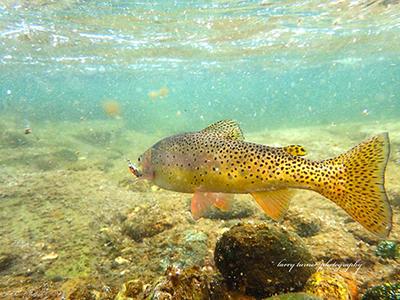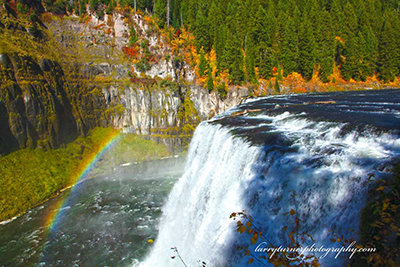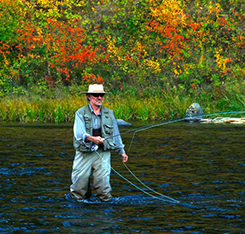 FLY FISHING GOD'S COUNTRY
There is a lot of God's Country in this old fly fishing world and this neck of the woods is right there at the top: Teton River, Bitch Creek, Henry's Fork of the Snake River, just to name a few. Ron, Ann, Lynette and I had a great outing to the world-famous Henry's Fork, north of Island Park and close to Big Springs. We were near both the Montana and Wyoming borders and right next to Yellowstone National Park. En route, we made some casts into Buffalo River. Our hooking fish was sparse but the fishing and scenery was great. We picked up a few tips and flies at Henry's Fork Anglers (www.henrysforkanglers.com). En route back we stopped for a hearty Idaho milkshake in Ashton. A few days later, I hiked into Bitch Creek and caught my first Yellowstone Cutthroat. I also fished the Madison and Firehole in Yellowstone Park, and witnessed one of the greatest caddis hatches I've ever seen. Warm River—along the extraordinary Mesa Falls Scenic Byway—was the most productive for me. Lynette and I camped there a few nights after the Condor Reunion. We also drove to nearby Cave Falls, the least known and used unpaved road into Yellowstone.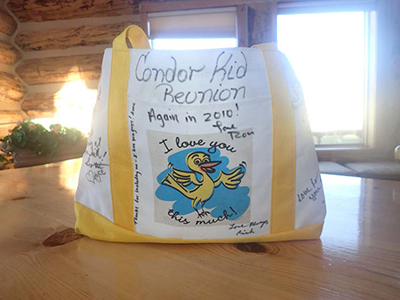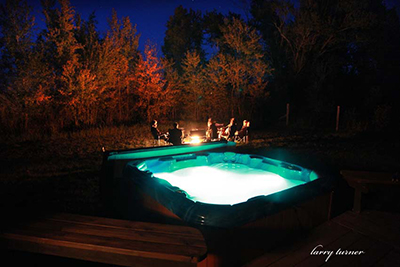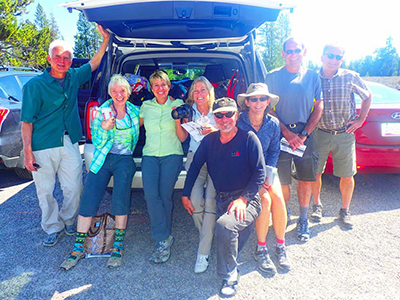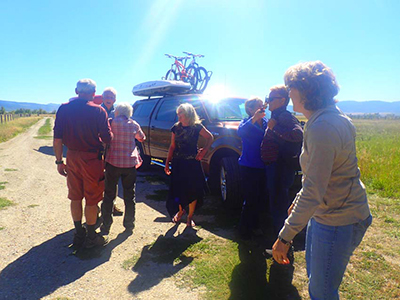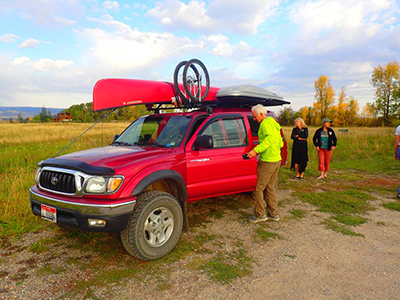 CONDOR KIDS
The week spent with the Condor Kids was unforgettable. Our plate was filled with adventure in the perfect countryside for such. Our conversations were lively, the communal food prepared superb, the evening campfires with a backdrop of the Tetons soothing and hypnotic, our zany activities - such as the rubber duck races on the creek - precious. As we age, we take nothing for granted, such as good company in great country.
Important Info:
www.greater-yellowstone.com/Teton-Valley