There are always these gems that only the locals know.
And outsiders don't.
Which brings up the two ski hills outside McCall, Idaho.
You undoubtedly know about Sun Valley and probably about Schweitzer. But smack in the middle of the state are Brundage and Tamarack, powder treasures with an amazing array of killer intermediate terrain.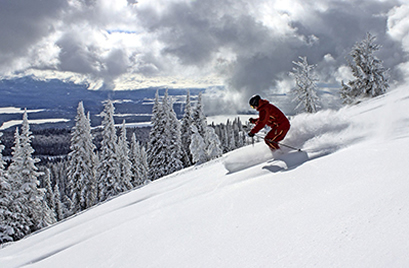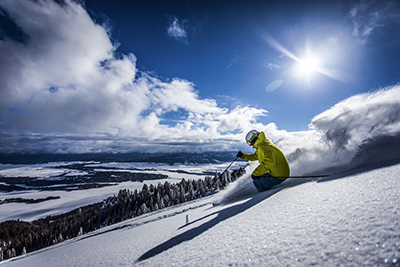 | | | | | |
| --- | --- | --- | --- | --- |
| | Skiing Brundage Mountain near McCall, Idaho. | | Skiing powder at Tamarack Resort. Photo courtesy Tamarack Resort. | |
Let's get something straight from the start...people always talk about expert terrain - cornices, walls with waist deep powder, breathtaking swaths of tree-skiing in crowded forests.
And yet, the vast majority of us are intermediate to advanced. We like a few bumps, maybe a glade or two, but our hearts are set on the cruisers...those steep ones when our legs are fresh, the more gentle ones towards the end of a full day.
The granite hills here are old - meaning round and relatively gentle. The snow is light and deep. The nearest town, McCall, about 100 miles north of Idaho's capital city of Boise, started as a logging center, but slowly, thanks to Payette Lake and those mountains, turned to outdoor recreation.
So I was in the Brundage Mountain lodge cafe when this chap walked by in the exact same ski pants I've had in my closet...for 20 years. No $1,000 Bogner outfits here. And no Starbucks, either. McCall sort of prides itself on the fact that that nearest "trendy" coffee dispenser is 100 miles away.
| | | | | |
| --- | --- | --- | --- | --- |
| | | | | |
| | Riding at Brundage Mountain after snow fall. Photo by April Whiteney/Brundage Mountain Resort | | Ski patrol cabin atop Brundage Mountain ski resort with a snow sculpted dog and its little igloo doghouse. | |
Brundage, which dates back to 1961, is a low key, low pressure ski hill. There are five lifts serving 1,500 skiable acres with a 1,800 foot vertical drop. But those figures don't begin to describe what is in essence an intermediate's paradise.
Yes, there is hairy terrain with forests and steep, ungroomed powder, along with 18,000 acres of guided backcountry terrain. But at its heart, Brundage is cruiser heaven. Even many glades are aimed at less than experts, with wide-spaced trees and less intimidating pitches. Part of this is due, sadly, to the global warming-spurred die-off of white bark pine. The trees stand as gnarled gray ghosts and once their lower branches were trimmed, they became the perfect intermediate gladed tree slopes.
Uncharacteristically when I visited, the area hadn't gotten any fresh powder in nearly a month (and of course, many feet arrived three days after I left). So I "settled" for bombing Brundage's steeper cruisers, especially 45th Parallel and on the backside, Dropline and Kickback, both of which softened in the afternoon, turning into creamy hero snow.
Snow sculpture of a old fashioned juke box with lights. Created for McCall's winter carnival, McCall, Idaho.


Working on a snow sculpture for the winter carnival in McCall, Idaho.



McCall Winter Carnival Opening Fireworks - 2009 Winter Carnival Opening Ceremonies.
Photo by Gary Ertter/McCall CVB
Back in town, things were gearing up for the annual Winter Carnival, when the town's nearly 3,000 population numbers swell to 45,000. Snow sculptures had appeared on every corner and byway: a shipwreck with a shark on its deck (which ultimately won best of show); a jukebox with changing colored lights; Darth Vader with an illuminated red light saber; ice bars; stacks of snow pancakes; a ski jump. T'was a virtual wealth of creativity.
Opening night, I strolled by a few sculptures, then retreated to the heated rock pools of the Forbes rated (that means nicely upscale) Shore Lodge, where a day pass got me entry to their spa. And I emerged to the hotel's beach just in time to watch the carnival-opening fireworks, then headed to Narrows Grill for killer ribs (with a mac & cheese side) which could have easily fed two for only $18. Prices here when compared to the "Big Boy" resorts can be somewhat unbelievable (more about that soon).
Which brings us to Tamarack Resort, some 40 minutes down the road.
The base at Tamarack Resort with sports and cafe domes and a snow rainbow. Photo courtesy Tamarack Resort.

Snow sculpture for McCall winter carnival.
Photo courtesy McCall CVB
Tamarack started a decade ago as, well, a sort of Yellowstone Club Jr. - a private resort with seriously well-heeled owners but also open to the public. And then the recession hit. And the place went bankrupt. And the resort slammed shut. One of their chair lifts was even repossessed.
The resort emerged from foreclosure last year and now has new backing, along with (starting last ski season) full-time operation instead of the four-day-a-week schedule it's had for the last few years.
The new company spent $2.6 million to improve snowmaking, paint lift towers, and buy new groomers, among other things. 
But new money and owners don't exactly mean the place is crowded. On a Friday before Winter Carnival, I was still finding corduroy groomer tracks on main runs at the end of the day. Talk about having a resort practically to yourself.
And prices here are downright startling... in a good way. Senior one-day lift passes ran $15 last season. Regular adult passes were $52. And, yow, lodge/lift packages included a "ski free Wednesday" deal where you got three days of lifts and lodging for the price of two. Early bird and twilight private lessons, meanwhile, were going for a truly stunning $30. And by February, there were mid week "Ski & Stay" packages for as low as $85 per person, double occupancy, that also included a $5 food voucher.
| | | | | |
| --- | --- | --- | --- | --- |
| | | | | |
| | Colorful dawn at the shore of Payette Lake, McCall, Idaho | | Winter Carnival Ice Bar. Liquor is poured down slot into mouth. Photo courtesy of Brundage Mountain Resort | |
Oh yes, and then there are the cottages, two-level small homes, actually. One I visited had been selling for $1.2 million in 2007. When I was there, it was selling for $330,000. I live in the Seattle area and there are homes in distressed neighborhoods going for more than that.
Like Brundage, this place is, above all, an intermediate/advanced treasure with cruising runs that take a continuous but never boring line down the mountain's entire 2,800 vertical drop. The mountain has four lifts serving 900 acres with a 300 foot yearly average snowfall.
The place is, however, also still a work in progress. Tamarack is actually run by four entities that separately control the mountain, the main hotel, the golf course and the...um...ghost village.
Sitting behind the yurt-like (supposedly temporary) dome structures that house the resort's sport center and two restaurants is the still-unfinished village core. The buildings look nearly done but at this point, no one really knows when or if they will ever be finished.
| | | | | |
| --- | --- | --- | --- | --- |
| | | | | |
| | Grilled Salmon with lemongrass & kaffir lime coconut sauce plus mint chili sauce with pistachio nuts and black forbidden rice cooked in orange blossom water. | | Surely the world's largest cinnamon roll. Pancake House, McCall, Idaho. | |
"We have to show viability before it will go forward," one Tamarack representative said.
And included in that category of "unfinished structures" is the 13,000 square foot mid-mountain lodge that stands as a tease partway up the slopes.
However, daily skier visits have climbed back to pre-crash years and the skier crowd is steadily growing.
Brundage Mountain's infamous apres ski "ski shot." Shot glasses are filled and drunk in unison from glasses glued to a ski.  Photos by Rebecca Scott/Brundage Mountain Resort
Finally during my trip, I did Blue Moon Outfitter's yurt dinner. I've done a few yurt dinners but this one, well, was quite special.
Normally folks cross country ski the one-mile trip into the yurt. But since it hadn't snowed in a while and the track was more than a little icy, I opted for snowshoes. They were hardly bigger than my boots and gripped the slick surface almost like crampons. So, off I went through the towering pines of Ponderosa State Park.
The yurt sat within sight of Payette Lake. It was cozy, warm and filled with people.
"You must mingle," co-owner Lisa Whisnant said.  And so we did, over her famous appetizers...sesame-marinated asparagus spears, bell peppers stuffed with brie - and the star of the pre-dishes, slices of grilled duck breast with cinnamon cabernet sauce and fried wontons atop a bed of shredded cilantro and cabbage.
Ah, but there was more...a salad followed by grilled salmon with lemongrass and lime coconut sauce plus black forbidden rice cooked with orange blossom water. And finally, a poached pear dessert.
ALL of this done on the spot over a portable propane stove.
The trip back was through crisp, frosty air with stars twinkling between the ancient pines.
Of course I intend to go back to McCall. I've got a friend building a house there. And I plan to time my visit when the powder is deep.  
INFO
Ski season in the McCall area generally runs mid-November through April or mid-May. Winter Carnival in 2016 will be Jan 29-Feb. 7. Hotel rooms and rental units are usually all booked three months earlier.  http://mccallchamber.org/   http://www.tamarackidaho.com   http://www.brundage.com   http://www.shorelodge.com/  
SIX THINGS YOU PROBABLY DIDN'T KNOW ABOUT BOISE
Most people coming to the McCall area fly into Boise, then rent a car for the 2 ½ hour drive to the town. So spending a couple of days in Boise is a popular add-on. http://www.boise.org
GOLD RUSH - People know about the California gold rush of 1849 and the Klondike gold rush of 1898, but, probably because the US was in the middle of the Civil War at the same time, few folks realize there was a huge gold rush in Idaho.      
In the beginning, you could pick up nuggets from the Boise Basin rivers. And eventually, the rush produced three million ounces of gold. It is estimated that more than $250,000,000 was taken from this area in the two decades following its discovery...greater than the gold rushes in California and the Klondike in Alaska. It is reported that gold from the Boise Basin strengthened the Union treasury during the most crucial days of the Civil War, perhaps helping preserve the United States. http://www.boisecounty.us/visit_boise_county.aspx 
WINE INDUSTRY - Yes, Idaho has a burgeoning wine industry. The region sits on the 43rd parallel with hot, dry summers, dependable frost to set the fruit, controlled irrigation and no problems with mold. In other words, one local said, "perfect grape growing conditions."
But it's all new. The Snake River Valley AVA (American Viticultural Area) was only created a handful of years ago. Chalk it up to changing climate and an influx of wealthy corporate types retiring to the area with a desire to start their own vineyards. The first 11 Idaho wineries of 2002 are now more than 50, with over 1,200 acres of grapes planted. So make sure to try some local wine. http://www.idahowines.org/
BASQUE BLOCK - Great conditions for sheep led to an influx of Basque sheep herders in the 1800s, peaking around 1900 with about 50,000 Basques. And today, though the sheep industry is smaller than it once was, the Basque population lives on. Numbering about 16,000, Boise's Basque community is one of the largest in the United States. Like all other Basque communities, Boise area Basques are very proud of their unique heritage, but the local Basques also have a unique area to call their own - The Basque Block, with a museum, market, restaurants and regular festivals. http://www.thebasqueblock.com/
ANNE FRANK MEMORIAL - This is a touching memorial to Anne Frank, the girl who hid from the Nazis during WWII. Frank is remembered through the diary she kept during those years before she was found and ultimately died in a concentration camp. In 1995, a traveling exhibit on Anne Frank drew tens of thousands of visitors from across Idaho. This overwhelming interest sparked the idea for a more permanent tribute which today is the only Anne Frank memorial in the US. And though the memorial doesn't specifically mention it, locals say part of the reason this park exists was to celebrate the fact that the white supremacist Aryan Nation was kicked out of northern Idaho in the late 1990s.  https://parks.cityofboise.org/parks-locations/parks/idaho-anne-frank-human-rights-memorial/ 
FREAK ALLEY - Begun in 2002 with a painting of a single alley doorway, Freak Alley now extends a full block between 8th and 9th Streets and Bannock and Idaho Streets and contains solid walls of truly beautiful paintings. Artists have painted realistic murals, cartoons and straight-on graffiti across the alley's aging brick walls. At any time you might come upon artists on ladders creating new images. The eye-popping colored walls constantly change.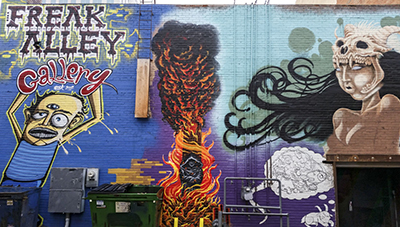 Freak Alley, an alley in Boise, Idaho covered with street art by talented artists
GROVE PLAZA - In the center of town, a huge farmer's market, known as Capital City Public Market, happens every Saturday from mid-April through mid-December at Grove Plaza. Locals load up on dinner. Visitors can find portable goodies...nuts, dried fruit, jams, honey. There is a multitude of crafts and often, entertainment. The Market currently sits along 8th Street between Main and State Streets. It's grown steadily with 150+ vendors a day in the peak of the season, and now covers four blocks of downtown Boise.
Meanwhile, every Wednesday afternoon in summer, the plaza is filled with live entertainment. It's called Alive After Five and features live bands, vendor booths, food and drink. http://capitalcitypublicmarket.com/ http://www.downtownboise.org/index.cfm/home  http://www.downtownboise.org/index.cfm/events/dba_events/alive_after_five