If you're flying internationally (or "upper class") you'll be reintroduced to food - real food - on an airplane.  But who thinks about just how that food gets to us. Or to the other, say, 4.5 million fliers like the ones each year on Virgin Atlantic Airlines.

In search of answers, we sat down at The Base, Virgin Atlantic's crew training base in London, with Mark Nunn who coordinates all those logistics for Virgin Atlantic and we learned way more than we expected about food in the air.

There's the matter of taste and smell. We lose 30 percent of our ability to taste and smell at the usual flying altitudes of around 8,000 feet. In the past, many airlines handled that by adding salt and serving a LOT of tomato sauce dishes.

Upper class on a Virgin Atlantic flight. Seats become beds or can be set up for two to share dinner.
"Our answer isn't to over salt and spice the food," Nunn said. "We want you to smell the food being warmed and then use fresh, creative spices instead of just salt."      
Some airlines may totally precook food and then just warm it. Virgin partially cooks it (say, meats are cooked to medium rare) then finishes the cooking onboard. And like those fast food places that funnel aromas into the neighborhood, the airline make sure everyone knows something's cooking.      
Even the champagne, Lanson Black Label, is special for altitude. It has more citrus notes and enough character so that it doesn't taste like generic sparkling whatever.      
But it gets far more complicated.      
"We have to take into account cultural differences," Nunn said. For instance, the airline cannot have any pork products aboard when landing in Dubai, whose Muslim culture forbids eating pork.       

"The ground crew won't touch the airplane to service it if we do." And different food is served depending on the destination and season ... beef stew going to the US, very spiced curry dishes to India, bento to Japan, and overall, heavier meals in winter.      

Two things that cross all cultural borders ... filet steaks and, oddly, cheesecake.  "We can't put enough cheesecake on the aircraft," Nunn added.

Mark Nunn, food and beverage manager for Virgin Atlantic, discusses the logistics of feeding 4.5 million people in the air
Meanwhile, there are those other little things.      
"If we know in advance someone will be aboard with a nut allergy, we won't load any nut products at all. We can't take the risk," Nunn said.      
The airline also follows major culinary trends. GU desserts (cheesecakes, melted middles, mousses) are the latest "thing." And the airline serves free range chicken (and eggs).      
 Meanwhile, should you be lucky enough to fly what Virgin America calls "upper class," there are themed afternoon teas. The Mad Hatter's tea party, for instance, included toadstool and cup and saucer shaped cakes.      
| | | | | |
| --- | --- | --- | --- | --- |
| | | | | |
| | Flight attendant Lee Mallinson mans the upper class bar on a Virgin Atlantic trip from London to Los Angeles. Lee has gone from concert musician to lecturer and is now travelling the globe with the airline. | | Meals aboard Virgin Atlantic in upper class. Here we have a filet steak with watercress sauce. And don't miss the little salt and pepper shaker mice in the corner. | |
And there are Virgin's Upper Class perks in London, which I've got to admit, make the offerings across North America look and feel quite, well, tacky.      
Start with the free 10 minute spa treatments ... massage, manicure, conditioning shampoo with brief styling, segue to the showers and whirlpool (pack a bathing suit), continue on to the deli buffet (three kinds of smoked salmon, deli meats, breads, cereals), plus a full menu service and bar service (beware the spicy Bloody Mary which will blow off the top of your head).       
Oh yes, there's also a separate check-in counter, designed to look like a hotel lobby reservation desk.    
| | | | | |
| --- | --- | --- | --- | --- |
| | | | | |
| | Deli bar at Virgin Atlantic Clubhouse for upper class passengers at Heathrow airport in London. | | Checking in at Virgin Atlantic's "Upper Class Wing," a separate check in desk in London for upper class passengers. It is set up to look like a hotel registration desk and has it's own separate security line. | |
But back to Nunn and his food responsibilities. In addition to Virgin Atlantic, Nunn is helping create food for Virgin Galactic. "We're working with NASA so people get a space food experience."       
What does that mean? Nunn didn't elaborate except to say, "Remember, those flights are really short."      
Nunn hops nearly a dozen flights a year to check out the food. And yes, there are periodic surveys to see what passengers think.      
Finally, there are the on board salt and pepper shakers. They're shaped like little mice and on the bottom of the mouse feet is an inscription: "Pinched from Virgin Atlantic."      
People kept taking them, so the airline gave in and now, essentially, invites folks to help themselves.      
 "It's a great bit of advertising," Nunn said with a laugh.     
The facilities at Virgin Atlantic's crew training base in London are open for use by non Virgin Atlantic businesses. Who rents The Base? Other airlines, non airline companies who want to hold team building exercises, companies whose employees do a lot of flying. And what they rent includes virtually anything - styling class, aircraft shell, the slide, life rafts, engineering technical training.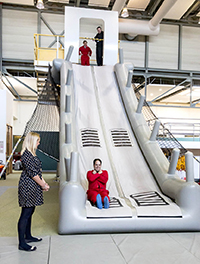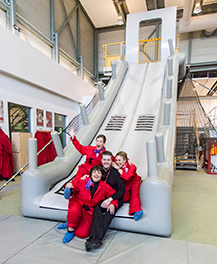 Safety school at the Virgin Atlantic Training Base in London
where not only the airline's flight crew get trained but other
airlines and outside corporations can rent the facility and attend
classes ranging from styling through safety and technical engineering.
Here, the group gets to try out the emergency slide, which is nearly two stories tall.
For information on renting The Base, Virgin Atlantic's training facility http://www.virgin-atlantic.com/en/us/allaboutus/training/facilities.jsp

For Virgin Atlantic http://www.virgin-atlantic.com/us/en.html  
YouTube link to Training at The Base by Terry Gardner, Part 1 http://www.youtube.com/watch?v=n5KCFCa82F4&feature=youtu.be   
YouTube link to Training at The Base by Terry Gardner, Part 2 http://www.youtube.com/watch?v=GTlYMVIojIo  (This is mostly our experience with an "emergency" aboard the mock airplane at The Base. Plus us going down the slide.)