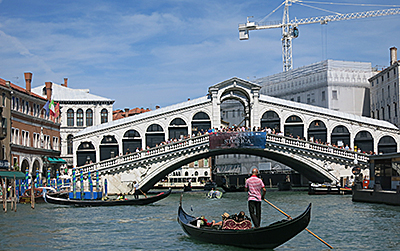 Vaporetto under the Rialto Bridge
It was my second day in Venice and I was feeling confident, and maybe just a bit too cocky. When I left the Hotel Scandinavia with my trusty Rick Steves guidebook and handy-dandy map in my back pocket, I was confident I could navigate Venice's maze of streets, alleys and bridges to the Fish Market.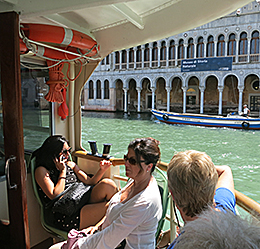 Gondolas waiting to go Relaxing on the vaporetto
As I'd learned the day before, traveling Venice's pinball wizard amalgamation of concrete and watery passages is akin to navigating a video game or complex corn maze filled with false starts and stops. Still, over the years I've found my way in large cities like New York, Tokyo and Santiago, and in wilder, lonelier places like Torres de Paine and the Swiss Alps. Sometimes not so easily and sometimes, to be honest, often with a generous heaping of luck. Luck didn't help in Venice. I fully expected to emerge at the Rialto Bridge where I would cross over the Grand Canal to the bustling fish and produce markets but, Ooops. After more turns and twists than Chubby Checker, my trek suddenly ended at St. Mark's Square. Instead of going west, I had wandered suddenly south.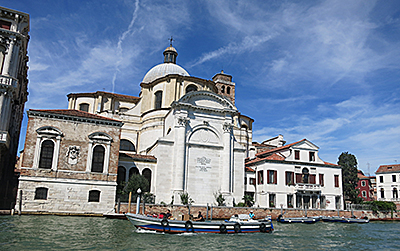 Loaded vaporetto Passing the sights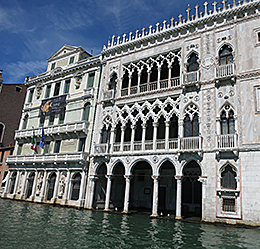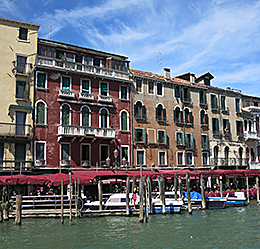 Watery entrances to businesses and cathedrals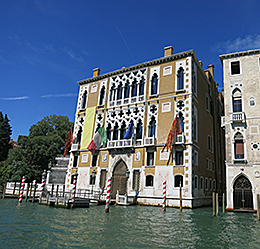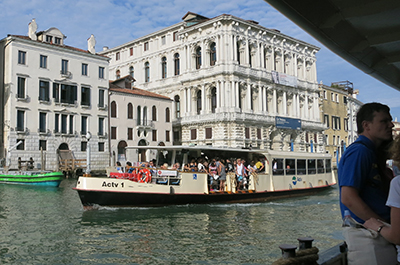 Cruising Venice's Grand Canal
Flummoxed, I looked at the map and was reassured the walk to the Rialto Bridge was quick and easy. Instead, I boarded on the next vaporetto, the non-motorized bus boats that serve as Venice's public transportation. I watched as we motored past places I'd visited a day earlier – the Salute, a huge art-filled church; Accademia, with its art museum and nearby Peggy Guggenheim collection; and past the Ca' Rezzonico, with the Museum of 18th Century Venice. It only takes a short ride down the Grand Canal to appreciate Venice as a romantic city, as a living ornate film set. As Truman Capote aptly described, "Venice is like eating an entire box of liqueurs in one go."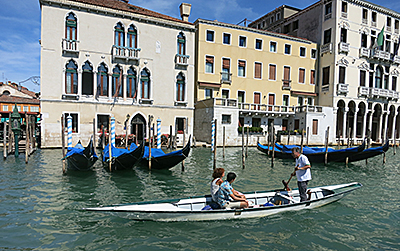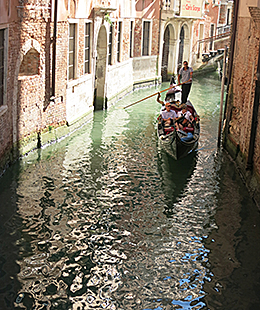 Gondolas on the Grand Canal... and side passages
This morning I wasn't eating chocolates or sightseeing. I left the vaporetto at the Rialto Bridge stop, where the day before I joined the swarms of hovering fellow tourists oogling the sights, including the paddling parade of gondolas. Everyone was absorbed in taking selfies. Camera phones at the ready, young males took pictures of themselves as they frowned and, with cigarettes pressed between pursed lips, made tough guy glares. Gaggles of girls struck come-hither poses or pouted like Angelina Jolie.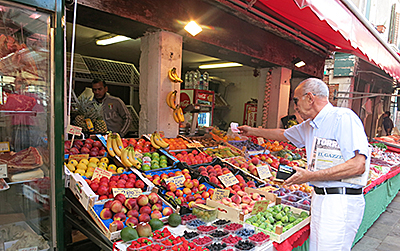 Checking the Fresh Market choices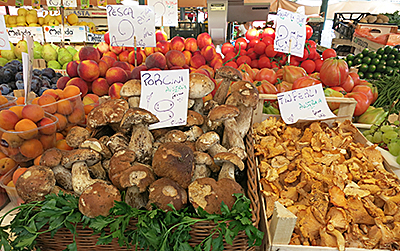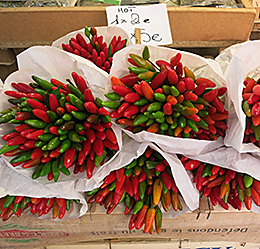 Venice Market mushrooms and fruit and colorful peppers
I wriggled through the knots of people and crossed the bridge to the Fresh Market, where merchants of Venice display a supermarket's variety of fresh fruit, vegetables, mushrooms and sausages in colorful stalls. Nothing is grown in Venice so merchants haul in loads daily. I wandered around the stalls, but just steps away was my real destination, the Fish Market, or Pescarla. I'd been advised to arrive early, when knowing shoppers get their pick of the freshest choices. The night before my dinner featured what I'd read was a Venice specialty, cuttlefish served with polenta. It came in a dish the color of tar and it was…interesting.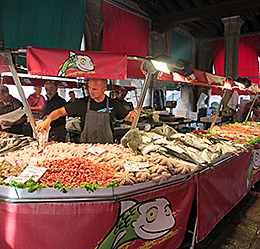 Venice fish market vendors display offerings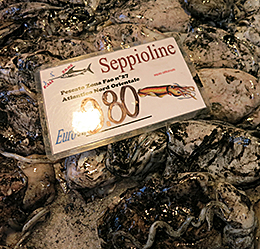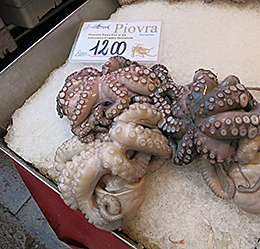 Hmm … Cuttlefish Squiggly wigglies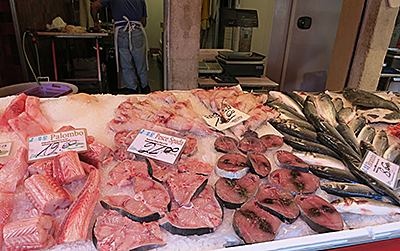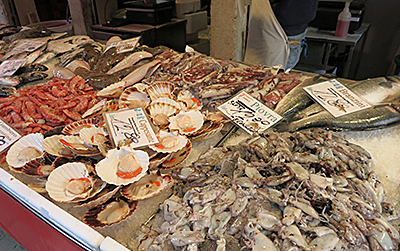 Lots of choices at the Pescarla
The market offered a fisherman's variety of eels, sardines, scallops, squid, salmon and fish I couldn't identify. I found a platter with fresh cuttlefish, or seppioline. The squiggly, gelatinous textured flesh, streaked with dark colors that looked like embedded mildew, did not look appetizing. I was glad my previous day's sampling had included a slice of pizza, grilled panini sandwich and veggies wrapped in pita bread.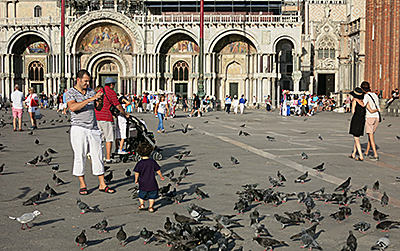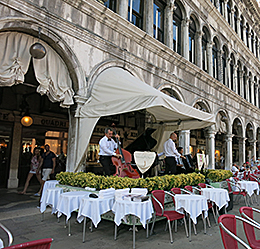 Kids chase pigeons, and musicians perform
Along with taste testing, I had put the Rick Steves pocket guide to good use. Following its instructions, I took the St. Mark's to Rialto Loop and St. Mark's to San Zaccario walks. St. Mark's Square is a logical starting point. Any time of day, or night, it's a sprawling amalgamation of stunning architecture, of happily chattering tourists of all nationalities and color, of restaurants facing the square, many with three- to five-piece orchestras playing everything from Beethoven to the Beatles. And pigeons, thousands and thousands of pigeons. They sometimes briefly took to the sky when children ran toward standing flocks. But when adults and children stood quietly with arms outstretched, smaller groups of pigeons landed on their arms and heads.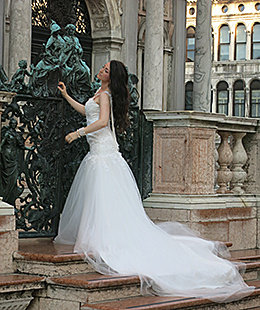 The bride gets ready
In contrast to the messy pigeons, outside the San Moise Church, early arrivals for a wedding milled around while the bride, elegant in a classic white gown, struck fashion poses on the church steps for the photographer.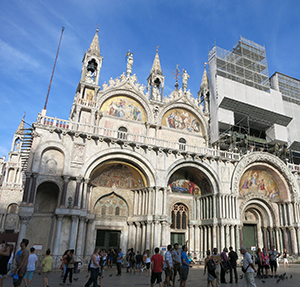 St. Mark's Basilica is a visual wonder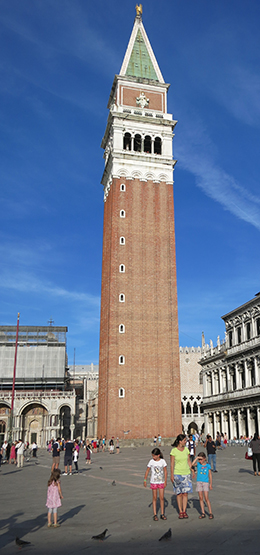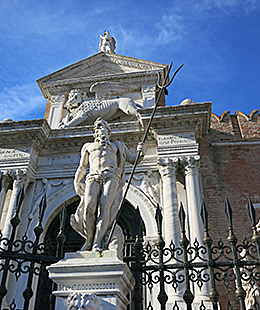 The Campanile and sculptures
The square is an architectural wonder of sights like St. Mark's Basilica, with its Roman-styled arches, Muslin-shaped domes and a mishmash of other styles. Visually, it's curiously enchanting, although not everyone agrees. Mark Twain, the forever curmudgeon, described the effect as looking like "a vast warty bug taking a meditative walk." The vast square also includes the towering Campanile clock tower, San Theodore column, Harry's American Bar, and San Moise. The recommended walk led me from the square past the Le Fenice Opera House, Ponte de la Verona, Daniele Manin Statue, Scala Contarini del Bovolo, the same Rialto Bridge that seemingly disappeared the next day, the Casino and back to the start.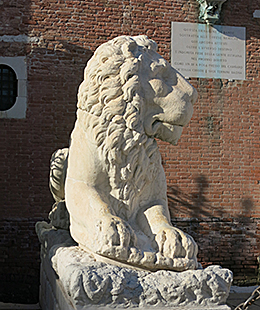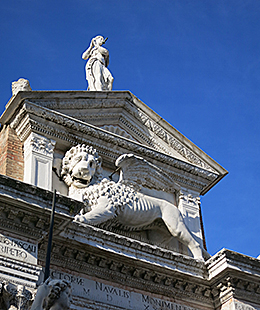 Lions of Piazzetta de Leoni
The St. Mark's to San Zaccaria walk offered other sights, including the lions of Piazzetta de Leoni, Bridge of Sighs and the Church of San Zaccaria, which dates back to the 9th Century when Venice was a village of wooden houses. On along the Riva, a waterfront promenade with swanky hotels, I followed Steves' advice and strolled into the Danieli Hotel with the self-assurance of wealthy guest. Returning to the square I crossed the Bridge of Sighs, where convicted criminals were imprisoned.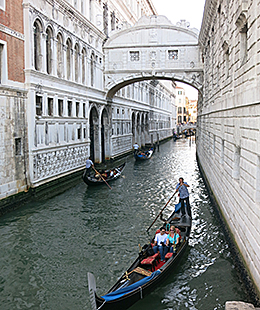 Gondola traveling a side canal
The walks, planned and unplanned, left me confident. I stayed past sunset at St. Mark's Square, where the lights, music and swirls of people created a fine magic. It was night when I strolled assuredly back to my hotel, confident I was easily capable of solving the pedestrian jigsaw puzzle. Instead, I ended up crossing my own bridge of frustrated sighs. What's the solution? Probably a return trip to Venice to try again to solve the pedestrian puzzle. If I'm lucky I'll fail and have to try again.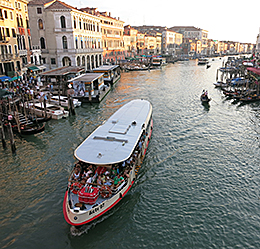 Boats travel the Grand Canal
When You Go
Expect to get lost in Venice, and enjoy doing so. I reviewed many guide books but took only Rick Steves' Pocket Venice. I traveled to Venice by train from Rome, a great experience. From the Santa Lucia train station it's just a short walk to the vaporetto stop. It's also possible to fly to the Marco Polo Airport and take airport shuttle buses to Venice. For first-time visitors, take Vaporetto No. 1, the slow boat that makes several stops along the Grand Canal. The No. 2 is an express vaporetto.
About the Author
Lee Juillerat works is a reporter-photographer in Southern Oregon and frequent contributor to regional magazines and publications. Recent stories have appeared in Alaska Airline's in-flight magazine, Southern Oregon Magazine, Range, Northwest Travel and others. He has written or co-authored books and brochures about a variety of topics and published stories in High On Adventure for nearly 20 years. He can be contacted at 337lee337@charter.net.