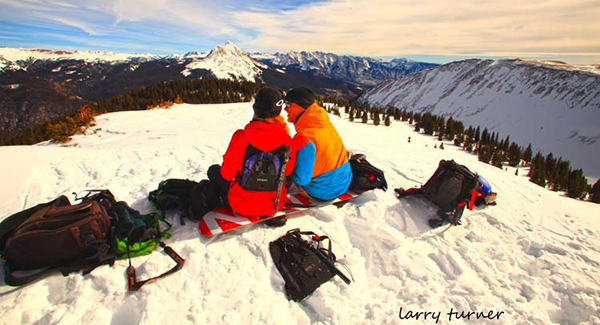 Having skied my entire adult life—except for a gap of ten years—the West has been my main ski palette, except for the Holy Grail State (I know, Utah will argue this, and rightfully so) of skiing: Colorado. I've had many trip offers to ski Colorado but it wasn't until late January-early February this year that I finally accepted and skied Colorado for the first time. At the invitation of the City of Durango and Purgatory Durango Mountain Resort, I accepted the opportunity to join fellow members of www.nasja.org. during our Annual Western Summit meeting. I went to Purgatory to find Heaven...and I will go back!
I write these words from Death Valley National Park, en route back from skiing Colorado and New Mexico. Today is a month in on the winter road trip.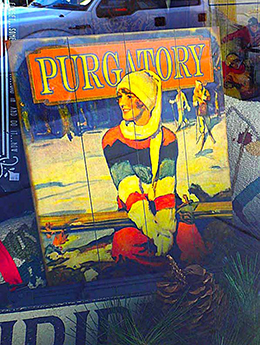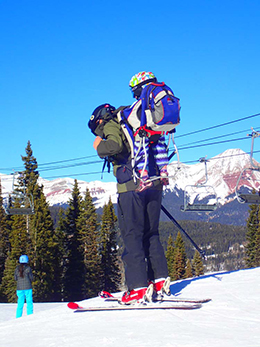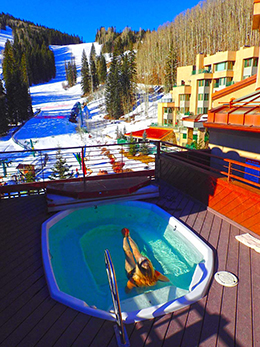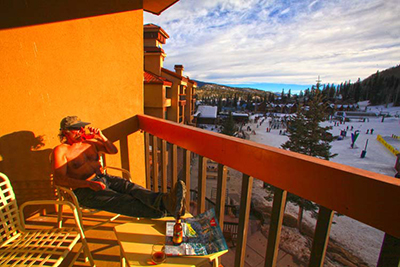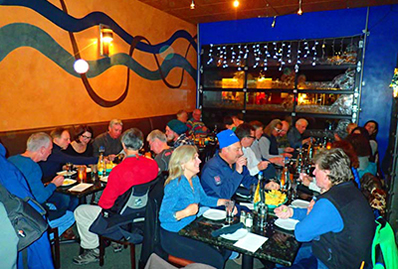 PURGATORY DURANGO MOUNTAIN RESORT

On Facebook, I had been posting our journey to Colorado. We had been camper-camping en route, waking up every morning to frozen windows and bristling January cold. Our arrival in Durango was the warmest day of our journey. Traveling 25 miles north to Purgatory, a car passed us, honking and waving. I waved back, realizing they were fellow NASJA journalists Dave Sartwell from Florida and Evelyn Kanter from NYC. This sunny greeting would continue with our Colorado hosts the remainder of the stay. Our condo at Purgatory Lodge Village Center was extraordinary, overlooking the slopes that we would ski the next several days. We unwound on our veranda with a cocktail. I went bare-chested, gathering in the last light of the day. That evening, we were bused to the Durango Welcome Center where we were welcomed to the region by Durango Mountain Resort Director of Communication Kim Oyler, H and Co Director of PR Ann Klein and other dignitaries. We sampled beer from Durango's Ska Brewing ( www.skabrewingcompany.com) (I loved the Modus Hoperandi IPA), wine from www.sutcliffewines.com and delicious artisan chocolate from www.animaschocolatecompany.com.

We wrapped up the evening with delicious dinner fare at Chimayo Stone Fired Kitchen, prepared by owners Michael and Birgitte Lutfy, former executive chefs for Michael Andretti's Indycar Racing Team. I especially liked the orange chipotle chicken drummettes and a pan roasted caramelized cauliflower 'steak'.

The following day was my first ski of the season and it didn't disappoint. The Village's Expert Edge Ski and Board Shop outfitted me with demo skis that were perfect for the well groomed terrain of Purgatory. Many of the runs were reminiscent of skiing New England with its pitches and flats, but without the ice! The near 9,000 base rises to a summit of near 11,000 feet. Coming from Oregon's high desert country, my lungs were not challenged like several of my fellow journalists who were coming from sea level. I love skiing fast and riding the fall line so Purgatory's heaven fit my ski style well. I drank it up on such runs as Zinfandel, Deadspike and Nirvana.

Trip Advisor named Purgatory the best value ski spot for 2012-2014.

While skiing or boarding the mountain, give Purgy's Slopeside Restaurant a go. They have an extensive wine list. I recommend the Colorado organic winery Fox Fire Farms  www.foxfirefarms.com noted for their Rieslings. I found their reds to be quite nice, too. Also highly recommended: the reds made by Cortez's Guy Drew www.guydrewvineyards.com.   To be extra pampered, check at your lodging's front desk and see if you can get a pass for the Durango Mountain Club www.durangomountainresort.com/dmc.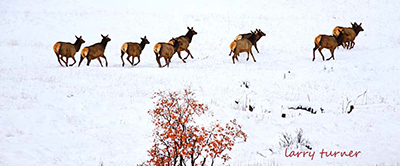 CAT SKIING SAN JUAN UNTRACKED  

The ski high-lite of the Purgatory experience was back-country cat skiing with www.sanjuanuntracked.com. Will and Dennis outfitted us with avalanche beacons, gave us instructions, then drove us where we met the snow-cat. We took six fresh powder runs, each accessing different 11,000 foot plus terrain. There were lots of hoops and hollers as we frolicked in the fresh pow. The bluebird day gave us views of five 14,000 plus Colorado peaks. Lunch was at a promontory called Hanies Hip. I sat on my photo pack. Next to me, seated on their snowboards, was Matty Swanson from Oakly Inc. (makers of the goggles which I was wearing) and his Pennsylvanian girlfriend Lilian Hough, art director of Anthropologie. "I could spend my lifetime with this view," gushed Lilian. "How fortunate to be in the back country, boarding freshies on a heavenly day in Purgatory." I seconded her affirmation.

San Juan Untracked and Purgatory access the second largest cat skiing terrain in the country. Give them a go when you visit this extraordinary part of the Rocky Mountains. You will leave with a deep smile on your face, and tired legs.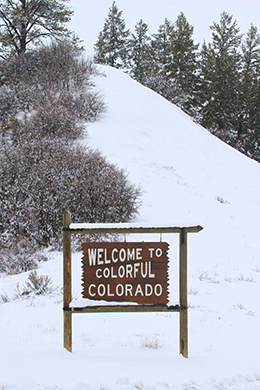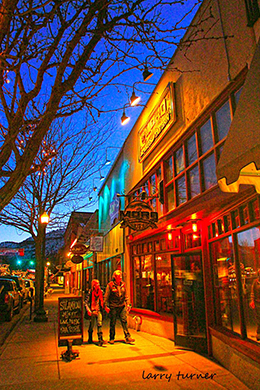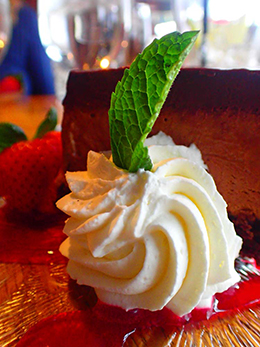 DURANGO
Durango Tourism www.durango.org bills itself as "A dozen Vacations in One Vacations." Yep, I second that after seeing and experiencing some of what they have to offer. The old downtown is charming with its brick buildings that herald back to days of mining and railroading. The town has a robust spirit, lively nature and an offbeat character. We were there at the beginning of the 37th Annual Steampunk Snowdown 2015 www.snowdown.org.  "We just like to dress up and have fun," says Klein. The several day fest celebrates winter in the Rockies with such offbeat events as Family Feud Snowdown Style, Butt Darts, Guinness Games-Ants in the Pants, Phat Phat Phat Burger Eat Off, Snowdown Beard Competition, Bed Rally Race, Iron Mixology Creative Cocktail Contest and the Ultra Sexy Steam Swimdown, just to name a few.
With a population under twenty thousand, Durango is three hours away from any major Interstate. They get 300 plus days of annual sunshine and nearby are five-hundred thousand wilderness acres to access, explore and enjoy. The World Heritage Site Mesa Verde National Park is also nearby. There is a First Thursday Art Walk every month. The small city has a variety of fine eateries, theater, music, Durango Film Festival, breweries www.steamworksbrewing.com are a must with their variety of pours and unique building, and one of the greatest railroad excursions in the world: the Durango and Silverton Narrow Gauge Railroad www.durangotrain.com. Do not leave Durango without visiting their railroad museum. It is located across from the Palace Restaurant www.palacedurango.com where we had a sumptuous lunch of southwest green chili pork stew over rice and petite chocolate mousse, prepared by one of Oprah Winfrey's former chefs Paul Gelose, the owner. The Palace has 25 red and 25 white wines, sold by the glass. Gelose is the founder of www.rickysluckynuts.com. I went nuts sampling a few packages of these tasty peanuts.

Oyler expands on Durango's winter character: "We have a lot of local music in the winter months, along with some unique festivals throughout the year such as the Mac and Cheese Festival. We never like to get bored. We call ourselves Durangotangs." Oyler and her husband Kris own El Moro Spirits and Tavern www.ElMoroTavern.com. Kris mentions, "We have more fine restaurants per capita here than San Francisco does. We have no big chains to speak of. Tourists come here for our character. They come to see something unique."

We had a unique dining evening at ElMoro, an establishment suffused with the very character that Kris spoke about. My mesquite grilled flank steak was as good as I've ever had. The creme brulee dessert was perfect. The ambiance of the old building with the mason jar lights was unforgettable. I finished the evening with a nice cognac at the nearby Diamond Belle Saloon. Walking to the Diamond, the streets of Durango were coming alive with costumed folks carrying musical instruments. One lady had a mannikin under her arms. I wanted to stay and enjoy the Snowdown activities but our bus was waiting. Okay, I decided, I'm heading back to Durango and Purgatory sometime for Snowdown. The mix of purgatory and heaven is just too good to pass up!.

Important Info: www.skipurg.com www.durango.org