Portland Food Carts

Find most anything you want to eat for a very reasonable price,
at the many food carts in Portland

If you're in Portland, then you have to know that you're in the food cart capital of the universe. What better city adventure could you imagine here than an exploration of this universe of tastes, fragrances and flavors from every corner of our planet. This is truly a global gustatory trip.
Food cart specialties run the gamut from Transylvania to Yucatan to Georgia (the country, not the US state) to beyond. But keep in mind, the prices are not out of this world.

Taco with red cabbage Photo courtesy of El Taco Yucateo
A stop at El Taco Yucateo at 1003 SW Alder Street will reward you with tacos from the Yucatan peninsula like you've never tasted before. Love that they put cabbage on their tacos. Voted the best pulled pork tacos in Portland. Their Panucho is also definitely a must-try, their habanero sauce - as spicy and warm as their service. https://www.facebook.com/pages/El-Taco-Yucateo/2989987935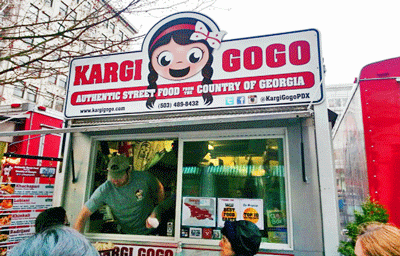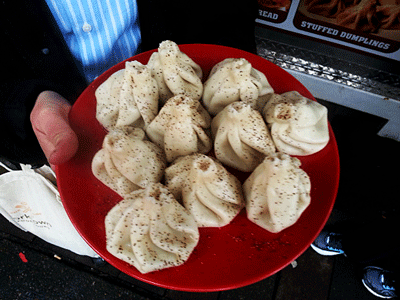 Kargi Gogo food cart, 950 SW Washington Ave. Beef, pork and Georgian spice-stuffed dumplings
Another "best" on the food cart spectrum is Kargi Gogo, the world of Georgian cusine, which combines Eastern European and Middle Eastern elements with fresh and innovative combinations. Their stuffed beef and pork dumplings are a Portland favorite. Kargi Gogo was recently voted in the top 10 carts by The Oregonian and we must agree! http://www.kargigogo.com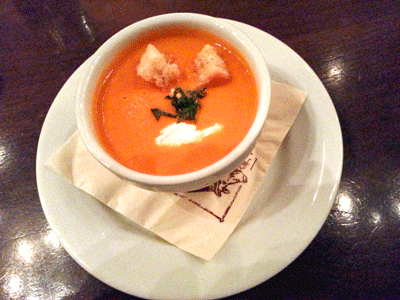 Tomato soup at Brasserie Monmarte, 626 SW Park Ave.
For a brick-and-mortar stop, visit Brasserie Monmartre in the historic Calumet building for a taste of Paris—tomato soup with goat cheese, mint and brioche and a glass of Sokol Blosser or pinot noir. http://www.brasseriepdx.com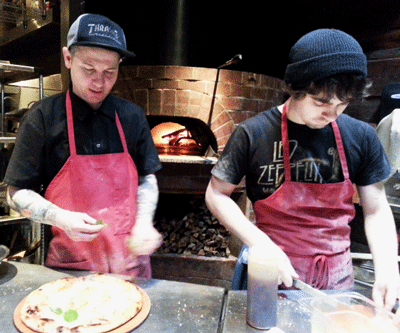 Two wood-fired oven pizza chefs at Oven & Shaker,
1134 NW Everett St., Pearl District
Then slide on over to Oven & Shaker. These guys know how to do down and dirty, hearty and halacious Italian street stuff for hungry people. Wood-fired pizzas might be their best stab at it, but their cocktails (try the Bees Knees) have a big rep. One of the chefs is a James Beard Award-nominated celebrity on the Portland dining scene. http://www.ovenandshaker.com
| | | | | | | |
| --- | --- | --- | --- | --- | --- | --- |
| | | | If you have a sweet tooth (or even if you haven't), don't miss standing in line at Portland's famous and bizarre Voodoo Doughnut Shop. Fans come from miles around. Favorites are the Bacon Maple Bar, Voodoo Doll, Grape Ape, Tex-Ass, Cock-N-Balls - they even have vegan. Open 24/7, cash only, visit www.voodoodoughnut.com for more info and a collection of Voodoo videos. | | | |
| | Voodoo Doughnuts, 22 SW 3rd Ave | | Long lines form every day | | Three satisfied Voodoo customers | |
For a thorough foodie tour of the city, give forktown food tours - www.forktown.com a shout. They offer fun, informative and delicious walking tours in downtown & The Pearl District, an Historic Alphabet District tour and a North Mississippi tour all on different days of the week.
McMenamins Edgefield
| | | | | |
| --- | --- | --- | --- | --- |
| | | | | |
| | Edgefield Hotel at night, by Kathleen Nyberg/McMenamins | | Edgefield from the air, courtesy McMenamins | |
It's hard to fathom, but today's upscale hotel, restaurant, winery and spa complex known as McMenamins Edgefield, just 20 miles east of Portland, once served as the Multnomah County Poor Farm. During the Great Depression, the farm was home to folks who had seen better times. Residents ran a co-op-like operation, raising hogs, chickens and cows, also farming fruits and vegetables. They had a dairy, cannery and meat packing plant, the products of which served their population as well as that of the local jail.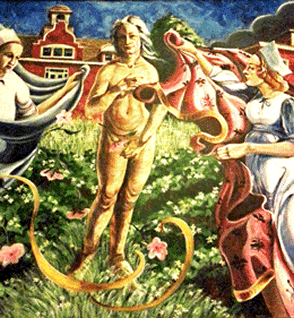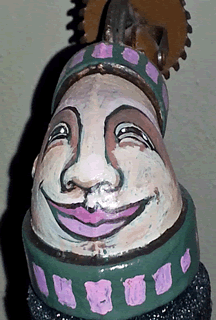 Paintings reflect former nursing home residents Painted pipe elbow, 1 of many
The property has quite a history. In 1947, it was renamed the Multnomah County Home and Farm. 1962 saw the facility renamed again—Edgefield Manor— and turned into a nursing home. Twenty years later it closed its doors.
Sign to everywhere
Photo by Liz Devine/McMenamins

Edgefield Brewery jar


It wasn't until 1990, that the McMenamin brothers, Mike and Brian, saved the property from the wrecking ball. Known for their quirky acquisitions and creative preservation of historic properties, they transformed this former poor farm into a European-style village with, among other things, a hotel, movie theatre, winery, brewery, restaurants, bars and a charming hotel.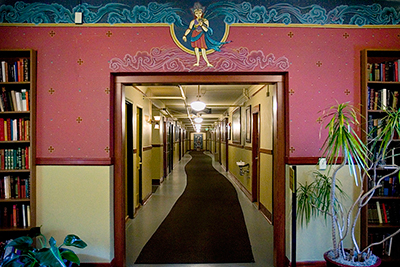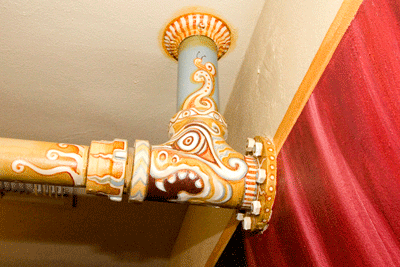 Edgefield hallway. Photo by Liz Devine/McMenamins Painted pipes. Photo by Kathleen Nyberg/McMenamins
The 130-room hotel serves as museum, story-teller, ghost-minder and art gallery for a crew of 18 full-time staff artists. The hallways, doorways, ceilings and even the pipes show this property's history. Every room tells its own story of what happened there and, yes, legend has it that room 215 has its own ghost.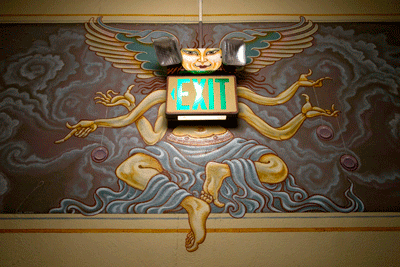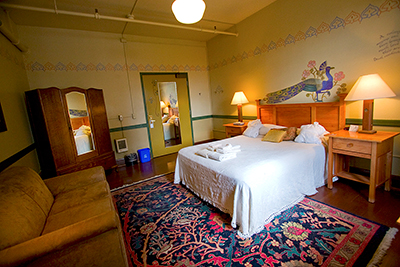 Exit sign. Photo by Liz Devine/McMenamins Edgefield room. Photo by Liz Devine/McMenamins
McMenamins Edgefield has a staff of 18 artists. Each room has its own theme and most are dorm-style with bathrooms down the hall. This is a must-visit attraction with a long list of twisty oddities—keeping Portland weird—in the nicest, warmest, coolest way.
Moda Center Arena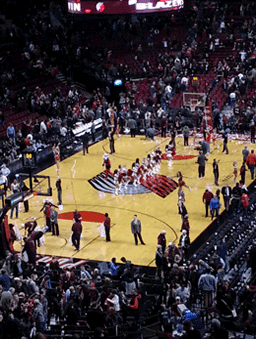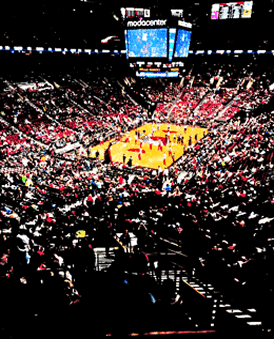 Portland Trail Blazers half-time show and game
If you happen to be in Portland when their Trail Blazers are playing, don't miss a trip to Moda Center arena. Even if you're not a basketball fan, the experience at Moda can't be beat. With 70-plus food carts, concessions and beverage stands, and lots of half-time excitement, you're bound to find whatever you're craving. And it's icing on the cake when the hometown Blazers win.
For more information: www.travelportland.com www.forktown.com www.mcmenamins.com www.rosequarter.com