| | | | | | | |
| --- | --- | --- | --- | --- | --- | --- |
| | | | | | | |
| | | | Watery Plitivic | | Dubrovnik's walls | |
Diocletian's Palace. Watery Plitvice Lakes National Park. Roadside stands rich with succulent honey and flavorful grappa. Tall walls that climb up and around Old Town Dubrovnik. Welcome to surprising Croatia.


Our group of eight had spent a week with others bicycling some of Croatia's Adriatic Sea islands. Now we were heading for another week touring some of the county's best-known sites. We left the bicycles and our new friends behind to split for Split.


But before we reached Split, Croatia's second largest city, we detoured north to Plitvice Lakes National Park. In a country with many scenic highlights, Plitvice is typically regarded the top choice. It didn't disappoint.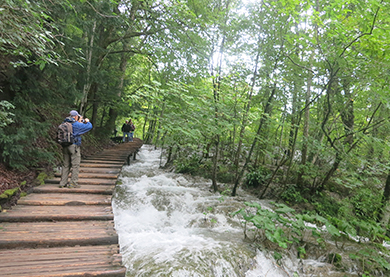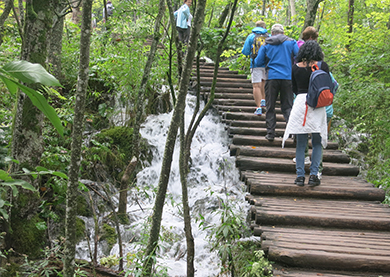 Boardwalks lead over streams and past tumbling waterfalls
For several hours we walked along a series of meandering trails, mostly on wooden plank boardwalks, some just inches above a sea of flushing streams and others above turquoise-colored rumbling, rippling rivers. In places the walkway flanked curtains of seemingly endless falls. Portions of the water-drenched boardwalk where the water had overflowed were made passable on carefully placed 2- by 4s. Many times, the curling trailed so close to cascading waterfalls that the misty spray left us pleasantly soaked. It's no surprise that Plitvice was named a UNESCO World Heritage Site in 1979.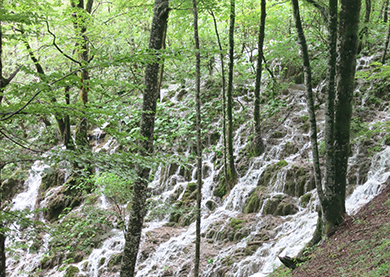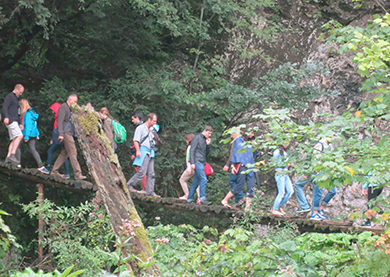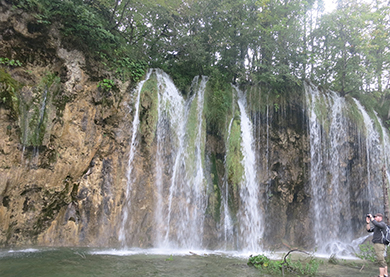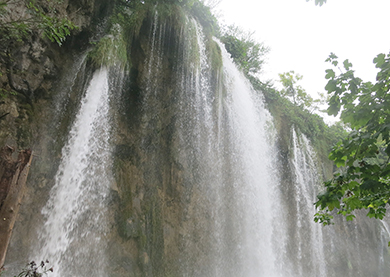 Gusting falls seem to erupt from everywhere
Our too-short visit focused on the upper lakes, a section reached by a short ferry ride. Not surprisingly, the gusting volumes of water have created a maze of luxuriant vegetation dominated by beech forests. And, not surprisingly, we weren't alone. Other gawking walkers were as flowing as steadily as the streams. Plitvice receives more than 1-1/2 million visitors a year.


Trading nature for history


A day later, we exchanged nature for history, truly ancient history. Split is Croatia's second largest city, but what draws visitors is Diocletian's Palace. The Roman Emperor Diocletian, known for persecuting early Christians, had his Adriatic-facing retirement palace built between 295 and 305. He made the palace his home after abdicating his title as emperor, insisting he be treated as a god.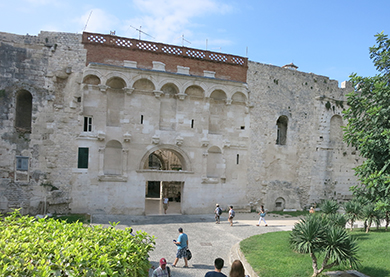 The palace from outside
| | | | | |
| --- | --- | --- | --- | --- |
| | | | | |
| | | | | |
The stone palace is layered in history. Used by other Roman rulers after Diocletian's death, it was later barricaded as a series of dynasties conquered the region. Uniquely, the palace isn't a sterile museum. Instead, it remains a lively, lived-in city with 3,000 inhabitants. There are the requisite tourist sites within the palace, but its narrow, puzzle-like network of streets and passages are alive with locals living real lives.
| | | | | |
| --- | --- | --- | --- | --- |
| | | | | |
| | Day's laundry | | View from above | |
The streets outside the castle are lively, too. Just outside the castle entrances are a fascinating array of sales tables, some with locally made

art work

, others with regional foods.

These, cheek by jowl with flea market stands selling a United Nations array of Roman coins, African statutes and Bombay taxi horns.

The palace's main thoroughfare
On to Dubrovnik, with a detour
The drive from Split to Dubrovnik is much like any other drive, except when it leaves the modern freeway and follows a two-lane road along the scenic coastline. Eager to get out and stretch, we pulled our van over, enticed by the scents and sights of offerings at another series of roadside stands.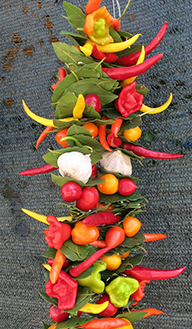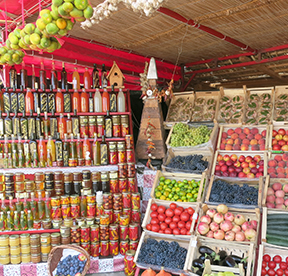 Colorful roadside stands offer a variety of temptations
Temptations surrounded us: stalls offering fresh fruits, rich-textured jars of honey, and colorful containers of various flavored grappas - some of which we savored in the nights that followed in Dubrovnik.
Dubrovnik's main attraction is its walled Old City, a place of refuge from invading armies since the 7th Century. Like Split, Dubrovnik is a coastal city, an historic important trading center. The wall was built to repel invaders. One 9th Century siege lasted 15 months.
| | | | | |
| --- | --- | --- | --- | --- |
| | | | | |
| | The Pile Gate | | Relaxing on a steep street | |
Dubrovnik and its Old City have held off other invasions. During the 1990s war that ravaged what was Yugoslavia, the city was riddled by more than 2,000 shells. Because of its dependency on tourism, most of the damage has been repaired.
| | | | | | | |
| --- | --- | --- | --- | --- | --- | --- |
| | | | | | | |
| | Orlando | | Cathedral stained glass | | Multi-faced fountain | |
Like most visitors, we entered by crossing the drawbridge at the Pile Gate, which was built in 1537. Years ago, the bridge was raised nightly. Inside is a maze of streets and passageways, some leading to historic churches, including the Rector's Palace, Franciscan Monastery, Onofrio Fountain, Orlando Column, Dominican Monastery and more. One morning we were guided by a woman named Marina, a name she was given because she comes from a seafaring family. As she told us, "There's an old saying, 'If you dip a finger in the sea you are connected to the whole world.' "
| | | | | |
| --- | --- | --- | --- | --- |
| | | | | |
| | | | | |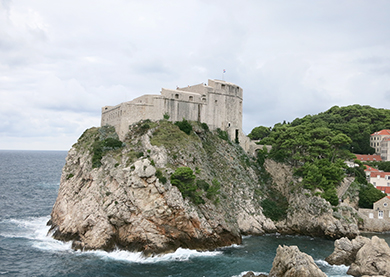 Fort Lovrjenac
The sights within the protected town are fascinating, but I felt especially connected to Dubrovnik while walking the wall. It's an amazing walk with views of town and sea. The one-way walking route climbs and drops, overlooking courtyards, school grounds, streets, bell towers, the inner harbor and restaurants, including a memorable eatery where I later slurped a plate of oysters. The walk passes the Miceta Tower, the detached Fort Lovrjenac, Bokar Tower and Reveline Fort. Friends and I were lucky enough to end our slow circuit just before a thunderstorm exploded, firing off thunder and instantly soaking us with torrential rains.
| | | | | |
| --- | --- | --- | --- | --- |
| | | | | |
| | | | The walls of Castle St. John | |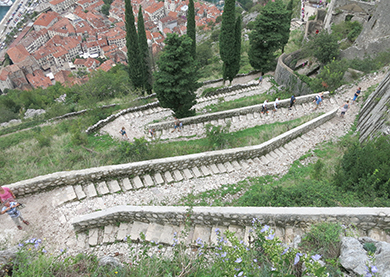 Weaving walkway goes up, up, up
A day later our group visited nearby Montenegro. It was a long day. Stops at the waterfront village of Risan and Kotor, where I climbed the cobblestone city walls to the Castle St. John for incredible views, were interesting but only marginally worth the effort.
| | | | | |
| --- | --- | --- | --- | --- |
| | | | | |
| | | | | |
Our final day was better spent with a return to Dubrovnik's Old Town. Four of us walked from our hotel, most interestingly passing chain-link fences decorated with simple locks, each with the names of couples "locked" in love. Sweet. Being semi-familiar with Old Town, we traipsed from shop to shop, scurried for cover when another thunderstorm sent us running for cover and enjoyed a sumptuous lazy lunch.
Whether it was Old Town Dubrovnik, roadside stands, the palace in Split or the surreal watery world at Plitvice, Croatia has offerings for a variety of palates.
About the author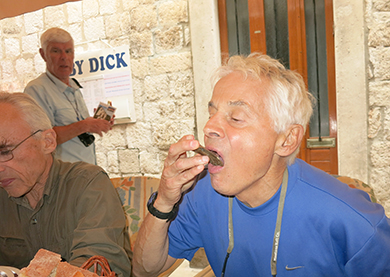 Lee Juillerat slurping raw oysters ... yum
Lee Juillerat is a longtime contributor to High On Adventure. He works for a daily newspaper in Southern Oregon and is a freelance writer-photographer for a variety of magazines and publications, most recently including Southern Oregon magazine, Range and Alaska Airline in-flight magazine. He can be contacted at 337lee337@charter.net.
My thanks to Margo McCullough, who put together our Croatia trip. She can be contacted at her business, Cruisegirl, at margostravel.com or facebook.com/cruisegirl.travel.